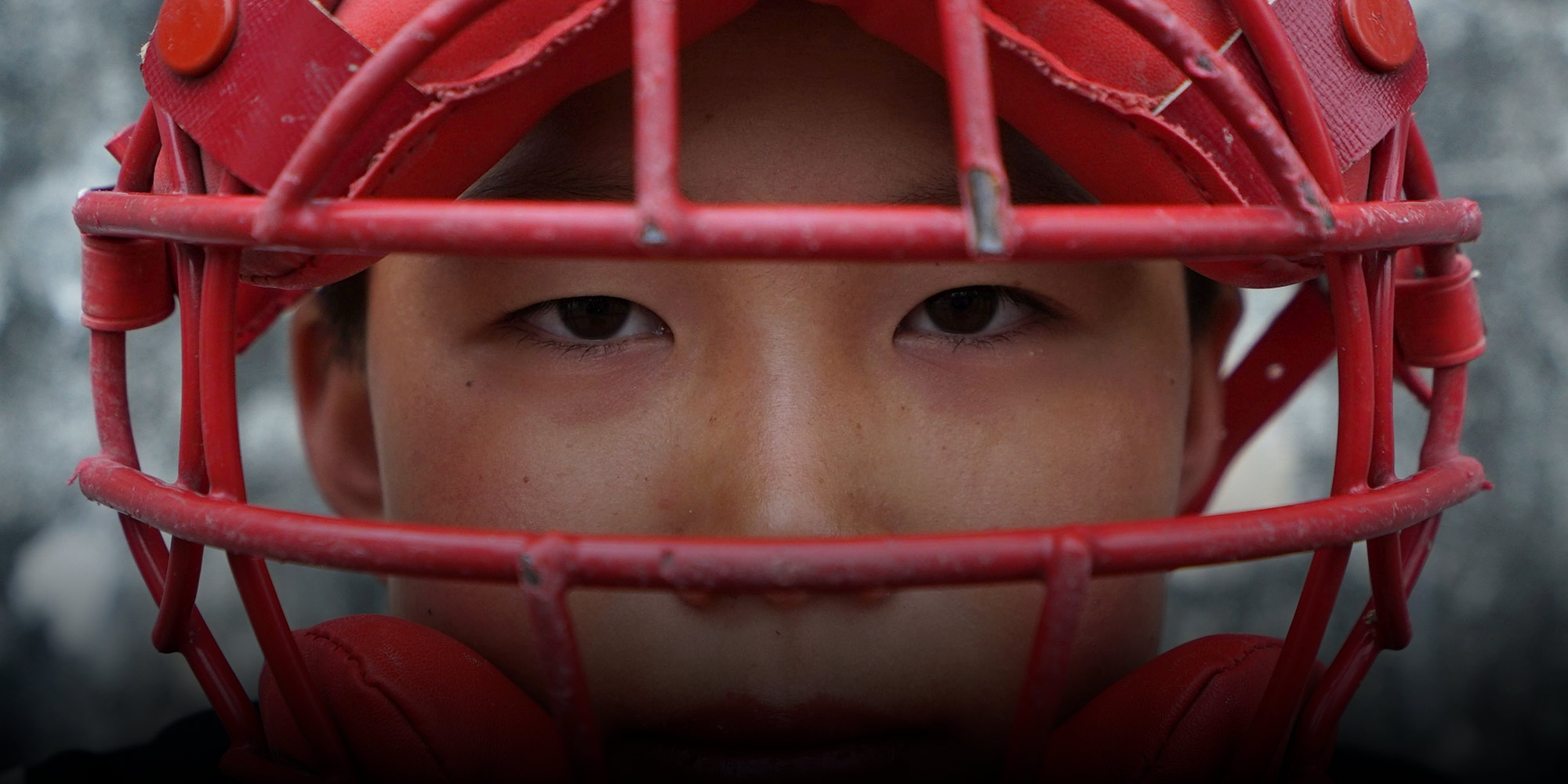 MULTIMEDIA
How a Hard-Hitting Baseball Film Scored a Surprise Home Run in China
Director Xu Huijing discusses the making of his curveball documentary about a baseball club for migrant children in Beijing, which has become an unexpected hit with Chinese critics and viewers alike.
The first time Xu Huijing watched a baseball game at the PB Angel Baseball Center, he had no clue what was happening. He didn't know the sport's rules and found terms like "first base" and "home run" mystifying. 
But the director knew he'd found the subject of his next film.
Xu had stumbled upon the ultimate underdog story: a baseball club set up by a former Olympic athlete to give migrant children in Beijing a shot at a brighter future.
Founded in 2015, the center was housed inside a ramshackle cluster of buildings in the Chinese capital's dusty outskirts. Inside, Sun Lingfeng — the former captain of China's 2008 Olympic baseball team — taught a ragtag group of 7- to 12-year-olds the ins and outs of his sport.
Most of the team members were orphans or "left-behind" children from the Chinese countryside whose parents had moved to the city to find work — and their experiences had often left them with deep emotional scars. But the center hoped that, by providing the kids with a home and a supportive environment, they'd gradually come out of their shells.
Xu, who had spent his career shining a light on social issues in today's China, was fascinated. By the end of his first visit to the club in 2016, his fate was set. 
"I wasn't just looking for a sensational topic, but also one that would resonate with the general public," Xu tells Sixth Tone. "When I went there and met the children, I knew this was a film I had to make."
The director would end up spending over a year embedded at the PB Angel Baseball Center, documenting the children's emotional journey as they slowly mastered the sport and learned to be part of a team. The feature-length documentary that resulted — titled "Tough Out" — has already become an unexpected hit in China.
The film made a triumphant debut at last year's FIRST International Film Festival in the northwestern city of Xining, where it was named Best Documentary and also picked up an audience award. Prizes at both the Guangzhou International Documentary Film Festival and Shanghai Film Critics Awards followed, and the feature has since been screened at festivals around the world.
Key to the film's appeal has been its often heart-wrenching but ultimately life-affirming portrayal of the underprivileged children on PB Angel's roster. As the film quickly establishes, these are troubled kids from tough backgrounds — the kind of characters that are often hidden from view in Chinese media.
There is the shy orphan Liang Zhengshuang — known as "Shuang" among the kids — who we first glimpse visiting his father's grave on a desolate rural hillside. His uncle has sent him to the center in Beijing, telling the boy, "there is no future here." Later, we learn that Shuang was born a twin, but that his brother was sold, as his mother couldn't afford to raise two children.
Then, there's Ma Hu — a left-behind child from a remote village who spent his early years running with rural gangs. Unlike the withdrawn Shuang, Ma arrives at the center full of anger and aggression — emotions that conceal his fear that his life might amount to nothing, he admits later in the film.
For the most part, the children appear to completely ignore the presence of the cameras, allowing Xu to give his audience an intimate view of the characters' raw emotions as they struggle with their batting and with the weight of their own personal histories.
Conflict also arises on and off the field as the kids travel to the United States to play in a prestigious junior tournament, and the reality that they're being given the opportunity of a lifetime gradually dawns on them.
As Xu explains in the film, the program could help the kids obtain a sports scholarship to one of China's prestigious colleges or even a contract as a professional baseball player. But to achieve their goals, they first have to learn to work together despite their differences.
"I wanted to tell a story about the goodness of human nature," Xu says.
It's a tale of against-the-odds sporting success reminiscent of Hollywood classics such as "The Rookie" or "A League of Their Own." Yet for many viewers in China, the film may well be their first exposure to baseball — or, at least, the first time they've seen it played domestically. 
While Major League Baseball has been promoting the sport in China for over a decade, it remains highly niche compared with the likes of basketball and soccer. "Tough Out" has positioned itself as China's first baseball documentary, with Xu confessing he still didn't fully understand the rules after weeks of filming.
But the documentary's success may even provide a boost to America's favorite pastime in China. It has secured a mainland theatrical release and is streaming on video platform iQiyi. Xu says he's already exploring plans for a sequel following the kids from PB Angel as they approach adulthood.
The director is currently locked away working on his next documentary feature, but Sixth Tone was able to track him down via email to discuss the making of "Tough Out" and what he learned from the experience. The interview has been edited for brevity and clarity.
Sixth Tone: How did you become aware of the PB Angel Baseball Center, and what convinced you to shoot this documentary?
Xu Huijing: I've been working on these kinds of projects for some time. I'm interested in issues related to rural China because I grew up in a village, and I understand what people's lives are like in the countryside. But China's rural population is large and complex, so I've tried to tell stories focusing on people of different ages to form a complete picture.
In the past, I've shot features about mothers, young people, and elderly women. This time, it's about children. We did some research about the PB Angel project, and then we took the initiative to contact them. After a field trip to the baseball club, I thought it was a perfect subject.
Unlike previous projects, my goal was to make a film and help the characters in the film at the same time. This is a creation with good intentions.
Sixth Tone: The center works with many different children. How did you decide to focus on the two main characters in the film? 
Xu: I knew going into the shoot that the more time we spent together, the more I would understand them. I noticed Liang Zhenshuang on the first day. While everyone else was playing and interacting with the coach on the field, Liang was huddled by himself in a corner, not speaking a word. His eyes looked melancholic. The others often ignored him. 
On the second day, I tried to film six or seven kids to figure out the relationships between them, but sometimes I felt I couldn't find the key connections. Then, on the third day, Ma Hu appeared. Even as a new team member, he seemed to understand the rules and the way things worked at the center. At the same time, he had a distinctive personality, and I could see he could be a bridge to connect with all the other characters.
Sixth Tone: How much did you know about baseball before this film?
Xu: I wasn't familiar with baseball before this film. It took me some time to work out the sport during shooting. Even after shooting for over a month, I still didn't fully understand the game. They always played half a game during practice, which confused me even more; I couldn't picture what a full game should be like, and I had no idea what they meant by first base, second base, and third base. Then, one day, the PB team played a match against a team from Zhongshan. By the third innings, I finally understood the rules. 
Sixth Tone: What were the most memorable moments for you during filming? (Spoiler alert!)
Xu: There were many things that moved me, but during the shoot, there were two moments in particular that brought me to tears. I remember when they lost the game in the U.S., Liang was really sad. He cried so hard, and he couldn't get up from the ground. Ma did everything he could to comfort him, but it didn't work. At that moment, I realized these kids had grown up. 
The other time was in the dormitory when Liang told me his life story. I couldn't help but cry, as I'm so touched by these things. Every time I watch those clips, I still can't hold back my tears.
Sixth Tone: What do you remember from the trip to the United States?
Xu: When we arrived in the U.S., all of the kids were really excited, especially when they saw a Transformers truck on the street. Liang and Ma were overwhelmed when they came into contact with American baseball culture and saw Major League Baseball games. 
When there was a sudden shower during a game, Ma was so excited. He scrunched up layers of clothes under his raincoat to make himself look like a muscle man to entertain the kids. Even Liang smiled, which was a rare sight.
Sixth Tone: How close did you become to the characters during shooting, and how did this affect you when it came to making the final film?
Xu: Of course, we became close. We ate together, lived together, and traveled together. We became like friends and family, so they could be themselves in front of the camera. After shooting, we spent two months on storyboard editing, planning the main plot and character structure. Then, it took more than six months for us to finish the rough cut, which was four hours long. We felt really close to them.
Sixth Tone: What message did you try to convey to the audience through the final film?
Xu:  That human nature is good and that we often choose to do good even when we face difficulties. No matter the circumstances, no matter how bad the situation, that "goodness" is always there.
Sixth Tone: What is the landscape like for documentary filmmakers in China today? How easy is it to find funding and an audience?
Xu: Nowadays, documentaries still face the same obstacles as before — funding and distribution are still very difficult. However, the new generation of documentary filmmakers has introduced new forms of documentaries. A greater variety of cinemas and internet platforms are also showing documentaries. Some art museums have also begun collecting documentaries, which has become an important trend.
Sixth Tone: Can you give us an insight into your next project?
Xu: I'm working on two films at the moment, both focusing on rural subjects. One is about a woman who left her village and eventually made her dreams come true; the other is about a man who returns to his village and works hard to fulfill his dreams there.
Editor: Dominic Morgan.
(Header image: A still from the documentary "Tough Out." Courtesy of Far East Film Festival)