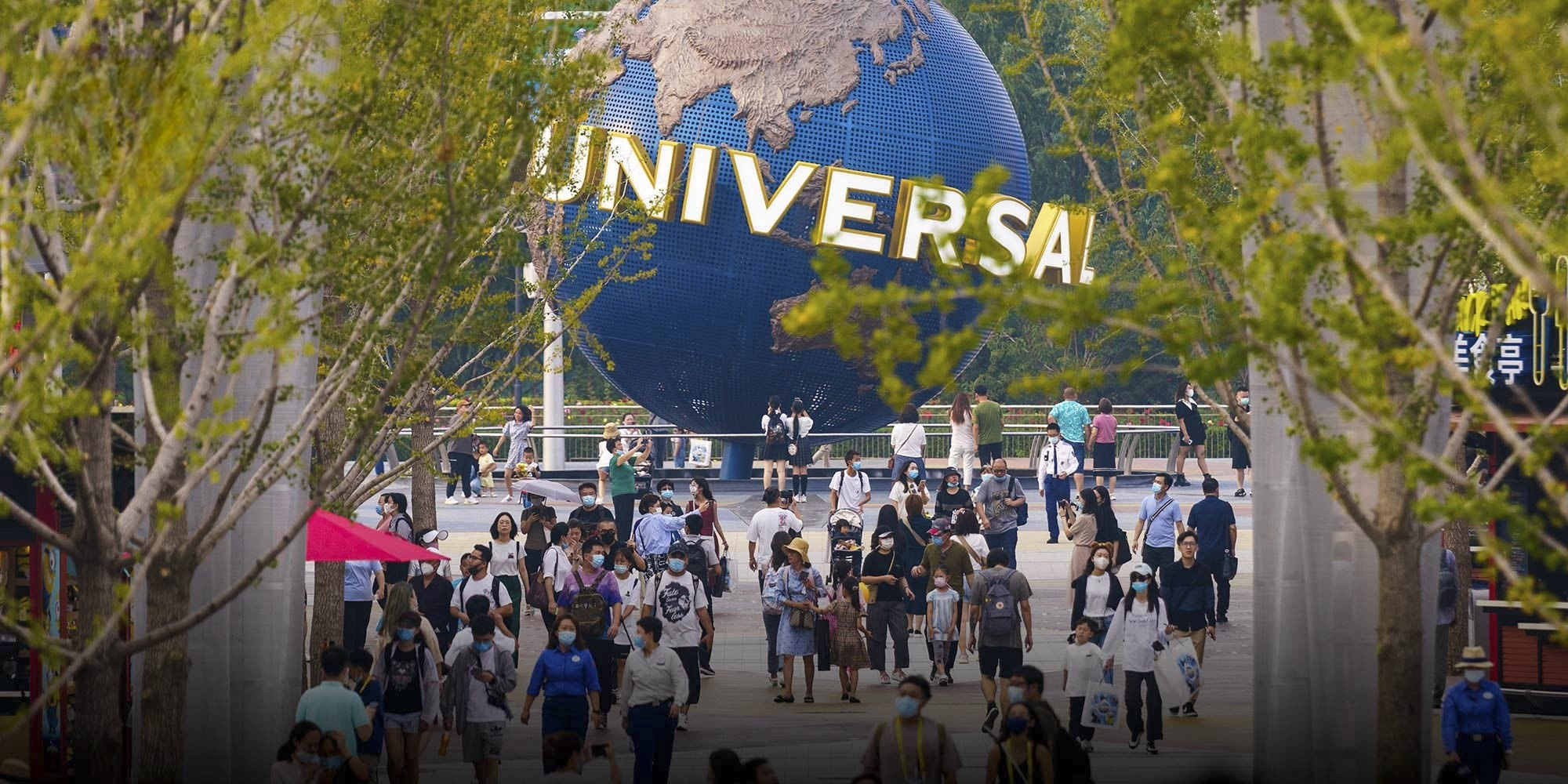 FEATURES
As Universal Beijing Opens, Local Theme Parks Feel the Heat
While international names may hurt domestic park operators in the short run, experts say they will eventually pressure local brands to diversify and improve their services.
The Chinese capital is known for its historical landmarks, but a brand new international theme park is creating all the buzz among locals this month.
Even before doors to the Universal Beijing Resort opened Monday, hundreds of thousands of people had experienced trial operations for the park that had been two decades in the making. Tickets for its opening day sold out in just one minute after they were released Sept. 14.
Beijing resident Han Lifei said she felt like she was under a magic spell while visiting the 160-hectare park — nearly four times the area of Vatican City — last week. The "Harry Potter" fan was mesmerized to see the fictional wizard world from the film franchise come to life, even if that meant jostling through crowds and enduring wait times of nearly 90 minutes for one ride in that area.
"The long lines were very tiring, and I was a bit worn out," the 26-year-old new media editor told Sixth Tone. "But the moment I left the park, I was thinking of returning again."
Built in the capital's eastern suburb at a cost around 46 billion yuan ($7 billion), the park is the fifth Universal Studios theme park in the world and the third in Asia, following Japan and Singapore. It's the latest foreign brand to foray into China after Shanghai Disney Resort and Lionsgate Entertainment World. Meanwhile, other notable brands such as Paramount, Nickelodeon Universe, Six Flags, and Legoland are all planning to vie for a slice of the country's theme park market.
Industry insiders say that China's booming leisure industry is "a story of supply and demand," with companies eyeing the country's burgeoning middle-class consumers' deep pockets as they increasingly seek diverse experiences. And while new players from abroad are getting ahead of the game and becoming a lucrative revenue source for local governments, domestic theme parks seem to be watching on warily as their crowds disperse.
Riding the wave
When China's first theme park started operations in 1989, the country was slowly opening up to fresh ideas. Splendid China in Shenzhen didn't have rides but attracted visitors with artificial landscapes reflecting the country's diverse geography, and proved a hit, drawing 3 million visitors in its first year and raking in 56 million yuan worth of profit.
Since then, China's domestic theme park operators have only expanded — both in numbers and revenue. As of August 2019, the country housed 339 homegrown theme parks and amassed annual revenue worth more than 300 billion yuan that year, estimates from consultancy iiMedia showed. That same year, China's domestic operators Overseas Chinese Town (OCT) Group, Fantawild Group and Chimelong Group were listed among the world's busiest theme park groups, according to American engineering firm Aecom's global attractions attendance report.
With theme parks becoming ever more lucrative, local governments have also welcomed such facilities — especially those popular internationally — to help boost local economies. The enthusiasm seems to have paid off, at least for now.
"One yuan spent at a theme park like the Universal Studios can bring 10 yuan to 20 yuan worth of additional spending," Lin Huanjie, head of the Institute for Theme Park Studies in China, told Sixth Tone, referring to money spent on local accommodation, restaurants, and shopping.
Between 2018 and 2019, more than two-thirds of non-local visitors to Shanghai Disney said they visited the city for the theme park, according to a May report by China Tourism Academy. Most tourists visiting the park stayed in the city for two to three days, contributing an average of about 4% to Shanghai's annual tourism revenue from 2016 to 2019.
The Universal Beijing Resort is estimated to attract up to 20 million people every year, contributing to direct and indirect economic benefits totaling near 100 billion yuan annually once the project reaches full maturity, China Securities analysts said in a report last year.
The new theme park is anticipated to be the most popular tourist attraction in the country during the three-day Mid-Autumn Festival, which coincides with its opening day on Sept. 20, according to China's leading travel booking site Trip.com. With its help, Beijing is also billed as the most popular domestic travel tourist destination for the upcoming holidays.
A tough turf
As glitzy international theme parks satisfy the changing appetite of Chinese consumers and bring in money for local economies, they pose a growing threat to domestic players, gobbling up their market share and forcing them to rethink business models.
Local OCT Group's Happy Valley Beijing is only 18 kilometers away from Universal Studios, putting it in direct competition with the global giant. The majority of Happy Valley's visitors — over 80% — come from the Beijing-Tianjin-Hebei region, and the arrival of a new, international theme park with more recognizable brand intellectual properties (IPs) is likely to draw crowds away.
"International theme parks have better brand influence, IPs, creative ideas, stories, decoration, products, entertainment, and management models — all better than domestic varieties," said Lin from the Institute for Theme Park Studies in China.
While Universal Studios and Disney benefit from audience recognition of popular series like "Harry Potter," "Kung Fu Panda," and "Pirates of the Caribbean," the majority of domestic theme parks have either little awareness of the role of IPs or have struggled to make their IPs widely recognized.
"Cultivating IPs requires expertise and time, mostly through movies and television, to achieve wide access to consumers," analysts from China Securities wrote in a separate report this year. "The development of Chinese animation, film, and television industries has lagged behind that in developed countries, and there are few mature and ready-made IPs at home."
Another reason domestic companies are lagging behind, experts say, is the lack of investment in research and development before opening new theme parks. According to Lin, local theme parks often spend just one-tenth of what Disney or Universal Studios invested in their conceptualizing phase.
"Domestic companies are often impatient when it comes to big projects, and only too anxious to start construction today and open the park tomorrow," Lin said.
As a result, Chinese companies have found it difficult to grow profits by convincing visitors to stay longer and spend more on dining, hotels, retail, and IP-related products in addition to admission. Currently, ticket sales usually make up over 70% of revenue at Chinese theme parks, industry insiders and analysts say.
Fantawild's non-admission revenue — even with one of the most popular domestic IPs from its 2012 animation "Boonie Bears" — accounted for around 20% to 25% of the total revenue from theme park operations in three years up to 2018, according to the company. On the contrary, Shanghai Disney's financial report shows that its income largely came from non-ticket sales such as merchandise, food and beverages, and accommodation on top of ticket sales.
While visiting Universal Beijing during its trial run, Han said she splurged on buying various merchandise associated with the big IPs.
"I found the 'Harry Potter' merchandise more expensive than others, maybe because it's a more popular IP," Han said. "I'm willing to pay a bit more for high-quality products that stay loyal to original IPs."
Here to stay
While new international players entering China could be a blow for local theme parks in the short run, analysts say they could eventually create more pressure for the latter to compete and improve their operations. Instead of going head-on with bigger names in terms of IPs, analysts say local parks should focus on providing visitors with attractions and entertainment projects that would make them return.
"Visitors will flock to international theme parks in the first year and a half (after opening) — it's the honeymoon period," Lin said, adding whether the craze will recede will depend on how domestic players respond.
Experts say one major draw for local theme parks could be cheaper admissions, with some already starting to promote discounted tickets and annual passes to attract nearby local residents. Several annual pass holders at Happy Valley Beijing told Sixth Tone they were mostly attracted by the affordable yearly ticket, costing 399 yuan — cheaper than Universal Beijing's cheapest one-day ticket at 418 yuan.
"For me, Universal Studios Beijing is a little boring," said 20-year-old Wang Yexi, who has yet to visit the park but frequents Happy Valley Beijing at most four times every month. "Every time I visit, I go on every ride, sometimes two or three times each."
"If Universal Studios Beijing didn't have Harry Potter, Happy Valley Beijing would be a much more fun choice," said 23-year-old Tang Ruichan, another theme park fanatic, adding that the popular IP gives it a competitive edge. "This year, they've added two new rollercoasters and two water rides."
Representatives from Happy Valley Shanghai and the Ancient Dian Town project in the southwestern city of Kunming — also the site of an upcoming Paramount Park — told Sixth Tone that though they face stiff competition from Western brands, the parks see them as both an opportunity and a challenge in attracting visitors. Both domestic parks are thus incorporating more local elements to appease local tastes.
"IP not only means animated characters," said Lu Hexin, head of marketing at Ancient Dian Town. "After refining, ethnic cultural events and seasonal themed activities at our park are all IPs too ... More international brands entering China can popularize theme parks even more, and we have a chance to learn from their promotions, operations, and services to attract people."
Yang Yanfeng, director of the tourism research center at Beijing Union University, believes there's no reason why a city or region can't be home to multiple theme parks, especially when domestic tourism is on the rise due to coronavirus-related restrictions on international travel. However, he said that the parks must offer diverse experiences to maintain a healthy competition.
"Chinese culture and traditions have many well-established IPs that remain to be explored and applied," Yang said, a sentiment with which Lin from the Institute for Theme Park Studies in China agrees.
Though local theme parks may seem less favorable as more and more Western brands march in, they have time to shift their focus on planning for newer, better ventures, as well as strategize on winning over visitors through local IPs. Lin estimated that of the hundreds of theme parks and the groups that own them, only fewer than 10 may survive over the next decade.
"With fierce competition, there may be fewer local theme parks in the future, but the level of domestic theme parks will inch closer to international brands and even surpass some of them," Lin said. "One way is to tell China's stories and turn Chinese cultural elements into themes for such parks."
Editor: Bibek Bhandari.
(Header image: Visitors at Universal Beijing Resort during its trial run in Beijing, Sept. 3, 2021. Ding Junhao/People Visual)