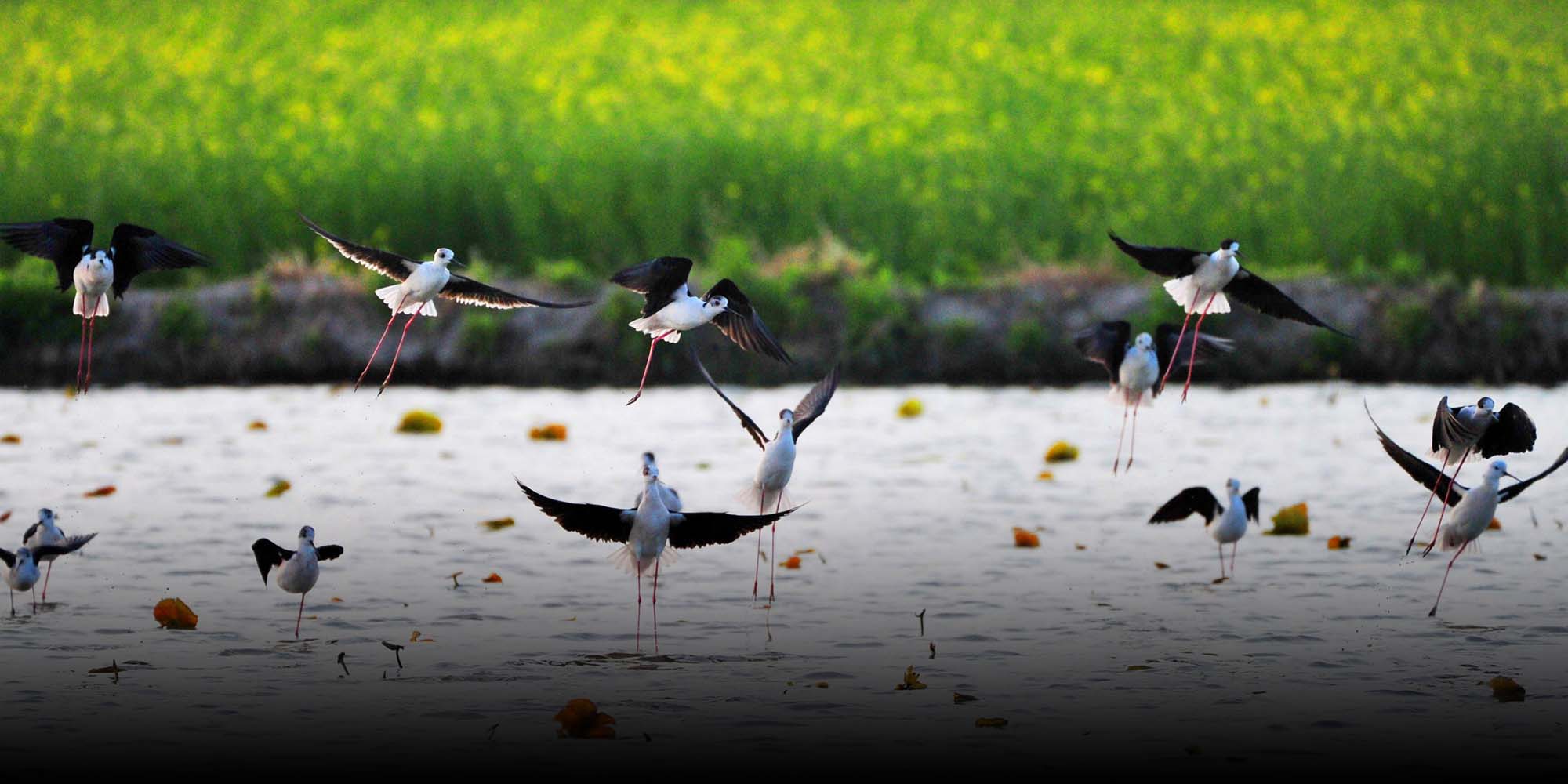 NEWS
Shanghai Wetland Supporters Win Fight Against Forest Plans
The Chinese government has backed away from plans to redevelop coastal marshes that host protected wildlife.
Following years of campaigning, environmentalists in Shanghai have persuaded the Chinese government to drop tree-planting plans that they say would destroy a coastal wetland area vital to migratory birds.
Nanhui East Shoal is a major stopover for over 400 avian species that fly north from South Asia every year. But since 2017, its reed marshes have been threatened by redevelopment projects, including a massive tree-planting campaign that would allow the local government to meet its afforestation goals, sparking continuous pushback from local conservationists.
For years, they wrote articles, gathered signatures, and organized volunteer observation teams to record the damage done to the area. Their efforts seem to have paid off, and they can now count central government officials among their allies.
In an August report that followed criticism from environmental inspectors, China's National Forestry and Grassland Administration, which oversees wetlands, promised to better protect Nanhui East Shoal.
The replacement of wetland reeds with over 230 hectares of cedar trees has "severely damaged" Nanhui's regional ecological functions, according to the report. Wetlands shouldn't be converted to forests if local conditions aren't viable, the administration wrote.
"We have been calling for the protection of Nanhui for years, so we're very happy to get an official response," Zhang Dongsheng, associate professor of ornithology at Shanghai Ocean University and one of the staunchest campaigners to save Nanhui East Shoal, told Sixth Tone.
The ecosystem of Nanhui East Shoal emerged naturally in Shanghai's Lingang Special Area, an economic zone built on land that was reclaimed from the sea in 2006. Though not included in China's key wetland protection list, it is the largest natural wetland area in Shanghai and hosts the endangered reed parrotbill, among other species.
The local government had already stopped planting trees last year in response to activists' objections, Zhang said.
Nanhui East Shoal is not the only wetland area that caught the attention of China's environmental inspectors. A "large number of wetlands with important ecological value have been left out of effective protection coverage," they wrote in their report.
China is home to 10% of the world's wetland areas, but half of its coastal wetlands have been lost to reclamation and other human activity over the past four decades, according to environmental NGO World Wildlife Fund.
China's National Forestry and Grassland Administration has vowed to better research and protect wetlands across the country. In recent years, the government has also undertaken a mass campaign to close coastal aquaculture farms, many of which were carved out of coastal flats and mangrove areas without permits and cause water pollution.
As part of the rectification measures for Nanhui, a new ecological park will be set up for conservation and education purposes. The park is planned to be 170 hectares in size, which Zhang said is not nearly big enough, considering the entire East Shoal covers more than 10,000 hectares.
Now that the tree-planting campaign is halted, Zhang hopes the local government could pay more attention to the growing issue of salt-water cordgrass invading Nanhui. The non-native species was first introduced to China four decades ago and has now become a threat to the country's coastal wetland ecosystems, threatening bottom-dwellers such as crabs and other shellfish, he said.
Zhang, who lives in Lingang, plans to keep watch that the ecosystem is being protected. "Lingang has many good wetland resources," he said. "We really hope that the Lingang authorities can protect them well."
Editor: Kevin Schoenmakers.
(Header image: Birds are seen in the Nanhui East Shoal wetland area in Shanghai, April 29, 2020. IC)