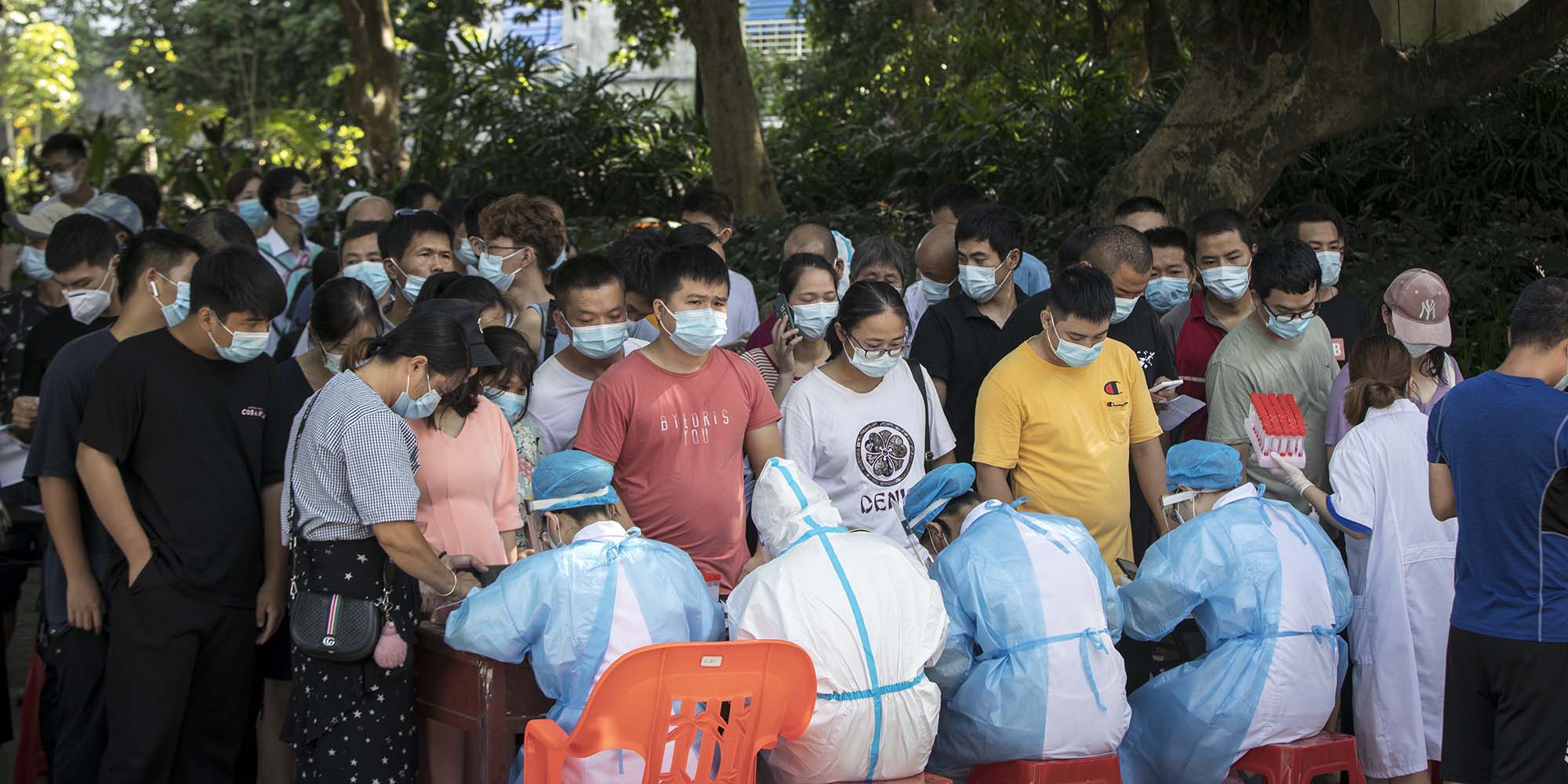 NEWS
With Fresh Cases in Fujian, China Faces Another COVID-19 Outbreak
Dozens of people in multiple cities in the eastern province have tested positive for the coronavirus just weeks before the country's holiday season.
Just weeks after China contained one of its worst COVID-19 outbreaks since last year, the country is once again on high alert, with dozens of local infections reported in eastern Fujian province.
Over the past three days, the city of Putian had logged 64 COVID-19 cases — half of which were confirmed cases — as of Sunday, according to the city's health authorities. The nearby city of Quanzhou — recently enlisted as a UNESCO World Heritage Site — reported six confirmed infections, while two people tested positive for the virus in the popular tourist town of Xiamen.
​​The infections in Fujian were first identified in Fengting Town, an hour's drive from Putian's city center, after two students tested positive for the virus during a routine testing Friday, according to local authorities. However, officials said the infections could be traced back to one of the student's fathers who had returned from Singapore on August 4 and tested negative for the coronavirus during quarantine.
On Sunday, authorities in Putian said they were carrying out mass testing among the city's 3.2 million residents. The city has suspended all indoor entertainment and recreational activities and closed cultural sites, while schools have been ordered to conduct online classes and vaccinate all students and teachers before Wednesday. 
Putian has also implemented strict highway control measures, with residents only allowed to leave after showing a negative coronavirus test result, according to authorities.
The infections in Fujian arrive just weeks after the country controlled one of the largest COVID-19 surges since last year. The outbreak that started from the eastern city of Nanjing in July spread to nearly 30 cities, infecting more than 200 people.
Putian authorities said cases in Fujian have been attributed to the highly transmissible Delta variant of the coronavirus that causes COVID-19.
Meanwhile, in Xiamen, local authorities have asked residents in Tong'an and Siming districts, where the two positive cases were found, not to leave their residences unless in the case of an emergency.
The fresh outbreaks in Fujian also come when millions of people are planning to travel over the Mid-Autumn Festival holiday next week and the weeklong National Day holiday in October.
Davina Zhou, a Xiamen native working in Shanghai, said she is worried that the virus surge may thwart her plans of going home next month. Xiamen is about an hour's train ride from Putian.
"There are no travel restrictions now, but no one knows what changes may happen before the holiday," she told Sixth Tone.
Editor: Bibek Bhandari.
(Header image: Locals receive COVID-19 test at a hospital in Putian, Fujian province, Sept. 13, 2021. People Visual)