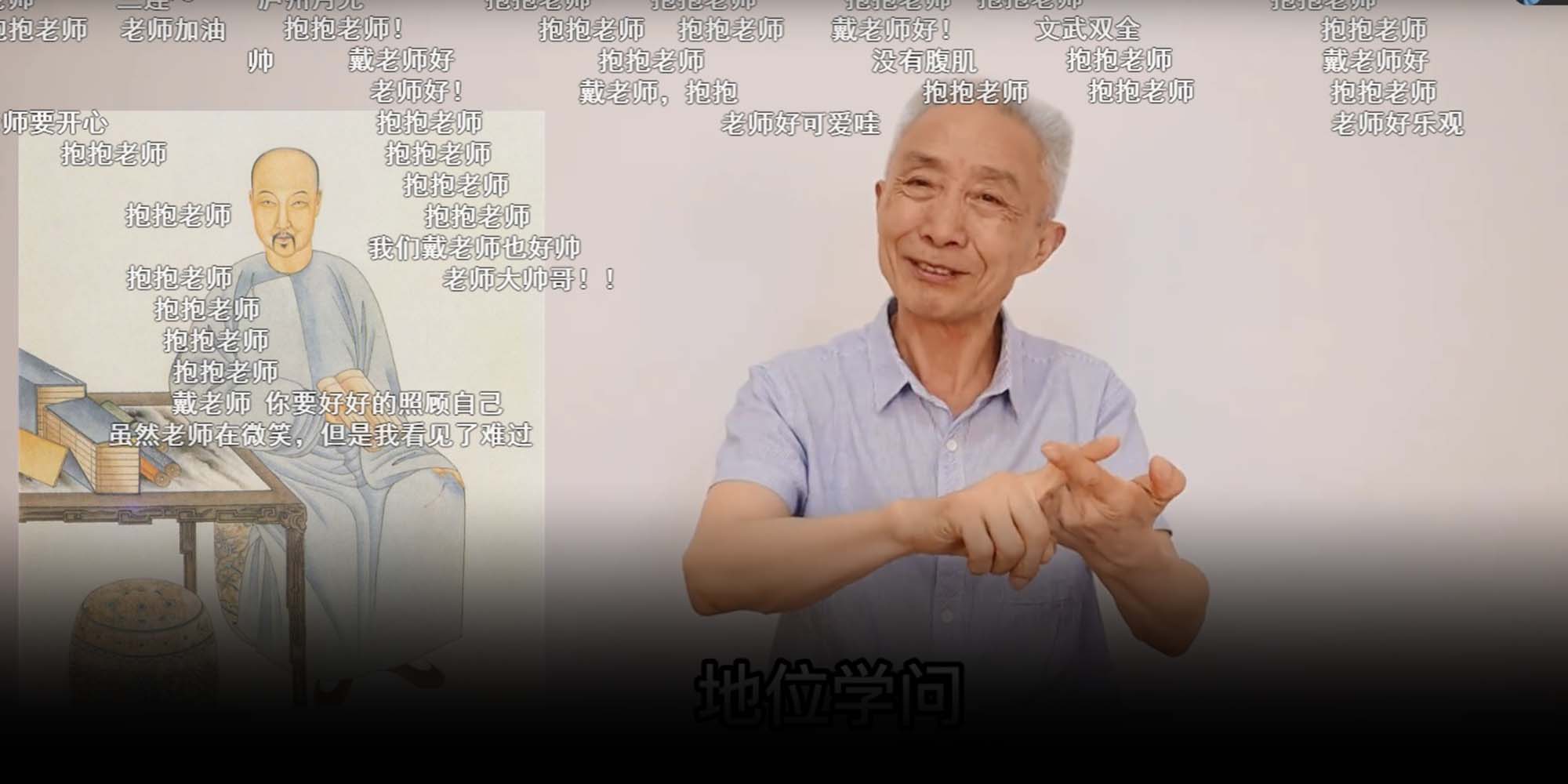 NEWS
Chinese Teachers Are Turning Video Platforms Into Their Classroom
Digestible knowledge-based content has proliferated on popular video platforms where educators share more than just their academic insights.
Teachers and students no longer just sit in a traditional classroom in today's China — millions of Chinese are turning to their computer or phone screens to share and gain knowledge.
Over the years, the country's online video platforms such as Bilibili, Little Red Book, and Douyin — the Chinese version of TikTok — have doubled as virtual classrooms where individuals with different expertise share knowledge with their followers. The lessons cover anything from the mainstream to niche topics, like sociology professor Shen Yifei's online classes on love and relationships to the celebrated criminal law professor Luo Xiang's engrossing presentation of the National Judicial Examination.
To many, such settings transcend the typical pedagogical space, but the goal is the same: to teach and learn. And with the arrival of this year's Teacher's Day, many are showing appreciation for these new kinds of educators, or those who have changed their approach with time.
"Their professional expertise is important, but I also expect their content to be interesting," said He Le, who watches the so-called knowledge-based videos on Bilibili during her commute to work.
The Shanghai-based investment professional told Sixth Tone that she watched videos of law professor Luo, who has almost 18 million followers on Bilibili, while considering taking the bar exam. She was impressed by his knowledge, as well as his charm.
"There are a lot of influencers on the market, but very few can establish upright values for young people and raise legal awareness at the same time," He said.
With the explosion of internet users and online streaming — China has 1 billion active mobile video users who watch four hours of video daily on average — users like He serve as an important demographic for both video platforms and content creators. An estimated 47% of users who watch knowledge-based content are aged between 24 and 30, according to a 2020 report published by research firm Analysys.
"Young online users' knowledge is still developing, therefore, they are more open to accepting others' opinions," Ma Shicong, a senior analyst at Analysys who authored the report, told Sixth Tone. "Additionally, they have more disposable time compared to mid-aged professionals."
Data from some of the country's leading video platforms attests to this trend.
Earlier this year, Bilibili CEO Chen Rui said knowledge-based content has become the fastest-growing category in the platform, accounting for 45% of the entire content. The streaming site, widely known for animation, comics, and games content, is now home to nearly 1,000 professors and researchers from Chinese universities, according to the company.
Dai Jianye, a Chinese classical literature professor at Central China Normal University in Wuhan, is among Bilibili's popular educators and joined the platform upon invitation from the company last July. In just over a year, he has garnered nearly 2.5 million fans.
Last month, his video on ancient poet Nara Singde's poem, dedicated to his late wife, attracted almost 5 million views. In his presentation, Dai, who had lost his wife to cancer last year, said the loss made him understand the pain in the poetry.
As well as resonating on an emotional level, the literature professor told Sixth Tone that his videos reflect a growing need for students to take life lessons outside the classroom and excel in more than just academics. He said many are inclined toward knowledge-based content to seek additional lessons that they don't necessarily get from school or work.
"The audience here is probably dozens of or hundreds of times the size found in a classroom," he said. "I feel that I'm making more of a social impact, and I'm delivering more personal value in addition to my university classes."
Wang Yiting is another educator who "teaches," or rather, shares tips on public speaking and speech writing on the popular social platform Little Red Book. The assistant professor at the Communication University of Zhejiang has attracted over 110,000 followers since she joined in mid-July, offering free and paid content for as much as 89 yuan ($14).
"As a media professor, if we don't throw ourselves into the fast-changing media environment, we cannot tell our students about the latest changes in communications channels and audience reception," she told Sixth Tone, adding that she may open an account on Douyin, too.
The recent changes in the education landscape in the aftermath of the government's clampdown and banning of private after-school tutoring, experts say, will provide a more conducive environment for platforms to dip their feet into hosting knowledge-based content. Ma from Analysys said that such content is different to idol-making or the zealous fan economy — which have both recently fallen into the authorities' crosshairs — and will provide them a space to grow.
"It's easier for the platform to commercialize such content," Ma said. "And in broad terms, it's easier for platforms to align this content with societal values or take larger social responsibility."
Both Wang and Dai, the educators, offer free and on-demand videos on online platforms — while users can directly pay for the former's content on Little Red Book, the latter has linked his payments to Bilibili's token system.
However, despite the soaring popularity and the financial rewards, creating such videos and retaining audiences are a "huge challenge," according to Dai. He says it's challenging to publish content that's interesting, informative, and caters to a diverse range of followers with varying interests.
Video platforms such as Douyin and Kuaishou, known for their short videos, are already facing limitations due to their users' apparently dwindling attention spans. To counter this, both have ventured into one of the most lucrative formats to get their audiences hooked — livestreaming.
As part of its back-to-school campaign from Sept. 2 to 14, Douyin has scheduled a run of livestreams connecting scholars with viewers. Each session, lasting around 100 minutes, will feature an academic discussing their area of expertise: be it literature, astronomy, or industrial design.
"These public lectures are a new starting point for Douyin to enable knowledge sharing," a Douyin spokesperson told Sixth Tone, adding that the platform has officially launched livestreaming channels on science, humanities, and finance. "We hope Douyin's livestreams with scholars will become the new normal for users."
Meanwhile, the people behind such content — the educators who have spent years, if not decades, in traditional school settings — are finally getting the spotlight they deserve, while sharing their valuable insights. Dai, the Chinese literature professor, says he is optimistic about the new direction of coupling a novice's approach to education with technology.
"The kaleidoscope of choices presented by video platforms can help young people understand their preferences and make their own choices," he said. "It's like choosing a life partner — you only feel the need to be responsible when you make the choice yourself."
Editor: Bibek Bhandari.
(Header image: A screenshot from Bilibili shows viewers' comments scrolling across one of Dai Jianye's lectures on history.)