Local authorities in southwestern Yunnan province have opened a massive food bank for the region's elephants to deter them from foraging and to reduce conflicts between the pachyderms and people.
The 165-acre facility — dubbed "elephant canteen" by the local government — is located in the city of Jinhong in the southern Xishuangbanna Dai Autonomous Prefecture, home of the group of wandering elephants that grabbed global attention earlier this year. More than a dozen endangered Asian elephants trekked hundreds of kilometers since they started their journey last year, ripping farmlands and destroying human settlements, as conservationists tried guiding them to return home.
Researchers say the elephants' epic journey highlights the plight of the animals and their attempts to find better resources due to almost 40% of their habitat in Xishuangbanna having been lost to commercial development over the past 20 years. Between 2013 and 2019, 73 people were killed or injured by elephants in China, and the animals have contributed to property losses worth 210 million yuan, according to a May study.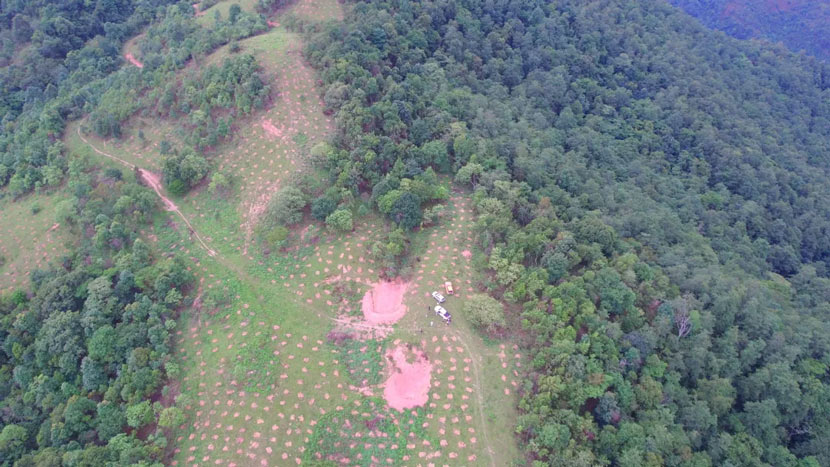 An aerial view of the "elephant canteen" in Yunnan province, 2021. From 景洪发布 on WeChat
The food base, covering an area equivalent to 93 soccer fields, aims to provide more ration to Asian elephants, which have seen their habitats shrink due to human activities over recent years, local officials said Monday. In turn, it is hoped that this will deter them from foraging in search for food and threatening local lives and livelihoods.
Several elephants have been spotted at the so-called elephant canteen since it opened in late August, state-run Xinhua News Agency reported Wednesday. Costing 1 million yuan ($154,900) to build, the food base provides plants such as the tiger grass and bananas.
However, experts say food bases like the one in Jinhong could create more issues in the future, making the animals gradually depend on human activities for food. Zhang Li, professor of ecology at Beijing Normal University, referred to the establishment of the 165-acre food bank as "a drop in the bucket."
"A food bank cannot fundamentally alleviate human-elephant conflict," Zhang told Sixth Tone. "The key is to set up a national park for Asian elephants and establish an ecological corridor to connect their fragmented habitats."
Considered the largest terrestrial vertebrate in Asia, Asian elephants were classified as an endangered species by the International Union for Conservation of Nature in 1986. China is home to around 300 Asian elephants, including 270 of them in Xishuangbanna alone.
Editor: Bibek Bhandari.
(Header image: Elephants in search for food in Jinghong, Yunnan province. From 景洪发布 on WeChat)