NEWS
Xi'an Subway Under Fire After Security Mishandles Female Passenger
Social media users are demanding an apology from the subway operators, while an investigation into the incident is underway.
A security personnel at a subway station in the northwestern city of Xi'an has been suspended for mishandling a female passenger while trying to forcibly remove her from a carriage, raising questions over standard operating procedures during altercations.
The security guard, surnamed Chen, and seven other employees from the company that operates the subway system in Xi'an were reprimanded after footage from the incident went viral online, state broadcaster China Central Television reported Thursday. However, the city's public security department said that while Chen's behavior was "rude," it didn't constitute a crime.
Footage circulating online from Monday's incident shows a man in uniform dragging the woman as she screams and refuses to leave the train carriage. The woman's skin and underwear are exposed as a result of being pulled onto the platform.
According to subway officials in Xi'an, the woman was removed for quarreling with other passengers and creating a disturbance in the carriage. The woman has also been ordered to be "educated" by the law enforcement for disrupting public order.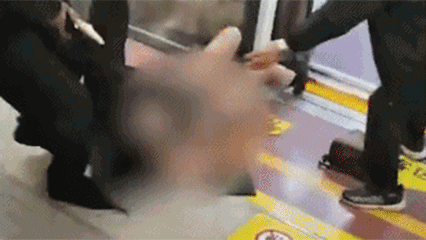 While authorities have said they've opened an investigation into the incident, netizens have begun demanding an apology from the subway company after the footage went viral online. A related hashtag on microblogging site Weibo has been viewed over 190 million times as of Thursday.
"How long will it be until our society starts to respect women?" commented one user under the hashtag.
Wu Xiaoyan, a Hangzhou-based lawyer, said that the subway company had handled the incident in an "inappropriate" manner by not apologizing immediately.
"The fact that the mishandling of the female passenger caused exposure of her body in front of the public might constitute a civil infringement," she told Sixth Tone.
This is not the first time that subway staff have been called out for their improper behavior. In 2019, a woman was asked to remove her goth-style makeup before boarding the subway in Guangzhou, causing a social media storm.
Gender experts say that incidents like the ones in Xi'an and Guangzhou often occur due to lack of gender sensitivity training among employees. The gender imbalance in the company's workforce also contributes to such issues.
"If we are talking about a systematic solution, besides media and individual interventions, we will need specific legislation and corporate compliance," Lu Zhaomei from volunteer feminist group EnGender China, told Sixth Tone. "The Chinese mainland doesn't have gender-specific legislation when it comes to transportation."
Editor: Bibek Bhandari.
(Header image: Screenshots show a Xi'an subway security personnel dragging a woman passenger. From Weibo)