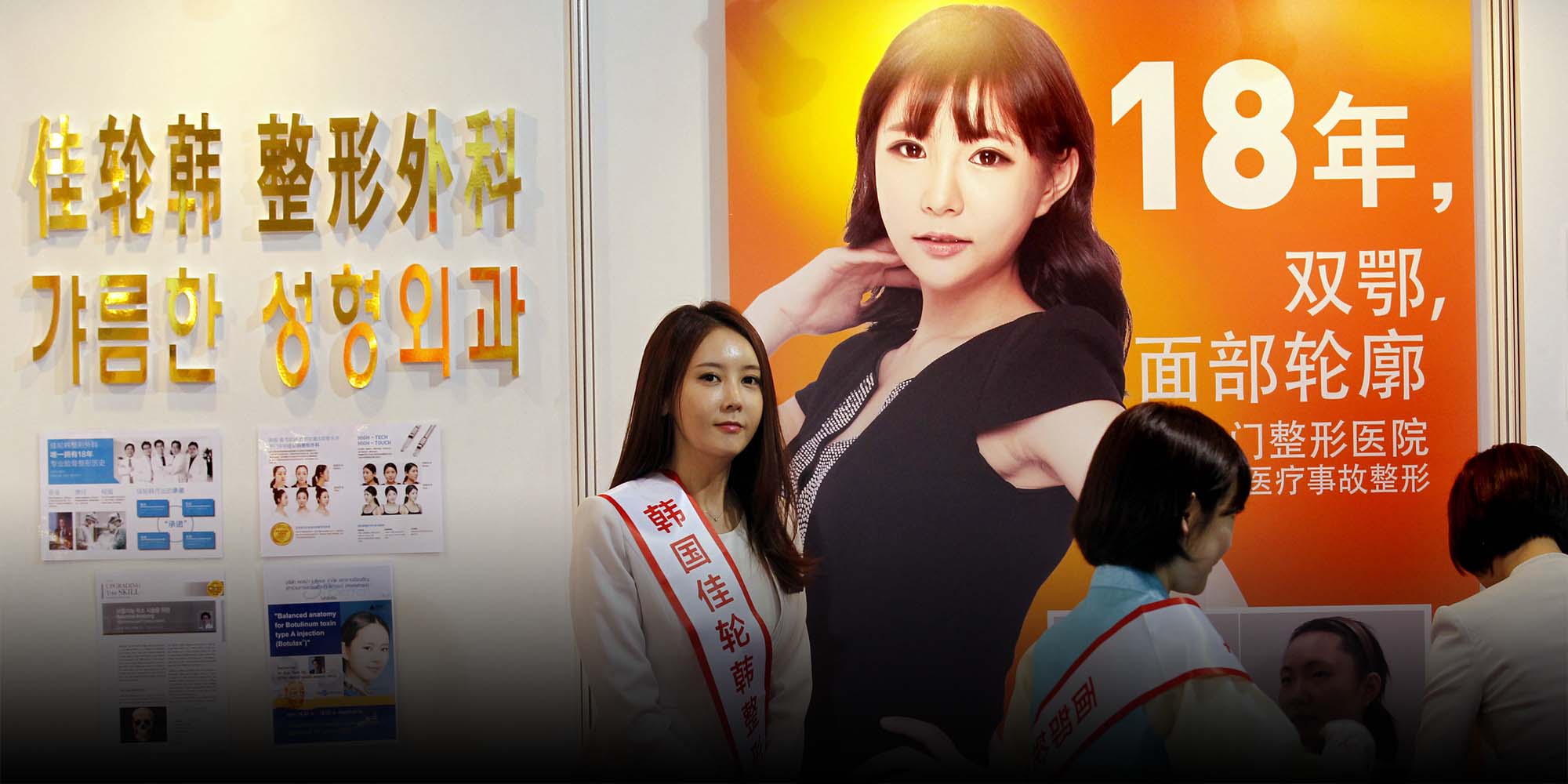 NEWS
China Wants to Ban Body-Shaming in Cosmetic Surgery Ads
The under-regulated industry's fast growth is accompanied by a comparable increase in complaints and scandals.
China's cosmetic surgery clinics, which have seen booming business in part by playing on people's social media-fueled insecurities, will soon be banned from telling people they look lazy or unintelligent unless they fix their appearance.
On Friday, the State Administration of Market Regulation published draft guidelines on regulating cosmetic surgery ads that aim to "safeguard consumers' legal rights and interests" and which are open to feedback for a month.
The guidelines call a halt to advertising that plays on people's "appearance anxiety" by suggesting that better looks are key to success and that people who aren't traditionally attractive are "incapable, lazy, and poor." They also ban promoting unapproved drugs and equipment, guaranteeing a surgery's effectiveness and safety, as well as using former patients' before-and-after pictures.
Fueled in part by the desire to take selfies on par with those of celebrities, China's cosmetic industry has risen rapidly over recent decades, with consumers increasingly opting for often invasive medical treatments to resculpt their face and body. The market is predicted to grow to 300 billion yuan ($46 billion) by 2023 and to cater to more than 25 million consumers, according to consultancy iResearch.
But oversight has not kept pace. In 2019, China had 13,000 legal clinics but six times as many illegal competitors, iResearch said. Complaints about botched treatments are on the rise. And social media has been filled with calls for better regulation following high-profile scandals, such as when actress Gao Liu shared photos of the tip of her nose having turned black after an unsuccessful surgery.
And while cosmetic surgery enthusiasts say that they have become more confident after undergoing surgeries, others criticize the unified aesthetic brought by the prevalence of surgically-created double eyelids, high and slim noses, and sharp chins.
"The government has paid attention to the chaos of the cosmetic surgery industry, and they have noticed that the ads were one of the main factors that caused the chaos," Ru Xiaoshan, director at China's first cosmetic surgery mediation center Yimeijing, told Sixth Tone. He said that the guidelines for the first time clarify that cosmetic surgery ads are medical ads.
Yimeijing works with Beijing's Haidian District government in clamping down on illegal cosmetic surgery clinics, Ru said. During their cooperation, they often encounter clinics advertising their services with misleading terms, such as using "nanotechnology" to describe a surgery to create folds in someone's eyelids. "But it's difficult for consumers to find out that these terms are irregular," he said.
In July, China's National Health Committee banned a cosmetic surgery called "crus muscle block," an unapproved treatment wherein a patient's leg nerves are partially severed to make their calves slimmer.
Editor: Kevin Schoenmakers.
(Header image: People Visual)