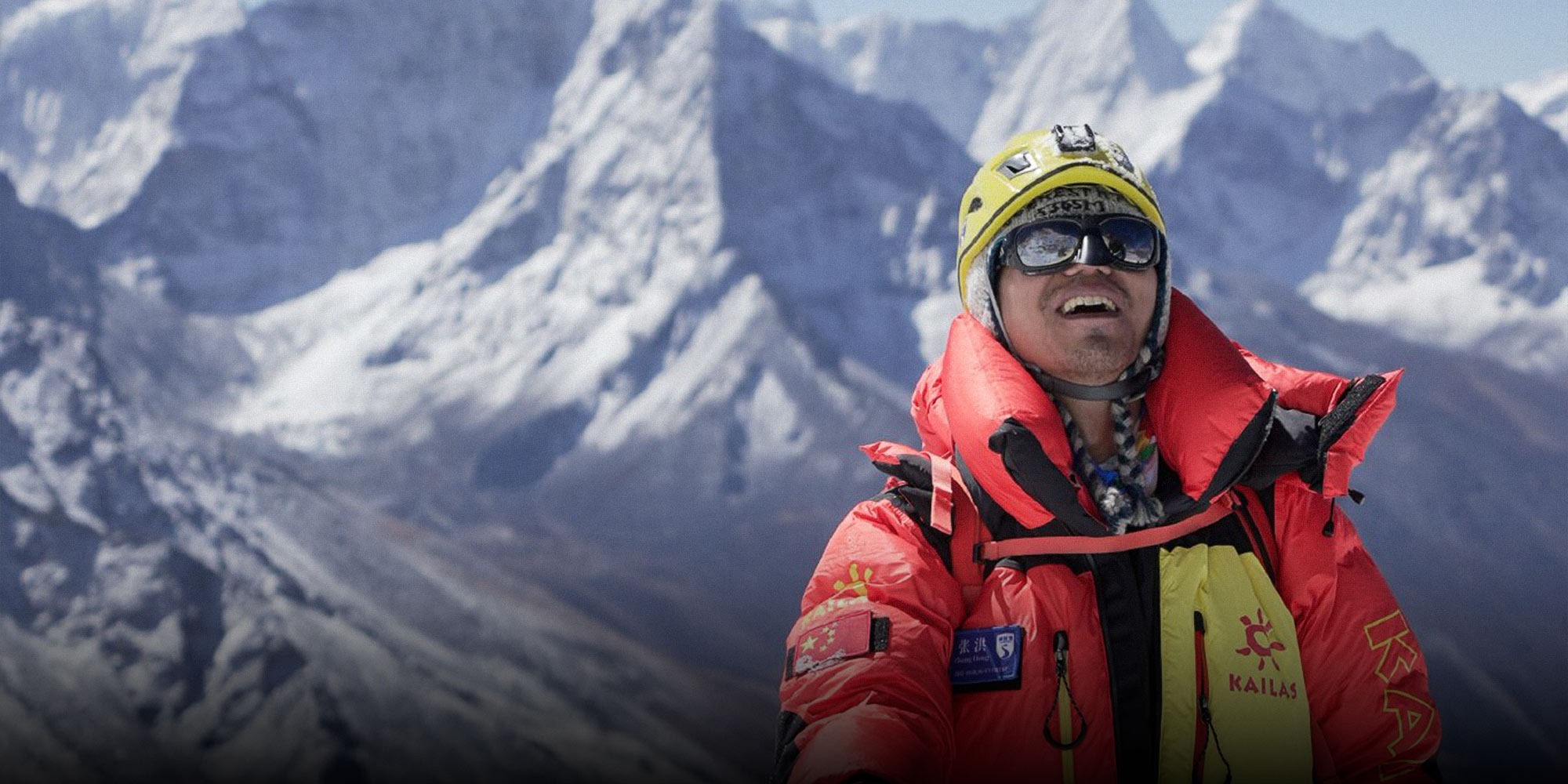 FEATURES
A Blind Man's Epic Quest to Conquer Everest
Seven years ago, Zhang Hong had never climbed a mountain — or even heard of Mount Everest. This May, he overcame incredible odds to become the first blind person from an Asian nation to reach the world's highest peak.
Zhang Hong often used to daydream about what he'd do if he reached the summit of Mount Everest. Sometimes, he imagined himself performing tai chi or singing a song; "You Are My Eyes" by the blind Taiwanese pop star Xiao Huangqi was a top candidate.
But when the moment finally arrived on May 24, Zhang did nothing at all.
The 46-year-old completed his final ascent at 9 a.m. Nepal time, becoming the first blind person from an Asian nation to scale the world's highest mountain. Yet as he stood on the peak under a piercing blue sky, Zhang didn't feel like celebrating. He was too terrified.
Icy wind took over his body. The cold was so intense, Zhang couldn't feel the sunrays on his skin and assumed the sky must be overcast. He feared he might not survive the descent back to base camp.
"At the top, I couldn't sense even a trace of heat," Zhang tells Sixth Tone. "The wind was so strong that it could have taken my life at any time."
It's difficult to overstate the scale of the challenge Zhang undertook just under seven years ago, when he first heard the name Mount Everest — and set his heart on climbing it.
Scaling Everest remains a perilous task even for veteran mountaineers. Nearly one in three who attempt it fail; at least 11 people died on the mountain in 2019 alone. In 2001, Erik Weihenmayer, an American, became the first blind person to stand on the 8,849-meter summit. Since then, only two other blind climbers — including Zhang — have been able to reach the top.
Zhang had to start his journey literally from scratch. A former migrant worker who lost his sight at the age of 21, he had never even seen a snow-capped mountain before — let alone climbed one. But he was driven by a fierce determination to claim a place in history.
"I will never see the world again," says Zhang. "But I hope that, through this, the world will see me."
Zhang comes from humble origins. He grew up in a poor village outside central Chongqing, a megacity in southwest China. As a child, he often had to act as a guide for his father and uncle, who had both lost their sight to glaucoma. He still recalls the judgmental looks their neighbors gave them as they passed by.
In his teens, Zhang was diagnosed with the same eye condition. Medical treatment failed to slow the disease's progression, and at 21 years old he lost his sight completely. He had flunked China's college entrance exams and was working blue-collar jobs in the city to scrape by.
During this dark period, Zhang attempted to kill himself multiple times. Even with his girlfriend's support, it took years for him to accept the hand fate had dealt him and find a new purpose in life, he says.
"I became so self-enclosed," he says. "I always wanted to do something different to prove myself, but I'd never found a direction that would allow me to make such a breakthrough."
The young migrant worker spent several years bouncing between China's major cities, before eventually moving to Lhasa, capital of the Tibetan Autonomous Region, in 2012. It was here that his dream of conquering Everest took hold.
By 2014, Zhang had found some relative stability in his life. He had a steady job at a local hospital — where he performed massage, acupuncture, and other physical therapies — and gotten married. In the mornings, he often stopped at the park to do some tai chi before work. One day, a friend grabbed him after his routine and introduced a man named Luo Ze.
Luo Ze, it turned out, was one of China's most famous mountaineers. The pair struck up a long conversation, during which Luo Ze described his experiences climbing the world's 14 highest mountains — including Everest. Zhang, who had never heard of the mountain before, was fascinated.
"I asked him whether a blind person had ever ascended Everest, and he said, 'Yes, an American reached the summit in 2001,'" Zhang recalls. "Then, I asked: 'Could I make it, too?'"
At the time, the idea sounded ludicrous — even to Zhang himself. "I had never seen a snowy mountain before and I didn't have any experience of outdoor sports," he says. 
Nevertheless, Zhang set about trying to make his extravagant dream a reality. He started by getting fit. Each day, he spent an hour repeatedly climbing and descending the stairwell in his apartment building, interspersed with sets of push-ups.
Over the next few years, Zhang began accompanying Luo Ze and other local mountaineers on expeditions across western China. He completed a series of increasingly challenging climbs: Luodui Peak (6,010 meters) and Chomolhari Kang (7,050 meters) in Tibet, followed by Muztagh Ata (7,546 meters) in Xinjiang Uyghur Autonomous Region.
During this last trip in 2019, Zhang was paired with a guide named Chen Tao — a 40-year-old army veteran-turned-professional mountaineer who went by the nickname Qiangzi. The pair struck up a rapport during the long ascent. When they reached the summit, Zhang shared his ambition to conquer Everest.
Qiangzi didn't take Zhang seriously at the time. But as they got to know each other better, he grew increasingly impressed by the blind man's self-discipline. He decided to try to help.
"People climb mountains because they have the spirit to explore the world, as well as themselves," says Qiangzi. "Whether he ended up making the ascent or not, I knew it would still be a meaningful and enlightening experience."
By this stage, Zhang's preparations had already kicked into high gear. In 2018, he'd begun a campaign to raise the tens of thousands of dollars he'd need to fund an expedition to Nepal. 
Thanks to generous support from several charitable organizations, Zhang was able to arrange a nationwide series of speaking events to raise funds. Along with a hefty donation from his employer, he had the necessary funds ready well ahead of his planned departure date in early 2020.
He also stepped up his physical training, getting up at 6 a.m. for rope-skipping, running, and push-up sessions. He was now pounding up and down the 12-story stairwell in his building with up to 35 kilograms of gear on his back.
The COVID-19 pandemic put Zhang's plans on hold for an entire year. But in March, climbing at Everest finally resumed and Zhang boarded a flight from the southern Chinese city of Guangzhou to Kathmandu, Nepal.
"It was only then that I felt climbing Everest was becoming a reality, rather than a rallying cry," Zhang recalls.
Once they had arrived in the Himalayas, the real work began. The team started with a nine-day hike to reach the Everest base camp, followed by a practice expedition along the Khumbu Glacier — one of the most dangerous sections of the South Col route to Everest's summit.
Qiangzi used this time to prepare Zhang as best he could for the task ahead. Because of his blindness, Zhang had no way of anticipating danger in the Himalayas, where the terrain is always changing and icefalls can occur at any moment. The guide made sure his charge understood that his previous training would count for little once the expedition began.
"I repeatedly warned him that Everest wouldn't treat him with mercy because of his visual impairment," says Qiangzi.
Besides mastering essential mountaineering skills like abseiling, Zhang also practiced emergency first aid. But most of all, he learned to follow Qiangzi's instructions with absolute precision.
On the mountain, Qiangzi had to guide Zhang literally step by step — telling him how long a stride to take, in which direction, and alerting him to any potential hazards that lay ahead. Yet even this often wasn't enough — and Zhang fell too frequently for comfort. Qiangzi had to provide him with a pair of knee pads to help him avoid getting injured.
"Stepping on a flat floor at home is nothing like walking on the ground outside," says Zhang, "Everest, with its irregular terrain of icy cliffs and crevices, is another thing altogether."
As the stress from the training mounted, conflict began to erupt between Qiangzi and Zhang. "I was very strict with him, and sometimes I became impatient when I thought he was being too slow," says Qiangzi.
The arguments only stopped after Qiangzi took a team member's advice: He tried hiking near the base camp while wearing a blindfold. The experience made Qiangzi more sensitive to the challenges Zhang was facing, and he learned to contain his frustration a little better.
Zhang, meanwhile, was mentally preparing himself for the peril that lay ahead. A few days before leaving China, he'd had a sobering moment when he was asked to sign a series of waivers confirming that he accepted the risks associated with climbing Everest.
"The document asked how they should dispose of my body in the case of an accident," says Zhang. "I chose to have my body buried under the mountain."
Throughout his training, Zhang's wife had been supportive of his ambition, as she understood that it was deeply meaningful to him. But Zhang knew she was fearful for his safety. As the expedition began, Zhang deliberately kept contact with his family to a minimum — especially when poor weather forced the team to push back their departure for the summit by four days.
"If I'd told my wife everything, it just would have increased the mental strain on her," says Zhang. "I had to bear all the risks myself. The only thing I'd tell her was that I was safe."
On May 20, the team — accompanied by three Sherpas — set out for the summit. They began by passing through the Khumbu Glacier, before stopping at four camps along the route, where they were able to rest and resupply. During the ascent, Zhang insisted on doing everything himself — only accepting help when absolutely necessary.
"The guides only needed 20 seconds to tie a climbing knot, whereas it might take me a few minutes," says Zhang. "But as long as our safety and schedule weren't compromised, I did it by myself. It was my own experience."
After three days of climbing, the team began their final ascent toward the summit at 9 p.m. on May 23. Strong winds forced them to pick their way slowly. Zhang had to concentrate intensely on every step. Qiangzi's voice became hoarse from shouting in the freezing conditions.
Then, at 8,700 meters — just 150 meters below the summit — Qiangzi realized the team was running out of oxygen. Someone would have to turn back, to ensure the rest of the team could make it to the top safely. And the guide knew that person had to be him.
"When I heard from Qiangzi that he would give up the ascent to leave enough oxygen for me, I was so terrified," says Zhang. "I told him if he wasn't going up, neither would I. But he persuaded me that he still had plenty more chances to make the ascent in the future, whereas this might be my only opportunity."
With the wind howling, there wasn't time for arguments. Qiangzi gave Zhang a final push, and Zhang marched on.
"I promised Zhang's family that I would take him to the summit safe and sound," says Qiangzi. "I couldn't accompany him there, but at least this decision ensured his safety."
Once Qiangzi had left, the ascent became even more challenging. Zhang, who couldn't speak English, struggled to communicate with the Sherpas. The instructions narrowed down to one word: "Up."
"I was surrounded by the horrible sounds of icefalls," says Zhang. "It was nature warning me that Mount Everest is totally different from other mountains."
But four hours later, Zhang at last felt the terrain under his feet flatten out. The Sherpas rushed to hug him, guiding his alpenstock to feel the ground around him. "Here's the summit!" they shouted.
Numb with cold and fear, Zhang stayed on the peak for only a few minutes, before gesturing to the team and starting the long journey back down the mountainside. In hindsight, he regrets not being able to savor the moment, but he had other priorities at the time, he says.
"It was only when I got back to the base camp safely that my trip to conquer Everest could be called a complete success," Zhang says.
Though the expedition is over, Zhang says his adventure is just beginning. He's determined to continue pushing himself, hoping his feats can inspire blind people around the world. 
Over the past few months, the mountaineer has been studying English so he can communicate with people outside China. In the future, he hopes to climb the rest of the world's tallest mountains and set foot on the North and South Poles.
"If you have a goal in your mind, don't hesitate — just go for it," says Zhang. "It's impossible for people to see what will happen tomorrow, so why not have a try?"
Editor: Dominic Morgan.
(Header image: Zhang Hong poses for a photo on Mount Everest, May 2021. From @张洪_珠峰2021 on Weibo)