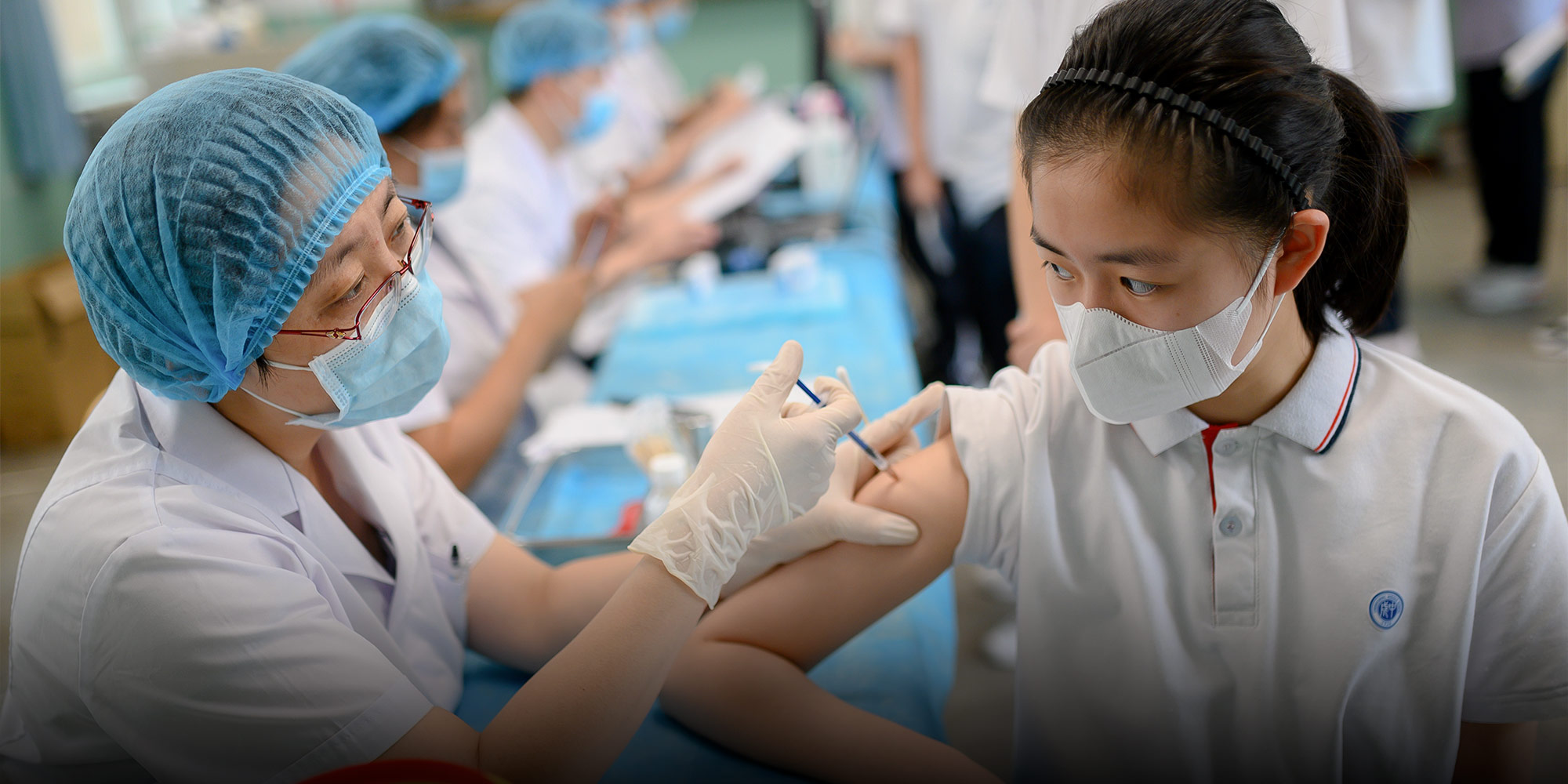 FEATURES
Will mRNA COVID-19 Vaccines Be China's Ticket Out of Isolation?
Pfizer-BioNTech and Moderna developed the most effective coronavirus shots. Chinese startups are chasing their title.
JIANGSU, East China — When the first speaker finally finished clambering over conference attendees on his way to the microphone, he apologized for his lateness. Going by the number of seats, the organizers had expected just a few dozen attendees willing to spend their day pondering RNA therapeutics — a long overlooked niche in biomedical research that concerns itself with using genetic technology for disease treatments.
But the field has attracted an explosion of attention globally after two COVID-19 vaccines that use messenger RNA (mRNA) — genetic material that carries instructions for cells — were designed by Moderna and Pfizer-BioNTech with astonishing speed and exceptional success. And so, during a recent, sweltering summer morning, over a hundred people filled the modest conference room, spilling out into the aisles and anywhere else there was space.
The speaker, Ying Bo, is the CEO of China's hottest biotech startup: Abogen Biosciences. Just two years old, the company is one of at least five Chinese hopefuls in the quest to develop a highly effective home-grown mRNA COVID-19 vaccine. Abogen's shot, dubbed ARCoV, is the furthest along. It uses the same core technology as the Moderna and Pfizer-BioNTech vaccines, training a person's immune system by delivering pieces of mRNA into the body that instruct cells to create proteins that are harmless but similar to those of the COVID-19 virus.
And while those Western vaccines remain unavailable in China — for reasons experts can only guess at — all eyes are on Abogen and its competitors. Their success won't just establish China's biomedical industry as among the global best, but also has the potential to change the course of the pandemic in China and in the many countries around the world that rely on China for vaccines. The country's race to develop a coronavirus vaccine is entering its second lap.
A Harder Road to Herd Immunity
Already, China's COVID-19 vaccine development has been a success in many ways. So far, within a year and half of the initial outbreak, at least seven different shots have secured emergency or full approval in the country. Domestically, more than 1.9 billion doses have been administered as of Saturday, and, amid limited global availability of Western-made shots, more than a hundred countries have used Chinese vaccines to inoculate medical workers and other groups.
The two most-used Chinese vaccines, made by pharmaceutical firms Sinopharm and Sinovac, have received emergency approval from the World Health Organization. They use the more established technology of training a person's immune system with inactivated COVID-19 viruses.
But the Chinese vaccines, while effective at staving off severe disease and death, have proven less effective at preventing COVID-19 cases outright, compared to the two mRNA shots by Moderna and Pfizer-BioNTech. The latter appear to better stimulate the body's immune system to create virus-defeating antibodies, Shi Jinjun, an RNA therapy researcher at Harvard Medical School affiliate Brigham and Women's Hospital, tells Sixth Tone. The Western shots have both shown over 90% efficacy in clinical trials and real-world use, compared to 50% to 78% for the Chinese vaccines.
This is one reason why the Chinese government has kept its border tightly shut ever since COVID-19 was declared a pandemic. The country initially adopted a strategy of strict zero-case policies combined with an aggressive vaccination drive, in the hope that reaching a high enough level of immunity in the population to extinguish any outbreaks — herd immunity — would in time allow the country to reopen its borders.
From the outset, reaching that goal posed a formidable challenge. And the emergence of highly contagious virus variants like Delta that reduce the efficacy of current vaccines might have put it out of reach entirely. The math for herd immunity, in essence a combination of vaccination rate and vaccine efficacy, is getting harder to square. Even if China's entire population were inoculated with the country's most effective shot, it might no longer be enough to protect against further outbreaks.
Although the Chinese government has assured the public that the domestic vaccines are "still effective" against the Delta variant, "not releasing any actual data to me seems that they may not be really confident about it," Huang Yanzhong, a China health policy expert at the Council on Foreign Relations in New York, tells Sixth Tone.
Currently, China is on the downslope of its largest outbreak of cases in over a year. Authorities say it began when fully vaccinated airport workers caught COVID-19 from cleaning a plane that had arrived from Russia with an infected passenger. The virus spread to at least 13 provinces in the country and officials reinstated lockdowns for thousands of people.
The outbreak has put China on alert, and sparked debate over whether the country should change its approach. Like other countries with high vaccination rates, some argue China should gradually open up while dealing with a small number of cases. "China's 'zero-tolerance' policy against COVID-19 will only get more costly as the fight drags on and variants emerge," Huang says. "It means the policy needs to change, but it doesn't seem that China has the condition for such adjustment."
A more effective vaccine based on mRNA technology, on the other hand, may allow China to hold the course, inoculating itself out of isolation while maintaining its zero-tolerance approach to new cases. As such, the country's vaccine race continues, for a stronger shot that can fend off a trickier virus.
"We must pay attention to mRNA vaccines," Gao Fu, the head of Chinese Center of Disease Control and Prevention, said during a vaccine conference earlier this year. "[We] shouldn't ignore the mRNA vaccine just because several COVID-19 vaccines are now available in our country."
The Shots Heard Around the World
The two Western mRNA vaccines are a true scientific triumph. The first-ever shots to use the technology, they proved far more effective than most vaccines for other viruses, and were developed at an unprecedented pace. "Without the pandemic, we probably wouldn't have had an mRNA vaccine for another five years," says Huang Linfeng, an RNA biotechnology researcher at Duke Kunshan University in eastern China.
They also quickly became entrepreneurial legends. Moderna was founded just 11 years ago and, before the pandemic, had no approved products. But its COVID-19 vaccine has earned it billions of dollars and has sent its stock soaring.
Chinese investors and pharmaceutical companies were quick to take note. So far, at least five companies — mostly startups founded around 2019 — have announced they are working on mRNA COVID-19 vaccines. On Thursday, Abogen said it had raised over $700 million in its latest funding round. Two months ago, StemiRNA, another Chinese mRNA firm, received $200 million in new financing. "The entire mRNA field is going through exponential growth right now," Abogen's Ying said at the RNA therapeutics conference. "In China, the industry is just about to take off."
Abogen is in pole position. Its vaccine, ARCoV, is slated to soon enter a phase 3 clinical trial, in which thousands of volunteers in China and Mexico will receive the shot to test its efficacy against COVID-19. The company is collaborating with a domestic vaccine maker, Walvax Biotechnology, that has years of experience working with China's regulators. If the vaccine is approved, the two companies say they will together be able to produce over 150 million doses a year.
"The one product, the COVID-19 vaccine alone, has brought more than $69 billion in market growth to the (global mRNA) industry," Ying said. "The amount of financing in the whole field is now in a rapid growth mode, including from venture capital to public bonds."
But to some, the Chinese startups' investors are blinded by visions of steep profits without heeding the challenges that lay ahead. "We are now seeing that this field of mRNA drugs is actually a dysfunctional situation," says Huang Linfeng. "Just because the U.S. has this great technology, everyone here starts to flock to it — mostly chasing after the money. Honestly, without accumulation of technology and know-how from years of experience, not everyone can make a good mRNA vaccine."
While designing an mRNA vaccine is a relatively straightforward process whereby all scientists need is a virus' genetic sequence, "it doesn't mean they are easy to make at all," Harvard Medical School's Shi says. "Moderna and BioNTech have more than a decade of experience in mRNA drug research and development, so they had many things ready when the pandemic hit."
Roadblocks
For nearly four decades, scientists dreamed about using mRNA to develop drugs and vaccines. The scheme of RNA therapeutics is revolutionary. Unlike traditional drugs that are synthesized in a factory, RNA drugs essentially move the factory inside the human body by instructing cells to create the necessary proteins.
But for a long time, scientists failed to turn this tantalizing theory into a working product. One roadblock — previously considered insurmountable by some — was that mRNA is fragile. Without a protective shell, the molecule would disintegrate before reaching its destination. It wasn't until several years ago that researchers successfully designed a wrap of tiny fat bubbles, called lipid nanoparticles, that functions as a safe shuttle for the mRNA molecules.
A potential barrier for Chinese and other drug makers hoping to develop mRNA vaccines is that most technological breakthroughs related to RNA medicine are protected by patents owned by companies or researchers in rich, Western countries. Many argue that these patents prevent lower-income countries that may not be able to afford the existing mRNA vaccines from developing their own.
In late 2020, India and South Africa proposed to the World Trade Organization that intellectual property (IP) protections on COVID-19 vaccines and other related technologies be waived so that developing countries could also manufacture the life-saving shots. Many wealthy countries, including the U.K. and Canada, voiced their opposition, arguing that manufacturers without experience in this field would produce substandard vaccines while competing with established firms for raw materials. But, this May, the U.S. government said they backed the proposal and pledged to participate in the WTO negotiations.
The Chinese government expressed its endorsement as well. "China supports the WTO's proposal on IP exemptions for anti-epidemic materials such as the COVID vaccine to enter the text consultation stage," Reuters quoted China's Commerce Ministry spokesman Gao Feng as saying during a press conference in May.
But it's unclear which patents are under discussion, Gu Xiaoman, a medical IP lawyer at GEN Law Firm in Beijing, tells Sixth Tone. "The move by the Biden Administration is more of a political act, and its practical implications may not be as significant as the gesture," she says.

The term "waiving" is also vague, Gu adds. "It doesn't necessarily mean they'll publish their recipe. It could end up being something like 'we are not going to sue you for using our recipe if you can find out what it is yourself.'" Until the October WTO negotiations take place, it's unclear if Chinese companies could benefit from the IP exemption. They haven't commented on the issue.
The most disputed patents concern the lipid nanoparticles (LNP) that protect mRNA molecules. Abogen, for one, claims to have created its own LNP technology. During the conference, Ying said semi-jokingly that, "LNP patents aren't the barrier to enter the industry. Knowing how to get around this patent is the true barrier. If you want to know how to do it, come talk to us, or find a better patent lawyer."
China also has another route to an mRNA vaccine. Shanghai-based Fosun Pharma struck a deal with BioNTech early last year to sell its mRNA shots in mainland China and Hong Kong once local regulators gave their approval. In May, Fosun also announced that the two firms would form a joint venture to manufacture the mRNA vaccine in China. While their shot was approved for emergency use in Hong Kong in January, mainland regulators have yet to give the nod.
"I recently heard rumors that the Chinese regulator will approve the shot this month, but also I've been hearing that every month," says Council on Foreign Relations' Huang Yanzhong. While it's unclear why the decision is still pending, several Chinese public health experts have suggested giving people a third shot to boost their immunity, and that using a vaccine different from their first two shots would have the biggest impact. "To me, that sounds like a signal for accepting an imported, more effective vaccine," Huang says. "But it's not going to be easy to convince the government, as well as the public, to approve a shot made with a new technology."
Some suspect Chinese regulators are moving slowly because they are simply complete strangers to mRNA pharmaceuticals, compared with authorities in the West that have been dealing with experimental products for years. "The Chinese government is very conservative," says Huang Linfeng, the RNA researcher. He explains that a tiny minority of mRNA vaccine recipients have reported adverse reactions, such as heart inflammation, that scientists don't yet understand and might give regulators pause. "The technology is just so new," Huang says.
Rushing Ahead
The office of Zhang Jiguo, StemiRNA Therapeutics' chief financial officer, shows just how fast the industry is moving. He occupies a corner on the second floor of a nondescript building on the outskirts of Shanghai, half of which is empty space with unpainted concrete walls and bare floors. The set-up doesn't look like it's part of a company worth billions of yuan.
"Not everyone is in here," Zhang tells Sixth Tone while walking down the building's narrow hallway. "Our CEO works in the next building, and our research team is upstairs." Founded in 2016, the mRNA drug-maker only had about 30 people on staff until about a year ago, when it quickly expanded to more than 250 employees.
StemiRNA's vaccine is China's second mRNA COVID-19 shot to have begun testing in humans. A phase 1 trial just finished, involving fewer than 80 participants at a private hospital in Hangzhou. Zhang also claims that, for people who have already received two doses of an inactivated vaccine, the company's mRNA vaccine has proven more effective as a booster shot than a third such dose. The results of both trials are yet to be published.
The company is looking beyond the typical next step — a phase 2 trial — and is instead hoping to get clinical trials approval for its second generation vaccine. It was designed using the genetic information of the Beta variant, which shares some mutations with its Delta cousin. The hope is that it will prove effective against the most contagious COVID-19 strain to date.
"I think it's the best COVID-19 vaccine in the country, and among the top in the world," Yao Weiguo, the company's Senior Vice President, tells Sixth Tone in his office on the equally sparsely adorned third floor. Both he and Zhang received injections of StemiRNA's experimental second generation vaccine. Yao says he had no noticeable side-effects. Zhang says he experienced only a mild fever after the second shot, and felt fine otherwise.
Besides StemiRNA and Abogen, three other Chinese mRNA startups are still testing their COVID-19 vaccines in test tubes or on animals.
There is no guarantee of success. CureVac, a German mRNA company with over 20 years of experience in the field, reported in June that clinical trials had shown its mRNA vaccine was just 47% effective in preventing COVID-19, falling short of the 50% efficacy approval threshold set by the WHO and the drug regulators of several countries.
Contribution: Nie Yiming; editor: Kevin Schoenmakers.
(Header image: A high school student receives a COVID-19 vaccine in Taiyuan, Shanxi province, Aug. 11, 2021. Wei Liang/CNS/People Visual)