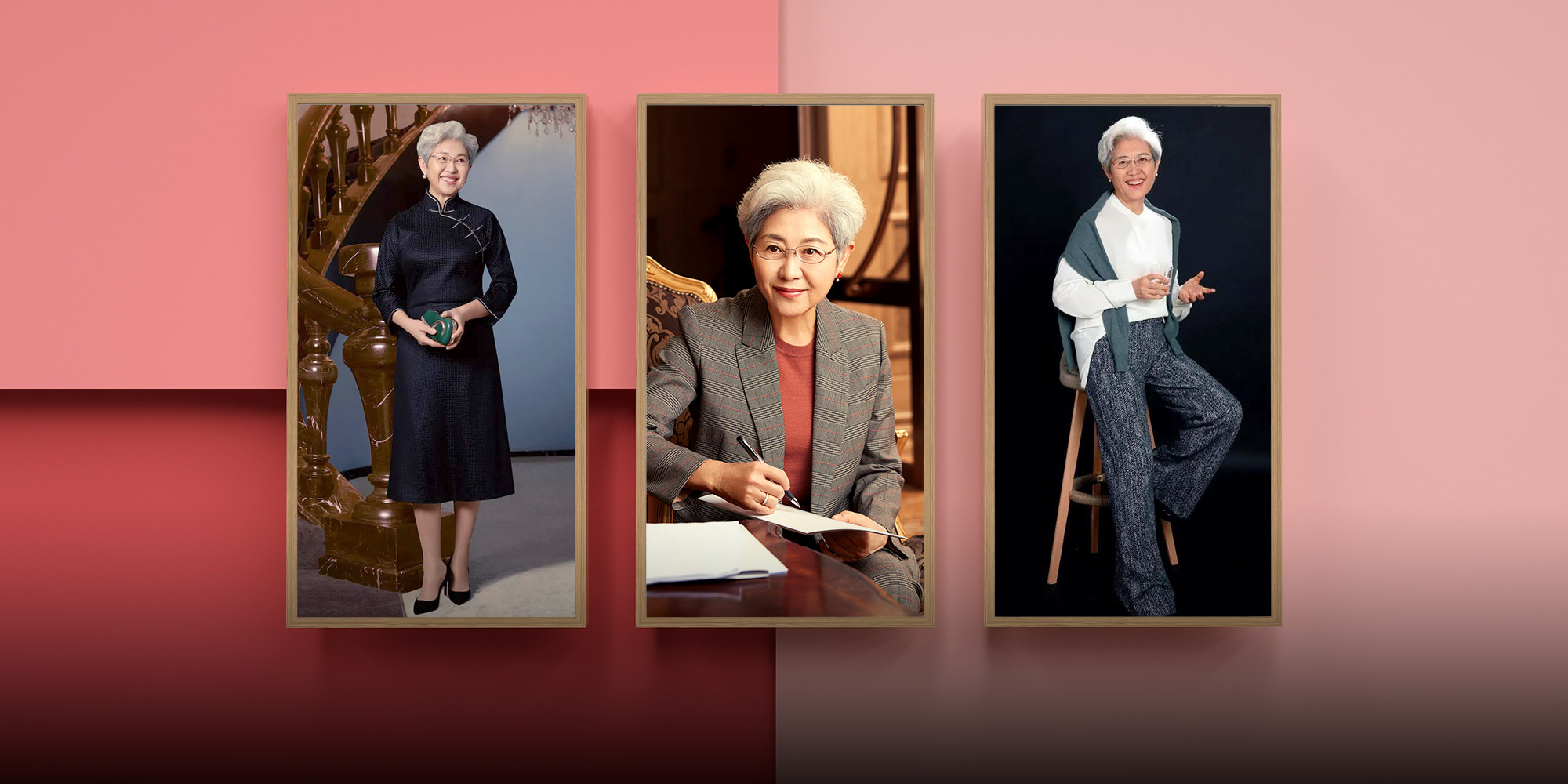 SIXTH TONE ×
How Manners Matter to Chinese Diplomat Fu Ying
In her book 'My Etiquette Journey,' the former ambassador to Australia and the U.K. writes what her 30-year career taught her about etiquette.
Editor's note: Madam Fu Ying was one of China's most famous diplomats, serving as ambassador to the U.K., Australia, and the Philippines. This year, she published a new book on dressing for special occasions, especially those in the diplomatic sphere. Titled "My Etiquette Journey," the book offers a rare glimpse into the Chinese diplomatic world. In the book, Fu uses her unique stories to illustrate what she sees as the core of etiquette: acting respectfully, expressing yourself gracefully, and facing the world with calm. The following are excerpts from the book.
It was the evening of Dec. 6, 2009. The sky was getting dark, but the sunset had left a pink and blue afterglow.
During the early winter in London, the sun always sets early, and after 7 p.m., the cold comes creeping. I was wearing high heels and an ankle-length black velvet coat over my Chinese evening dress. In my small handbag inlaid with colored stones, there was an invitation to the annual diplomatic reception held by Queen Elizabeth II at Buckingham Palace.
The moon shone bright in the sky decorated with stars. I was walking briskly down The Mall, the road in front of Buckingham Palace, which was empty this evening. At the end of The Mall, about 500 meters ahead of me, was the palace, where the diplomatic reception was to be held at 8:30 p.m. However, the area was still unusually quiet. The moonlight and my walking shadow appeared on the pavement of The Mall's dark, red surface.
I had received the invitation a month earlier, which had given me enough time to prepare for the reception as China's ambassador to the United Kingdom.
My driver, Jin Changyong, suggested that we depart early to avoid rush hour traffic, so we left the mansion early and drove to Buckingham Palace. Even so, we got stuck in traffic 5 kilometers away from our destination, and couldn't move an inch further. On the radio, we heard that there had been an accident ahead and that the traffic would not ease anytime soon.
Nevertheless, it is unacceptable for an envoy to arrive late to an event held by the head of state where he or she is posted. So, my driver tried a different route and arrived at the intersection of The Mall, directly in front of Buckingham Palace. The usually busy road was empty, and the wide intersection was completely blocked off by barricades. A young and charming policewoman wearing a black uniform walked toward us.
I got out of the car and showed her the gilded invitation, saying, "I'm the Chinese ambassador, and I'm invited to the diplomatic reception held by Queen Elizabeth II at Buckingham Palace. The reception is about to start, so can we pass through?" She gave me a polite salute, but meanwhile, she shook her head firmly, telling me in a pronounced Scottish accent, "There has been an accident ahead, I'm sorry, but your car cannot pass."
So I asked, "Can people pass through?"
"You?" she asked me politely. "Walk to Buckingham Palace?" She seemed surprised, but then she replied, "Sure, if you wish, madam."
So, there I was, walking alone on The Mall.
The grayish brown evening dress I wore that night was simple and neat, designed by a Chinese brand and made out of drooping mulberry silk. It was sleeveless with a small V-neck and rather plain, except for the pink embroidery on one side of the front and on the wide waist, with a mandarin collar giving it a particular aura. The dress was ankle-length, revealing a loop of pink satin lining that echoed the pink embroidery. I had matched the dress with a shawl made of brown mulberry silk on the outside and pink satin fabric on the inside.
The black velvet coat was tailored in the style of a military coat by a high-quality workshop in Beijing's Art District. The tight waist is simple and crisp, and the loose lower hem did not affect walking at all. On one side of the large lapel, there was a pink brocade embroidered with a plum pattern, and on the other side, there was black velvet applied to the whole body. The dress' asymmetrical collar and cuffs represent Chinese elements. One of the cuffs was flared with Chinese-style buckles, and the inner lining was soft and comfortable royal blue silk, faintly visible in the swing of the sleeves; the other was just ordinary cuffs with loops. The coat was lined with pink brocade that was applied to the large lapel, on which there was a bold and excellent collision between blue and pink, as well as between Western vigor and the Chinese elegance.
The heelless transparent and soft plastic high heels, which were purchased a year earlier at a bargain shop in Beijing, were so comfortable that I could walk a long way without hardship.
Walking alone in the moonlight, I could not help but recall what I had been through over the last 30 years.
It was 1978 when I first went abroad.
After graduating from Beijing Foreign Studies School (now Beijing Foreign Studies University), I attended the one-year foreign training class at China Foreign Affairs University. Then I was dispatched to the Embassy of the People's Republic of China in Romania, where I engaged in English translation and international affairs studies. China's reform and opening-up was in its infancy, and there was great potential for Chinese-foreign relations. For this purpose, embassies did not only need officials who understood the local language but also those who understood the common languages used by missions from various countries, such as English and French. Personnel going abroad went to Hongdu Clothing Company to get clothes. At that time, I was still completely unfamiliar with working at an embassy and did not know what clothes to make. Luckily, the company's master craftsman was very experienced and gave me many specific suggestions. I ordered a camel wool coat, a purple-blue suit, and a beige suit, all with trousers, two Dacron dresses, and a white skirt with a blue floral pattern. I bought two white Dacron shirts and a pair of black round-toed kitten heels at the "Overseas Personnel Service Department" on Beijing's Wangfujing commercial street. These outfits were my all-season clothing while working overseas.
The first time I accompanied Ambassador Chen Shuliang to a dinner party in Romania was at the residence of the Ambassador of Spain. The ladies wore off-the-shoulder gauze dresses and the gentlemen wore black bow ties. The table was set with flowers and candlesticks, and we were served soup, roasted meat, and dessert, accompanied by red and white wine. To me, it felt like I was a person in a novel.
So, what did I look like that night? I was wearing my finest purple-blue wool serge suit, with a crisp new white shirt underneath. I arranged my shoulder-length hair into two short braids with two hair bands, which were ornamented with two green plastic balls. I had washed my face and applied vanishing cream but wore no makeup. The Ambassador of Spain, meeting this young woman from a strange country, was very nice to me throughout the dinner party. I also did not feel uncomfortable with my outfit because I was doing the best I could in my situation, and I still feel that I could not have done better.
During the years working in Romania, I began to get an understanding of diplomatic etiquette, and I tried to be as neat as possible and comply with the requirements of etiquette to the extent that I could. But sometimes, the clothing I had was not enough to meet the dress code for all occasions. So, when I returned home for vacation, I decided to upgrade my wardrobe. I added three silk shirts and a black dress that was easy to match with my summer clothing. Chinese silk had often been praised for its high quality and low price. For the events in winter, mostly the general ceremonies and banquets, I tailored two Chinese-style brocade coats to match the black skirt. The reason I did not choose a cheongsam was because of its limitations. Another factor that had to be considered was the cost — the price of one cheongsam was almost equivalent to that of two jackets. Achieving as much functionality as possible at as little cost as possible has been the secret of how I dress for my entire life. I adhere to one principle, which is, "Do your best within your capacity."
After finishing my service with the embassy in Romania in 1982, I returned to the Chinese mainland, where I worked for the Ministry of Foreign Affairs' translation office. At that time, I still wore no makeup. The common thinking then was that "clothing will be worn out and then washed out" due to the low income of the general public and the limited selection of styles on the market. At workplaces, people put their jackets for foreign affairs in the office and wore them to attend events. We young female translators only had one or two jackets to wear to such events. To diversify our wardrobes, we hung the clothes together and wore one another's jackets, making it hard for staff in other parts of the office to tell who was who.
From 1985 to 1986, I studied in the U.K., where I gained a better understanding of ceremonies and etiquette, and I was given the opportunity to study "beauty" as a subject. After returning to the mainland, I became the "beauty adviser" of my female colleagues, and I would help them with their makeup and offer my advice on clothing.
In the mid-1980s and 1990s, when the domestic economy was developing, the situation of material shortage gradually improved. On business trips to Guangdong I got to see stores selling beautiful imported clothes. People can only make wise choices when they have choices. I began to understand that I should follow the principle of "choosing what looks best on me" instead of "choosing what is the most beautiful." Clothing, as part of an overall image, should be an "ornament of people" rather than the opposite. A good look is the result of clothing complementing a person.
The clothes I choose must be durable and wearable — I am prudent when choosing clothing, and it must be of high quality; at the same time, I am strict about keeping in shape. It is easy to give up on yourself, and it takes courage and effort to remain disciplined, but the advantages are clear. On that quiet evening, as I was confidently walking down The Mall, alone in this foreign country, I recalled memories from the past 30 years. I had changed over those three decades, going from that young woman wearing a purple-blue wool serge suit and two small braids to being the ambassador to the U.K. The further I walked, the calmer I became.
The idea of writing a book rose at the moment when my understanding of diplomatic protocol and dress was almost mature. But it would take another decade before I finally wrote the book.
It will take the readers down the path of my personal growth, while also reflecting the development of China. Although there is no lack of professional books on etiquette and dressing, thanks to the encouragement and support of many friends, I decided to write this one. The book is not just about etiquette and rules. I also share my own experiences and what I have learned, including the times I made mistakes and the times I made a fool of myself. I also share my personal experience and understanding of diplomatic protocols and knowledge about foreign contacts that I have accumulated through the years.
For most people, diplomatic protocols might seem quite remote and out of reach. However, as China grows into a world superpower, issues of how we view the coexistence and development of diverse cultures, how we can appropriately show who we are and what we stand for, and how we can better build relationships with the world and other countries, are all becoming increasingly relevant to the individual, which are sentiments shared here. I hope this book can also arouse the interest of friends from other fields, especially young people. It could benefit them a lot to learn the rules of international communication, read interesting stories, cultivate the good habits of punctuality and keeping one's word, and establish the ability and character to win respect by respecting others.
The path I have walked for the last 30 years is paved with memories, but for me, it is first and foremost a representation of my personal growth.
Fu Ying is a former deputy foreign minister of China. She has served as the country's ambassador to the Philippines, Australia, and the U.K.
'My Etiquette Journey' was published by Citic Press in May. This article was originally published by Caixin Global. It has been republished here with permission.
(Header image: Visual elements from CITIC Press Group and People Visual, reedited by Sixth Tone)