Exceptionally heavy rainfall in central China that began Wednesday evening has flooded Liulin, a town set amid mountains in Hubei province, killing at least 21 people, state news agency Xinhua said Friday.
According to state broadcaster CCTV, more than 500 millimeters of rain poured down on Liulin in just half a day — about the same amount as how much fell on Zhengzhou during its worst 24 hours last month, when flooding in the central Chinese city killed nearly 300 people.
The bureau said Liulin, a town of some 24,000 residents, was under an average of 3,5 meters of water on Thursday. The rain has damaged buildings, roads, bridges, and power and communication lines. Four more people are missing.
A wall is seen submerged in flood waters in Xiangyang, Hubei province, Aug. 13, 2021. People Visual
Other parts of the province also suffered heavy rainfall on Wednesday and Thursday, affecting 280,000 people in total. As of Thursday, 774 reservoirs — or about 11% of Hubei's total — exceeded their flood limit levels.
"Water has flooded the first floor. There are old people and children trapped at home," said a user of microblogging site Weibo, mentioning she was located in Wolong, a Hubei town some 130 kilometers from Liulin. She shared a video on Friday morning showing brown water having inundated the ground floor of an apartment block. "The water is still rising," she said.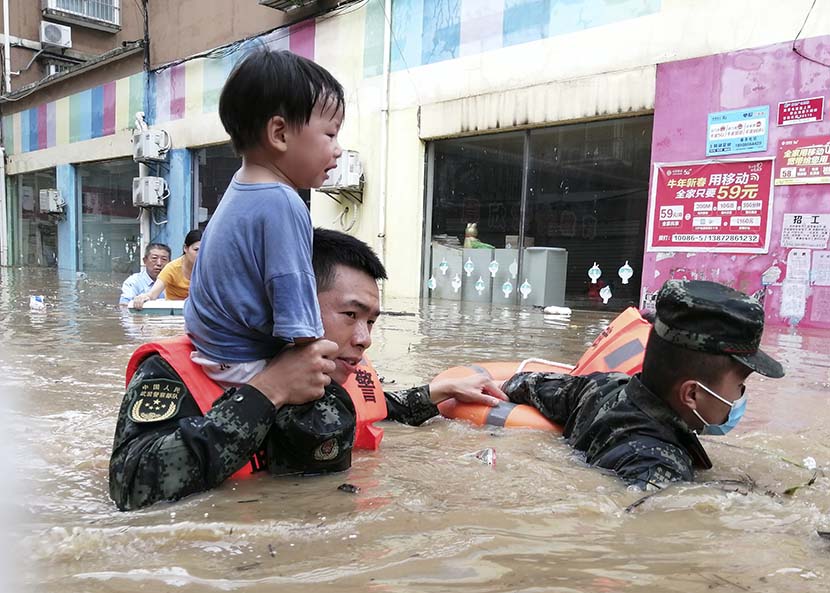 Rescue workers carry a child through flood waters in Suizhou, Hubei province, Aug. 12, 2021. People Visual
The national government has launched a level-4 — the lowest level — disaster relief emergency response. The provincial agricultural department of Hubei, a major grain-producing region, said it is focused on ensuring the best possible harvest by draining farmland and other measures. According to the chief weather forecaster of provincial capital Wuhan's meteorological office, rains should stop on Friday evening.
Two vehicles are damaged by flood waters in Suizhou, Hubei province, Aug. 13, 2021. People Visual
"With global warming, extreme weather in China has increased significantly in recent years," Wang Zhihua, spokesperson for the China Meteorological Administration, said at a press conference last month. So far this year, giant sandstorms, lengthy droughts, and heavy rainfall such as in the neighboring Henan province have all been linked to climate change.
The latest report from the United Nations' Intergovernmental Panel on Climate Change, published Monday, said climate change will lead to more intense rainfall, as well as other extreme weather events.
Editor: Kevin Schoenmakers.

(Header image: An aerial view of Liulin Town, Suizhou, Hubei province, Aug. 12, 2021. People Visual)