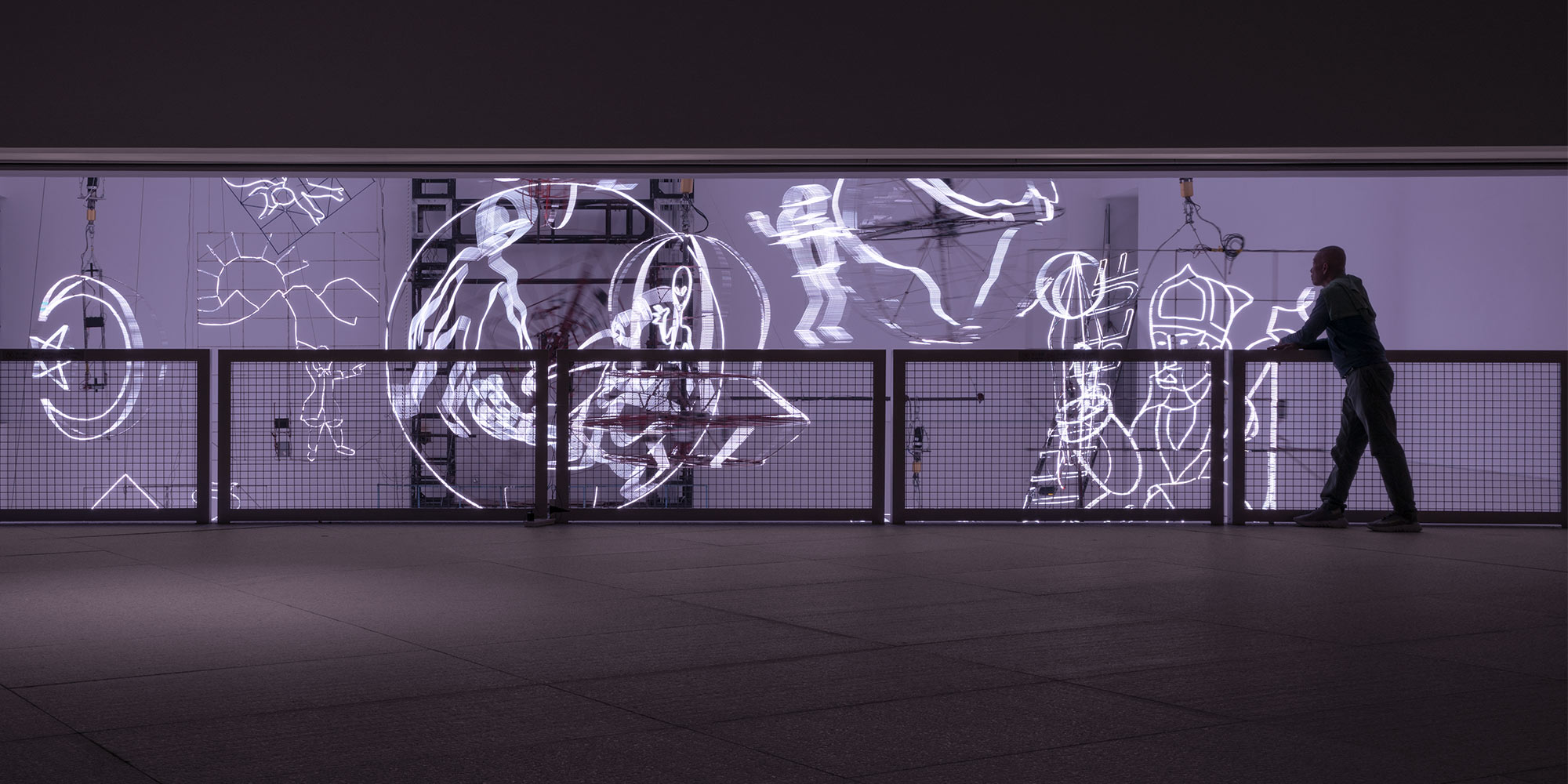 VOICES & OPINION
China's Master of Fireworks on the Art of the Explosion
Cai Guo-Qiang, who has a solo show at the newly opened Museum of Art Pudong, on what makes gunpowder so alluring, and why he dreams of losing control.
Designed by the Pritzker Prize-winning French architect Jean Nouvel and occupying the last undeveloped plot of land in Shanghai's Lujiazui financial district, the newly opened Museum of Art Pudong (MAP) is intended to be a landmark.
The institution's ambition can be seen from its inaugural program, which features artwork loaned from the Tate, works by the Catalan artist Joan Miro, and a solo exhibition by one of the city's best-known adopted sons: Cai Guo-Qiang.
Cai is arguably the real draw here. The exhibition features almost 120 of his pieces, including a number of his famous gunpowder paintings, "Encounter with the Unknown," a site-specific, kinetic light installation, and "A Material Odyssey," a special exhibition curated by the Getty Conservation Institute in Los Angeles.
Already well-known in art circles, Cai shot to international fame thanks to his spectacular fireworks show during the opening ceremony of the Beijing Olympics. That show, along with his other high-profile work on grand national celebrations over the past decade, has cemented Cai's public reputation as an explosive showman. Yet, to focus on the fireworks is to miss his meditative side, as found in his "Individual's Journey Through Western Art History" project.
Living as an independent artist outside China for the past 30 years, Cai has immersed himself in Western art and art history, and like almost all of China's most successful contemporary artists, he has a gift for striking a balance between national will and personal aspiration, execution and creativity, China and the world. That balancing act is only getting harder: Just days after this interview, local officials in the United States voted to deny funding to an art show unless it dropped "Communist" artists Cai and Sandra Ramos from the program.
Speaking by email with Sixth Tone in between preparations for the opening ceremony of the 2022 Beijing Winter Olympics, Cai talked about his past life as a Shanghai theater arts student, his hopes for the MAP exhibition, and his place as an international artist in an increasingly isolationist world.
Sixth Tone: In college, you studied stage design at the Shanghai Theater Academy. Is that where you picked up your penchant for drama and staging?
Ca Guo-Qiangi: At one point, I felt ashamed that I was studying at the Theater Academy rather than at the Central Academy of Fine Arts, but I was actually very lucky. At that time (the early 1980s), the Academy was quite conservative. It focused on teaching students traditional sketching and maintained that art should serve bigger political purposes.
The Shanghai Theater Academy was more experimental. Zhou Benyi, my teacher from the stage design department, had a great impact on me. He was the only person in Shanghai who had studied oil painting at the Ilya Repin Leningrad Institute for Painting. Aside from his solid painting skills, he began to emphasize the importance of concepts and forms after a trip to the United States sponsored by the U.S. Information Agency. In a sense, we were his "lab rats" for educational reform, and he was still figuring out our path as he taught us. Previously, we had thought about what to draw and what to make; under his guidance, we turned to contemplating how and why we create. It enlightened me. To use Shakespeare's plays as a metaphor, the script is always there, but the key is how you interpret it, what you want to say about it, and how you enact it.
My training at the Theater Academy also led me to focus on the fluidity of time, multi-media materials and spatial construction, as well as the spirit of collaborative work. As a result, it laid a solid foundation for my career as a contemporary artist. Mr. Zhou was always strict with me, and never gave me an easy pass on my proposals. Sometimes he had me redo them five or six times. Later he told me it was because he wanted to see what other surprises and ideas I could offer and what other tricks I had up my sleeve.
Sixth Tone: Given your place in the MAP's opening slate, much has been made of your strong connections to Shanghai. What role exactly has the city played in your artistic development?
Cai: Shanghai was the first place I ever went outside my hometown. In the early 1970s, I savored the paints made by the Shanghai Art Supplies Factory. In 1978, I left my hometown for the first time, stealing a ride on a coal train to see an exhibition of 19th century French rural landscapes in the city, which was also the first time I saw original works by non-Chinese painters in person. I have powerful memories of this exhibition, which opened a window for me to drastically different artistic styles.
In the early 1980s, I left Quanzhou (in the southeastern Fujian province) for good to study at the Shanghai Theater Academy. My pursuit of novelty and innovation motivated me to secretly experiment with gunpowder as an artistic medium while I was a college student. For me, Shanghai was the embodiment of Western culture: the Bund, the sycamore trees, the Waibaidu Bridge, and especially its iconic churches, some of which are the subjects of early paintings I did that will be displayed at the MAP.
Sixth Tone: A highlight of your current solo exhibition are some of the gunpowder paintings from your recent series "Individual's Journey Through Western Art History." Apart from its connection to your artistic brand and personal style, what is your objective in using gunpowder in your work?
Cai: Gunpowder has a life of its own. It is neither oil paint nor watercolor. The question is: How can I fully present its vitality and the charisma of its spirit? Its uncontrollability does not just lie in the material itself; more critically, gunpowder brings out the uncontrollable side in me. If I don't lose control, neither will the gunpowder.
As I gain experience manipulating gunpowder, my longing to lose control grows stronger. With more experience and a better understanding of the material, the fireworks become more controllable. But ultimately the gunpowder is there to explode and unleash me — not only the painting surface.
An explosion of gunpowder unleashes uncontrollable energy. In my large-scale explosion events, I'm trying to dialogue with the cosmos and express my feelings toward time and space at the moment the gunpowder explodes. Similarly, when I explode these thoughts on canvas, paper, or screen, the material of gunpowder transforms into a painting — one inextricably linked to the large-scale explosion that created it. The act of making gunpowder paintings is akin to the intimate act of making love, but also a kind of dialogue with fate, heaven, and earth.
Sixth Tone: I personally very much enjoyed the series of "medieval"-themed paintings you produced during the pandemic. The colors, compositions and styles are unique. Can you talk a bit about what motivated you to create those works?
Cai: I had originally planned to undertake a "Journey into the Medieval World" last year, in which I would travel to places that still preserve the austere monastic traditions of the Middle Ages like Ethiopia and Cyprus. My idea was to seek out that great brake (sha che) of earthly desire: the self-imposed spiritual and physical exile from human history. Little did I know that the isolation, pestilence, and religious asceticism of the Middle Ages would come looking for us instead.
Thus, my medieval journey turned into a countryside quarantine, which gave me the chance to step back from the usual busyness of the art world. I dug out ten or so sketchbooks from the 1980s and 1990s, when I was living in Japan, and used that time to re-immerse myself in my past. It was almost like going back to my own personal "Middle Ages."
The works I made during quarantine were not purely aesthetic; they are darker and more obscure, bearing the mark of the times. Aside from the paintings of the stain glass windows from the Notre Dame in Paris and of gargoyles on Gothic churches I produced for my "Medieval Journey," I also made large-scale gunpowder drawings for several projects I conceived around 1990. For example, with "Humanity's Epitaph" I wanted to create a coffin-shaped block of ice with seawater and send it off into space, where it would float around, waiting for extraterrestrials to intercept this piece of terrestrial DNA and learn about humanity's desire to find those we share the universe with.
Sixth Tone: Are you still working on "Individual's Journey Through Western Art History"? If so, do you have a relatively stable set of guidelines or methods for that project?
Cai: I have wanted to embark on a journey through Western art history since I was young, to let the spirit and creativity of these masters feed my qi energy, and in doing so, to explore some of the difficulties we face in contemporary painting. To dialogue with the various chapters of Western art history is to pay respect to past masters while at the same time decentralizing the West. Meanwhile, when this exhibition tours China, it in a sense will challenge (that country's) Sino-centric view, stimulating the pursuit of liberty and equality, which allows one to inherit the remarkable legacy of various civilizations as a kind of united heritage.
At the same time, I'm like a pendulum: When my methodology leans to far toward exploring creativity and liberating myself, I inevitably swing back to sociopolitical concerns.
Sixth Tone: On that note, as a Chinese artist who has found a home and widespread acclaim in the West, how do you view some of the recent tensions between the two?
Since the late 1980s, we have been saying that physical walls are being torn down, and we happily embraced globalization and the internet. We thought that humanity was becoming more and more united. But in fact, walls in the virtual world have sprouted up one after another. These pose greater political complications. They could still one day come down, or they could become taller and more impenetrable.
China is increasingly puzzling to me. It embodies a lot of contradictions, but overall, it is still balanced; its philosophical thinking follows the "Doctrine of the Mean," but its actions are very different from its words. So lately I have been thinking about what China is. What is happening there? What is China's issue, and what is the world's?
Editor: Kilian O'Donnell.
(Header image: Cai Guo-Qiang in front of his exhibition "Encounter with the Unknown" at the Museum of Art Pudong, 2021. Courtesy of Cai Studio, photo taken by Gu Kenryou)