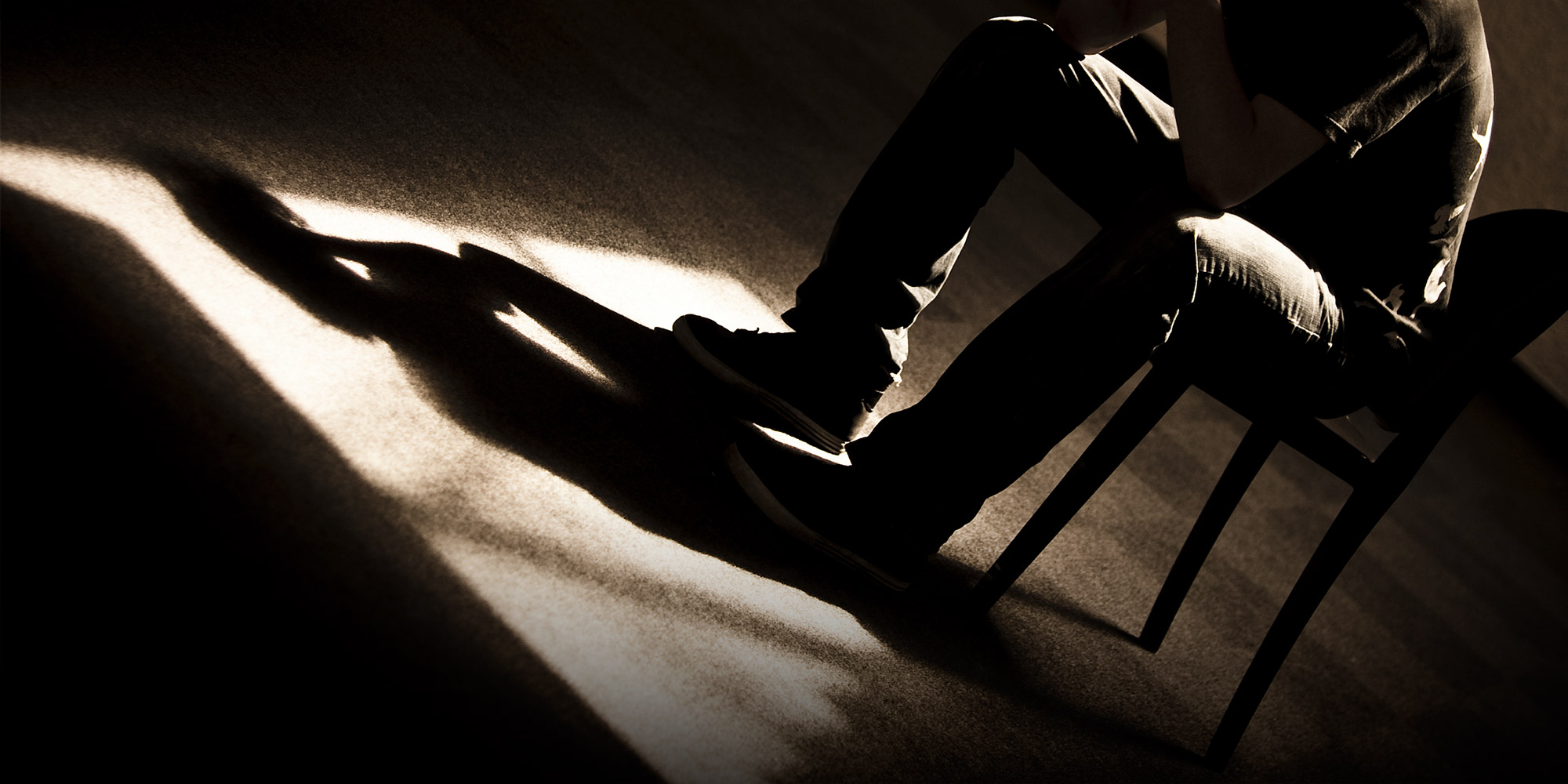 SIXTH TONE ×
The Long, Lonely Struggle With a Schizophrenic Son
For 30 years, they took care of him. Now in their late 70s, his parents are running out of options, and time.
March 13, 1996: Went out on his own without telling anyone. Got to relatives' house, but they wouldn't let him in. (He) bought a bottle of 100 sleeping pills and took them, leaving just 37. He wants to die.
May 11, 1997: Paid the advance for hospital stay (food and accomodation) in the afternoon: 2,000 yuan ($300).
Oct. 6, 1999: Around 8:30 p.m., violently threw a bowl of noodles on the floor, smashing it.
Nov. 14, 1999: At 11:30 p.m., had a fierce look and punched me. Fell asleep at 1:30 a.m.
Feb. 7, 2000: Didn't eat anything the whole day.
Feb. 8, 2000: Hardly eaten anything for a long while and kept saying (he) wanted to vomit. Didn't eat anything at all yesterday, so tried adding 1/8 tablet of sulpiride (an antipsychotic drug) today... At 5:50 p.m., (he) ate some rice and 10 slices of bacon. Situation much better today compared to before.
These unsettling observations are from the few surviving diaries that Song Mingli, 75, can still find. She maintained such records diligently for nearly three decades, ever since her son was diagnosed with schizophrenia at age 16.
They aren't even really diaries, but rather a record of her son's sleep, food intake, bathroom visits, and medication records. They just tell part of the story that began with the fateful diagnosis in 1991. That was also the year Song and her husband Wang Wenkang, 77, rededicated the rest of their lives to just one single purpose: caring for their son.
Over the next three decades, the couple relied on their teachers' salaries to fund a myriad of treatments in multiple hospitals, clutching at every available straw to find him a cure.
All the while, their son only got worse, often turning violent. The years of physical, mental, and financial strain eventually took its toll on them too: Wang was struck by depression, while Song was diagnosed with multiple physical and psychological health problems.
Now in their late 70s, the couple has given up on finding a cure. Over the last few years, they shifted their focus instead to finding someone to take care of their son, now 47, when they are no longer around.
To this end, they've requested relatives look after him, tried finding him a wife, and attempted to house him in welfare institutions, nursing homes, and even a temple. In a last ditch attempt, the couple briefly pinned their hopes on an overseas surrogacy company last year.
For Song Mingli and Wang Wenkang, the hope of finding him a safe haven remains elusive, and only despair remains.
Locked In and Worn Out
Over the last year, Song Mingli has left home just once: to visit her sister's house during the Lunar New Year. Outside her fifth-floor apartment in a rundown area in Wuhan in the central Hubei province, music plays in the square four times a day, but she can't even think about going down.
Since her son fell ill, entertainment was never an option.
A retired physics teacher, Song no longer has much to do with the subject or teaching. Still, she subscribes to publications like the Journal of Foreign Medical Sciences and the Journal of Clinical Psychiatry.
While most people read medical journals to learn, Song reads them in earnest hope — to try and find some information that could save their son's and their lives.
The table of contents of such journals are peppered with stars, each denoting an article that requires more careful reading, such as a 1997 paper on research advances in refractory schizophrenia that appeared in the Journal of Foreign Medical Sciences.
"All three of us... How could I not read it?" Palms facing up above one another, Song slapped them together several times saying, "I just want to find some way to save his life."
Through voracious reading, Song learned of various drugs from medical journals, adding and removing them according to advice from doctors and her own observations. An entry in Song's medication records dated Dec. 30, 1995, states she included "VB6 – two tablets" and attached the notes: "Foreign Medical Sciences – Psychiatry 1995, Edition 7, Vol. 22, No. 4, p.220."
Even now, Song Mingli still monitors her son's physical state every day. Before the internet, she always read newspapers — now she reads articles online. She doesn't want to miss anything that might help. Song says: "It seems as if 30 years have come and gone like this."
These days, Song is a little vague about her son's debilitating illness. It's either because her memory is fragile, or she'd just rather not remember. But she recalls well the moment she heard the diagnosis all those years ago. She says it felt like she'd fallen into an abyss and couldn't get out.
A newspaper article from Dec. 21, 1997, was once a beacon for Song and Wang. Song still has the short article, "Hope for Curing Mental Illness Lies in Traditional Chinese Medicine," around which she's drawn a large red triangle. However, they gave up on it after the parents of a patient who had tried it told Song the therapy was futile.
About a decade later, the couple heard about a neurosurgery technique to treat mania. At the time, however, most hospitals refused to perform the procedure. Despite it not being officially banned, doctors believed it was too risky and posed ethical problems.
After visiting every psychiatric hospital in the city, Song finally got in touch with a patient who had undergone the operation. The patient even agreed to meet her. "She was talking with us as we walked. There was an open car door, and she warned me not to bump into it," Song recalls about the meeting, adding that it was their first glimmer of hope in years.
With that hope came a warning. According to doctors, post-operative complications included possible paralysis down one side of the body, incontinence, falling into a vegetative state, or even death.
But Song felt there wasn't another option. After multiple treatments over more than a decade, their son wasn't getting any better. "If we didn't try, all three of us would die. If we did try, at least he might get a little better," she says. Her husband, Wang Wenkang, recalls his hands trembling as he signed the forms before the surgery.
Song and Wang say they were extremely glad to have opted for the surgery. In the past, they explain, there was no social insurance, their son was in the hospital for long periods, and they were on medication themselves. It put them under substantial financial strain.
And their son's condition did improve after the procedure. Before the surgery, they say their son required frequent hospital visits. On most occasions, when they took him back home, he inevitably turned violent, leaving them terrified for days.
After the operation, however, their son needed to visit the hospital only when he had a severe relapse.
Iron Bars and Institutions
Their lives weren't always on the edge.
Before their son turned 13, the family led a very different life. On holidays, they visited the zoo and ate out at restaurants. They were the envy of friends and family: husband and wife with respectable jobs and an intelligent son who could write poetry and short stories as early as third grade.
"Summer cicadas chirping incessantly / The heart so restless / The scorching sun shines on the earth / Wicker swaying in the wind." This poem, written by their son, earned his teacher's praise. Wang Wenkang, a Chinese major, couldn't have felt prouder.
Not long after, Wang was promoted to principal and in his spare time directed and performed sketches, and on occasion, even sang. At the same time, Song Mingli was a much-liked school teacher.

Now Song says, "Where can I go? I can't even leave this building... I just want to put off dying for a while longer so I can take care of him longer. If we die early, he'll be so miserable."
Before his illness, their son got on well with his relatives. The couple once believed that when they died, they would leave him under their care. They recall mentioning this once to them. Their reply: "Not even for 10 million yuan."
They even held numerous family meetings but to little avail. "He's really difficult to manage. He starts hitting people during an episode. They're all afraid they can't handle him," says Wang, adding that the relatives were also worried about disputes over their estate.
But they made a will. They left their apartment, savings, and all property to their son, with relatives as custodians to manage his daily life. They also accounted for some money as remuneration to his custodian.
In the end, no one was willing to sign on the dotted line to take care of him.
"How can we bring it up again? It's not just that they don't want him — they won't even let him into their homes," rues Wang. The couple understands their relatives' hesitance though. According to Wang, some patients with mental health problems aren't concerned with personal hygiene, and their son often spits wherever he wants to. Sometimes he even urinates and defecates on the floor. Nowhere is clean.
When their son's illness was at its worst, the couple was afraid to even sleep in the same apartment. Recalling one such ordeal, Song said that their son hit Wang in the face with a chair late one evening, leaving him bleeding.
After the incident, they had a blacksmith build an iron gate around their bedroom, which they bolted shut at night. This way, they could leave their door open all night but still keep a close eye on him. The gate would also keep them safe should he have a violent episode.
As Song spoke, her son opened his bedroom door and walked out. Song immediately lowered her voice to a whisper: "I don't want him to hear — it might set him off."
Pointing to her head, Song says, "Everyone says we're neurotic, and they're right. (My mental health is) intermittent too. Most of the time, I'm fine. But when I have an episode, I'm suddenly not. I'm easily annoyed. I can't sleep. I want to scream. I want to die."
At 7 p.m. the same day, it was time for Song Mingli to take her medicine. Every morning, she dispenses medication for the whole family according to the meticulous lists she has made.
To avoid mistakes, she's written the words "Son," "Song," and "Wang" in the top right corner of each list. The medicine is all stored in an old-fashioned, yellow, double-door cabinet that's a little taller than Song. It has six shelves, all full. Though their son has had brain surgery, he must still take medicine.
Song says she once heard about a temple that could possibly care for their son. But they gave up on that idea when they realized the temple staff couldn't help him go to the hospital for medicine. Later, they considered sending him to a welfare institution or a nursing home, but current regulations don't provide boarding to people with mental illnesses.
Dr. Ma Hong, head of the mental health department at Peking University Sixth Hospital, says provisions for the elderly with mental illnesses pose serious problems. "At present, there are no dedicated nursing homes for them. Ideally, there would be special institutions that can handle these problems," says Dr. Ma.
Under Chinese law, in the absence of a guardian, the civil affairs department or local residents' committees are mandated to act as custodians for those who do not possess the capacity to perform civil juristic acts.
According to Dr. Ma, some families lack sufficient trust in their communities or are unwilling to discuss their patient's living situation. However, she believes that despite the current quality of service available, patients should try to join the community management system, to enjoy the full range of public services.
"The state should also start exploring the specific problems associated with mentally ill patients who don't have a guardian, rather than just how to care for them when they get old," she says.
Public data show that by the end of 2017, 5.81 million people were registered as having severe mental disorders in China. In 2016, there were 31,000 licensed psychiatrists across the country. In 2015, 2,936 mental health service institutions existed nationwide, providing 433,000 beds.
In cases where elderly mental health patients are being cared for in psychiatric institutions, they occupy much of the already scarce medical resources over the long term.
Back at Song's home, her son calls out, saying: "Mom..." Pointing to her son's room, she explains: "He wants money from me again. It's 8:50 p.m. Every day at this time, he wants money to go buy Coca-Cola."
Pulling out a key, Song walks to a locked cabinet. On the top shelf, nine 10-yuan ($1.5) bills are spread out in a row, while a plastic bag with several one-yuan coins sits on the shelf below.
She takes the plastic bag over to her son, saying: "I gave you 30 yuan this morning, how come you want more? You're only getting three. Count three and take them." At that moment, her 47-year-old son seems just like a child asking for pocket money.
Once, Song describes how she took longer than usual to hand him the money. Her son got angry, and punched her in the back of the neck. "Nowadays, I can't let him hit me, I can't handle it anymore," says Song. She now also suffers from asthma, osteoporosis, emphysema, and myocardial ischemia, among other illnesses.
Now when her son asks for money, she gives it to him quickly.
Brides and Prejudice
It's her son's simple, daily routine of buying a can of Coca-Cola that Song wants to preserve. It's for such simple reasons that after exhausting all other avenues, the couple began asking around, hoping to find their son a wife.
Their search began in their home of Hubei province. Wang traveled to more than a dozen villages, posting flyers on telephone poles and walls. On the flyers, he mentioned just his son's age, that he was honest, straightforward, and looking to find a reliable wife. Wang didn't dare mention his illness.
He received a few phone calls, but the prospective wives all wanted tens of thousands of yuan in return. It didn't feel right to Wang, who says: "They weren't looking for someone to live with, they just wanted the money."
A while later, the couple gave up but discarded the excess flyers. Song Mingli says, "We were worried that others would see the flyers and say that despite our son's illness, we still wanted to find him a wife."
Song and Wang eventually cut the flyers into strips and flushed them down the drain.
Some time later, Wang traveled further, to the central Henan province and even northeastern China. He read online about men in rural Henan who had married women from Myanmar and took his son there in search of a wife. Eventually, he even went as far as Vietnam.
However, most could tell just by looking at Wang's son that he had a mental illness, and they all turned him down.
"I just want someone who can cut his nails, bathe him, wash his hair, and cook for him after I die," says Song. "I'm not asking for much, but I can't find anyone like that."
When his son was hospitalized, Wang visited him to bathe him and cut his nails every week, a routine that he maintains at home. The couple says they just don't want their son to end up in a psychiatric institution.
Peking University's Dr. Ma Hong says the living conditions in psychiatric hospitals have improved, as has the public sentiment about residing in institutions when individuals lack the freedom of living at home.
After hospitalization, Dr. Ma says medication is generally administered at higher doses than for outpatients to try and bring symptoms under control quickly. She says second-generation drugs are now commonplace in Chinese mental health institutions. However, patients with chronic conditions still suffer from various adverse side effects, such as weight gain and loss of mobility.
Xiao Xiaoxia, associate professor of social work at South China Agricultural University, points out that many family members distrust psychiatric hospitals. In her book, Xiao says that admission to a hospital or hospice is considered as taking the patient out of the home. She says, "Not only are they unwilling for them to leave and feel unsettled, but it's also a traumatic experience — one which implies being discarded."
Bodhisattvas and Grandchildren
When doctors couldn't cure their son, Song and Wang turned to the spiritual realm.
They visited a temple and paid for more than 20 nuns and laypeople to recite sutras to rid their son of his illness. During this time, the couple started prostrating at 8 a.m. and continued until dark, chanting, "The child has this illness because we sinned in our previous lives; we are here to repent."
They also brought home deities and bodhisattvas, which Song Mingli still worships. Every day, she rinses her mouth, washes her face, combs her hair, and finally, washes her hands. She then lights some incense before praying: "Bless him, and bless all three of us. Most of all, bless him; we want him to get better."
Two long strings of red peppers — signifying happiness and celebration — have hung above the door to their son's room for more than 10 years. "He's had bad luck. Red is an auspicious color, so I'm trying to change his luck," says Song. "But it's not superstition and it's not faith. It just brings me comfort. I can't find comfort any other way, except like this."
Better than most, the couple knows that caring for people with mental illnesses is a long and lonely road. Wang describes how the renowned physicist Isaac Newton believed in God because he couldn't explain where gravity came from. But when he and Song look to the heavens, it's because they have no other option.
Then in 2018, Song believed she'd stumbled upon their best chance yet at finding peace of mind when she chanced upon an ad online for surrogacy. In the ad, a company offered legal surrogacy in Russia, giving her new hope.
However, Wang was against it. He felt it wasn't reliable and was a scam, but Song was adamant. She told her husband, "How can I not believe it? I want to have a grandson. Then my son can live after I die. If you don't give me the money to do it, I'll die. I can't bear it anymore."
Dr. Zhou Jiansong, deputy chief physician at the Second Xiangya Hospital of Central South University in the southern Hunan province, says families of many of his psychiatric patients have similar ideas, and some go as far as wanting to try in-vitro fertilisation.
"From the family's point of view, it's understandable to a certain extent. However, the child is not likely to have much of a future, and it may even lead to more tragedy," says Dr. Zhou.
According to Song, since all three in the family have mental health issues, she wanted one healthy child.
They went to Beijing to sign the surrogacy contract and chose a surrogate mother from dozens of photos sent to them over social app WeChat. Then, in the summer of 2018, the three of them traveled to St. Petersburg in Russia so their son could provide his sperm.
In the weeks that followed, they received updates about their future grandchild via WeChat. In August 2018, they were told that an embryo had been transferred. In December, Song Mingli was ecstatic after receiving a message which read: "Soon you'll be able to hold your baby."
But tragedy struck a couple of weeks later. Song and Wang were suddenly informed that the fetus's heart had stopped 19 weeks and four days into the pregnancy.
Devastated, Song was loath to continue, but realized that terminating the contract meant none of the money would be returned. So, she chose for her son to try again.
Despite a second attempt failing too, she decided to persist. Over two years, Song made 11 payments totaling over 530,000 yuan ($82,000). In September 2020, the company told her that Russia had banned surrogacy for single parents.
After three years, multiple attempts, and thousands of yuan, there was no child, and the money was gone forever.
Back at home, Song Mingli sat down at her computer and opened a file containing messages composed to Bai Jiaqi, a staffer at the surrogacy company. In one message, she pleads for help, asking the hospital to refund her money. Another is a diatribe threatening to post her side of the story online if the money isn't returned.
She became more downcast as she spoke: "I was so angry; angry with myself. A 70-year-old was cheated by someone so much younger."
Asked about their case, Bai Jiaqi replied: "We only accept summons from industry and commerce authorities, the police, and the courts. It isn't what you think; you don't need to contact me for confirmation. I'm not in a position to answer your questions."
Incidentally, police launched an investigation into the matter after the couple filed a report.
Flesh and Blood
As our interview wound down, I asked Song: "Do you feel like life is a dream?"
She turned and looked at me intently: "Life has always been just a dream. I comfort myself thinking that my dream isn't good, while other people have better dreams. That's how it goes, isn't it? That's the only way I know how to comfort myself. If I didn't think that, I couldn't go on living."
She broke down as she read the daily ledger she maintained — all those decades she'd recorded so many disturbing incidents. Often, she thought that if she died, she'd want to take her son with her.
Seeing me off from their home, Wang Wenkang says, "The situation is helpless, how can anyone really think of doing it? But honestly, there's nothing that can be done. Leaving him all alone is also a kind of suffering."
Even during the darkest hours over the last 30 years, Wang never thought about giving his son up: "Parents don't abandon their children. They're our flesh and blood."
At home, Song Mingli did most of the talking. Wang Wenkang is a man of few words, and so lean that his coat appears to drape around his body.
Around the house, Wang's responsible for cooking and washing the dishes. After cleaning up, he goes back to his bedroom to read the newspaper and use his cellphone. Whenever Song needed him to answer a question, she called for him and quickly sent him back. Song says: "I'm worried I'll say too much and trigger his depression."
Walking through their old neighborhood, which is currently under renovation, Wang turned wistful about the past few decades. All their thoughts for the future, he says, "Aren't worth talking about; that's just how life goes."
Reaching a crossroad, Wang says that his son was involved in an "immature and ignorant relationship" with a girl while still in school. Unhappy with this, Wang says he came down hard on him and even gave him a serious beating. He sometimes believes this might have even triggered his son's illness.
"In Dream of the Red Chamber (one of China's four great classical novels), it says that if you're not strict, your child won't amount to anything, but if you're too strict, something serious might happen. I've taught so many students — some even went on to study overseas or completed a PhD. But I dealt with my own child like this. I sometimes feel like jumping off a building. I'm a failure," he says.
Wang often has nightmares in which his son assaults him, leaving Wang screaming in terror. Sometimes he prays on his own to anyone who'll listen, often breaking down. "There's nothing I can do. Help me."
Song Mingli and Wang Wenkang are pseudonyms.
A version of this article originally appeared in Beijing Youth Daily. It has been translated and edited for brevity and clarity, and published with permission.
Translator: David Ball ; Editors: Lu Hua and Apurva.
(Header image: aurumarcus/Vetta/People Visual)