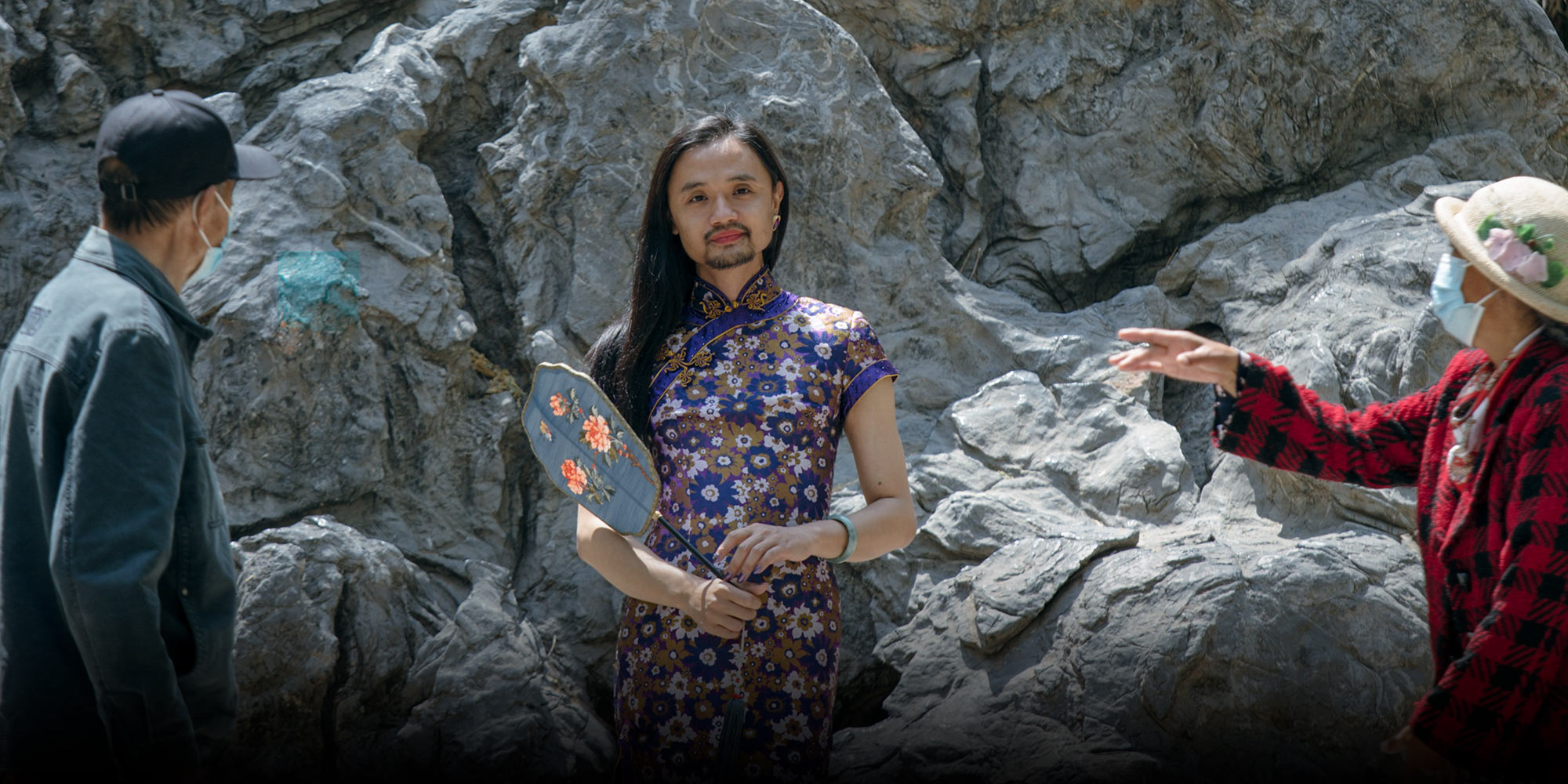 FEATURES
The Nonbinary Chinese Fighting to Live Their Truth
Activist Chao Xiaomi is inspiring transgender Chinese to reject the gender binary. But the community continues to face deep-seated discrimination.
BEIJING — Chao Xiaomi cut quite a figure as she strutted down an alley near the Forbidden City in the brilliant May sunshine.
The 38-year-old was dressed to kill in a tight-fitting purple cheongsam, matching nails, and a jade bracelet. But many locals' eyes were drawn to something else: her bushy black beard.
Several passersby gaped and pointed, yet Chao appeared unfazed. She continued smiling for the camera, determined to project an image of breezy confidence.
The photoshoot — which saw Chao pose for the well-known photographer Zhang Shaokang — was part of several viral stunts the transgender activist has staged this year after becoming one of the first high-profile figures in China to publicly embrace a nonbinary identity.
There are an estimated 4 million transgender people in China, but the community is largely invisible in mainstream media and faces deep-seated discrimination. This is especially the case in the workplace, where over 40% of transgender Chinese feel forced to conceal their gender identities.
Nonbinary or genderqueer individuals — who identify as neither male nor female — face even greater stigma. But Chao is trying to change attitudes using her platform as a social media influencer.
Originally from North China's Shanxi province, Chao was born male but has identified as genderqueer for over a decade. She has adopted the nickname Xiaomi — which means "little grain of rice" in Chinese — as a reminder to stand up tall, even if others belittle her.
"If I'm wearing a mask, nobody will notice me," Chao tells Sixth Tone with a wry laugh. "But as soon as I take it off, people call me a monster and curse me to die."
It took Chao years to feel comfortable enough to live openly as nonbinary. She has been in the public eye since 2016, when she became one of the first transgender people to appear on a major Chinese TV show. But at the time, Chao was still trying to "pass" as female, wearing delicate makeup and a long vintage dress to cover up any masculine aspects of her appearance.
It was only later, when she started receiving letters from fans saying they wished to become elegant ladies just like her, that the activist started to feel something wasn't right.
"Why should women be elegant all the time? Why can't women be rough and masculine?" she recalls thinking.
Since then, Chao has gradually stopped trying to pass as a woman. She no longer wears heavy makeup and only shaves when she feels like it. She continues to use the female pronoun — rather than the more neutral "they" — because she feels slightly more inclined toward female gender identity. Nevertheless, she considers such labels unimportant.
"I'm neither a woman nor a man now, but this doesn't stop me from doing things I enjoy in a specific gender role," Chao says. "It's about having the confidence to 'pass' psychologically, rather than physically. I love my new identity."
The activist now openly shares her experiences living outside the gender binary with her thousands of followers on Chinese microblogging platform Weibo. By doing so, she hopes to help the Chinese public better understand the LGBT community as well as provide guidance to young trans people who are confused about their gender identities.
"It wasn't until 2015 that the word 'transgender' really entered the Chinese lexicon," Chao says. "I thought I was gay until I read Judith Butler's 'Queer Theory.'"
Chao's collaboration with Zhang — part of the photographer's "Better Together" series capturing the lives of LGBT Chinese — drew enormous attention on Weibo. The activist shared a selection of her favorite images from the shoot, which took place near Beijing's Changpuhe Park on May 11, along with an impassioned message to her fans.
"I'm in love with my nonbinary body and feel comfortable living like a 'pervert,'" Chao wrote. "I'm lucky to be able to choose my own gender identity and stand up for it."
The post quickly racked up more than 40,000 likes and was shared by many Chinese LGBT influencers. In the process, it also sparked a debate in China about the pressure to "pass" as a certain gender, and how the country's transgender community should respond.
In recent years, Chao has come to firmly believe that the transgender community should try to transcend the gender binary. She argues that refusing to follow traditional gender norms can be empowering.
"Sometimes I feel it's pathetic that transgender women are trying to imitate cisgender women," she tells Sixth Tone. "It's conforming to the binary empire, and this is a disaster."
For now, Chao's views are considered avant-garde in China. But the activist has received strong backing from several prominent figures in the country's LGBT community, and the nonbinary movement appears to be slowly gaining traction.
Queer-feminist anthropologist Yujue praised Chao in an article published in August, writing: "Transgender should be considered a verb. It is a magical journey beyond the binary framework. Xiaomi is an excellent example of this transition."
Lacey Wang — a transgender model who represented China at the Miss International Queen 2020 pageant — was also impressed by Chao's fearless advocacy.
The 32-year-old underwent sex reassignment surgery in 2007, dropping out of college to complete the yearlong series of psychological tests and treatments transgender people are required to undergo before receiving the procedure in China.
At the time, Wang felt surgery was the only way to make her life bearable. Now, however, she wonders whether times are changing — and young trans people might have more options.
"I didn't have many choices back then: I could no longer live in a male body, so I had to have the sex reassignment surgery, or I might have ended my life," Wang tells Sixth Tone. "But if I had the opportunity to talk with great psychologists, I might be able to live happily with the divide between my body and my mind like Xiaomi. I admire her so much."
Attitudes within the trans community are shifting, according to Wang. More transgender people are turning away from traditional beauty standards that prize "passing" perfectly. Several finalists at last year's Miss International Queen pageant had never considered having sex reassignment surgery, she adds.
"I now tell many of my trans friends that they don't need to rush into surgery like I did," Wang says. "Societal pressure plays a key role in influencing decisions."
In China, however, the model worries that a new wave of queer beauty bloggers and drag queen pageants may have a negative impact on gender diversity. At a voguing ball in Beijing earlier this year, for example, contestants were judged on how well they "passed" as cisgender women and displayed traditional feminine qualities, Wang notes.
Wang reached out to the event's organizers, outlining her concerns and asking them to revise the rules. But her advice was ignored.
"Maybe I'm not the best person to address this issue since I had the surgery years ago, but I really think this contest will only deepen body anxiety in the community," says Wang.
Chao has competed in voguing balls for fun in the past, but she also worries about transgender women feeling they have to align with mainstream female beauty ideals.
"I believe the essence of beauty is its power to influence people," Chao says.
But others in China's LGBT community caution that many transgender people feel "passing" is necessary to avoid experiencing greater social discrimination.
Though social attitudes have gradually become more liberal in China over recent years, the country's LGBT community is still confronting enormous challenges. Concerns are rising over the pressure faced by LGBT organizations.  
Chinese people born in the 1990s are more than 50% more likely to publicly disclose their gender identities or sexual orientations than those born in the '70s, surveys by the LGBT group Voice China LGBT have found. But the organization's founder, Hua Zile, says many transgender people still feel unable to do so.
"Some people may feel like 'passing' is a matter of necessity rather than a choice," says Hua. "We can't really tell a person what to do … We can only guide them to make their own decisions."
Chao knows better than anyone the potential cost of being open about one's gender identity. She recalls wearing a dress to a job interview several years ago, only for the boss to call her a "pervert" and order her to leave. 
There's an urgent need to provide young trans people in China with greater access to health care and education resources, Chao stresses. Transgender Chinese often encounter mental health challenges due to social stigma, the pressure to conceal their gender identities, and a lack of available support.
According to a 2017 report, over 61% of transgender people in the country experience varying levels of depression during their lives, with over 21% displaying self-harming behavior and nearly 13% suicidal behavior.
"I wish more health care programs can be introduced for young children," says Chao. "They deserve to know everything in an age where we can easily get biased information online."
But for now, Chao is focusing on her own problems. The vintage clothing store she ran in Beijing for several years went bust amid China's COVID-19 epidemic, and she needs to find a job.
"I lost the professional skills big companies need after several years working as an independent store owner and an LGBT activist," says Chao. "My choices may be very limited."
Sitting in her cramped living room, where water drips from the roof, Chao looks down on her luck. But she insists she is feeling optimistic about the future.
"I may be at the bottom of the economic ladder right now, but I'm at the peak of my spiritual wealth," she says.
Editor: Dominic Morgan.
(Header image: Chao Xiaomi (center) poses for the camera during a photo shoot for Zhang Shaokang's photography project "Better Together," in Beijing, May 2021. Courtesy of Zhang Shaokang)