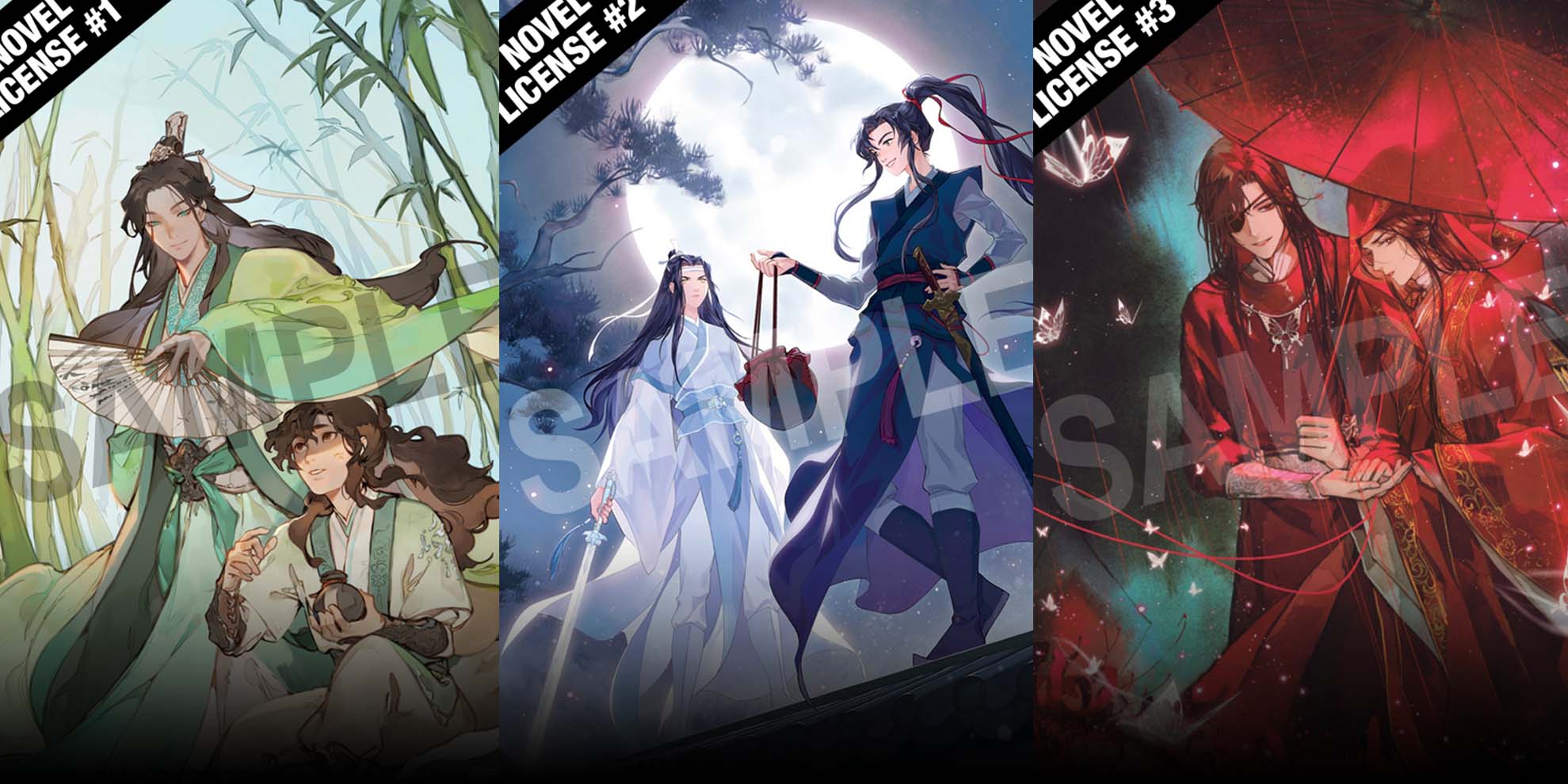 NEWS
Popular Chinese 'Boys' Love' Novels Set for English Release
The homoerotic novels are among the country's most popular — and controversial — literary works. Now they're being translated for English-speaking audiences.
Some of China's most popular and best-loved danmei — or "boys' love" — novels are finally receiving official English translations, and excited fans have already pushed them to the top of bestseller lists at major retailers like Amazon and Barnes and Noble.
The three series — "The Scum Villain's Self-Saving System," "Grandmaster of Demonic Cultivation," and "Heaven Official's Blessing" — are the work of Mo Xiang Tong Xiu (MXTX), the pen name of one of China's most famous danmei writers. The first installments of each series will arrive on international bookshelves this December, according to an announcement last week from publisher Seven Seas Entertainment.
Not long after the announcement, pre-orders for all three novels were ranked among the top 15 bestsellers on Amazon.com and occupied the top three spots on American bookseller Barnes and Noble's pre-order bestseller list.
Originating in Japan, danmei has become one of China's most popular literary genres over the past 20 years. On online literature portals like Jinjiang Literature City, top danmei novels routinely attract millions of readers hungry for homoerotic or homoromantic love stories largely by and for women.
The evolution of Chinese danmei was a process of cultural evolution, according to Xia Lie, vice president of the Chinese Writers Association's Institute of Online Literature. Chinese danmei, originally imported, has over the past two decades developed beyond boys' love to "become a carrier, to the greatest extent possible, of all kinds of feminine cultural symbols and psychological reflections," Xia told Sixth Tone.
This helped danmei reach new heights in China, Xia said, eventually surpassing its counterparts in Japan and South Korea. "As the writing improved, the plots got stronger, the characters became more powerful and unique, (Chinese danmei) grew into a new subculture for female consumption throughout Asia and even around the world," Xia added.
Nevertheless, the genre's homoeroticism, whether explicit or implicit, has made it a target for domestic criticism and political scrutiny. In 2019, national regulators punished dozens of online literature sites, including Jinjiang, for hosting "obscene content." More recently, some TV series adapted from danmei novels, including the 2021 hit "Word of Honor," have sought to brand themselves as martial arts epics rather than danmei adaptations.

One of the MXTX series currently slated for translation — "The Scum Villain's Self-Saving System" — was removed from Jinjiang in January 2019. According to the site, the series was suspected of violating regulations against distributing harmful content to minors.
In response to concerns that the novels might be toned down in official translation, Seven Seas said in a statement that the English versions would include all content and be rated for ages 17 and over. The publisher did not respond to a request for comment.
This is not the first time MXTX's work has been translated into English. Fans of the author previously produced an unofficial translation of "Grandmaster of Demonic Cultivation," which is now being taken down to make room for the official version. The hit 2019 C-Drama "The Untamed," which is also based on "Grandmaster" and aired globally on Netflix, helped turn actors Wang Yibo and Xiao Zhan into stars from the United States to Africa. 
"I believe Chinese danmei culture is already beginning to rise in the Western Hemisphere, and will continue to get more popular in the near future," Claudia, a 34-year-old Nicaraguan danmei fan, told Sixth Tone. A longtime fan of Japanese animation and comics, she added that "most of" the Japanese comics fans she follows on social media had recently begun to post about danmei by Chinese authors.
Hu Lina, a 25-year-old Chinese resident of the Netherlands, has helped translate numerous Chinese danmei novels and their adaptations into English. She told Sixth Tone that her social media followers mostly followed her for information about danmei translations, before becoming curious about Chinese culture and life more generally. "They'll ask, is this a part of Chinese culture, or is it just something unique made up for the novel? Are these kinds of interactions between parents and children common in China?"
At least some of the excitement for the new translations has come from readers within China. Tao Jasmine, a 34-year-old Chinese fan of MXTX, told Sixth Tone she bought all three forthcoming translations after learning about their release on microblogging platform Weibo. She cited the novels' storytelling as setting them apart from "conventional" danmei stories that focus solely on the romances between their male characters.
"MXTX uses characters and human nature to reflect the bigger picture and realistic messages," she said. "Some concepts and character names are enmeshed in Chinese culture and might sound obscure to foreign readers, but I think the human nature portrayed in the stories will resonate with readers beyond borders and nationalities."
Editor: Kilian O'Donnell.
(Header image: Promotional posters for the novel series by Mo Xiang Tong Xiu. From @Seven Seas on Twitter)