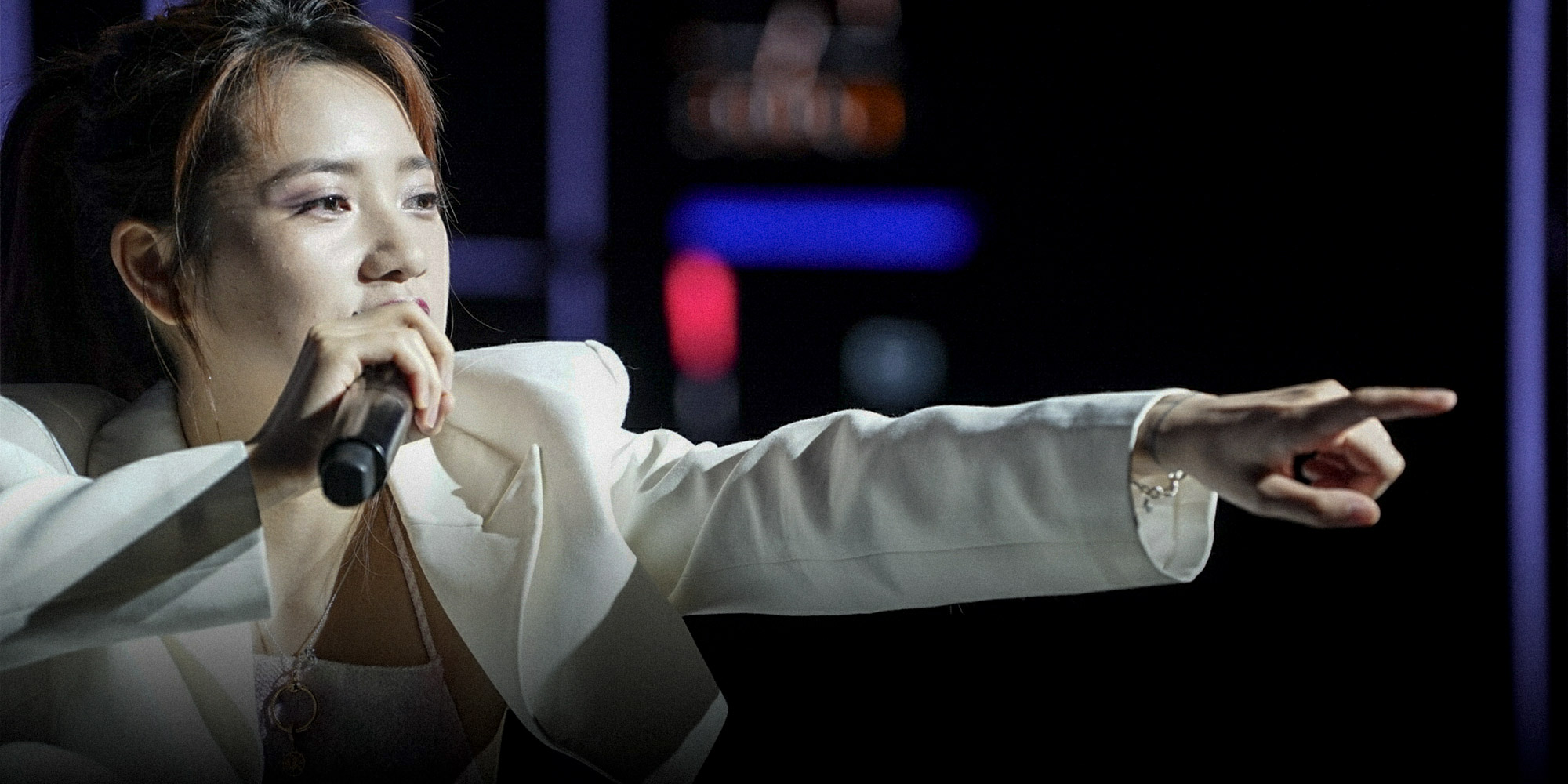 FEATURES
The Feminist Rapper Who Refuses to Be Silenced
Hip-hop star Yang Yuzhen is striving to inspire China's girls to stand up for gender equality. The price: a torrent of online abuse.
SHANGHAI — In a swanky downtown nightclub, Chinese hip-hop star Yang Yuzhen is urging her teenage fans to express themselves.
The 25-year-old is here to promote her new EP "What Are You Listening To?" — but the meet-and-greet often feels more like a group therapy session. The hundreds of girls crowding around the stage haven't come to talk about music, but to share their anxieties with the rap star and seek her guidance.
"I've been single for a long time," one young woman says, stifling a giggle. "What should I do about my crush?"
"Just go for it and tell him how you feel," the rapper answers without missing a beat.
This message of female empowerment is rapidly turning Yang into one of the brightest — and most controversial — stars in Chinese hip-hop.
In a society where women often still struggle to make their voices heard, the young rapper has caused a sensation with her unapologetically feminist lyrics and willingness to speak out on a range of hot-button issues.
But her activism is also sparking fierce online backlash that threatens to extinguish her fledgling career just as it's catching fire.
Yang — known to her fans as Yuzhen or Ingrita — broke into the mainstream last summer, when she entered Chinese streaming platform Bilibili's popular talent show "Rap for Youth."
An instant stand-out among a mostly male line-up, she became an audience favorite after performing her future hit "She and She and She" — a heartfelt, lyrical portrait of three women trying to deal with pushy parents, sexist colleagues, and other challenges familiar to many Chinese women.
She went on to reach the final of "Rap for Youth" and signed a record deal with W8VES — one of the country's top hip-hop labels — after the show ended in November 2020. 
Since then, Yang has won a passionate following — especially among young women — with her up-tempo, electronic-heavy sound, and "girl power" shtick. Though she has yet to achieve the A-list status enjoyed by her childhood heroes Cardi B and Nicki Minaj, she's already setting a new bar for female MCs in China's male-dominated rap scene. Her videos have racked up millions of views on Bilibili.
And from the beginning, Yang has sought to be more than a pop star. Her lyrics continually touch on issues affecting women in contemporary China and urge her fans to fight for the life they truly want. "Dreams, freedoms, aren't they so lovely?" she raps on "She and She and She."
Outside the studio, the rapper has lent her support to a range of feminist causes, including campaigns against period poverty in rural China and gender inequality in the country's education system. She has also spoken up to defend other female stars like Yang Li — the stand-up comedian who suffered vicious abuse on social media after poking fun at the male ego in late 2020.
At the promo event in June, it's clear Yang's young fans hold her up as a role model. As she plays one of her new songs, "Music Heals the Wounded," several people in the crowd burst into tears. Afterward, many open up to the star about their life problems. Yang sits on the stage floor, listening attentively, before offering gentle words of encouragement.
"The surprising beauty of my music is that it not only allows me to express myself, but also empowers others," Yang tells Sixth Tone after the show. "I'm always happy to know when my songs lift up someone who's falling."
Yet, while the star focuses on lifting up her fans, she's also highly aware that many others are seeking to tear her down.
Like other outspoken female celebrities, Yang has quickly become a target for anti-feminists in China. Her social media posts attract streams of negative and often abusive comments. She is regularly accused of being overly radical, hating men, and stirring up controversy to sell more records.
"You're just a piece of tampon," wrote one user on microblogging platform Weibo, after Yang posted about her work on period poverty. "Why do you have to talk about gender issues? Aren't there any normal feminazis on Weibo?" another added.
The abuse has intensified since Yang's public show of support for comedian Yang Li, who has become a bête noire for China's anti-feminist movement. 
"Supporting Yang Li equals misandry," wrote one user on Quora-like social platform Zhihu. "Feminism has pushed her to the cusp of the storm, and she gladly embraced it." 
But Yang refuses to buckle under the pressure. She isn't afraid to confront her critics directly, on one occasion admonishing the Weibo users who had sent her death threats for their lack of compassion. When asked about accusations that she profits from her feminism, she offers a wry response.
"Can somebody teach me how to take advantage of being a woman?" she says. "As a woman, just going out every day feels scary."
The rapper's thick skin is partly a result of her upbringing. Originally from southwest China's Sichuan province, Yang's parents moved the family to the southern megacity of Shenzhen when she was a small child. 
As a migrant kid, she often felt like a second-class citizen in the city and was excluded by her classmates. The experience, she says, taught her not to judge herself based on what other people think about her.
"People are quite cliquey," she says. "Even if I'm a really good person, they might still dislike me."
And although fame came suddenly, Yang had to fight hard to earn her big break. A hip-hop fan since childhood, she moved across the country to Beijing after college to try and break into the music industry. She worked a day job while teaching herself to sing and play the guitar, before finally meeting the man who would change her life: Yan Min, the producer of "Rap for Youth."
"I've faced quite a lot of challenges on the professional side," she says. "I actually had a poor singing voice before."
Now, Yang has everything she dreamed of, but she knows it could all be taken away in an instant. In recent months, Nineone — another female MC — has seen her career derailed by an ill-judged comment about gender equality that outraged her fans. Yu confesses she worries about getting cancelled herself.
"No one is absolutely safe from losing everything overnight," she says.
But Yang has resolved to keep speaking up about the issues she cares about. In the context of heated debates over feminism's role in Chinese society, she understands that her candidness endangers her personal reputation. But she hopes her music will survive and continue to help others.
For her latest record, released June 25, Yang has tried to push the boundaries. The final track, "Cherished/Treasure," is a hard-hitting exploration of China's domestic violence epidemic, which ends with the female protagonist killing her abusive partner. The star had to tone down some of the lyrics to ensure the song was approved for release.
Occasionally, Yang says, she wonders how much of a difference she's really making. She compares herself disparagingly with Zhang Guimei, a Chinese educator famous for setting up a free school for girls in a poverty-stricken region in southwest China's Yunnan province.
"There's only so much I can do as a rapper," she says. "Sometimes using your voice can't truly help those in need."
At the club in Shanghai, however, Yang's fans push her to keep fighting. After the star says she's afraid of facing more pushback over her activism, a mother who has come to the event with her 18-year-old daughter takes the mic.
"Just be yourself and we'll always support you," she says.
Editor: Dominic Morgan.

(Header image: Yang Yuzhen appears at a promotional event in Shanghai, June 22, 2021. Fu Beimeng/Sixth Tone)