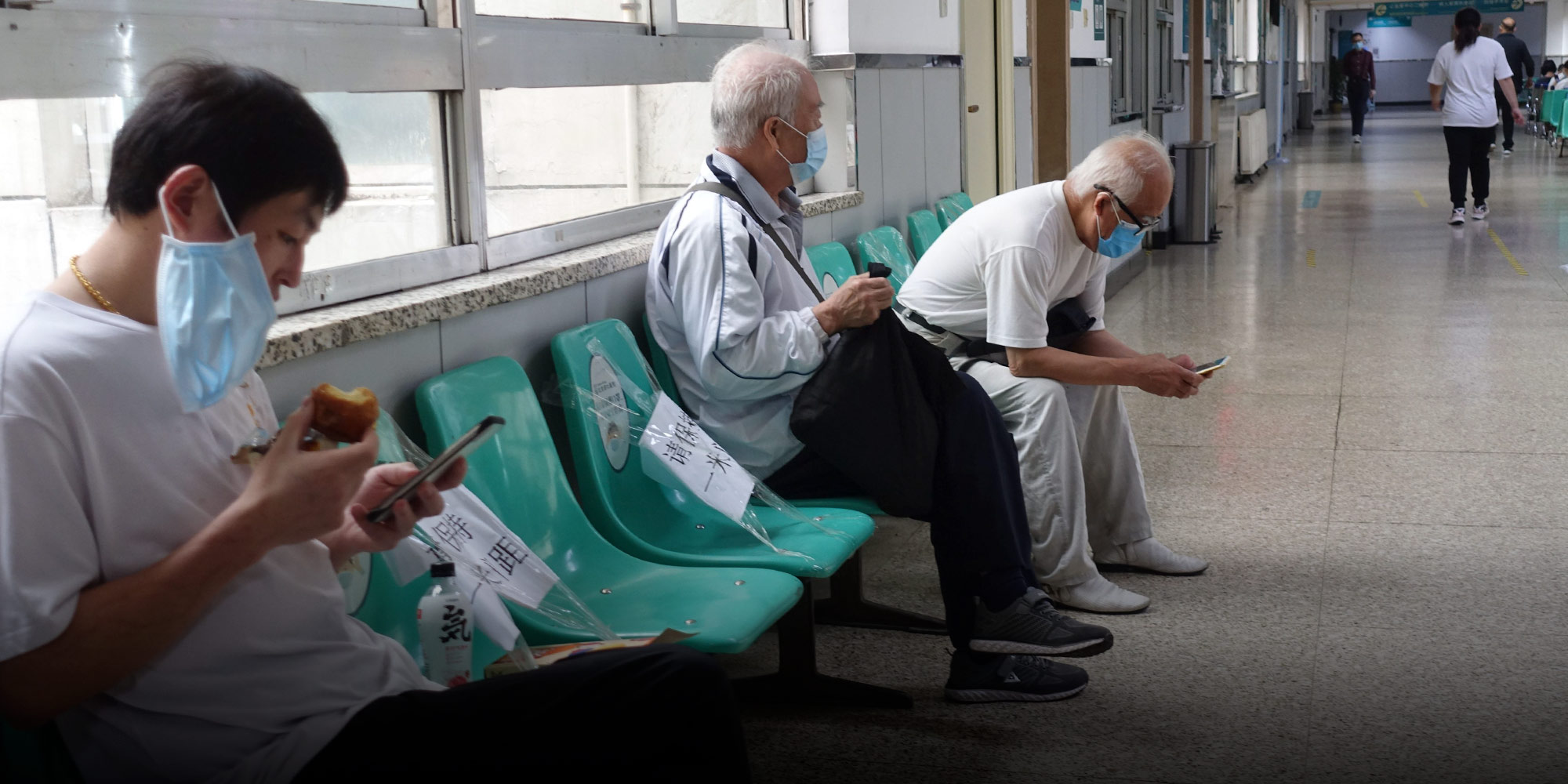 SIXTH TONE ×
Sick of Hospital Queues? Let a Helper Stand in Your Stead
For a small fee, unofficial hospital assistants help turn hospital visits from a troublesome affair to a more convenient experience.
Editor's note: The mere thought of falling ill can conjure up images of packed hospitals, serpentine queues, and agonizing bureaucracy. For most Chinese, this imagined ordeal extends to not just themselves but to the idea of their parents or children falling ill too, leaving many anxious.
Small wonder then that a recent video of a young professional hospital escort amassed more than six million views on the microblogging platform Weibo. In the video, a woman in her 20s has a simple yet vital job: stay in line, help navigate the system, and run errands for patients at hospitals. For this, she charges 200 yuan ($31) for half a day's work or 300 yuan ($46) for the full day. On some days, she even visits four or five hospitals.

To understand this nascent sector and it's growing popularity, we met with Lu, who asked to be identified only by his surname. This 35-year-old resident of Xi'an in the central Shaanxi province, became a professional hospital escort after resigning from a state-owned enterprise in April 2020.
He says such services are not just a way to help the sick navigate the hurdles of seeing a doctor but an almost indispensable service amid China's rapidly ageing society and the newly announced three-child policy. But it isn't easy.
This is Lu's story.
As an employee at a state-owned enterprise (SOE) in Xi'an, I always traveled a lot on the job, so I never had the time to take care of my parents and my two children, let alone my extended family. I lived in constant dread of the moment when they'd fall ill or needed to visit the hospital.
That nightmare came true one time when I was out of the city for work. My father fell ill and needed to visit the hospital for an examination. My wife accompanied him, but she had to ask a friend to look after our children.
Then, during another business trip, my older son woke up with a high fever at 1 a.m. My wife had no choice but to rush to the emergency room with our two children.
We will never forget that ordeal. Both children constantly cried and made trouble as my wife ran from pillar to post, paying the fees and taking the sick child to get blood tests. At that moment, I knew she felt utterly helpless.
Recounting the incident later, I lamented to a friend that I wanted to quit my SOE job, which left me no time to care for my loved ones.
This friend, a healthcare practitioner in the business for more than 20 years, knew well the trouble people face getting appointments with doctors in China. This problem cuts across society, and the bottom line is that people, both young and old, need serious help navigating China's hospitals.
As we chatted, my friend and I increasingly shared a vision. We spoke of using our skills to build a tool that could link people with professional hospital escorts.
We believed such escorts — who help turn a visit to the hospital from a baffling affair to a more convenient experience — might resolve some difficulties that people face in the healthcare system.
It didn't take me long to find a few friends, including medical practitioners and technical developers, to get on board.
But before launching a medical accompaniment platform to book hospital escorts, I realized I needed to understand the market. So last year, I became a professional hospital escort myself to try and gain insight into what our platform could offer.
In April this year, after accumulating nearly a year of firsthand experience, we finally launched our platform, which is available as an app or through WeChat. Our team currently has seven or eight hospital escorts, who accompany patients through their entire hospital visit, from morning to night. They all have relevant job experience, such as a background in nursing.
Ground Zero
Some of our early clients were young migrants working in Xi'an who seemed capable of navigating the healthcare system themselves. But many hospital examinations — like gastroscopies, MRIs, and CT scans — require the patient to be accompanied. Because these migrants had few friends in the city or were unwilling to put their families through the trouble of traveling from their hometowns, our services were of help to them.
I once accompanied a young man who had insomnia and needed sleep therapy. The treatment specifically required that someone stay with him. In the end, I was by his side while he slept in the hospital.
The majority of our clients, however, are elderly parents. With many young people leaving their rural hometowns to work in bigger cities, they have little time to care for their parents back home. Should they fall ill or need to go to the hospital, such parents are in dire need of our assistance.
For example, there was a professor whose parents were both hospitalized at the same time. He was extremely busy, often traveling on business, and had no time to accompany them for the required medical examinations. So I was entrusted to go on his behalf and help with the blood tests and CT scans.
Later, he took my hand and said, "I didn't know before that there were people who do what you do. You've helped me immensely."
We sometimes ask our elderly clients why their children couldn't accompany them to the doctor. They never complain and only say that their children were too busy to travel across the country, or that it was difficult for them to take time off from work. Others explain that they weren't seriously ill and so didn't want to bother their children.
Such words sometimes bring me to tears. Many don't even tell their children when they get sick — they'll only call them if they're particularly unwell and have no other options. Basically, they don't want to be a burden.
In Xi'an, married couples born in the 1980s generally have to care for four elders (two sets of grandparents) and two children. Now, with the government's recent announcement of the three-child policy, young people are under even more pressure, and they can hardly cope on their own, let alone take care of an ailing parent or child.
The Queue and Beyond
Most of my work involves standing in meandering hospital lines.
Take, for example, a patient who requires a CT scan. At a top hospital, the patient would typically stand in line for two hours just to get an appointment. Once they've secured a spot, they have to queue for about another hour outside the CT scan room. It's all very hectic.
Though many hospitals now have intelligent terminals that eliminate the need to queue for registration, the elderly have to swipe their medical insurance cards instead of using mobile payment, which requires in-person assistance. It means the lines are still very long at the medical insurance window in every hospital.
That's where I come in.
After the doctor asks an elderly patient to get tests done, I queue for them to help them pay using medical insurance. But standing in line isn't as simple as it seems.
The advantage of hospital escorts is that we use our professional knowledge to make sure patients visit the specialists they need to see as soon as possible. This way, we prevent their condition from worsening and save them from labyrinthine corridors and unnecessary detours.
However, every hospital is different, and when I first started, it took some time to get used to the grind.
Often, I arrived early in the morning to secure a spot in line for my client, but the hospital was so crowded that sometimes it took until noon to get their test results back after seeing the doctor.
After such experiences, I started preparing in advance. I learned the layout of each hospital, identifying the right places for blood tests, CT scans, MRIs, ultrasounds, and ECGs, and also made note of the hospital's specialty.
This on-the-job training helped me develop professional standards for hospital escorts, gauging how much earlier a patient must arrive, learning how to communicate with clients, and knowing what clients should be reminded of before their tests.
Some decisions are necessary in advance — for instance, clients can't eat for a certain number of hours before having blood drawn.
One client from Shaanxi had consulted many doctors in his hometown about his chronic stomach aches to no avail. On hearing of a specialist at a hospital in Xi'an, he traveled here by train with his wife. But the high demand for specialists meant that he never managed to get a reservation.
That's when he learned of our service. When he called us, I told him: "Come tomorrow and I'll get you a consultation with a regular doctor who'll have you do some tests. In the meantime, I'll help you get an appointment seven days later with the specialist. Once you have your test results, I'll take you to see the specialist too."
Because blood tests require prior fasting, I arranged for him to have blood drawn the following morning as well as an ultrasonography later that afternoon. Before the sonography, he couldn't pass urine, so as long as he only drank water and ate a decent meal at noon, he could finish the test swiftly.
For the gastroscopy, however, he needed cathartics, so I booked the test for the next day.
The results of CT and gastroscopy were available three days later, so I was able to retrieve them all on the fifth day. I gave the client the sixth day off to rest, and on the seventh day, brought all his test results to the specialist.
The doctor only prescribed one course of medicine for him. I told him that he wouldn't have to travel all the way from northern Shaanxi for his next course of medication — he could simply pay me an errand fee of 49 yuan and I would send it to him by mail.
On returning to Shaanxi, the client told me about an earlier experience of desperately trying to get an appointment. He sought out a scalper who demanded 500 yuan to get him registered. Reluctant to spend that much money, he had no other option but to return home and ask a friend's child to help him register online. That didn't work either.
He said I truly solved his problem and that he wanted to express his gratitude by sending me a package of jujubes, a local specialty of his hometown.
Building a Platform
Over the last year, while working as a hospital escort, I've also come across many problems in the healthcare system.
Nowadays, most hospitals ask patients to book appointments online, but many older people aren't aware of this. I've often met people who've taken long, cross-country train journeys for treatment at big hospitals in Xi'an, only to discover that they no longer allow in-person registration.
Such patients usually swarm the hospital guide, seeking advice on what they could do next. And when they finally understood, the available slots had run out.
That's why I believe demand for hospital escort services will rise. If we allow people from out of town to place requests through an app or by calling us directly, we can make appointments for them in advance, and they only need to visit the hospital once they've received the confirmation. This way, they save unnecessary travel expenses, effort, and time.
Moreover, since we are well-versed in the hospital's resources and procedures, we ensure patients get all the required tests in the shortest amount of time. From the hospitals' perspective, we can help ease crowd congestion.
The truth is that our work is not very intensive. There isn't a big difference between professional hospital escorts and other errand-running services — just that the latter is more general, and our service is specific. But because few have heard of hospital escorts, we don't yet have as many customers.
Looking ahead, if we can develop a nationwide, universally recognized platform like the ones that exist for general errands, like Shansong or Ele.me, we can create better standards and improved services too.
For example, if nurses or other medical practitioners meet our standards, we can train them to work for us part-time, just like drivers who have a day job and pick up passengers after work at night for extra money.
We do have restrictions on the age of recruitment: we don't consider candidates over 35. We do this because some patients might be in a bad mood when unwell, and professional hospital escorts may make mistakes that annoy them.
If our hospital escorts are slightly older and express themselves poorly, it may lead to conflict. But if a younger hospital escort says something they shouldn't, the client may react more leniently.
Moreover, younger people find it easier to run around from one floor to the next. Given how large hospitals are, a certain degree of physical endurance is essential.
As we continue to standardize our platform, the amount of business we receive has continued to increase every month. It's much like when I first started to work as a hospital escort in 2020.
The first month, I couldn't find any work at all; by the second, I had started to receive occasional gigs; in the third month, I had 5-8 customers; and by the fourth, I'd slowly built up a base of clients.
In the beginning, there were just three of us involved in the project. A year on, we've grown to a team of 26 people in all.
There's still a problem that causes concern — scalpers. They lurk around hospitals preying on desperate patients. And because there's such demand, scalpers behave as they wish and often extort huge sums from people, safe in the knowledge that they'll always find new victims.
It isn't easy to distinguish us from scalpers. We often look for clients at the hospital entrance, and it's hard to form a bond of trust there. The only way I distinguish myself from scalpers is by pricing.
I tell patients, "There are scalpers who guarantee that you've got a number in line. I can't guarantee that, but if I can't get you a reservation, I won't charge you. If I succeed, all I ask is a service fee of 50 yuan."
My friend isn't convinced though. He once told me: "It's hard to draw the boundaries. Even if you only ask for a 20 yuan service fee while a scalper asks for 200 yuan, you're both still making money from these people."
To this day, this ethical dilemma bothers me.
Moreover, if an anxious client thinks I'm a scalper too, they'll assume that I'll be able to get them an appointment for the next day. I always tell them: "I can't get you a reservation that soon — I can only register you for an appointment seven days from now." This inevitably irks clients. I sympathize with them, but I too am frustrated because what I can offer them is limited.
The only thing that comforts me are the times I have truly been able to help a client and have received their validation in return. Many older people have encouraged me, saying: "The moment we elderly people step into the hospital, it's as if we're illiterate. We can't do anything, and we don't know whom to ask. You really are doing a good thing, young man — you've done so much for us old people. Please keep up the good work."
I care more about my customers' satisfaction and their willingness to enlist my services again in the future. I am more concerned about whether customers can tell that I am not a scalper and whether we can build a mutual sense of trust.
It's like booking train tickets. Back when people couldn't buy tickets online, there were scalpers at train stations in almost every city. It was so chaotic. However, since the 12306 platform — China's official website for train tickets and related services — was launched, train ticket sales have been standardized and scalpers have virtually been eliminated.
I believe that once our hospital escort platform grows in scale, scalpers and con artists will no longer exist in healthcare, and society's prejudices toward professional hospital escorts will disappear.
A version of this article originally appeared in Oh! Youth (36Kr). It has been translated and edited for brevity and clarity, and published with permission.
Translator: Lewis Wright; Editors: Xue Yongle and Apurva.
(Header image: Patients wait to see a doctor, Beijing, July 13, 2020. Su Dan/CNS/People Visual)