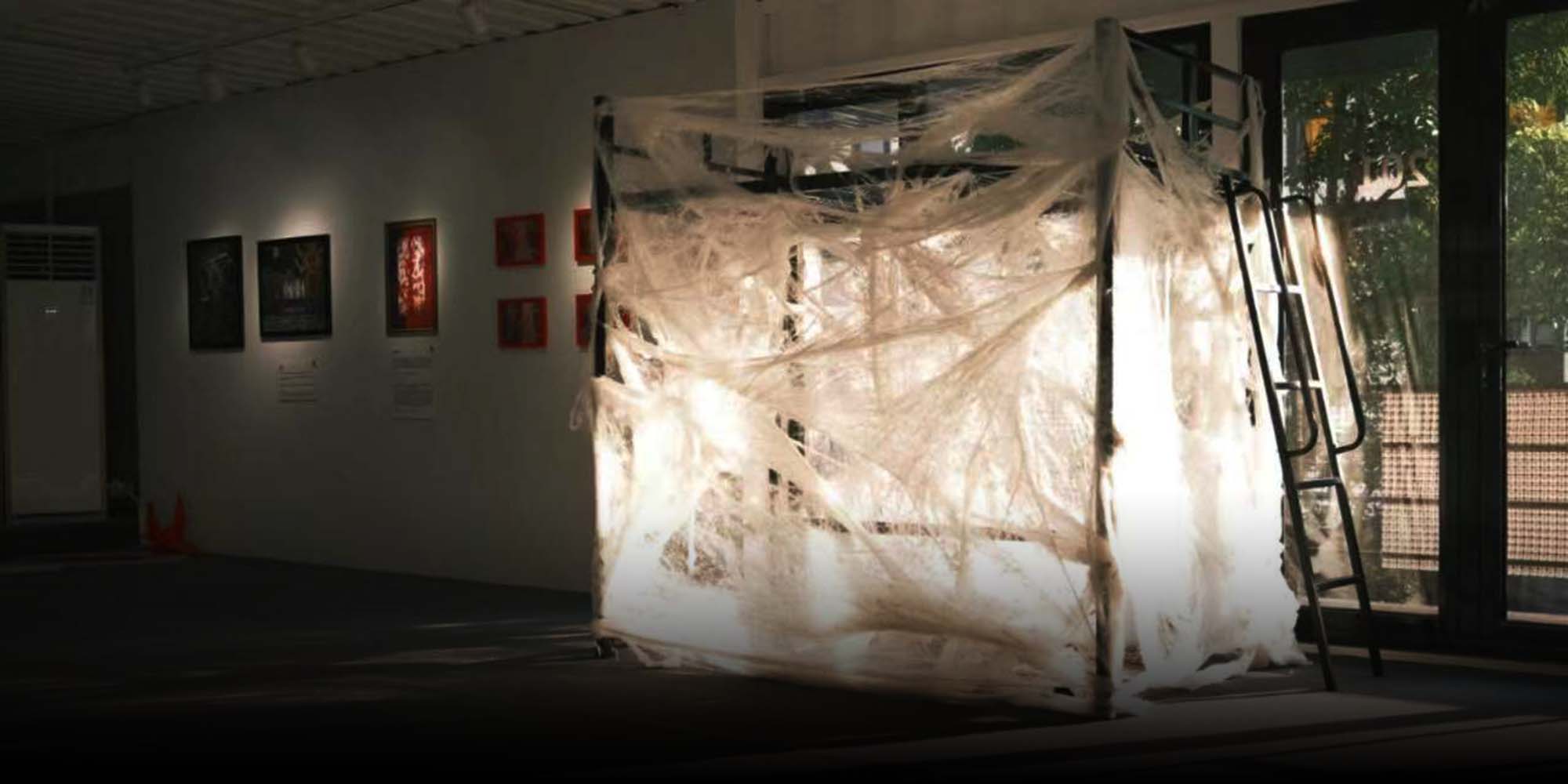 NEWS
A Shanghai Art Exhibition Wants to Talk About Mental Health
The month-long exhibition showcases works from nearly 90 domestic and international artists.
SHANGHAI — Wang Yilan was diagnosed with vitiligo at the age of three and has experienced mental anguish and bullying because of skin discoloration associated with the disease.
Following years of extreme mood swings, which she put down to dealing with her skin condition, she was eventually diagnosed with bipolar disorder while in college. That's when, upon the suggestion of a psychology professor who she had befriended, the now 23-year-old illustrator started looking for activities that would spark joy.
Wang decided to draw.
"I can only find my inner peace when I draw," she said. "No matter if I'm happy, unhappy, or want to run away, it's the only thing that makes me feel alive."
Wang is among the 89 Chinese and foreign artists who participated in a mental health-themed art exhibition that opened in Shanghai over the weekend. Titled FLYWAY, the month-long exhibition was organized by the Chinese nonprofit A Perch for the Thorn Birds and British social enterprise Artlink Central, aiming to raise awareness on mental health.
Morty Chen, the founder of the Chinese nonprofit focusing on art and mental health, said she has hosted similar exhibitions since 2017. Over the years, Chen said, attitudes toward the once taboo topic have shifted, and social acceptance is growing.
"We joked that we were ready, but society wasn't," she told Sixth Tone at the exhibition's opening on Saturday. "There wasn't much response or feedback during the early days of these exhibitions, but they have gradually received attention."
In China, an estimated 173 million people live with some form of mental disorder, according to the latest available official data from 2015. That number was limited to only 90 million people in 2009.
While more awareness about previously shamed conditions may have led to increased diagnoses, various grassroots advocacy groups have helped start conversations on mental health itself. Last year, China's top health authority published guidelines on "preventing and treating the country's depression issue" and mandated mental health screening for students, though some questioned if it would increase possible discrimination.
In the past week, mental health has further received attention, with several athletes openly discussing their personal struggles during the ongoing Tokyo Olympics. While American superstar gymnast Simone Biles withdrew from the Games to focus on her mental health, Chinese gold medalist diver Shi Tingmao also opened up about her depression, saying she has worked with mental health professionals.
Meanwhile, television shows and theatrical plays in China are also using their platforms to raise awareness and give more visibility to the issues surrounding mental health. Shows on bipolar disorder and cognitive disorders have received a positive reception from both critics and viewers over the years.
Natural disasters like the deadly Henan flood that killed 302 people and affected millions have also raised the need for mental health counseling. In the wake of the floods, Beijing Well-being Foundation and Tsinghua University have launched a voluntary initiative to help survivors with post-traumatic stress disorder.
"Large-scale disasters including floods present a test for the collective psychological state," said Chen, a former social worker. "If you don't understand what others are going through, you may just feel sorry for them. But if you are willing to learn more, you may start seeing the illness for what it is."
Despite growing awareness and access to mental health professionals, some may still be reluctant to seek help. Wang, who majored in illustration at the University for the Creative Arts in London, said she didn't actively seek professional counseling but looked for alternative healing options.
"It's great if other mediums outside doctors' visits or formal treatments, such as art, can help people heal," Wang said. "If [art therapy] can be largely promoted, it might be able to help prevent negative emotions."
At the Shanghai exhibition, Wang chose to showcase five of her works that illustrated her experience of living with vitiligo and bipolar disorder. One of the illustrations aptly exemplifies her emotions: half of the canvas is painted in black, while the other half shows messy, entangled lines spilling out from a red lip.
There are other works in various mediums by people who channeled their struggles into creativity. A student diagnosed with Asperger syndrome and attention deficit hyperactivity disorder screened a documentary, a non-binary woman shared a poem about taking birth control pills, and a doctor brought paintings from his patients.
"The exhibition has done something that therapists couldn't," a visitor wrote in a review of the exhibition on social platform Douban.
Meanwhile, Chen said she hoped that such exhibitions can shift, if not entirely change, public attitudes.
"I hope this exhibition can enrich the imagination of those who don't have any mental health conditions, including their perception of those people who do," she said.
Additional reporting: Zhuge Rongrong; editor: Bibek Bhandari
(Header image: Works from 89 Chinese and foreign artists are part of the mental health-themed art exhibition FLYWAY in Shanghai. Courtesy of A Perch for the Thorn Birds)