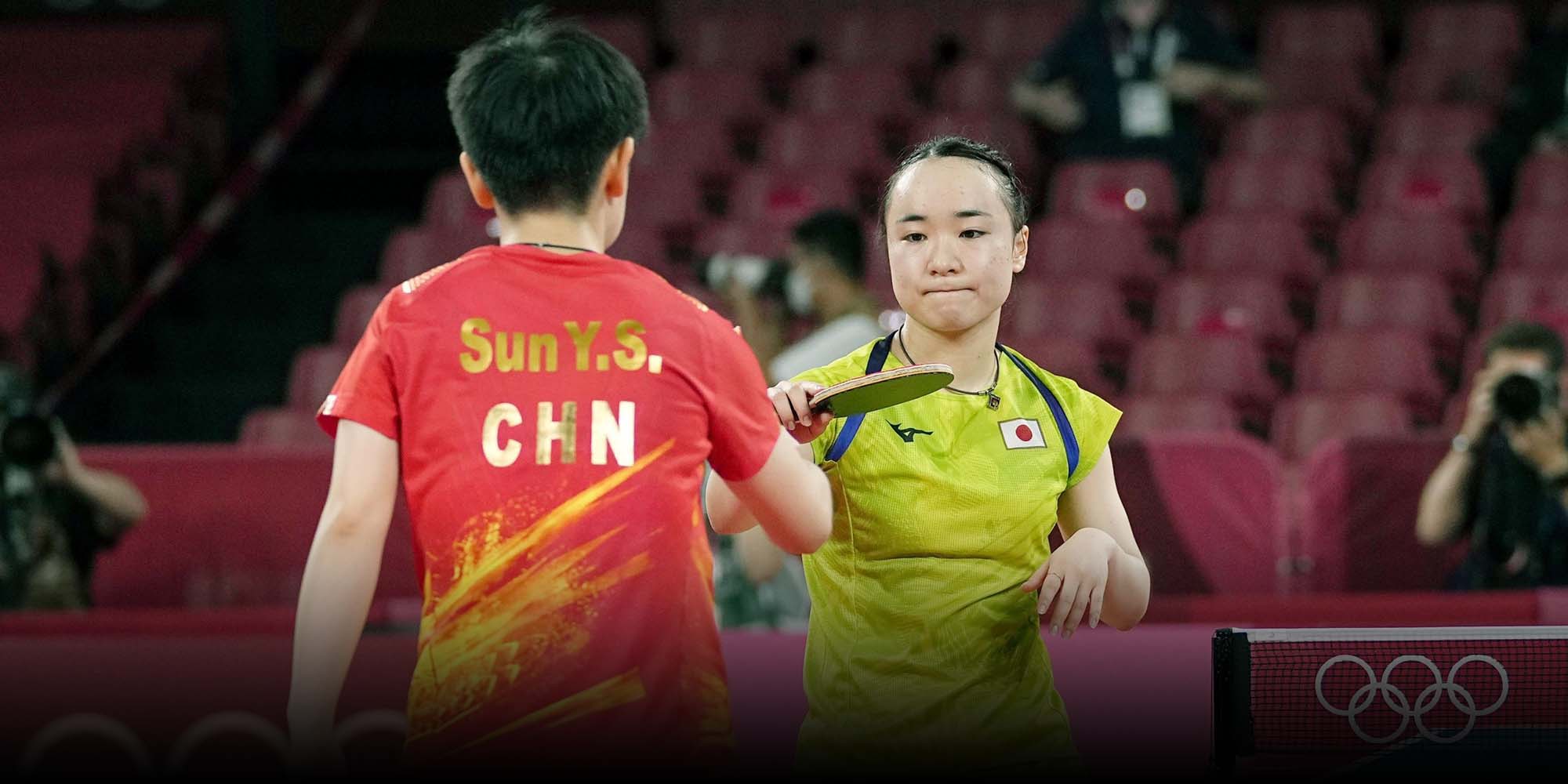 NEWS
Anti-Japan Sentiments Simmer Online After China's Olympic Defeats
Online trolls are attacking Japanese athletes and accusing them of cheating their way to victory.
Ahead of the Tokyo Olympics, the International Olympics Committee revised its motto: "Faster, Higher, Stronger — Together." But that calling for unity has fallen flat for many on the Chinese internet.
Anti-Japanese sentiments on Chinese social media platforms, particularly on microblogging site Weibo, have been on the rise as athletes from the two countries square off in multiple high-profile events, including table tennis, gymnastics, and badminton. Weibo users have hurled abusive language, accusing Japanese athletes of cheating their way to victory.
The series of attacks first started on Weibo when the Japanese mixed doubles pair Jun Mizutani and Mima Ito clinched gold on Monday by defeating Chinese stars Xu Xin and Liu Shiwen in table tennis — a sport that has historically been dominated by China. Chinese social media users blamed the referee of playing favorites by not punishing the duo for flouting virus-related guidelines — players were advised not to blow onto the ball or wipe the table, which Chinese fans allege the opposing team did.
The online attacks and the abuse quickly reached the Japanese players' social media accounts. In a now-deleted tweet, Mizutani wrote that he had received threats from "fans from a certain country," while Ito's Weibo account was flooded with vitriolic comments about her skills and appearance.
A related Weibo hashtag involving the Japanese table tennis players has been viewed over 800 million times as of Friday, while dozens of other hashtags evoking anti-Japanese sentiments have been trending on the microblogging site.
But what started as online abuse against the Japanese players and the match's referee by aggrieved Chinese fans has taken a broader turn. It's no longer personal, as Chinese nationalists online have joined in the chorus of jeers against Japan, with many dissing Japanese culture and people.
"After days of watching the Olympics, I haven't seen any Olympic spirit. Instead, my anti-Japanese spirit has been evoked," one user commented under a post by Chinese gymnast Xiao Ruoteng who lost his gold to Japan's Dakai Hashimoto.
"The small, petty, barbarous country can never be compared to our great nation with 5,000 years of history," wrote another.
This week, many Chinese social media users have alluded to the phrase "anti-Japanese spirit,"which has historical roots dating back to the Sino-Japanese War between 1931-1945. Over 35 million Chinese were injured and killed during the war, according to official estimates.
Zhang Chenchen, professor in politics and international relations at Queen's University Belfast in Northern Ireland, attributed the continuation of anti-Japanese sentiments on Chinese social media to the "mediated socially constructed collective memory." That collective memory refers to the depiction of past wars in popular mainstream media, including movies and television series that remain highly popular among Chinese audiences.
"They are overwhelmingly focused on trauma, instead of resistance." Zhang told Sixth Tone, referring to a scholarly work from other Chinese academics. "It shapes the collective memory of the Sino-Japanese War, and it has become quite distorted."
While historical scars of the wars remain, there is also a history of resentment towards Japan that surfaces online time and again.
Earlier this year, Japanese electronics giant Sony apologized after Chinese internet users protested after the company scheduled a product launch date in China that coincided with the day Japan launched its 1937 invasion.
In 2012, thousands protested in several cities after Japan purchased three of the disputed Diaoyu Islands — known in Japan as the Senkaku Islands — which was considered historical and inseparable parts of China. Some protesters turned violent enough for some Japanese companies to evacuate their employees.
Zhang said the rise in nationalist rhetoric online demonstrates the increasingly anti-pluralist atmosphere on Chinese social media, regardless of the issues being discussed.
"On the one hand, extremist views tend to be amplified," she said. "On the other, there's increasingly less tolerance for plurality."
Shirley Zhou, a student from the eastern city of Suzhou, said she wasn't surprised by the flag-waving discourse and abuse from increasingly assertive keyboard warriors, considering it has been a growing trend online.
"It's heartbreaking but not surprising anymore," she told Sixth Tone.
"Patriotism is about loving the country's citizens, one's neighbors, distant relatives, as well as strangers — and not just relishing in the conceptual magnificence of the word itself," Zhou wrote online after witnessing the anti-Japanese sentiments on Weibo.
However, not everyone is harboring a hostile attitude online, with some using humor instead to defuse tensions. After Chinese table tennis player Sun Yingsha defeated Ito in the women's singles match Thursday, one Weibo user poked fun at the trolls.
"I'm glad Sun beat Ito, otherwise I think netizens would not be that far from World War III given the way they have reacted," the Weibo user wrote. "I nominate Sun for the Nobel Peace Prize — she saved human civilization."
Editor: Bibek Bhandari.
(Header image: China's Sun Yingsha (left) and Japan's Mima Ito bump rackets after Sun won the women's table tennis singles semifinal match at the Tokyo Olympics in Tokyo, Japan, July 29, 2021. IC)