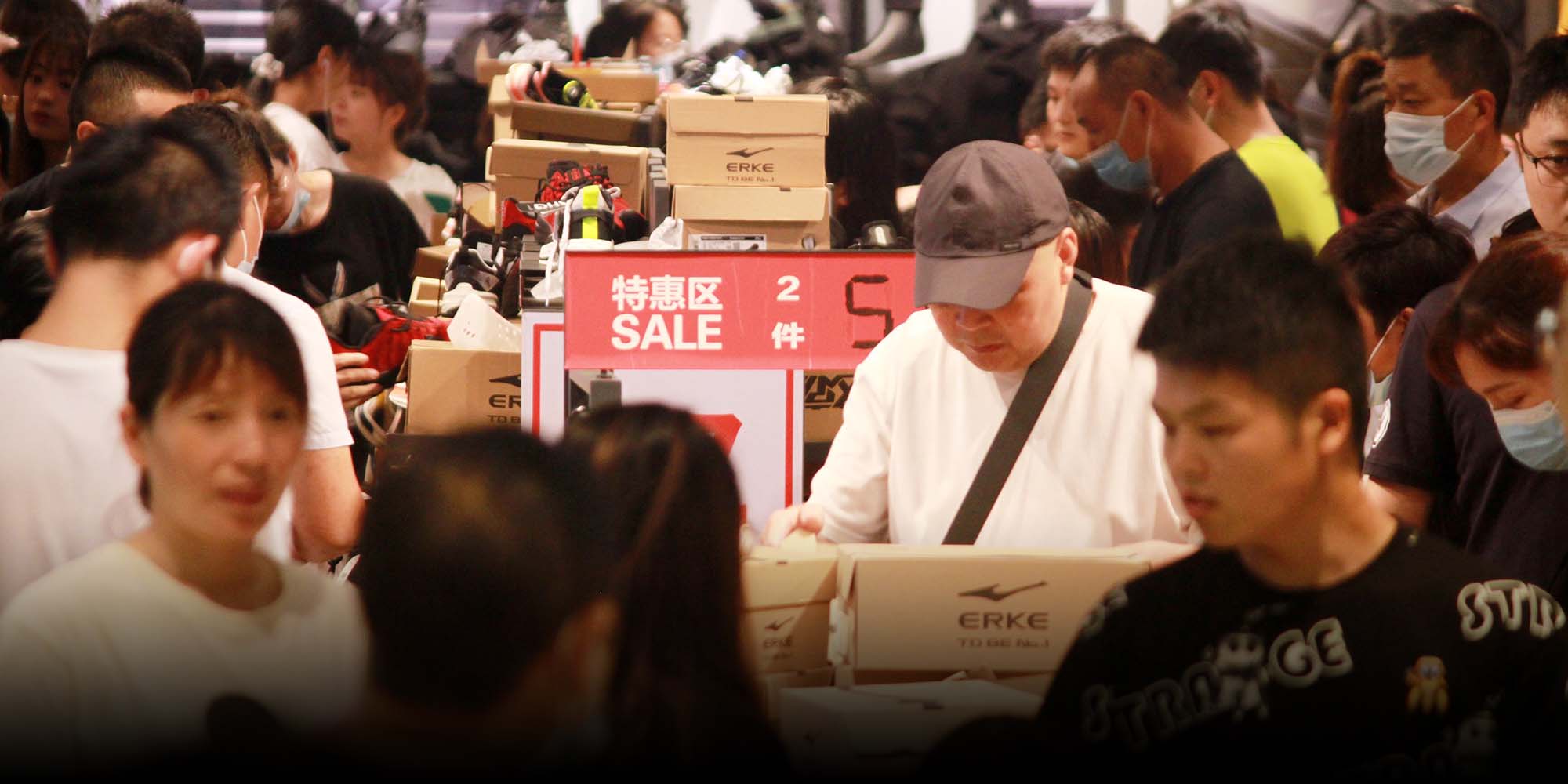 NEWS
Erke, Sudden Sales Hit After Henan Donation, Says it Can't Cope
The unprecedented attention for the middling sportswear brand has also brought scrutiny over whether it has donated as much as it pledged to.
Chinese sportswear brand Erke announced Thursday that its internal computer system had crashed under the rush of orders it has received since becoming a social media darling as a result of its generous Henan floods relief donations.
Erke also said in a livestream that its supply chain is overwhelmed by the sudden demand, with its warehouses emptied out and its production sites working at full capacity. "We are out of stock for over 40 products," a company representative said.
The brand has been struggling financially but nevertheless pledged last week to donate 50 million yuan ($7.75 million) worth of funds and goods to disaster relief efforts for Henan province, where heavy rain and flooding continue to necessitate evacuations. The death toll stands at 99 people as of Thursday.
In response, Chinese customers have bought any Erke product they could find. The brand's livestream on e-commerce platform Taobao averaged fewer than 6,000 viewers last week Wednesday and Thursday, figures show. But on Saturday, after the donation announcement, its viewership skyrocketed to nearly 20 million people.
Lacking sufficient staff to process all the resulting orders, Erke's store on Taobao's Tmall warns users that current purchases will take longer than two weeks to ship — an unusually long wait for Chinese online shopping standards.
Founded in the southeastern city Xiamen in 2000, Erke employs about 30,000 people and last year had around 2.8 billion yuan in revenue, paling in comparison to domestic competitor Anta's 35.5 billion yuan. Erke's 2020 financial report shows it suffered 220 million yuan in losses, financial outletWall Street CN reported.
Erke went public on the Singapore Stock Exchange in 2005, but it was suspended six years later for "accounting irregularities." The company was delisted last year.
"I thought you were going bankrupt, but you still donated so much," reads the top-voted comment under Erke's donation announcement from July 21, which garnered over 800,000 likes. "It's so rare for brick-and-mortar businesses to donate 50 million yuan," another user wrote. "It's hard to imagine how many shoes you'd have to sell."
Erke CEO Wu Rongzhao has since repeatedly asked the public to think twice before opening their wallets. "I want to extend my sincere gratitude to everyone's support," he said in a video message on Sunday. "And I'd also like to use this opportunity to ask you to spend consciously."
But few customers seem to have heeded his words. Across the country, media reported that people have swarmed to Erke stores in shows of support. In Nanjing, a city in eastern China, a customer paid 1,000 yuan for 500 yuan worth of goods and ran away before a shop assistant could hand him his change. Another customer was filmed having shaved the Erke logo — not previously seen as the summit of cool — into his hair.
The sudden attention has also brought scrutiny. A blogger who had sifted through public records discovered that Erke had, by Saturday, only given about 200,000 yuan worth of bottled water. A day later, the two recipients of Erke's donation, One Foundation and Zhengzhou Charity Federation, said that the company's contributions would arrive in batches.
"We will fulfill our donation pledge based on the needs of these two institutions," Erke CEO Wu said in his video message.
Editor: Kevin Schoenmakers.

(Header image: People purchase products at am Erke store in Changzhou, Jiangsu province, July 25, 2021. IC)