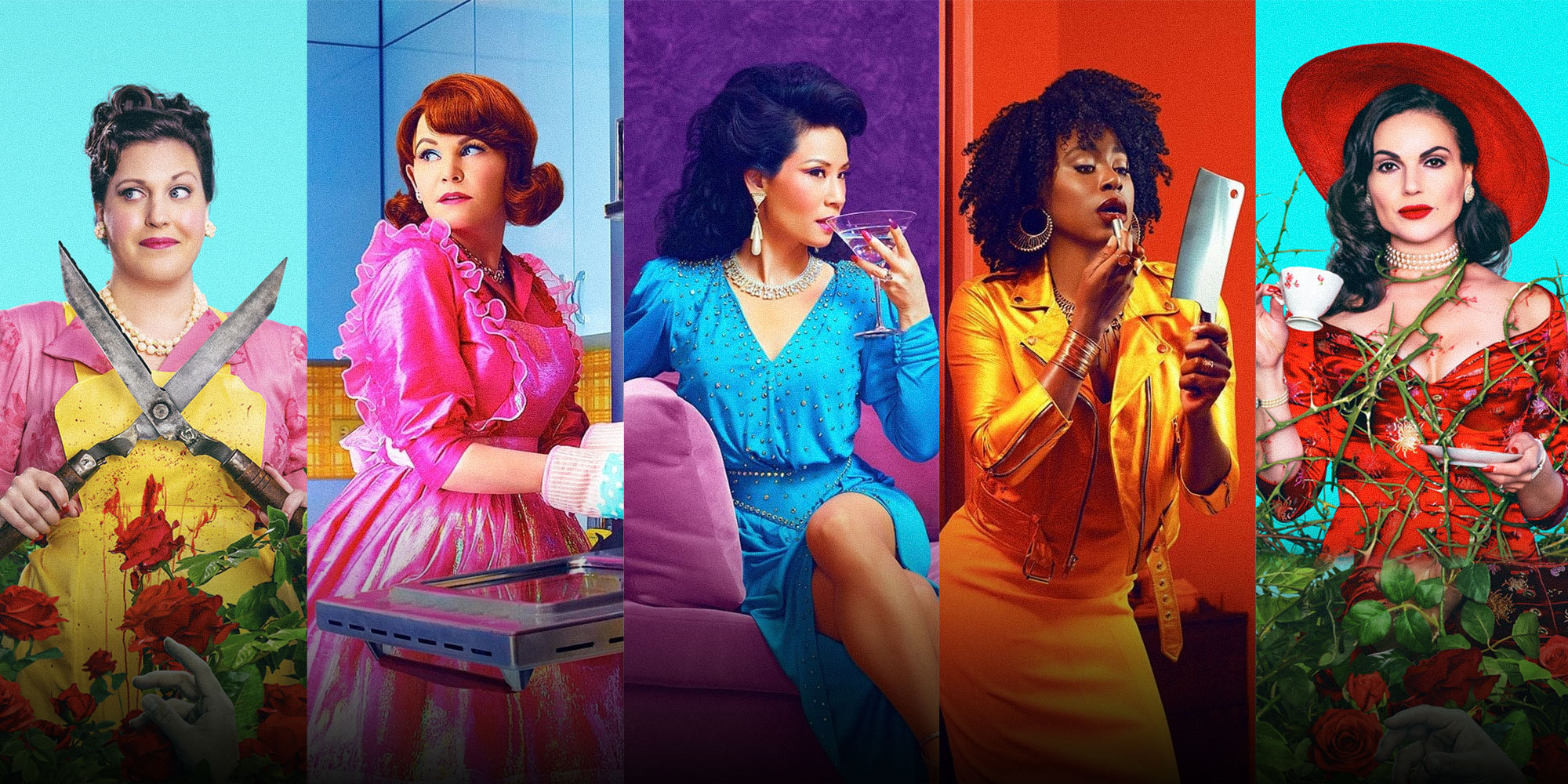 VOICES & OPINION
How 'Why Women Kill' Became an Unlikely Hit in China
The show's embrace of female rage made its first season a surprise hit. Its failure to go beyond catharsis may have doomed its second.
This June marked the return to air of the most talked-about American TV drama in China since "Game of Thrones." Season 1 of "Why Women Kill," a sudsy murder mystery that premiered on CBS in 2019, told three stories of marital betrayal, all set in the same suburban mansion and each ending with their heroines' pain bleeding out onto those around them.
Critically derided in the United States, that first season currently enjoys a 9.4 out of 10 rating from roughly 500,000 users on the typically hard-to-please review site Douban. Those ratings have cemented its place among the best received American TV shows in China, alongside classics like "Friends," "Modern Family," and "Breaking Bad."
But unlike those shows, which were hits on both sides of the Pacific, "Why Women Kill" has largely been snubbed by American audiences. On IMDb, it has a paltry 15,000 ratings, and the show has never quite forced its way to the heart of the mainstream critical conversation in the U.S.
Indeed, it's hard to think of another American show that has achieved mass popularity in China while doing so little in its home market, but the cross-cultural resonance of "Why Women Kill" came more as a product of China's boiling feminist movement than the designs of the show's creators. That is to say, the first season of "Why Women Kill" thrived on a combination of Chinese women's love for dramas and their unvented rage at the patriarchy — a niche no Chinese show has yet been able to fill.
The show's first season consisted of three parallel tales, each featuring a heroine trapped in the stereotypes of their era: Ginnifer Goodwin as Beth Ann, a loyal housewife in the post-war 1960s; Lucy Liu as Simone, a socialite who learns she's married to a closeted gay man in the homophobic 1980s; and Kirby Howell-Baptiste as Taylor, a career woman and breadwinner in an open relationship with her stay-home screenwriter husband.
Female rage as a justifiable response to the injustices of patriarchy is central to the narrative of "Why Women Kill." Take the Beth Ann storyline, for example. After exhausting all her options to save her marriage, the picture-perfect housewife realizes she needs to eradicate the real source of all her suffering: her husband, Rob. Echoing a wave of angry advocacy for women's rights and independence within China, the story depicts a satisfying version of sisterhood, as Beth Ann works with her husband's mistress and her neighbor — who is herself married to an abusive man — to orchestrate their tormenters' downfall.
Depictions of female anger and brutality — commonly referred to as heihua, or "going dark" — are a tried and true formula in Chinese pop culture. The trope is especially common in shows with a strong female lead. In the popular C-Drama "Empresses in the Palace," for example, the disillusioned heroine embraces her dark side and focuses on climbing up the power ladder and exacting revenge on her enemies.
But this behavior is rarely portrayed as empowering, much less linked to universal female experiences of patriarchal oppression. Tight content regulations, especially on depictions of violence, also mean that it's rare for this rage to curdle into murderous resentment on screen.
That is not to say it never happens. In Jia Zhangke's 2013 anthology film "Touch of Sin," a put-upon hostess at a spa is transformed after she kills a man who attempts to rape her. Although it was never shown in mainland cinemas, the film is based on a true story, and the repressed anger it gave voice to is very real. Last year's hit series "A Murderous Affair in Horizon Tower" featured a group of women who team up to kidnap an abusive man, but it is police officers who ultimately bring him to justice.
Social media offers an alternative outlet. In 2018, a video titled "Chinese Trash Guys Illustrated" attracted tens of millions of views. In it, creator Tu You Qin covers the female murderer anthem "Cell Block Tango," with the details changed to reflect real life stories of gender-based violence in contemporary China: a woman who was harassed and stalked by her Didi driver ex, for example, or a new mother who found out that her husband had killed their daughter to sell her into a "ghost marriage."
This stands in sharp contrast to the profusion of feel-good shows about happy, well-adjusted women on Chinese TV, especially since 2019. Arguably the most popular genre today, tianchong, or "sweet spoiling love," focuses on loved and protected women who seemingly have no worldly concerns. Then there are the "girl bosses" — charismatic career women whose problems seem to all magically work themselves out as they move up the ladder. These simplified, feel-good tropes are the low-hanging fruits of China's contemporary entertainment landscape, in part because they allow shows to skirt criticisms of structural social ills.
At first glance, the popularity of tianchong narratives seems at odds with the appetite for rage that fueled the popularity of "Why Women Kill": The closest mainstream Chinese TV comes to showing female anger is through stereotypical catfights between wronged women. On closer inspection, however, both share an underlying escapism. During season one, for example, the trending hashtag "Simone's little pup" — a slang term for an older woman's young lover — reflected a heartfelt obsession over the character's opulent, glamorous, and sexually indulgent lifestyle. Meanwhile, hashtags like "destroy Rob the trash man" and the mocking "Jade and Rob belong together" reflected a sense of unfiltered moral condemnation and the ways in which disdain for male betrayers can spill over onto the women they cheat with.
For all its popularity, "Why Women Kill" doesn't truly try to give women a voice, especially when compared with other popular recent imports like "Fleabag" or "The Marvelous Mrs. Maisel." The show's production and camerawork unapologetically embody the male gaze: Not only is the narrator male, but the camera almost leers at the bodies of the show's female leads. Creator Marc Cherry told the New York Times in an interview that he saw himself "sneaking the politics in the middle of all this fun debauchery," but the show is not exactly progressive. Its depictions of sex and sexuality, in particular, are deeply hidebound, and while its characters are easy to root for, they're also sloppy caricatures.
Then again, one could argue that it is precisely the show's cartoonish feel-good nature that helped it win over Chinese audiences. The same goes for how the show's messy love triangle perpetuated traditional sexuality, making it more palatable to heteronormative Chinese viewers, even as it reinforced stigmas against underrepresented groups. Yet catharsis doesn't last forever, and a purely feel-good show devoid of progressive politics will inevitably lose its novelty. The show's second season, which saw Cherry returning to his family melodrama roots, has enjoyed a lukewarm reception in China. As of publication, the second season has just 100,000 Douban ratings and an average score of 7.7.
China's entertainment industry owes viewers more than girl bosses, especially at a time when more Chinese women are coming out about their experiences being sexually harassed and emotionally exploited, not least by male entertainers. But can an industry that has long enabled predatory behavior by powerful men advance the country's feminist movement? And will works that feature female rage ever be able to be screened in the open?
If "Why Women Kill" offers a lesson for China's television industry, it might be that the magic of bottled-up female catharsis — the desire to see comeuppance for those who marginalize, belittle, harass, and abuse women — is entertainment dynamite. All it needs is someone to light the fuse.
Correction: Due to editorial error, a previous version of this story incorrectly characterized the plot of "A Murderous Affair in Horizon Tower."
Editors: Cai Yineng and Kilian O'Donnell; portrait artist: Wang Zhenhao.
(Header image: A collage of posters from seasons one and two of "Why Women Kill." From Douban)