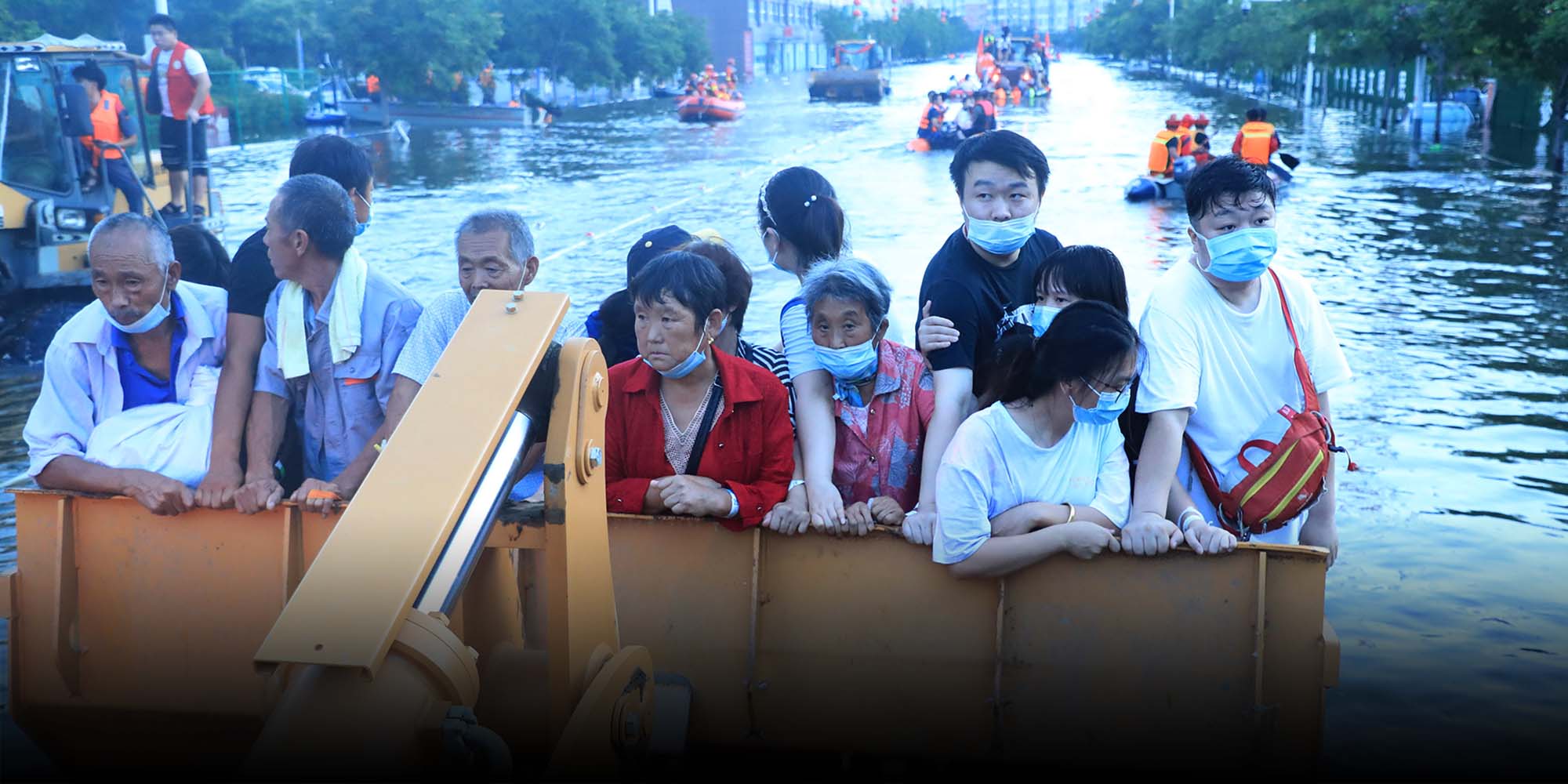 NEWS
As Slowly Receding Floodwaters Pose Risks, Henan City Evacuates
Typhoon In-fa brought further rain to the region over the past couple of days.
A week after torrential rains hit the central province of Henan, increasingly foul water is still clogging Weihui, a small city whose residents have been without electricity or running water and where local officials fear the situation might further deteriorate.
As of Tuesday, the majority of Weihui's 150,000 urban residents had been evacuated, disaster response officials said.
Wang Hongwei, director of the local flood control and drought relief headquarters, told a local newspaper that water levels in a canal and two rivers that run through Weihui remain high, making it difficult to drain the city itself.
Wang explained they have to process the 1.2 billion cubic meters of rain that has fallen in Weihui and neighboring areas since the extreme weather started earlier this month. That is equivalent to 85 times the amount of water in the West Lake, a famous lake in eastern China, he added.
The water clogging Weihui's streets has reportedly taken on a fetid smell, with garbage and dead animals floating through the city.
Though Wang said the water level in Weihui's urban area is gradually declining, it is still above what is officially considered the "warning level." Electricity cannot be restored until the flooding has been resolved, he said. Without elaborating, Wang added, "the risk of secondary disasters is still quite big."
Residents had earlier been evacuated, but as the water continued to rise over the weekend, they had to be evacuated again to even higher ground. A Weihui local told Sixth Tone's sister publication The Paper that the water rose by about 60 centimeters in a day.
He had been staying in a shelter, but on Monday found himself lining up in the middle of a flooded street to move again. "Two floors of my house are flooded, so I took some summer clothes, but I couldn't take more," he told The Paper.
The heavy rain has also caused severe damage in villages around Weihui's urban core. Houses have collapsed and roads were blocked by landslides. Videos from the area show people being evacuated by front loaders. Many places have been without running water or electricity for days.
As of Wednesday, the death toll of the heavy rainfall in Henan province, which officials say affected more than 13 million people, has risen to 73.
Typhoon In-fa, which made landfall over the weekend near Shanghai and has weakened to a tropical depression as it moves inland, brought further heavy rainfall across Henan on Tuesday and Wednesday.
State news agency Xinhua reported on Wednesday that in Hua County, located not far from Weihui, the Wei River had breached flood defenses and that the rainfall from In-fa was creating dangerous situations.
Editor: Kevin Schoenmakers.

(Header image: Residents are moved by a front loader in Weihui, Henan province, July 26, 2021. People Visual)