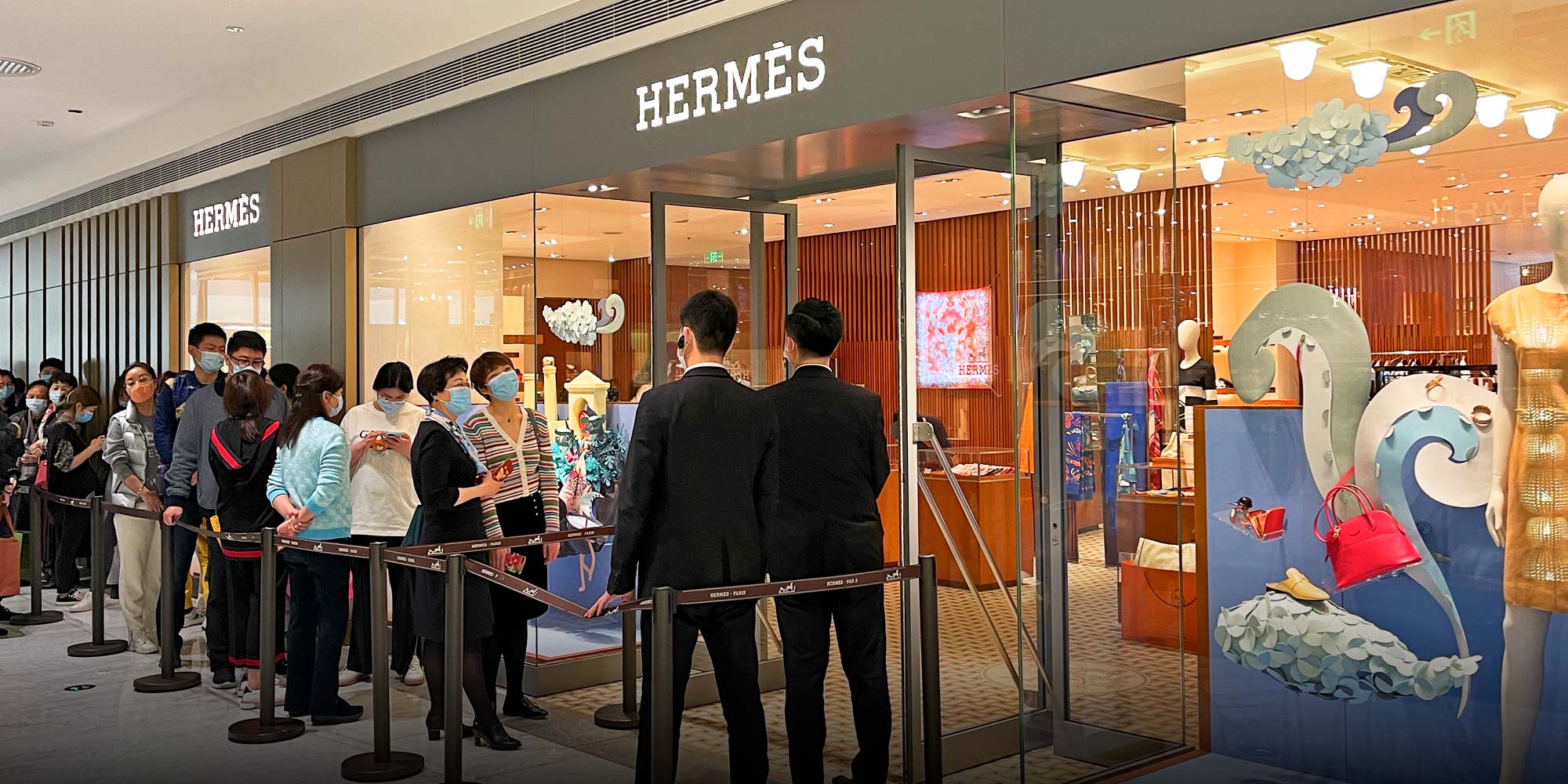 FEATURES
Chinese Shoppers Complain Bagging a Hermès Was Never Harder
Luxury brands' sales tactics come under scrutiny as supplies appear to have tightened since the start of the COVID-19 pandemic.
Chen Shuyu had what she figured was a fail-safe plan when she walked into a Beijing Hermès boutique during a recent shopping trip. She had selected a realistic target: a Picotin, which, at just 20,900 yuan ($3,200), is a relative bargain in the Parisian luxury brand's line-up of handbags.
And, knowing the unwritten rule of luxury handbag shopping, Chen first splurged on a few less desirable items in the hope of being allowed to buy the most in-demand products — a practice known in China as "peihuo." She spent almost 20,000 yuan on three scarf rings, men's sandals, and a T-shirt before gathering the courage to ask about the availability of a Picotin.
The bag is just one step in Chen's long-term peihuo plan. She hopes to one day buy the Hermès trinity known as BKC: the Birkin, Kelly, and Constance models, which each sell for anywhere between $10,000 and $500,000. But a Hermès customer knows she needs to work her way up. "It's not very realistic to ask for those straight from the get-go," she said. "For brands like Hèrmes, you have to take it slow."
Having seen on social media that some people managed to buy a Picotin without any prior purchases, she was confident in her approach. Nevertheless, the shop assistant told her that, sorry, but she'd have to wait.
Chinese luxury goods aficionados complain online that these kinds of disappointments have become increasingly commonplace. Getting the top products by many brands has become more cumbersome since the start of the COVID-19 pandemic, most customers agree — though the secrecy of the luxury goods industry means everyone is left guessing why.
"I think there are many people who are in the same boat," Chen said. "As I understood, Hermès was cutting its production due to COVID-19," she said, apparently referencing the company's production sites closing for at least a month early last year.
Another popular theory is that, due to border closures forcing Chinese shoppers to get their handbag fixes at home rather than abroad — where value added taxes are lower — has thrown supply and demand out of balance. "There are too many rich people in China who cannot go abroad for their shopping sprees," Lidami, a fashion blogger with two million followers, wrote on social site Weibo earlier this year. "It's not just Hermès that demands customers spend more on peihuo, even brands that are just a little bit popular have started doing it too!"
Company figures for Hermès, one of the world's top luxury brands, show how its customers have shifted location. Last year, the only region to show revenue growth for Hermès was Asia Pacific (excluding Japan), which generated 14.4% more income than the year before. In France, the brand's home country, sales plummeted by 28.6%. As a result, Asia Pacific's share of the company's sales last year stood at 46%, up eight percentage points from 2019.
But other Chinese customers are pointing their ire at peihuo, convinced that foreign brands are just trying to squeeze them for more money.
Earlier this month, one Beijing Hermès customer was apparently so upset about his thwarted pursuit of a particular bag that he decided to launch a one-person protest in front of the company's store. Holding a sign saying "Rubbish Hermès — peihuo but no bag" and with three Hermès' signature orange shopping bags beneath his feet, the man became the talk of online communities devoted to luxury brands. "Finally, someone dares to do this!" read the top-voted comment below a post on Xiaohongshu, a social media app. The post claimed he had spent over 100,000 yuan but was still unable to buy a handbag.
Other social media posts complain that other luxury brands, such as French fashion house Chanel, have also adopted peihuo. The practice has been noticed at boutiques in the U.S. and Europe as well. Neither Chanel nor Hermès replied to requests for comment. When asked if purchasing popular bags such as Birkin or Kelly requires building up a spending history, a Hermès customer service agent told Sixth Tone that the company doesn't have such a policy.
Miro Li, the founder of Shenzhen-based branding and marketing consultancy Double V, doesn't think Hermès' brand will be damaged by the customers grumbling — or even protesting — about peihuo. "Hermès only targets a very selective group of people, so the public's perception may not affect its sales at all," she told Sixth Tone. On the contrary, some customers might become even more loyal to the brand if it is seen as more exclusive.
Adding to the mystique around whether peihuo actually exists is the fact that some customers say they never encounter it — perhaps because they spend lavishly enough to never hear "no."
But luxury industry insiders say peihuo is no myth. Lin Tao, who owns a second hand luxury shop in Beijing, told Sixth Tone even luxury brands' own stores are limited in how many bags they can stock. That way, they are forced to find ways to sell other inventory, he said. Hermès, for example, reportedly limits production of its most desired models — with about 120,000 Birkin and Kelly bags made per year — but at the same time sells a wide range of other products that inspire less desire.
Wholesalers also use peihuo tactics when supplying independent stores. Lin saw his business grow in recent years but his profits have not kept pace, in part because he's forced to sometimes stock less desirable items. He's understanding about why companies choose to operate this way. "It's a bundling marketing strategy that exists beyond Hermès; it's normal because good stuff is scarce," he said.
Chen, who works as a buyer for a fashion store, said that last year, she was told by an European wholesaler that for each currently on-trend "Triomphe Canvas" handbag by French luxury company Celine she would have to stock four handbags from other brands that aren't as hot sellers.
With luxury buying seemingly becoming more difficult, tips and shortcuts are in high demand online. "Show them you're a regular customer. Have a look at the homeware section when you go into the store, then try to ask for a handbag," says one influencer in a video on Weibo. Another post, on video site Bilibili, encourages shoppers to dress in luxury brands to impress sales assistants.
Also on Weibo, a video titled "How to get an Hermès bag with zero peihuo" points to an increasingly popular alternative. In it, the influencer suggests aspiring Hermès owners try their chances at second-hand stores and apps. Riding the popularity of livestreaming and e-commerce, China's luxury resale market boomed in 2020. Sales of second-hand luxury goods on e-commerce giant JD.com's Paipai jumped 138 percent for 2020's mid-year sale season compared with 2019's, for example. Last year also saw many Chinese luxury resale startups such as Red Plum, Ponhu, and Feiyu close new rounds of investments.
But many shoppers who want their dream bag brand new believe playing along with peihuo is unavoidable. Chen plans on visiting other boutiques to see if sales assistants there are more cooperative. Giving up on her pursuit of a top-of-the-line Hermès bag is not an option. "It's a sick mentality that when you buy these brands, you think they are the gods and we are their servants," Chen said. "We'd do anything just to get a handbag."
Editor: Kevin Schoenmakers.

(Header image: People line up outside a Hermès store in the SKP shopping mall in Beijing, March 2021. People Visual)