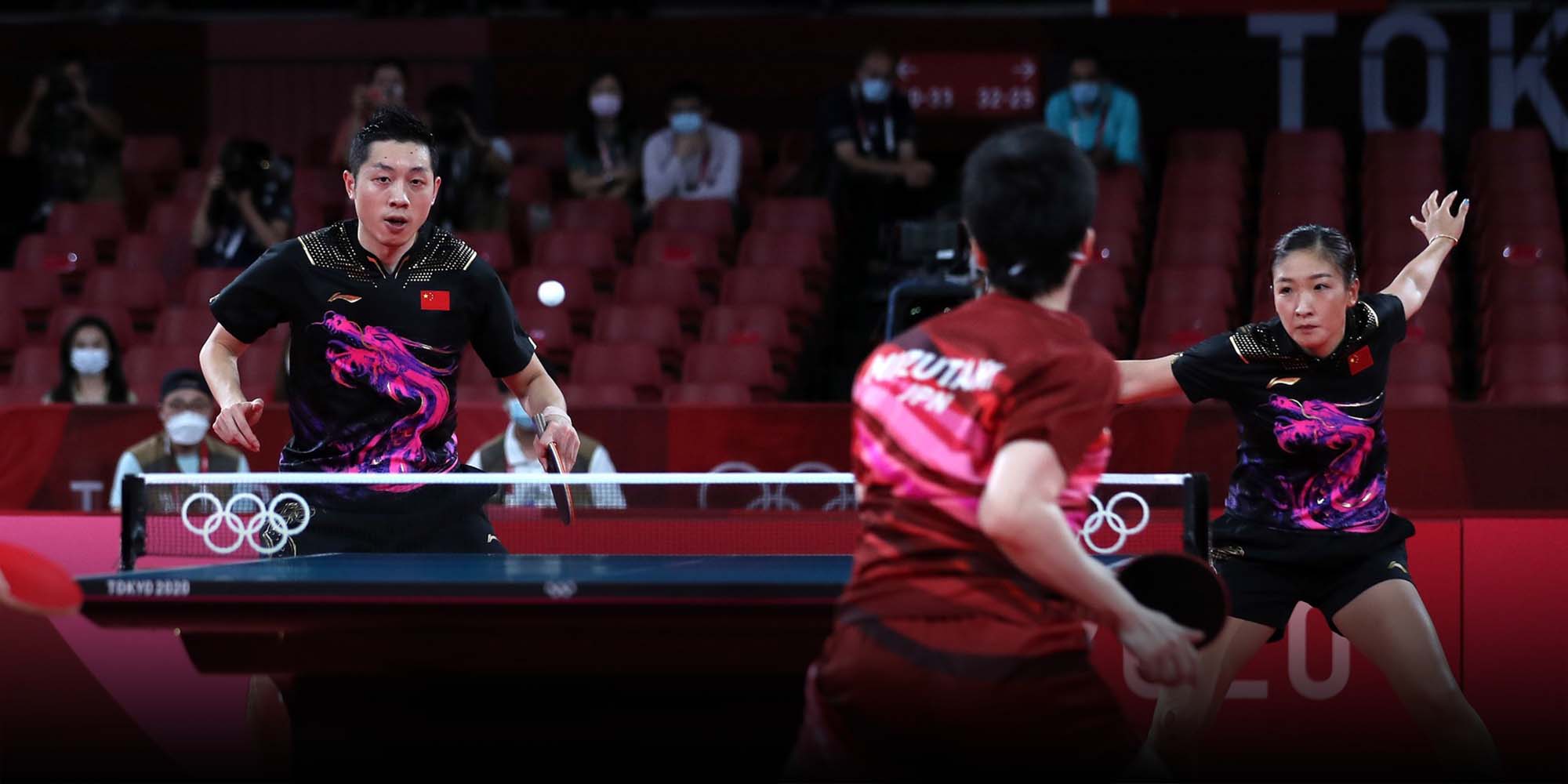 NEWS
Winning 10 Gold Medals, China Has Also Suffered Unlikely Defeats
Fan favorites not playing at their best has made the Tokyo Olympics a mixed bag so far for the Chinese delegation.
Even though Team China stood just one gold behind 2020 Olympics medal table leader Japan by Wednesday morning, Chinese athletes and fans alike have had some bitter disappointments to swallow.
Several Chinese competitors seen as favorites for first place have not lived up to expectations.
On Tuesday, the defending Olympic champions of the Chinese women's volleyball team — whose players feature in countless commercials and last year were even the subject of a movie — lost to the United States in three straight sets. In their first game on Sunday, they were also defeated by Turkey with the same score.
Posts about the latest defeat, a mix of some criticism and a lot of support, had been viewed on microblogging site Weibo more than 85 million times by Wednesday.
"Although they lost, they fought for every point and tried their best, which is the embodiment of the true fighting spirit," one Weibo user commented. "I think the volleyball team is just too tired after spending time and energy on training, making TV commercials, and movies," another quipped.
The volleyball players have three more group matches left in which they can secure a place in the quarterfinals and get back on track for gold. Meanwhile, another national beacon of sporting hope has already missed one chance at the highest podium.
China's table tennis team — which won all possible gold medals at the 2016, 2012, and 2008 Summer Olympics — lost its first chance at a top finish on Monday. During the closely watched mixed doubles table tennis finals, the Chinese side lost to the Japanese team, which rallied from going down two sets at the start of the game.
"It's hard for me to accept this result," 30-year-old silver medalist Liu Shiwen said after the final. "I feel sorry for our team."
Her partner paddler Xu Xin also stated that the result was "unacceptable" for the Chinese team.
"We suffered a lot in our preparations, but in the end, competitive sports depend on the results," he said. "No matter what happened before, everyone will only remember who is standing on the championship podium."
Mixed doubles table tennis is a new event for the Olympic Games, but Chinese fans were confident their compatriots would emerge victorious. By the time the final began, a hashtag reading "Xu Xin and Liu Shiwen get first gold for the national table tennis team" was already trending on Weibo.
Also on Monday, China's weightlifting team, another Olympic powerhouse that has already won three gold medals, suffered its first defeat when Liao Qiuyun was bested by 1 kilogram by her Filipino opponent in the women's 55-kilogram category. Meanwhile, Chinese divers Cao Yuan and Chen Eisen — who have four gold medals between them — lost the men's synchronized 10-meter platform diving final to the U.K.
Another expectations-crushing defeat came when China's men's gymnastics team won bronze — a result that did not satisfy team members' high expectations.
"We accept all the criticism, and then continue to improve and work harder," Xiao Ruoteng said. "We came here to become champions," another gymnast, Lin Chaopan, said during the post-match press conference.
Despite these disappointments, China by time of publication had already earned a second-best 23 medals, 10 of which are golds. Host Japan lead all countries with 11 victories.
Zhao Ying, a sports enthusiast based in Shanghai, watched as many Olympic events as she could the past few days. The uncertainty of winning or losing is the charm of sports, she said. "At the same time, it also shows that other countries have made great progress in China's traditional powerful sports," Zhao told Sixth Tone. "As a sports lover, I don't want to see Chinese players only competing with each other in table tennis and diving."
Since 1984, when China won its first Olympic gold medal in Los Angeles, the Chinese government has attached great importance to the Olympic Games and its medals.
The country's enthusiasm — and funding — for sports increased tremendously after it won the bid to host the 2008 Olympics in Beijing. Winter sports are receiving a similar rush of support in the run-up to next year's Winter Olympics, which Beijing will also host.
In 2019, the Chinese government issued a national plan which aimed to develop the country into a "modern sports power" by 2050 and improve its international influence in sports to rank among the world's leaders.
But the country's focus on Olympic fame has, at times, gone overboard. Some regional governments made cultivating gold medalists part of local officials' performance reviews, putting athletes under even greater pressure. In 2015, the central government criticized this as "distorting the spirit of sports" and urged for change.
On Tuesday, an op-ed in state-run China Discipline Inspection Newspaper again tried to temper expectations. "We should be less critical and more understanding of the Chinese athletes who failed to achieve their wishes for the gold medal," one contributor commented.
The writer praised swimmer Zhang Yufei, who bagged a silver medal in the 100-meter butterfly race on Monday but afterward gave herself a score of 99 out of 100. "Grabbing gold is great, so is winning silver and bronze," the article said.
Editor: Kevin Schoenmakers.
(Header image: Xu Xin (left) and Liu Shiwen of China in action during the Mixed Doubles Gold Medal Table Tennis Match China vs Japan of the Tokyo 2020 Olympic Games at the Tokyo Metropolitan Gymnasium arena in Tokyo, Japan, July 26, 2021. Hehayatullah Amid/IC)