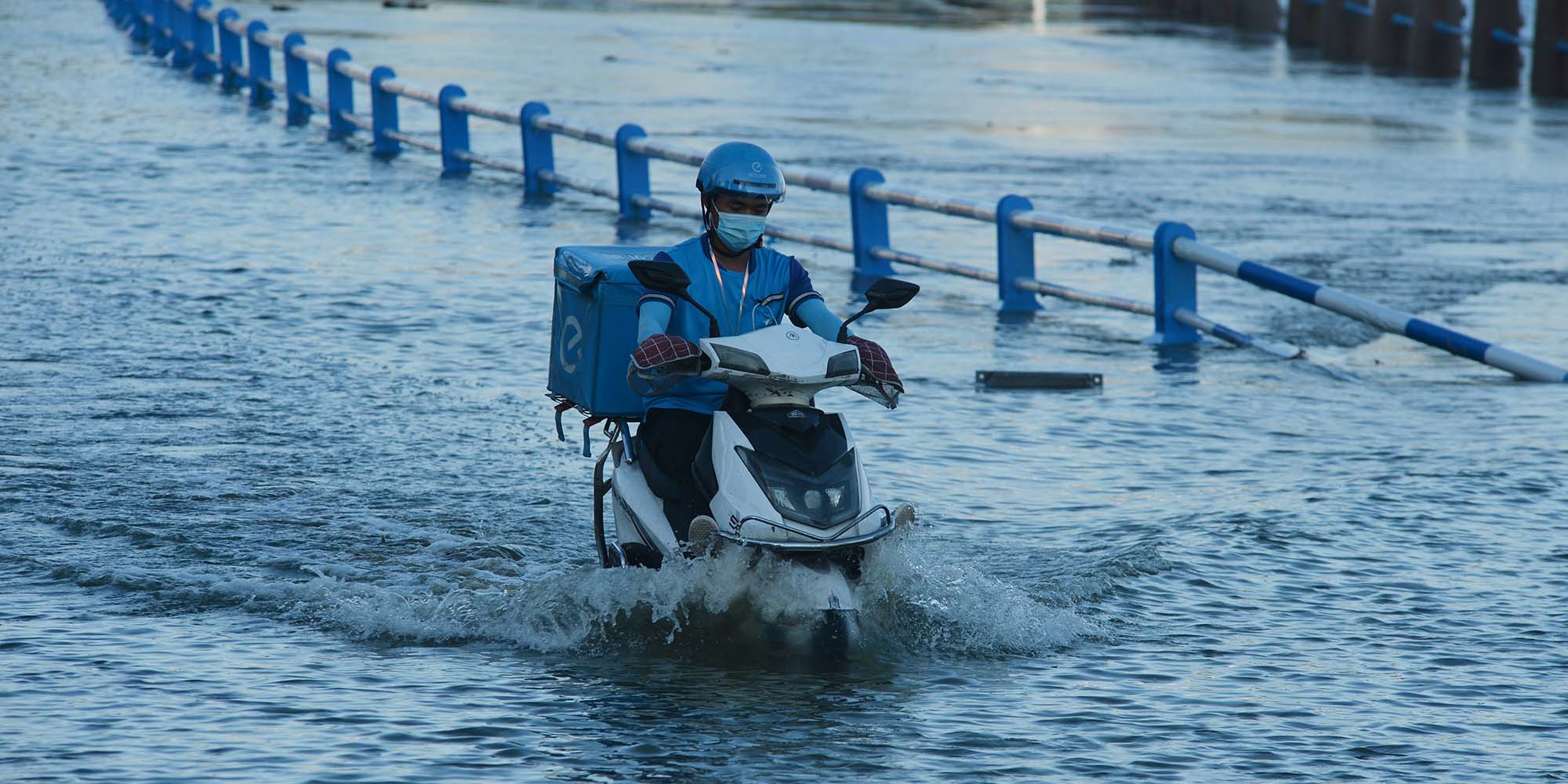 NEWS
China Pushes Food Delivery Giants to Strengthen Workers' Rights
New guidelines state delivery workers must be paid above minimum wage, receive adequate insurance, and be freed from unreasonably tight delivery time limits.
Chinese regulators announced new guidelines to strengthen labor protections for workers in China's massive food delivery industry on Monday, as the government continues its push to tighten regulation of major technology firms.
The document, jointly published by the State Administration for Market Regulation and six other administrative departments, requires platforms to improve their treatment of workers in several areas, including paying higher wages and relaxing unreasonably tight deadlines for deliveries.
However, the authorities have yet to specify how the new rules will be enforced or what the penalties will be for platforms that violate the guidelines.
China's food delivery industry — which is worth an estimated 300 billion yuan ($44 billion) and employs more than 6 million couriers — has faced repeated controversies in recent years, with market leaders Meituan and Ele.me accused of squeezing its workforce to boost their profits and guarantee quicker deliveries.
Last year, local outlet Renwu reported that since 2017, the platforms had shortened the time limit for riders to complete a delivery within three kilometers from an hour to just 38 minutes — and fined workers who failed to meet the deadlines. 
The shorter time limits pushed many riders to violate traffic regulations, leading to a rise in traffic accidents involving delivery workers, according to the report. Both Meituan and Ele.me issued statements vowing to improve conditions for riders after the story sparked a public uproar.
In addition to requiring platforms to "appropriately relax" delivery time limits, the new guidelines state that the "normal labor income" for delivery workers should be above the local minimum wage.
In the past, food delivery workers have complained that a lack of orders and repeated fines had left them earning just a few dozen yuan after working a 12-hour shift.
The minimum wage in China varies significantly from place to place. On July 1, Shanghai raised its hourly minimum wage from 22 yuan per hour to 23 yuan, and its monthly rate from 2,480 yuan to 2,590 yuan. The city's average monthly wage in 2020 was 10,338 yuan.
The guidelines also push platforms to provide workers with adequate insurance — another frequent source of complaints from workers in recent years — and provide drivers with reasonable routes to follow when making deliveries. 
The new guidelines are just the latest policy targeting Meituan and Alibaba, the ecommerce giant that owns Ele.me. Both companies have been under investigation for violating Chinese antitrust laws in recent months, with Alibaba receiving a $2.8 billion fine in April.
After the announcement on Monday, Meituan and Ele.me released statements pledging to comply with the guidelines, according to domestic media.
"We have cooperated with the government and initiated several investigations and colloquiums … to make sure the rights of our food delivery workers are protected," a spokesperson from Meituan said Monday. "Next, we will fully implement the guidance, continue to protect workers … and improve working conditions in this industry."
Editor: Dominic Morgan.
(Header image: A delivery man rides a motocyle through the floodwater in Qingdao, Shandong province, July 25, 2021. People Visual)