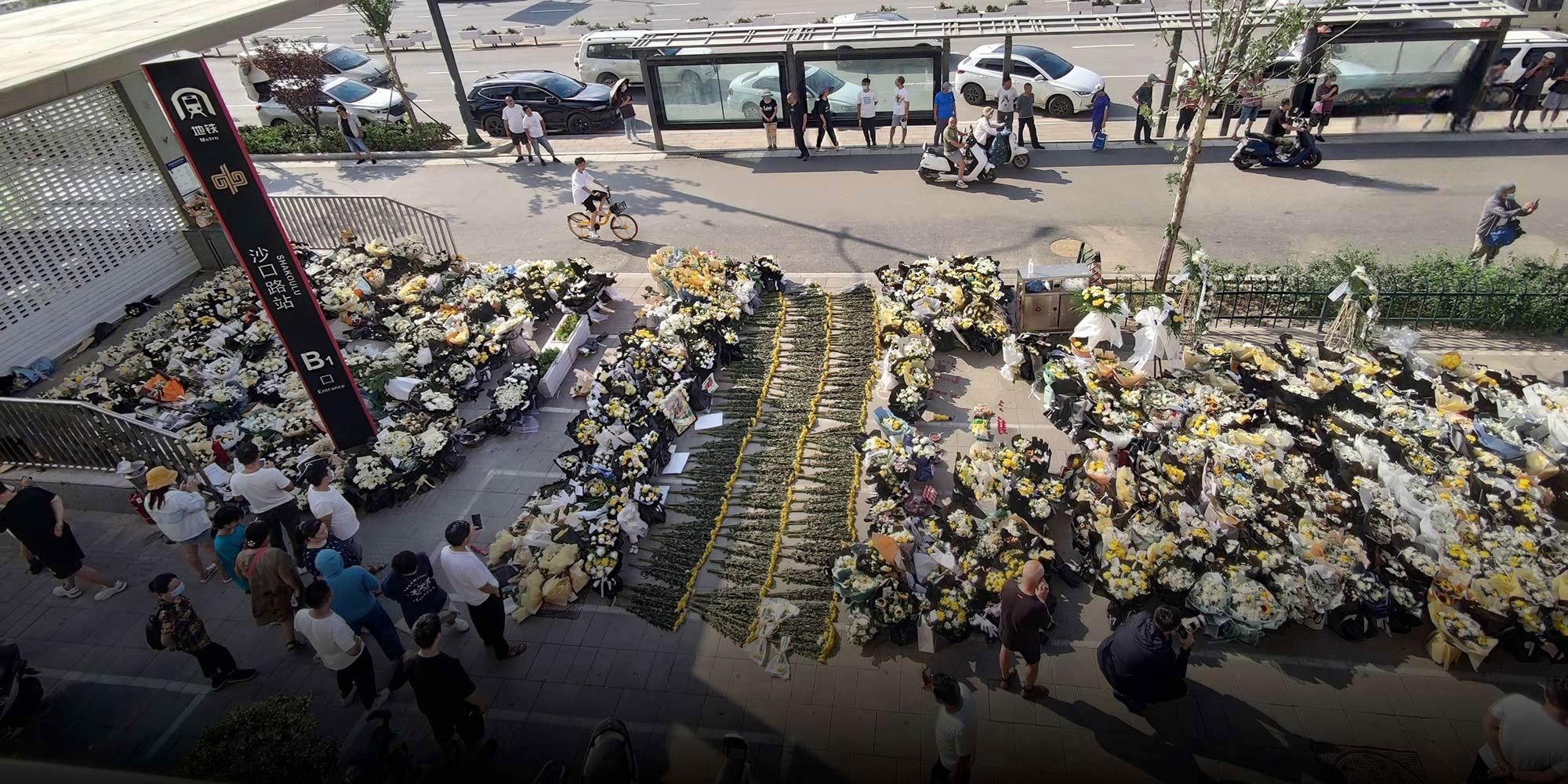 NEWS
A Wife's Search For Missing Husband in Zhengzhou Takes Tragic Turn
The official death toll from the flooded Zhengzhou metro has climbed to 14, while 71 people have died in the province so far.
HENAN, Central China — Last Tuesday, Zou Deqiang sent a two-second video to his wife on messaging app WeChat. It showed passengers inside a train carriage in ankle-deep waters.
"Did you film this? Are you in the metro?" his wife, Bai, immediately texted back.
At 6:50 p.m., she managed to get hold of him, but only heard his muffled voice for a few seconds. It was the last time the couple would communicate.
Zou was in the city of Zhengzhou, central Henan province, for a business trip that day when the rain poured. Almost a year's worth of precipitation inundated large swathes of the city, and vehicles floated down streets that had turned into raging rivers.
Bai, who requested to only be identified by her surname, told Sixth Tone that she watched the situation unfold from over 900 kilometers away in Shanghai, where the couple reside. Hours after she received her husband's message, social media was flooded with more devastating footage from inside the metro in Zhengzhou.
Underground, inside Line 5, where the train was headed from Haitansai to Shakoulu station, hundreds of people were stranded in chest-deep waters. Some commuters described the life and death situation, the horrors of being stuck in the oxygen-depleted carriages until help arrived hours later.
Rescue continued deep into the night and the next morning, with some 500 passengers assisted in total.
Bai followed the developments frantically and texted her husband.
"Call me, husband, I'm scared … where are you?" she messaged him again at 2:45 a.m.
Again, there was no answer. Only silence.
Zou Deqiang is one of many that remains missing after torrential downpour and floods devastated central China's Henan province this week. Zou's wife, Mrs. Bai, is desperately trying to find him.

Read more: https://t.co/vp8BgtI2Hn pic.twitter.com/B2egfaBe5x

— Sixth Tone (@SixthTone) July 23, 2021
Wang Yunlong, one of Zou's colleagues, had accompanied him on that metro ride. He told Sixth Tone last week that they were toward the rear end of the train when the floodwaters came gushing into the tunnel.
The train stopped and the passengers gradually tried to make their way out to the platform using a cable, according to Wang. As they walked, he said Zou slipped and was washed away by the torrent of water.
When the day broke on Wednesday, authorities announced at least 12 people on that train had died. Eight people were reported to be missing across the city — but it wasn't clear if Zou was one of them.
Back in Shanghai, Bai hadn't given up hope. In the 24 hours since Zou's text, she had sent him 21 messages and tried calling three times.
Bai did not want to wait for secondhand updates on the rescue efforts, and decided to take the five-hour train to Zhengzhou from Shanghai. Despite service disruptions, she finally managed to secure a ticket Thursday and sent a picture to let Zou know she was coming.
"I got a ticket and I'm on my way, hang in there … even if you've lost your memory, I want to get to know you and woo you again," Bai wrote in one of her messages shared with Sixth Tone.
"You have been so busy at work this year and we didn't get to spend much time together. You always wanted to make it up to me, you said that you wanted to do a photoshoot for our 12th anniversary, you said you wanted to travel … you aren't someone who breaks promises," she wrote in another message while en route to Zhengzhou.
When the train arrived, it was already 42 hours since she had last spoken with her husband. She reported him missing to the local police and called local authorities seeking answers — asking if she too could join the search mission.
On Thursday night, at about 10:30 p.m. Bai and other family members of the missing were allowed to be part of the search mission at Shakoulu station in downtown Zhengzhou. They descended into the darkness of the once-flooded tunnel, armed with flashlights and whatever hope they had left of seeing their loved ones alive.
"Husband!" Bai screamed into the tunnel, pausing to listen for Zou's reply.
There was no answer, just the echo of her own voice.
She returned disappointed but was still determined to find her partner — alive.
On Friday morning, Bai went to the offices of state-owned Zhengzhou Metro Group along with the father and cousin of Sha Tao, who had also gone missing on the flooded metro. The company's chief designer promised the pair that another rescue operation would be undertaken the following day after the remaining water had been drained.
"Zhengzhou Metro is inescapably responsible for the incident," Sha's wife wrote on microblogging platform Weibo on Monday, demanding answers from metro officials. "The company has made serious mistakes, from flood preparedness to response … If they were prepared, deaths and injuries could have been minimized."
There has been no official response on what went wrong inside Line 5 of Zhengzhou metro or if the disaster could have been prevented. Zhengzhou Metro Group hadn't responded to Sixth Tone's email and phone call by time of publication.
On Sunday, Bai got the call she had been waiting for, but it wasn't the news she wanted to hear. Authorities asked a family member — several had traveled to Zhengzhou from across the country — to come to the mortuary to identify one of the bodies they had recovered from the flooded metro tunnel.
The following day, officials announced they had found two more people who had died in last Tuesday's metro disaster, raising the death toll from that one incident to 14, and a total of 71 so far killed by the flooding across Henan. Both the deceased were identified in the report.
One of them was Zou. He was 37.
The other was Sha. He was 34.
On Monday, the seventh day since Zou's disappearance and an important day of mourning in Chinese customs, Bai visited Shakoulu station along with families of others who were killed in the metro system below. They stood solemnly, holding flowers in the memory of their loved ones.
By Tuesday morning, Shakoulu station — initially cordoned off by barricades that were later removed — had become a memorial site for the 14 people who died on their journey to destinations they never reached. Strangers left bouquets of sunflowers, white and yellow chrysanthemums, among others, to mourn the lives cut short.
"Have a safe journey! I hope when you're in heaven, there's only happiness, no fear," one note in a bouquet read.
Editor: Bibek Bhandari.

(Header image: People leave flowers and mementos to honor people killed in the flooded Zhengzhou metro, Henan province, July 27, 2021. Fu Beimeng/Sixth Tone)