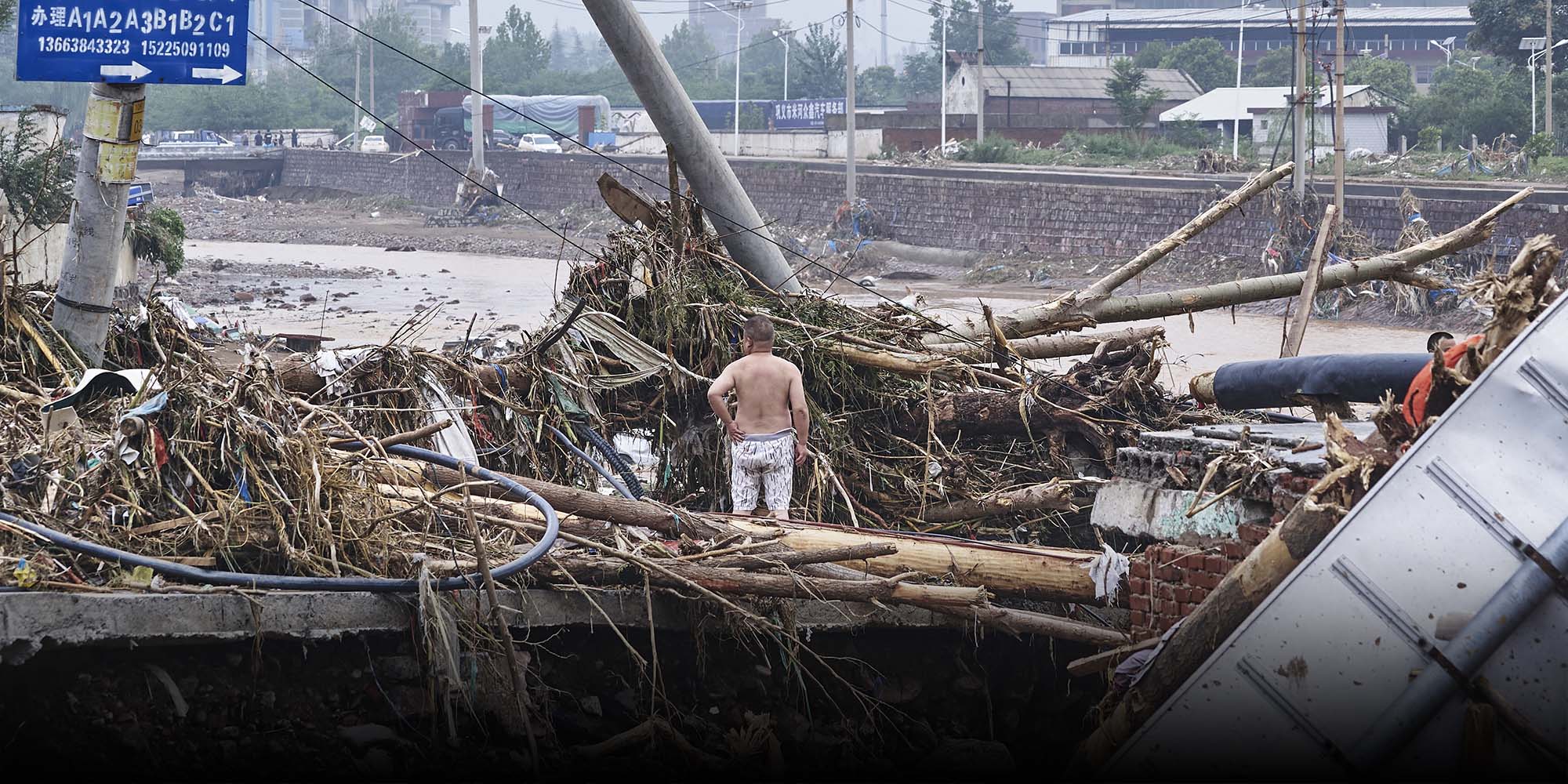 FEATURES
Poorly Prepared for Floods, Rural Henan Faces Slow Recovery
Usually parched northern China is ill-equipped to face extreme downpours.
HENAN, Central China — Despite the ankle-deep mud and piles of debris that Tuesday's deluge left on the streets of Mihe, Deng Hui walked with impressive agility.
She has become intimately familiar with the obstacle course of planks, sandbags, and deceptively deep puddles, traversing it several times the past few days to see whether the red flat-bed truck that floodwaters picked up and dropped right in front of her home appliances store had been moved yet.
Four days after torrential rains inundated much of Henan, provincial capital Zhengzhou has seen a swift clean-up. But rural areas, which were less well prepared and slower to receive emergency response personnel, are taking longer to recover.
On Friday and Saturday, when Sixth Tone visited Mihe, a prosperous township located in a valley west of Zhengzhou, its bridges lay destroyed, roads were blocked, and its only hospital was still caked in mud and out of operation.
And, as Deng discovered when she got closer to her shop, large-scale clean-up operations had yet to start. In front of her and neighboring businesses still lay an impenetrable wall of overturned vehicles, uprooted plants, and other rubble. "It's still there," she said, not betraying much emotion but pausing to look at the devastation. On an earlier trip, she had cut her foot on a submerged piece of glass. Fearing an infection, she didn't dare wade through the remaining water to get a closer look.
"The whole family relies on this shop for a living," said Deng, who is over 50 and the main breadwinner for her ill husband and three school-age daughters.
The Mihe government doesn't yet know the full extent of the damage or how many people died in the floods. On Saturday, Liu Ruibin, Mihe's deputy party secretary, told reporters that communication had only just been restored with surrounding villages. The only known casualty was a local official who died trying to evacuate people from their flooded home.
But it is readily apparent that the township is among the hardest-hit areas in the province. For two days and nights, residents had limited electricity, food, and drinkable water, and internet and mobile networks were both down.
Province-wide, the death toll of what local media have dubbed "once-in-a-thousand-year" rainfall stands at 69 as of Monday. Over 870,000 people are still staying in makeshift shelters, at least 10,800 square kilometers worth of crops have been lost, and more than 115,000 houses have been severely damaged.
Extreme weather this summer has exposed vulnerabilities to climate change the world over. In China, the biggest focus has been put on underground infrastructure after the deadly flooding of a road tunnel and parts of the subway network in Zhengzhou. On Monday, the country's powerful National Development and Reform Commission (NRDC) told local governments across the country to improve their emergency response systems, as well as map which buildings pose flooding risks.
Scientists believe the climate of the traditionally drier northern part of China is turning wetter, necessitating better water drainage facilities. Cities across the country have, in recent years, invested in so-called sponge city projects: infrastructure that soaks up excess water and helps prevent floods. But their effect is limited in the face of extreme amounts of precipitation, demonstrated by how the rain overwhelmed Zhengzhou. The situation is even worse in smaller towns. According to a document by the government of Gongyi, the city that administers Mihe, the flood-control infrastructure in the town was designed to prevent the type of floods that occur "once every 20 years."
"I personally think that the greatest weakness for northern China when facing extreme rainfall and floods is at the township level," Ran Qihua, director of Zhejiang University's Institute of Hydrology and Water Resources Engineering, told Sixth Tone. Unlike bigger cities with extensive sewage networks and capabilities to deliver timely emergency response services, populous rural townships are equally faced with climate risks but have only limited funds and poorly maintained infrastructure, according to Ran.
The three-day downpour has also pointed to a lack of disaster preparedness, both in Zhengzhou and Henan's rural areas. Ma Yuanren, the village chief of Mibei, near Mihe, told Sixth Tone that they received alerts for two days of heavy rainfall and immediately notified village cadres and dispatched people to check the status of drainage ditches. But residents of Mihe and its surrounding villages said they only received text messages advising them to stay at home, which many people dismissed as routine weather warnings.
Built on hilly terrain, Mihe doesn't usually see much rain, let alone floods. Drought is the more common worry. "Henan isn't traditionally affected by (such) disasters," Ran said. "So everyone lacks the knowledge and experience for how to handle them." Residents say they were caught off guard when water came gushing in on Tuesday, forcing them to evacuate to higher ground and await rescue forces. "Never in my life have I seen so much rain," said Zhou Fengjun, a 47-year-old grocer in Mihe. After four days of cleaning, the bottom shelves of her store were still full of mud.
Jiao Jinzhu, in nearby Lianghekou Village, recalled the rain beating on his windows with increasing force, and eventually causing cracks in the red soil of the hill behind his house. Fearing a landslide would damage their home, he and his wife spent the night outside.
Fellow villager Jiao Hongpeng said he initially merely thought the heavy rain was curious during the usually parched summertime. But when he saw a car slowly being submerged in water next to the Sishui River, he realized a flood was imminent. Jiao offered its passengers food and shelter in his home, which sits on higher ground near the river.
Yet, barely an hour after lunch, the metal sheets that make up the top floor of Jiao's house began to shake. Within minutes, the roof collapsed. Jiao rushed upstairs, where his 13-year-old daughter had been taking a nap. Luckily, she had escaped by jumping out of the window into a vegetable field. She's now staying with relatives, nursing a foot injury and processing a traumatic memory in their sturdier house.
When communication was finally restored on Friday, Deng, the store owner, called her three daughters, who all attend schools out of town, to tell them both of their parents were okay.
How the family will move forward is another matter. They're not insured, but everything in Deng's store was soaked in water — she saw when she climbed the obstructing truck once — and many valuable items in their home, including the refrigerator and television, are broken.
"We have to carry on," Deng said, walking back from visiting her shop. Trucks with relief supplies thundered past.
Editor: Kevin Schoenmakers.
(Header image: A man searches for his belongings amid a damaged house in Mihe Town, July 23, 2021. Wu Huiyuan/Sixth Tone)