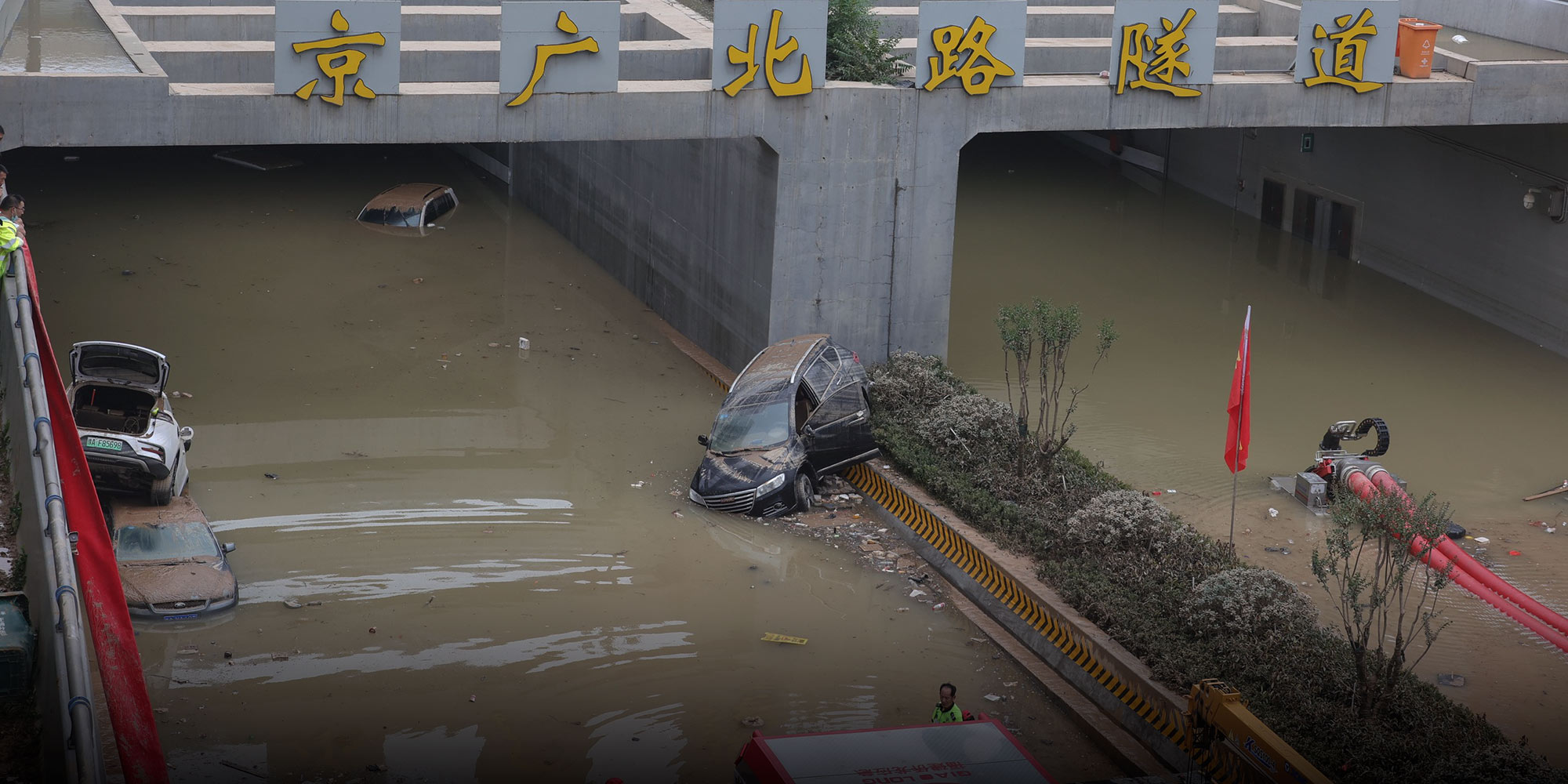 VOICES & OPINION
How China's Underground Building Spree Became a Flood Risk
Unbridled underground development is exacerbating natural disasters like the flooding seen in Henan earlier this week.
Over the past week, heavy rains have lashed the central Henan province, bursting dams and flooding streets. Between July 17 and July 20, the provincial capital Zhengzhou recorded 617.1 millimeters of rain — the equivalent of almost an entire year's rainfall — in just three days. As much as 200 millimeters of that fell in a single hour on July 20, breaking the previous record for hourly rainfall on the Chinese mainland, in a region more known for droughts than monsoons. By noon on July 23, the floods had killed at least 51 people, impacted almost 4 million more, and caused direct economic losses worth an estimated 65.5 billion yuan ($10 billion).
Although extreme, the events of the past week are an increasingly regular occurrence in China. Since 1961, the country has experienced frequent rainstorms, with more every year on average. In the 1960s, extreme heavy precipitation accounted for approximately 10% to 15% of precipitation events in China each year; since 2000, the proportion has risen to 20%. In recent years, even inland cities in the arid northwest have recorded instances of heavy rainfall. In 2018, Qincheng Town in the northwestern Xinjiang Uyghur Autonomous Region was hit by 110 millimeters of rain in the span of an hour — the previous record for annual rainfall in the region was just 52.4 millimeters. Because of climate change, extreme weather is now the norm, and China, like every other country in the world, needs to confront this reality.
But while much of the country's urban infrastructure is relatively new — the product of four decades' rapid industrialization — most cities remain unprepared for an increase in extreme weather. In particular, underground drainage systems beneath cities, which play a vital role in flood control, are often neglected or misused. In the Zhengzhou rainstorm, underground spaces not only failed to absorb the excess water, they were also among the biggest sources of casualties and property damage, with a dozen people losing their lives on the city's Line 5 subway after local authorities failed to shut it down promptly.
This problem will only become more pressing as China's cities grow not just outward, but down. From 2016 to 2019, China's total urban underground development investment was 8 trillion yuan, growing annually. In 2019 alone, the country added approximately 257 million square meters of underground floorspace. In cities in the economically developed — and low-lying — Yangtze River Delta, underground spaces (including rail transit) accounted for as much as 26% of total construction during that same period.
When heavy rains come, the earth underneath cities functions as water storage, absorbing precipitation and preventing large quantities of rainwater from accumulating on the ground and causing floods. However, as China's networks of buried power lines, subways, and underground commercial streets have grown denser, this natural water store is being squeezed out. The less rainfall absorbed by the ground, the faster runoff will accumulate, and, in the event of a flood, the shorter and more violent the flood peak.
Things don't have to be this way. If planned well, urban underground spaces can be repurposed for water storage, sewers can be used to drain floodwaters, and sunken squares or parking lots can help contain runoff. That's rarely what happens, however, largely because planners often only consider the civil and commercial uses of their spaces, and not ancillary functions like water storage. In many cases, they don't even take into account the impact of rainfall on their buildings. Prolonged heavy rain and flooding can degrade the soil around underground facilities, causing the ground to sink or even collapse.
One of the main hurdles to flood control in Chinese cities is insufficient underground drainage. City planners often focus on high-profile projects aboveground, while "hidden" underground facilities generally receive far less attention. For example, many Chinese cities still use drainage systems modeled after those found in the U.S.S.R. But the Soviet Union's cold climate experienced little rainfall and average precipitation. Its drainage systems were therefore designed to cope only with normal rainfall and short-term rainstorms. In China, these systems have been transplanted to areas with temperate monsoon climates characterized by heavy rainfall concentrated in the summer and are prone to being overwhelmed.
In addition, most underground pipes in Chinese cities are used for sewerage rather than drainage, which further exacerbates the risk of disaster in cities during periods of exceptionally heavy rainfall. Underground drainage pipes and other drainage facilities have also been neglected, leaving them blocked by leaves and domestic sewage deposits, just when they're needed most.
The tragedy in the Zhengzhou subway should be a wake-up call to policymakers to take into consideration the role and security of underground spaces in future disasters. Moving forward, China must abandon its laissez-faire approach to underground development, which has resulted in a labyrinth of intertwined underground projects, and start assessing and developing plans to maximize the utility and safety of underground spaces. This means an end to overdevelopment — at least some underground space must be left to cope with hefty rainfall.
Urban planners should also consider increasing green spaces in cities, as many are already doing via "sponge city" initiatives. Building more urban green areas, rainwater-absorbing gardens, permeable roads, and roof gardens can help to disperse, absorb, and reduce stormwater runoff while avoiding overtaxing underground drainage. The Zhengzhou disaster also highlights the need for updated and expanded large-scale drainage systems specifically designed to cope with extreme weather in the country's growing number of "megacities." These should include sensors and emergency plans and systems to provide real-time information about impending floods.
How China plans its underground spaces could help save — or destroy — its cities over the next century. Like a sleeping giant, once roused, these underground spaces are likely to play a huge role in determining the outcome of future extreme weather incidents, but whether they do so as a help or a hindrance will depend on the decisions we make today.
Translator: Matt Turner; editors: Cai Yiwen and Kilian O'Donnell; portrait artist: Zhou Zhen.
(Header image: A view of floodwaters at the entrance of Jingguang North Road Tunnel, Zhengzhou, Henan province, July 23, 2021. IC)