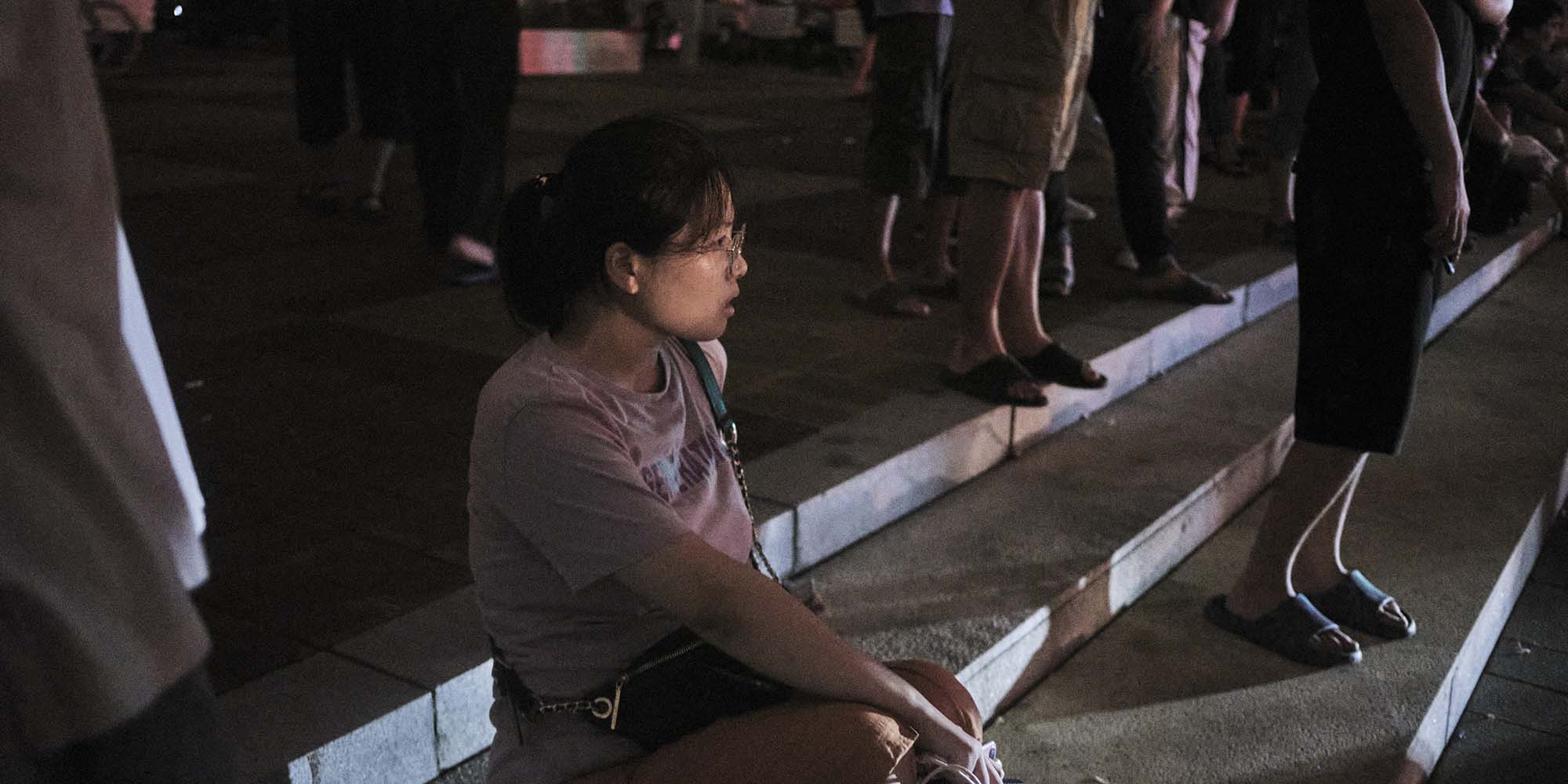 NEWS
In Flood-Stricken Zhengzhou, Questions About the Number of Missing
According to official statistics, eight people remain unaccounted for throughout Henan province after this week's floods. The actual figure is likely far higher.
HENAN, Central China — After several agonizing days spent making countless calls to Zhengzhou authorities demanding answers, Bai was finally allowed to go look for her husband.
Shortly after 10 p.m. on Thursday evening, staff from the municipal subway company opened the doors to the Shakoulu station in downtown Zhengzhou, and Bai, as well as about a dozen others, descended to search for signs of their loved ones.
Two days earlier, as Zhengzhou was in its third day of an unprecedented downpour, water suddenly came rushing into the city's metro system. Trains were brought to a halt as the floodwaters quickly reached chest height, forcing passengers to wade through gushing torrents to get to safety.
The next day, after the authorities had concluded a rescue operation, the official death toll of the subway floodings stood at 12.
But Bai's husband, Zou Deqiang, who an eyewitness says was on the subway at the time, wasn't counted among them.
While Zhengzhou, as well as smaller towns and villages in Henan, are still reeling from the devastating floods, a frantic search is underway for people whose fate remains unclear. The city's most recent figures, published Friday, say 51 people died due to the floods but don't include how many are missing. The latest provincial tally of victims, from Thursday, said eight people were missing.
The real number is likely higher. According to a tally kept by The Paper, Sixth Tone's sister publication, people have reported at least 22 people still unaccounted for.
The last Bai heard from Zou was at 6:50 p.m. on Tuesday. With a colleague, Zou, 37, was on a business trip in Zhengzhou. At the moment the water came pouring into the subway tunnels, they were in the rear carriage of a train that derailed near Shakoulu station. Like hundreds of commuters, they were trapped.
The colleague, Wang Yunlong, remembers the water quickly filling the subway train. Without any sign of a rescue operation, passengers grew desperate. The train driver had managed to open one of the doors. Holding onto cabling hung inside the subway tunnel, passengers tried to slowly fight through the flowing water and reach the subway station.
Wang told Sixth Tone that, as he was walking along the carriage with Zou and two others, Zou suddenly slipped. In an instant, Zou was carried away by the torrent, and has not been seen since.
Back in Shanghai, where Bai and Zou live, Bai anxiously awaited news. Officials updated statistics for the dead and missing, but her husband remained unaccounted for. Morgues she contacted had not received his body, and after repeated phone calls, she was unable to convince Zhengzhou authorities that there were still people down in the subway tunnels.
Determined to start searching for themselves, Bai and some of Zou's colleagues boarded a train to Zhengzhou on Thursday morning. "I don't want to wait anymore," Bai, who requested to only use her family name, told Sixth Tone. "The longer I wait, the less hope I have, and then all I can do is wait to collect his body."
But in Zhengzhou, the subway had been closed. After more calls, Zhengzhou Metro staff finally showed up on Thursday evening to open the doors. Wearing life jackets, a small group of people — including Bai, the relative of another missing passenger, and police officers — made their way down to Shakoulu station platforms.
Once there, they found the water level remained high next to the train tracks, making a search near impossible. Nevertheless, they looked around for 40 minutes before going back upstairs. At the station entrance, people had gathered in hope of news. But as the party filed out, they stayed silent, the expressions on their faces saying enough.
The police chief of a nearby police station, surnamed Zhao, told Sixth Tone that Zou's chance of survival after 48 hours is minimal. Zhao's team was among the first responders on Tuesday, and he remembers how terrifyingly fast the water was flowing through the subway system.
On Friday, Bai, Zou's colleagues, and the relatives of another missing individual went to the headquarters of Zhengzhou Metro to confront them about why a second rescue operation was never undertaken, and why the company didn't communicate with them in a timely manner.
They waited for more than five hours before the company sent an engineer to speak with them. According to the relatives, the engineer talked to them for 10 minutes and said the company planned to first drain the remaining water before conducting another search mission.
Unsatisfied, the relatives plan to return to the subway station to see if there is another way to keep searching.
Zhengzhou Metro refused to speak to Sixth Tone reporters on the scene.
Additional reporting: Fu Beimeng, Wu Huiyuan, Zhu Minjun, and Zhang Weilong; editor: Kevin Schoenmakers.
(Header image: Bai waits outside the Shakoulu subway station as police officers check the situation inside, in Zhengzhou, Henan province, July 22, 2021. Wu Huiyuan/Sixth Tone)