The warnings were already there before record rainfall hit several areas in central Henan province, killing at least 33 people as of Friday afternoon.
Before 6 p.m. Tuesday, when the precipitation was at its worst, the meteorological bureau in Henan's provincial capital Zhengzhou had already sent five red alerts starting the previous day, warning residents of the inclement weather via its social media platforms. Now, there are questions over why these warnings failed to instigate a sense of urgency — many people commuted as normal and only a handful of schools were suspended — and why steps weren't taken that reflect the national guidelines in light of such forecasts.
In 2007, the China Meteorological Administration formulated national guidelines on the release of meteorological alerts, defining a four-tier color-coded system dependent on the severity of an approaching meteorological event and a set of related actions. For example, local authorities are directed to cancel trains in the event of a red alert warning for sandstorms, while a yellow alert for high temperatures requires them to inform the public to take protective measures.
However, not all local governments were found to have implemented these measures proactively.
Sixth Tone examined 72 city-level regions that experienced at least one citywide or partial red alert-level storm since January 2020. Of them, only 16 regions published precautionary instructions for the public on their official social media platforms, including Weibo or WeChat.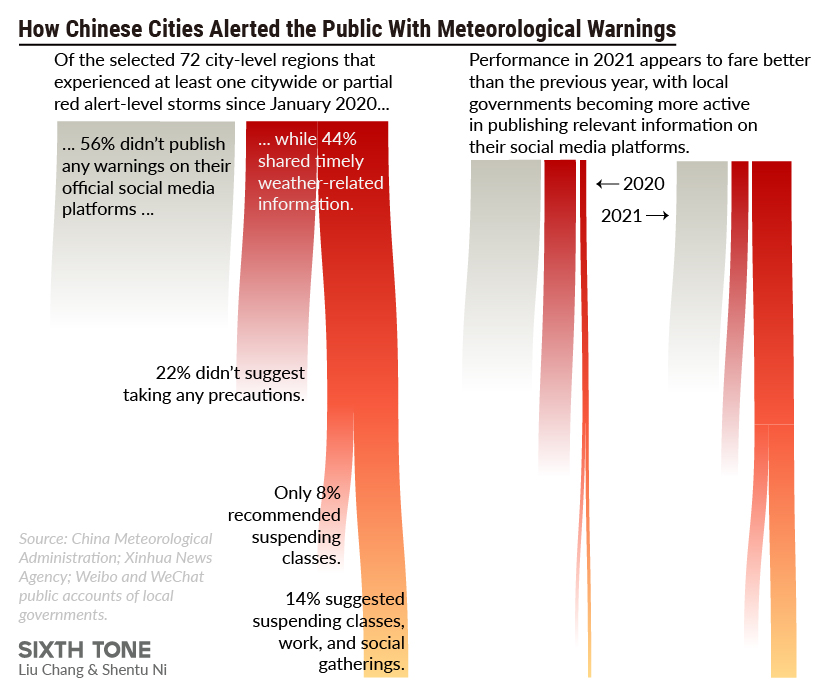 Contributions: Shentu Ni; editor: Bibek Bhandari.
(Header image: The photo shows vehicles inundated in Zhengzhou, Henan province, July 20, 2021. The screenshot shows weather alerts published by China Meteorological Administration at 3 p.m. on July 23, 2021. Photo from IC, reedited by Sixth Tone)