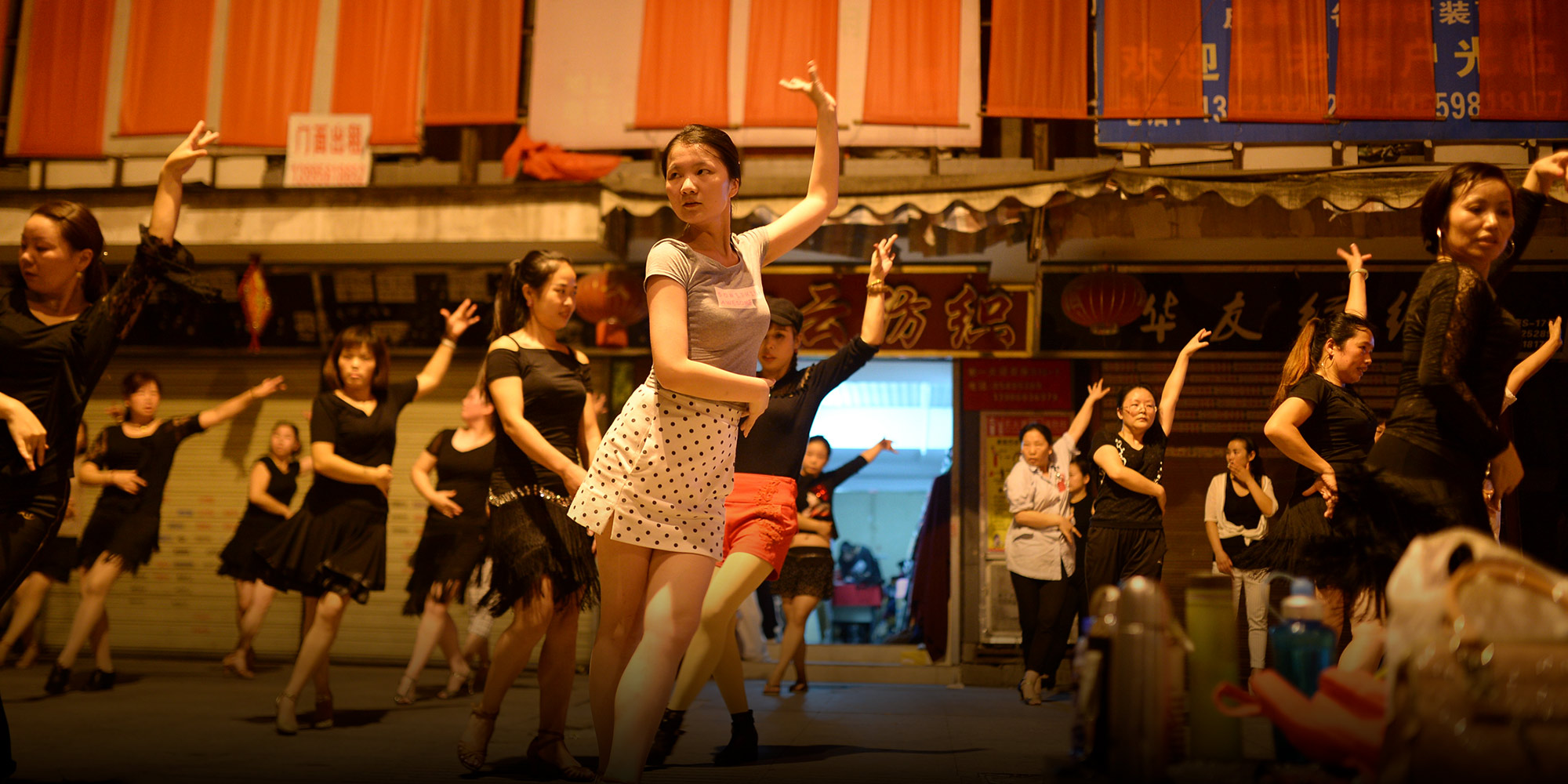 SIXTH TONE ×
The Mother and Laborer Dancing to Her Own Beat in Rural China
Juggling work, three young children, and elderly in-laws at home, Mumu still finds time to dance. It's what keeps her going.
Editor's note: In a new book titled "Made of Corporeal Self," Xiong Huan, a sociology professor at South China Normal University, confronts the stereotype of how rural Chinese women often live sedentary, monotonous lives, mostly confined to their homes and obliged to their families.
Juxtaposing rural and urban China, Xiong, through interviews and research, explores the lives of 12 women and the freedoms they find by crafting their own fitness regimen. Among them is Mumu from rural Guangdong province who works in the northern county capital of Liannan.
Mumu is a 26-year-old mother of three and an active member of her local fitness dance team. As China's rural economy improves, more women like her in the countryside shift focus from a life of subsistence to one that is more fulfilling.
This is Mumu's story, as told to Xiong Huan.
I was born in Xiqiao Town in Foshan, in southern Guangdong province. After finishing elementary school in 2004, I dropped out hoping to earn money doing odd jobs. That's where I met my husband, when I was about 15 or 16, and we got married as soon as I turned 18. I then moved with him to his village in Liannan county, also in Guangdong.
There, I had two jobs: I worked on the farm and also took care of my aged in-laws and our three young children. When my youngest son started kindergarten, I joined my husband to work at a construction site.
I had a difficult yet happy childhood. Without a gas stove at home, my mother and I had to collect firewood from the hills nearby to cook with. But I always dreamt of performing on stage, and after completing elementary school, I even wanted to learn how to dance but my family just couldn't afford it.
Disheartened, I never returned to the classroom. Luckily, my brother, who is 10 years older than me, tutored me at home since he'd studied until the third year of middle school.
At home, my family always likened me to a bird — flying wherever I wanted, whenever I wanted. When my parents were at work during the day, some cousins and I would head out with a sack to collect and sell empty bottles. We made more than 10 yuan ($1.5) a day doing this and then split the money to buy snacks.
I've always believed that you can't help someone unwilling to help themselves. Life has always been tough for me and I've been through a lot but I've always stayed strong and optimistic.
And dance helped me stay that way. From age 11, my only solace was dancing in the public square on most evenings. There, the dance team had invited a woman from Guangzhou to teach us the cha-cha. The teacher noticed I was a quick learner and invited me to perform in front of the group. She once even asked me to lead the performances with her.
In 2012, my first son was born, followed by a daughter the next year, and another son in 2015. By my early 20s, I was raising three children on my own, and I was under a lot of pressure.
I remember how life changed after I got married. There were few people my age left in the village — most left to find work elsewhere and I had nothing in common with the older people who remained. There was no one for me to dance with.
Moreover, I was always busy either on the farm or with my in-laws and children, so I barely had any free time. Worse yet, there was no open space in which to practice.
To satiate my need to dance, I sometimes downloaded songs I had used previously and danced to them. Though exhausted after all the household chores, dancing and working up a sweat helped me unwind. I don't know how I would have carried on without it.
DIY
Once all the children started school, I began working on the construction site my husband worked on in Liannan. I served as a goods elevator operator, had no rest days, and occasionally worked overtime too.
One evening after work in June 2018, my husband and I were riding back home on his motorbike when I noticed some people dancing in the square. We stopped to watch. I was immediately drawn to them because of the music, plus there was a sizable crowd, and their routine looked fun.
Shortly thereafter, I joined the troupe. It was led by a woman we called Sister Yun. I had an easy time brushing up my moves since I'd danced before, and it was simple to follow the rhythm once I heard the music.
From my village home, it was a 20-minute motorbike ride to the square in Liannan, and I quickly found myself addicted — I wanted to dance every night. Even if it rained and most of the other dancers left, I just whirled under my umbrella alongside four or five other dedicated members of the group. It was great fun.
Though it was tiring after a full day of work on a construction site, dancing made me happy. With the music in the background and friends all around, the fatigue just seemed to vanish, and I no longer felt suffocated.
In late 2018, my family and I decided to move to Liannan, where the children were enrolled in school. Our rented apartment was then only a few minutes from the square. After work, I'd head home to eat, wash the dishes and do some cleaning before heading out to dance almost every evening. On some days, even if I had problems at work, after a session of dancing, it was like nothing bad had ever happened.
Sister Yun sometimes asked me to familiarize myself with the rhythm of a song first — it was faster to learn this way. To drown out the noise at the construction site, I even bought a small bluetooth speaker to play the music louder. Though I couldn't dance at work, music at least helped me fight the tedium.
Whenever there was no one else on site, however, I'd turn up the volume and dance along. In 2019, shortly before Chinese New Year, there weren't many people around and I'd often dance at work. When it got cold, dancing also kept me warm.
I especially like dancing to the song "38.6 Degrees" (written by Xing Rong and performed by Black Dragon). It's got fun moves and a catchy tune.
Young Again
Since I was a fast learner, I was up on stage performing to the song "We're Different" (written by Gao Jin and sung by Da Zhuang) less than two months after I joined the team. Standing in front of a large audience for the first time, I was extremely nervous. But after the event, everyone showed me videos of the performance and complimented me. I even received a Best Newcomer award from the team. It was very encouraging.
Our team now has 92 members, of whom just one is a man — a civil servant. But I believe more men will join us in the future, as square dancing gains popularity. Among the women in our team are teachers and factory workers, mostly from rural households.
Our team has no restrictions on who can join — you just have to want to. However, dancers need to demonstrate a certain level of competence and first pass an assessment to be part of the public performances.
Some of our outings are for public benefit, while others are paid, with the team receiving around 1,000 yuan ($155) to perform. I think it's really satisfying to earn money doing what you enjoy. We always eat a meal together after a performance, and in upmarket areas, do some karaoke too. Sometimes we also join the local cultural center for various activities.
Under Sister Yun's leadership, we joke around and rarely argue. When it rains, we occasionally get together for dinner at her home or go out to sing and enjoy ourselves, shooting videos and photos. Like Sister Yun always says, "the only way to keep improving is to meet up more and get to know each other better."
My husband and parents-in-law have no objections to my dancing. In fact, my husband supports my passion and says it's good for my health. Now that my children are older and need less supervision, my husband only requests that I not come home too late due to safety concerns.
My mood has been much better since joining the dance team compared to when I was stuck at home looking after the children. I feel much younger now. I've also realized how lucky I am, particularly after seeing so many people who are far worse off during our public welfare events. This also inspired me to donate my old clothes to the cultural center — it was the least I could do.
Hopes and Dreams
Women in rural China don't often pay attention to getting fit, and most know little about dieting and exercise. But since I started taking dancing seriously, I've become more conscious about how I look. For me, dancing is an expression of beauty, and if you want to dance gracefully, you need to look after your figure.
I've noticed actresses are always so slim on TV, and women in square dancing videos are in good shape. Online, I've also seen some women who live by the slogan "stay thin or die." Our team members influence one another, too; how one seems to have lost or gained weight often comes up in conversation.
I feel happy when people say I'm slim — if I put on weight, clothes don't look as good and I tire easily while exercising. Yet, I can't stand the extreme figures that some online fitness celebrities have.
My fitness regimen is to watch what I eat and to keep moving. It's the conclusion I've come to after reading online articles, chatting with others, and then trying it myself. My weight has always been around 52-54 kilograms while on the dance team. After the 2019 Spring Festival, however, I gained a few kilos and so danced more to lose weight.
My usual routine is to drink more water, eat more vegetables and beef, avoid fatty pork, and then dance. When it rains heavily and dancing outside isn't possible, I watch videos on my phone at home to try and learn some new moves.
Though most women focus on their marriage and children, I believe it's foolish not to have any hobbies. Life is difficult, but I always follow my dreams, even if it's not possible to achieve some of them right now.
For example, I'd like to learn how to pole dance. I saw someone doing it on TV and it looked sublime. But we don't currently have much spare cash, and I haven't been able to find a place to study the technique.
I have two dreams now. The first is to perform on a bigger stage. Right now, that seems unlikely, but luckily, I can still perform in the countryside with Sister Yun. As a mother, there are many things I'm no longer able to do, like get professional training. In December 2018, I had the chance to participate in a course to be a physical fitness instructor, but I had to pass it up because it clashed with my work schedule.
My second dream is to own a house in Liannan, where our three children can grow up with a sense of security. That's what I'm currently focused on. Nowadays, buying a home here is really expensive — a house with three bedrooms and a living room costs 500,000-600,000 yuan ($77,300-$92,760).
Even sparsely decorated, it will cost us over 700,000 yuan. Our current plan is to start saving up for a house when all three kids are in elementary school. After the down payment and some simple renovation, we can move in and then pay off the mortgage bit by bit.
I hope my children will be successful. As long as they want to go to school, we will do anything to support them. Our eldest son has only just started first grade, while the two younger ones are still in kindergarten.
Tuition for our younger children is 8,000 yuan per semester. When all three children enter elementary school, it'll be tough paying for tuition and housing, plus caring for my elderly in-laws at home. We only work in construction and do some farming back home, which means our income depends solely on us being in good health, adding to the pressure.
That being said, I'm pretty satisfied with my current life. My children are healthy enough to go to school, and I get to work alongside my husband, then dance with friends after work in the square nearby. The life we have now is the result of all the hardship we've endured. Though some wishes remain unfulfilled, I remain positive. I know tomorrow will be a better day.
This article is an excerpt from the book "Made of Corporeal Self" by Xiong Huan et al., published by Social Sciences Academic Press (China). It has been translated and edited for brevity and clarity and is reproduced here with permission.
Translator: David Ball; Editors: Xue Yongle and Apurva.
(Header image: Women dance on a square in Wuhan, Hubei province, 2015. Hei Feng/People Visual)