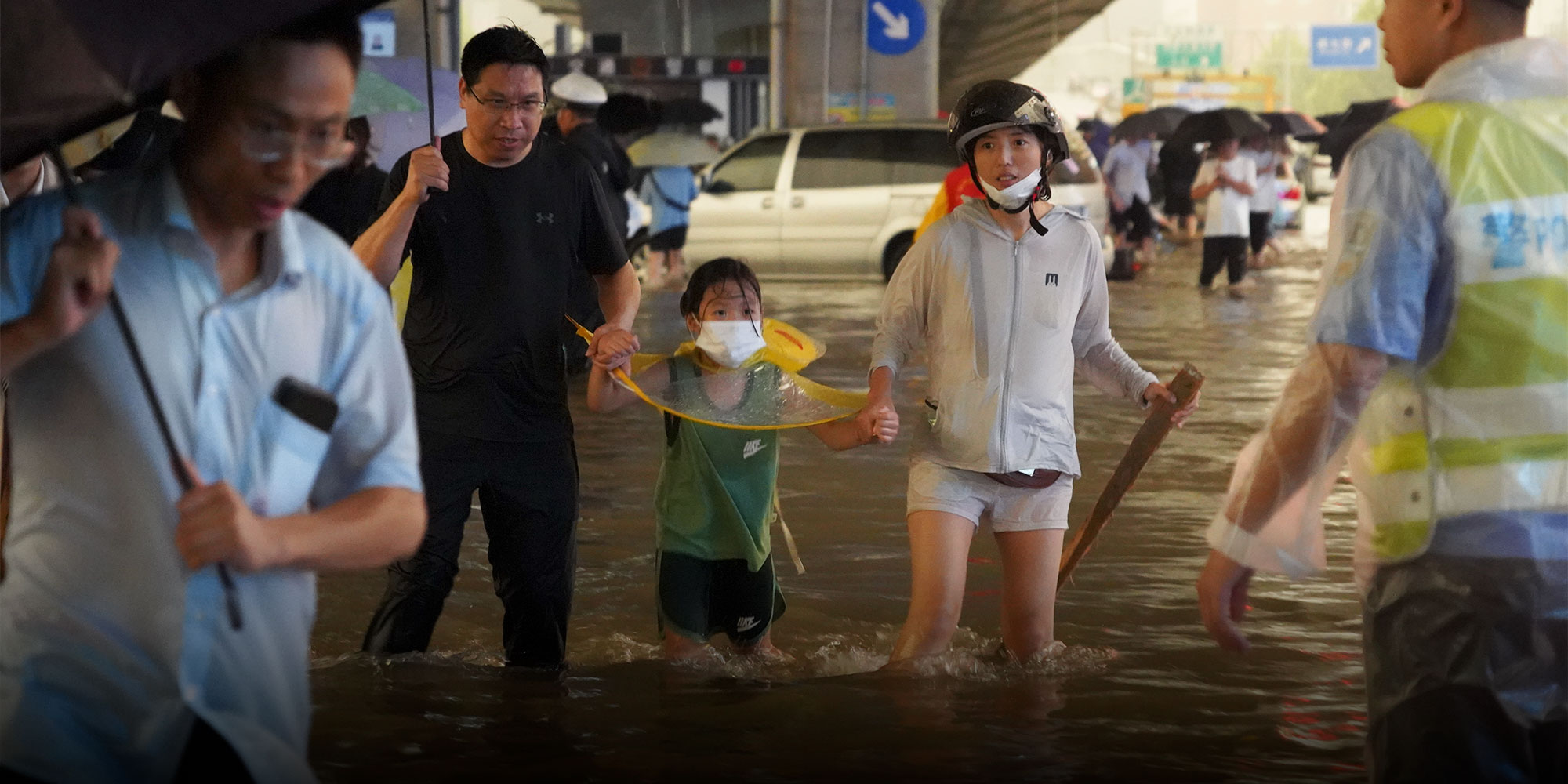 NEWS
Horror, Heartbreak, and Humility: Stories From a Flooded Henan
Five people affected by the disaster share their experiences.
It looked like the sky's floodgate had opened, with rain falling downwards like a roaring river swallowing everything in its path.
The torrential downpours in central China's Henan province earlier this week, reaching a head on Tuesday, have caused large-scale destruction in several areas and killed at least 33 people. Henan's provincial capital of Zhengzhou received a year's worth of rain in just three days, with large swathes of land submerged by what is being called the worst rainfall in decades.
Below, residents in Zhengzhou and Gongyi – two of the worst-hit areas – along with others indirectly affected by the flooding share their experiences of horror, heartbreak, and humility in the face of the disaster with Sixth Tone and its sister publication The Paper.
Waiting for Grandpa
Xiaofan hasn't seen her grandfather for two months, and she doesn't know if she will ever meet him in person again.
The 26-year-old's grandparents live in Yangli — a village administered by Gongyi, one of the two cities hard-hit by the floods in Henan. She said her grandfather has been missing since the floodwater washed away their neighborhood — he was taking a nap when the rains hit.
"The roads and his house have all collapsed, and the rescue team can't enter and save him," said Xiaofan, using a pseudonym, adding her 70-year-old grandfather has hearing problems. "So even if people were there rescuing, he might not know. He wouldn't hear."
From the updates she received from authorities in Gongyi — where at least four people have died — the serene surroundings inked in her memory now lie in disarray. What remains is a mountain of ruins. Her family said there were dead bodies on the street.
"When my family finally crossed the destroyed road, the house had already collapsed and there was mud everywhere," Xiaofan said. "They won't find my grandfather unless rescuers comb through the rubble. But they can't even make it (to his house) because the roads are blocked and rescue vehicles can't enter."
Xiaofan said that while the entire country is offering support to those affected by the flood, situations in remote areas like Yangli are underreported and people there remain in desperate need of help.
"The locals are mainly elderly," she said. "My aunt called the local rescue team, but the situation was so severe that they couldn't make it."
Being far from home has made her feel even more helpless. She is more than 700 kilometers away in Beijing, where she works, and plans to go home as soon as the situation improves.
For now, Xiaofan constantly checks the weather in her hometown and nervously awaits updates from her aunt and grandmother, who were both in another room when the house was submerged and were saved by a neighbor. Both of them are safe.
"As long as there's no rain, there's hope," she said.
Metro Ride From Hell
Ding Xiaopei will never forget her metro ride on July 20, 2021.
The reporter for Henan Traffic Radio was one of the hundreds of commuters trapped in a life and death situation inside underground train carriages when floodwaters gushed into the metro stations. In no time, many commuters were in chest-deep water.
"Many of us were suffering from oxygen deprivation … then someone smashed the window with a fire extinguisher, and we could breathe again," she recalled to The Paper.
Ding said it was around 6 p.m. when rainwater started pouring into the tunnel. The train driver first reversed the carriages, hoping to evade the flooding and safely evacuate the 500 or so passengers. When it came to a halt, they were then asked to get off and walk toward the platform.
However, the effort failed, and they were told to return to the train carriages. That's when the water started submerging the carriages.
Fearing for her life, Ding posted a frantic SOS message on microblogging platform Weibo at precisely 7:35 p.m.
"The water has reached my chest, and I'm not able to speak — help!" she wrote.
After two grueling hours, at around 9:30 p.m., help finally arrived and rescue work continued into the night. Finally, after having escaped the metro, the chaos was not over yet as the passengers emerged into a flooded city.
Ding said she walked for four hours to reach home.
"The rain was very heavy, the road was full of water, and it was difficult to walk because the lights were out due to power outages."
But for others on Zhengzhou metro's Line 5, it was their last journey. At least 12 people trapped inside the carriages died that night.
A Worried Father
The First Affiliated Hospital of Zhengzhou University has handled hundreds and thousands – if not millions – of emergency cases since it was founded in 1928.
But when the rain fell Tuesday, one of the largest hospitals in Asia faced a crisis of its own: Floodwater streamed inside the building's lower floors, and soon there was no electricity to power the equipment that breathed life into the sick.
Guo Kaimin, a former employee at the hospital for over three decades, scrambled for information on the situation from his home in Xiping County, some 200 kilometers from Zhengzhou. He was worried for the hundreds of patients as well as his daughter, who works in the hospital's administrative department.
"(A power cut) has never happened before," he said. "Hospitals are equipped with a two-circuit power supply, and we have backup generators to ensure there are no blackouts – the consequences of which are unimaginable. It is indeed a major natural disaster."
Guo, who once worked in the hospital's publicity department, said the generators are located in the hospital's basement, suggesting that they must have been submerged by the flooding.
It was a long night for the 62-year-old, who was kept awake by worries about the fate of his daughter. He said phone signals were also down, making it impossible to contact his daughter.
"We tried to contact her but couldn't reach her," Guo said.
After trying relentlessly, Guo said he finally managed to connect with his daughter Wednesday morning. When he got through, he discovered that "Because of the power cut, her phone was running out of battery and the networks in the flood-hit area were extremely unstable."
His fear for the worst eventually subsided.
"She's busy being transferred to a new location, as her home is located in a region cordoned off by authorities concerned about the risks of a potentially breached dam," Guo said.
Meanwhile, the First Affiliated Hospital began to move some 600 patients requiring critical care to other facilities Wednesday morning. Doctors say communication lines are once again functioning, albeit unstable, and that the patients and healthcare workers were all safe.
"It's an unprecedented crisis for the hospital and for the city as a whole," Guo said. "My former colleagues are working hard to pull through these difficult times. The situation remains worrying."
The Good Samaritan
At around 7 p.m. Tuesday, Wu Shuailong was scrolling through his social media feed, still unaware of the flooding that had inundated parts of his city.
Then the calls began non-stop. People were frantically seeking shelter at the several homestays he runs in Zhengzhou.
"Usually business is slow when it's pouring outside," he said. "But this time, the number of calls asking for accommodation just skyrocketed."
By then, the 35-year-old hotel business owner started to understand the extent of the catastrophe that was unfolding outside his walls. He immediately decided to offer his 20 vacant rooms for free to anyone who required refuge from the rain and floods, sharing his offer on his social media feeds.
Between 9:20 p.m. Tuesday and 5 a.m. the next day, Wu said he received 60 to 70 calls per minute via the six telephone numbers listed for his homestays. With the help of an assistant, he tended to at least 1,000 calls by the time dawn broke.
"Most of the tenants who came were visitors from other provinces, including Sichuan, Shaanxi, Hebei, and Shanxi," he said. "As a Zhengzhou native, it's my wish to represent the kindness of Henan."
Wu said emotions ran high all night, as news of the devastation trickled in. He was anxious, but also aware that he was in a position to offer assistance at that crucial hour.
One of the first people he helped that night was a woman drenched from the rain, trying to find shelter. She spent the night on the couch, comforted by the knowledge that she had made it safely to one of Guo's accommodations.
"I feel gratified to witness people help each other out," Guo said, referring to others who had extended their support. "I am glad that the industry I work in can assist people in some way. Even if I weren't in Zhengzhou, I would have helped."
Updates From a Stranded Train
Before He Bei's parents traveled to the southwestern city of Chongqing, she checked the destination's weather forecast: cloudy.
But by Monday night, the K15 train that they boarded and which crisscrosses from China's east to southwest regions stood immobile on its track near the flooded city of Zhengzhou. The "once in a millennium" rainfall has disrupted several transportation networks in Henan province, suspending dozens of trains, buses, and flights to and from the province due to the extreme weather.
Her parents, both in their 40s, were stranded for over 50 hours since Monday night along with 1,000 others on the K15 train from Jinan to Chongqing. Weak cellular signals meant that communication with them was sparse, with He receiving just a few updates via text message.
"Dear child, we are still in Zhengzhou. We can't move forward or backward," read one message sent at noon on Wednesday.
"Don't worry," said short, subsequent messages, accompanied by photos of instant noodles they were eating.
Zhengzhou Railway said on Tuesday morning some routes in areas that experienced more than 250 millimeters of rainfall ceased operating, as trains passing through mountainous terrain and farmlands could be obstructed by uprooted trees or possible landslides.
The 20-year-old daughter said she began to worry as soon as she heard about the flooding. She was unable to concentrate on her daily routine, and couldn't fall asleep.
Like other trains stranded on that route, K15 also faced a shortage of food and water, until the rescue team was dispatched with supplies. The train left for its point of origin Wednesday night, but He hadn't received an update from her parents as of Thursday morning.
"I really wish I could have been there with them, because I know they must have lied to me a little to make me feel calm," He said.
(Reported by Sixth Tone's Fan Yiying, Ni Dandan, Wang Lianzhang, Winifred Wang, Zhang Wanqing, and Zeng Chuchu; visuals edited by Ding Yining and text edited by Bibek Bhandari.)
(Header image: People walk through the flooded streets in Zhengzhou, Henan province, July 20, 2021. Li Chaoqing/CNS/People Visual)