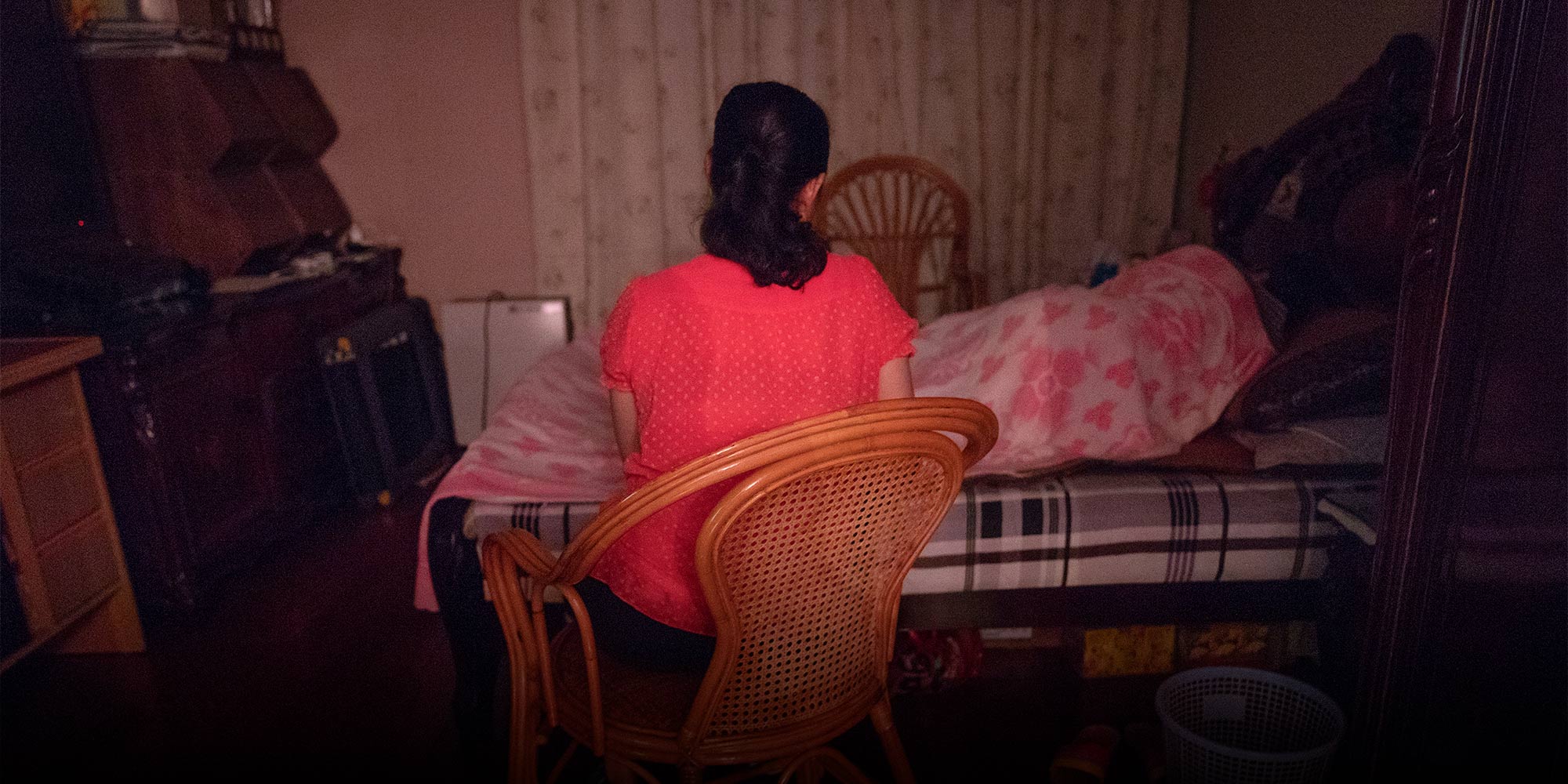 FEATURES
The Biggest Losers From China's Aging Crisis? Millennials.
Under the one-child policy, Chinese millennials were "little emperors" pampered by an entourage of older relatives. Now, their former caregivers have reached old age — and the one-child generation is struggling to cope.
SHANGHAI — As she turned 30, Shen Feifei's life was right on track. She had graduated from a top university, landed a job at a multinational, and started a family.
But two years later, things are very different. Both Shen's parents have been diagnosed with cancer, and the stress has become overwhelming. She often suffers from insomnia. Her sleek black hair is streaked with gray.
"I never imagined my parents could become that dependent on me," Shen tells Sixth Tone. "I need to accompany them to the doctor, decide on treatment plans, soothe their emotions, and drive them around to check out cemeteries."
Shen has already taken two demotions at work to free up time to fit in these extra responsibilities. She worries her company may soon terminate her contract.
If that happens, the financial pressure on her family will become severe. Shen and her husband have already had to sell an apartment in Shanghai worth 4 million yuan ($617,000) to help pay for her parents' cancer treatment.
The 32-year-old is far from alone. She is part of a generation of young Chinese who are bearing the brunt of the country's demographic crisis.
China is aging rapidly. By 2050, around one-third of the country's population — nearly 500 million people — will be aged 60 or over, according to government estimates. It's a transition that's creating daunting social and economic challenges.
These changes are hitting China's millennials especially hard. That's because they are the "one-child generation" — born during the era when Chinese authorities enforced a nationwide one-child policy, which lasted from the late 1970s to 2015.
As children, Chinese millennials were the sole focus of attention for their parents and two sets of grandparents, earning them the nickname "little emperors" and a reputation for being spoiled, domineering, and entitled.
Now, however, the roles have reversed. The once-pampered "little emperors" find themselves trying to support not only their own young families but also their aging parents and grandparents. And they have no siblings to help them.
China's cultural and economic realities make this burden even harder for the country's 30-somethings to bear. Their parents, who came of age while China was still impoverished, seldom have the wealth to ride out a major health crisis. 
There is also strong cultural pressure on Chinese children to take personal responsibility for their relatives' care. Under Chinese law, adult children are obligated to provide their parents with care, economic support, and "spiritual comfort" in their old age.
Help from the state, meanwhile, is often hard to find. Though Chinese authorities are ramping up investment in elder care facilities, they're struggling to keep up with the pace of the aging population.
"If someone thinks they can rely on social security or nursing homes, they're a little naïve," Yi Fuxian, a well-known demographics expert, tells Sixth Tone.
In Shanghai, local authorities have vowed to provide 175,000 extra nursing home beds by 2022. Yet the city is already home to a staggering 5.8 million senior citizens, and supply remains woefully short of demand.
Private nursing homes and retirement apartments are springing up all over China's major cities to fill the gap, but they cost as much as 20,000 yuan per month — almost double Shanghai's average per capita monthly income. 
Cities are also trying alternative, community-focused approaches to elder care, such as shared nurses and door-to-door services for those in need. Shen's parents, however, are ineligible for the schemes, as they aren't classified as having lost the ability to care for themselves.
Shen has had to make her own arrangements. Together with her husband and five-year-old son, she has moved apartments to be closer to her parents. She has also managed to hire several in-home carers — a rare commodity in Shanghai — to support them during the day.
For her mother, however, this isn't enough. Though her condition has stabilized after two years of cancer treatment, she has become ever more dependent on Shen. She has fired several carers under various pretexts.
"At one point, she made it very clear to me that she only wanted me to look after her, as it was my duty as a daughter," Shen says. "She calls me a dozen times a day, and she gets very angry if I'm in a meeting and don't answer."
Yet Shen is unwilling to compromise her career any further. The salary helps her provide her parents with imported cancer medication that's more effective, but much more expensive, than domestic alternatives.
Until March, the drugs weren't included in Shanghai's public health insurance schemes and cost an eye-watering 30,000 yuan per month. Now, a policy change has cut the monthly fee to 10,000 yuan, but it's still a significant outlay.
"To be honest, if we hadn't had that property (to sell) and couldn't afford the imported medicine, they probably wouldn't be alive today," says Shen.
On social platform Douban, thousands of millennials share similar anxieties. A support group named "Only Children With Retired Parents Exchange Organization" has attracted over 72,000 members since it was set up in late 2019.
Like Shen, the members tend to be high-fliers: some work for multinational companies, others are college students, while still others live abroad. Though many are from middle-class families, they're still worried about how they'll support their parents, especially when they suffer health problems.
"In the middle of the night, thinking about my sick mother repeatedly begging me to go back and take care of her, I feel so much pain," wrote one member who lives overseas.
"I felt so powerless after my father's car accident," another posted. "I was always protected by my parents. I couldn't imagine what would happen if something happened to my father."
This cohort of only children often feels trapped, says Yi, the demography expert. In recent decades, many young Chinese have chosen to move far away from home — to China's largest cities, or to foreign countries — to pursue their dreams. Now, however, a growing number of millennials feel compelled to stay close to their families.
"Many don't go or stay abroad, as they have a feeling of being tied down," says Yi. "Meanwhile, they're anxious and confused about the future."
Leona Cheng is uncertain whether her life in Taiwan is sustainable, as her 75-year-old father's health gradually declines.
The Shanghainese moved to Taiwan with her husband in 2012, and the couple has since had two children there. But Cheng worries her widower father may not be able to take care of himself much longer. 
The retiree's memory appears to be fading. He frequently forgets the PIN code for his bank card. Unless Cheng reminds him, he often fails to take his medication.
Cheng calls her father every day, but she knows he needs closer supervision. She is searching for a long-term care solution and has considered putting him in a nursing home. 
The COVID-19 crisis, however, makes this easier said than done. Cheng would have to travel to Shanghai and help her father complete a physical exam and several other administrative procedures before he could be admitted.
"We'd have to quarantine back and forth, and my company doesn't allow us to take leave unless we resign," says Cheng. "But that would increase the financial burden on my family … Now, we can do nothing but wait."
The 38-year-old has also contacted the residential committee at her father's apartment complex, seeking any possible alternative care options. The staff, however, insisted that families are responsible for providing their own elder care services.
"I didn't think there was anything bad about being an only child before, but now I think it's a big burden," says Cheng. "I'd be less anxious if I had a brother or sister in Shanghai."
Wen Wen, 32, isn't worried about her parents' health just yet. But she is already planning ahead all the same.
Two years ago, Wen took out a premium insurance package for herself — covering accidents, death, and serious illness, among many other eventualities — at the cost of 30,000 yuan per year. She hopes this will guarantee her parents have at least some financial security if anything happens to her.
"I enjoyed love and care from my parents, so I think I have an obligation to support them when they're old," says Wen.
A native of central China's Hunan province, Wen left home at 18 and has spent the past decade living over 1,000 kilometers away in Shanghai and Beijing. She considers herself fortunate. Her parents were supportive of her decision to move away for work. They've also remained active and independent since retiring, meaning she doesn't have to worry about them too much.
"They try to take good care of themselves to ease the pressure on me," says Wen. "I feel both grateful and a little guilty."
In May, Wen decided to take a job in the southern metropolis Shenzhen to be closer to home.
"Now, it will only take me four hours to get back home," she says. "I can even spend a three-day holiday with my parents."
Zhao Yuting, a 32-year-old business owner, has already had to make much more significant sacrifices. He has spent much of his adult life caring for his older relatives.
Born and raised in Wuxi, a city about 140 kilometers west of Shanghai, Zhao lived with his grandparents from the age of 10, after his parents divorced. But he doesn't resent his parents' decision, and remains close to both his mother and father, as well as his grandparents.
"I think it helped me develop an independent personality," says Zhao. "I'm capable of solving problems on my own."
Five years ago, Zhao moved back to his grandparents' apartment to take care of his grandmother, who was then nearing the end of her life. Between running his two companies, he did housework, chatted with her, and accompanied her on hospital visits.
When his grandmother later suffered a cerebral hemorrhage, it was Zhao who decided to turn off her life support. His father couldn't accept the situation, while his aunt was in shock.
"Even if she had been revived, she would have been in pain," says Zhao. "Everyone around her was in pain, too."
Several years later, the Wuxi resident still lives in the apartment with his grandfather, who's now 84 years old. The pair have agreed that when the retiree becomes too ill to live independently, he will move into a nursing home offering 24-hour care, Zhao says.
Meanwhile, Zhao still tries to find time to see his parents, two contrasting figures. Zhao's father, 56, is a business owner and has a liberal and open outlook on life. His 54-year-old mother, conversely, is more conservative and traditional, having worked in a local residential committee until her retirement.
For now, both parents remain in good health, and Zhao hasn't felt the need to purchase extra health insurance for them, though he does urge them to get regular physical checkups.
Zhao's mother, however, does count on him for emotional support. Whenever she has a problem with a household appliance or electronic device, she immediately calls him to fix it.
"She's just making an excuse to see me," says Zhao. "She once told me directly that I'd still need to pay attention to her after I get married one day."
Additional reporting: Chen Congcong; editor: Dominic Morgan.
(Header image: Niu Jing/People Visual)