Torrential rainfall resulted in the collapse of two dams in a sparsely populated region in northern China on Sunday, with the ensuing flash floods inundating farmland and destroying bridges.
Videos shared online show the water in two reservoirs rising so high on Sunday afternoon that it spilled over the dams, both located in the Morin Dawa Daur Autonomous Banner, in the Inner Mongolia Autonomous Region. The rushing water then caused the dams to collapse, Sixth Tone's sister publication The Paper reported on Monday.
Local officials estimate that flooding has affected 325,000 mu (over 216 square kilometers) of farmlands, destroyed 22 bridges, and inundated 15 kilometers of roads as of Monday. No casualties have been reported, but over 16,000 people have been affected, they said without elaborating.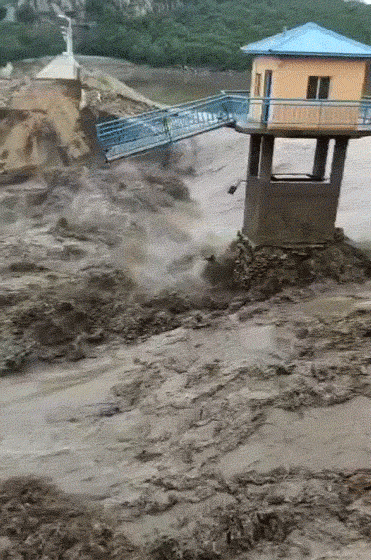 A GIF shows floodwaters in the Inner Mongolia Autonomous Region. Courtesy of E shaokai
The central government issued a level three flood alert — in a system with four tiers, one being the most acute — on Sunday and dispatched a team to the banner to guide local emergency relief.
E Shaokai, 24, grew up in a village near the dams and now works outside the province. The 24-year-old told Sixth Tone that, according to his relatives, floodwaters have receded, but roads are blocked with debris and crops are still under water.
The two dams, called Xinfa and Yongan, were designed to hold up to 38 million and 8 million cubic meters of water, respectively. They were mainly used for irrigation and flood control. They had been reinforced in 2016.
China's government has invested significantly to strengthen its roughly 94,000 small-sized dams in recent years, fearing that the decades-old structures will collapse during the country's rainy summers — which, under the effects of climate change, are predicted to cause more river flooding.
Last summer, China experienced its most severe flooding since 1998, triggering a similar dam collapse in the southwestern Guangxi Zhuang Autonomous Region. In December, the government earmarked 100 billion yuan ($15.4 billion) to repair at-risk dams in the next five years.
Heavy rains continued in the region on Monday, with local weather monitoring services expecting more rainfall in the coming days. Continuous rainfall also submerged parts of Beijing over the weekend, prompting the closure of one inundated subway station.
A report released last week warned that China will face growing climate hazards brought on by hotter summers and wetter rainy months.
Editor: Kevin Schoenmakers.
(Header image: A collage shows the collapse of a dam in the Inner Mongolia Autonomous Region, July 2021. Courtesy of E shaokai)