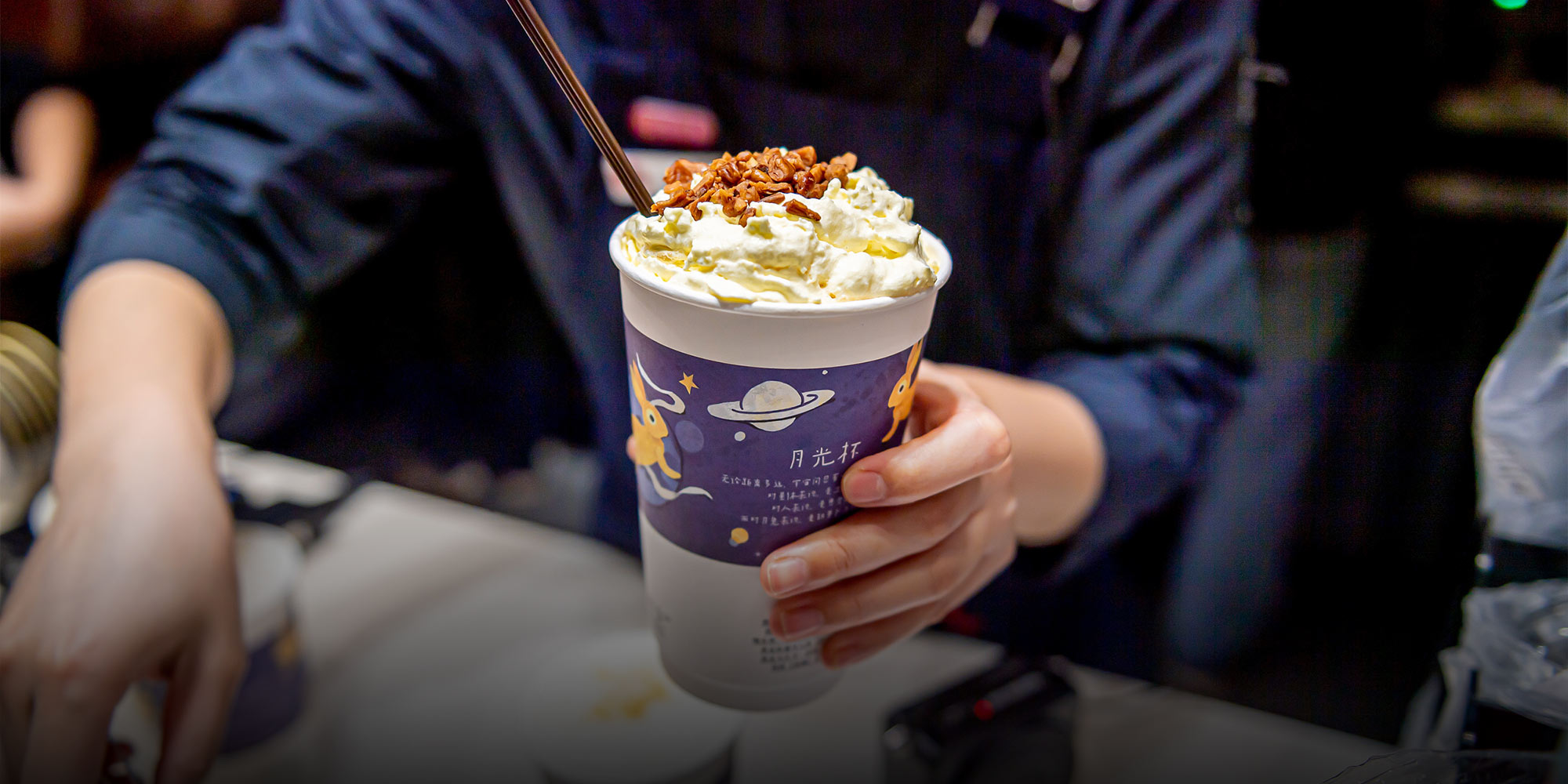 NEWS
Craving Viral Milk Tea, Faraway Buyers Call Train-Hopping Couriers
Consumers are willing to shell out fivefold more for a sip of the beverage that has gained newfound fame.
Your next cup of tea might be delivered by high-speed railway.
The Sexy Tea brand of milk tea has become so popular online that some unofficial couriers deliver the beverage from its shops in the central city of Changsha to neighboring provinces, Legal Daily newspaper reported Saturday. Known as daigou in Chinese, the self-appointed delivery personnel ferry the prized milk tea to Zhejiang, Jiangxi, and Anhui provinces within a day, as long as there are enough orders to profit from the journey.
Founded in December 2013, Sexy Tea has become a must-try local specialty for visitors to Changsha in central Hunan province. The tea appeals to its mostly social media-savvy younger consumer base with photography-friendly traditional Chinese-style packaging, as well as distinct flavors.
The couriers, some carrying up to 200 cups per trip, reportedly charge as much as five times the original price for the nearly four-hour train ride between Changsha and cities in Zhejiang, according to the media report. An average cup of Sexy Tea costs 12 to 18 yuan ($2 - $3) at its stores.
Though it's unclear how and when the tea frenzy began, Sexy Tea said last week they do not endorse cross-provincial deliveries, urging consumers to stop indulging in such practices. The company added that its stores would crack down on large orders potentially destined for cross-province delivery by "verifying the reason for purchase."
"Our milk tea is made on the spot and had a short shelf life and strict storage requirements," Sexy Tea said. "If a cup of milk tea is transferred via high-speed rail, bus, or other methods, it may present a food safety risk in the absence of suitable and stable storage conditions for long-distance transportation."
In response to the Legal Daily article, a China Railway representative said each passenger is allowed to carry up to 20 kilograms of liquid, without commenting on the specific Sexy Tea issue.
Chen Ying, a lawyer at Beijing Yingke Law Firm, said the daigou service in its entirety wasn't illegal, as it is a contractual service between two parties. However, she added that business activities operated with a profit-making motive should be registered and managed according to official guidelines.
"When this behavior widely exists in the market, it is bound to disturb the market order and damage the interests of relevant consumers and operators," she told Sixth Tone Monday. "Therefore, the business activities of purchasing Sexy Tea on behalf of others are illegal."
Sexy Tea currently has over 400 stores in Changsha and expanded to other cities, including another central city of Wuhan, in December. According to media reports, milk tea connoisseurs in Wuhan waited for eight hours for a sip on its inaugural day.
Editor: Bibek Bhandari.
(Header image: A Sexy Tea employee prepares milk tea in Changsha, Hunan province, 2020. People Visual)