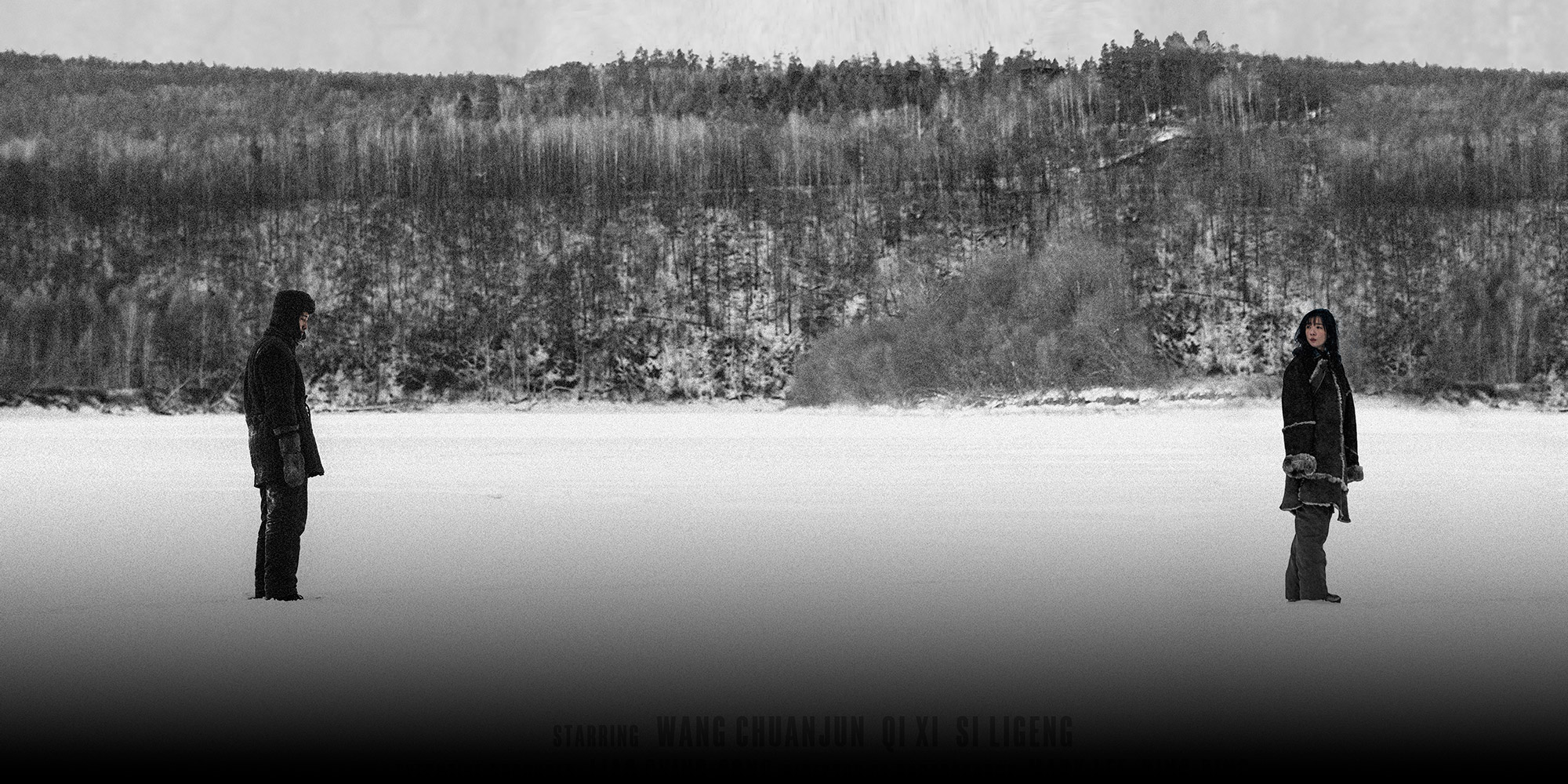 Q & A
From Inner Mongolia, a Stark Vision of Our Environmental Sins
In her new film "Anima," Chinese director Cao Jinling revisits her homelands to deliver a very personal warning of how humanity's imbalance with nature stands to imperil us all.
As soon as filmmaker Cao Jinling starts talking about her childhood in the mountains of Inner Mongolia, it's clear how deeply her emotions for her homelands run. The 43-year-old peppers our discussion with tales of towering ancient trees, rolling fields, and references to poems from the 8th-century B.C. "The Book of Songs."
But the scars from that era run deep, too.
As a child, Cao saw her Edenic home — Moerdaoga National Forest Park — destroyed by rampant logging through the 1980s and '90s. With China focused on lifting its population out of poverty, rural communities were allowed to cut down trees by the millions to earn extra income. Between 1975 and 1993, nearly one-third of China's natural forests disappeared.
The government would eventually move to strengthen environmental protections in 1998, after officials concluded widespread deforestation had partly caused the devastating floods that killed over 3,000 people that summer. But for Cao, the trauma of witnessing her world turned upside-down has never faded.
"Seeing the environment deteriorate and the animals uprooted was heartbreaking," Cao tells Sixth Tone.
It's these memories that Cao has channeled into "Anima" — her award-winning debut feature as a director.
Set in Inner Mongolia, the film tells the story of two brothers — played by Wang Chuan-jun ("Dying to Survive") and Si Ligeng ("Lost in Time") — torn between their connection with the land that has sustained their community for generations, and a modern world that wants to exploit it for profit.
The drama turns on the conflict between the pair when they have to decide whether to protect their homelands — and the reindeer-herding tradition of their Evenki ethnic minority group — or join the logging operations that are destroying the forest, but promise to make them rich. It's a choice many Evenki had to confront, Cao says.
The brothers also fall for the same woman — played by "Hear Her" star Qi Xi — who is similarly trying to hold on to her cultural roots in the face of China's rapid modernization. Cao chose "Anima" as the film's English title as a reference to the ancient shamanic belief system followed by the Evenki.
It's an epic endeavor, made even more daunting by the freezing shooting conditions in Moerdaoga, where the mercury plunges below minus 40 degrees Celsius in winter. But the result is a rich, multi-layered production.
Cinematographer Mark Le Ping-bing — famed for his work on the critically acclaimed 2015 actioner "The Assassin" — casts a sweeping gaze over the natural wonders, while allowing Cao to present an intimate, close-up portrait of lives led on society's far-flung peripheries. There's also a sense of urgency in the message the film shares with its audience.
While environmental issues have sometimes fringed Chinese films — such as Stephen Chow's ecology-minded fantasy "The Mermaid" — "Anima" is rare in that it places these concerns as the theme driving the narrative. The film also explores often overlooked cultural aspects of Inner Mongolia, a region more commonly used as a backdrop for action epics due to its dramatic scenery.
"We have tried in this film to awaken our awareness, respect, love, and fear toward nature," says Cao.
Cao studied at the prestigious Central Academy of Drama in Beijing, which counts the likes of Gong Li and Jiang Wen among its alumni. She started her career as a screenwriter, turning her talents to the 2014 romance "Meet Miss Anxiety" and 2016's "Crying Out in Love." But the personal nature of "Anima" convinced her to move behind the camera.
The new film was recognized earlier this month at the 23rd Far East Film Festival in the northern Italian town of Udine, where"Anima" was handed a Special Mention in the event's White Mulberry competition for first-time directors. It has been touring the international festival circuit since late last year, but the director hopes for a theatrical release across China soon.
Speaking with Sixth Tone via Zoom and email from her home in Beijing, where she's currently working on her next script, Cao discusses the meaning behind "Anima" and the impact she hopes the film will make in China and beyond. The interview has been edited for brevity and clarity.
Sixth Tone: "Anima" is set in Moerdaoga National Forest Park. What's your connection to this part of Inner Mongolia?
Cao Jinling: Moerdaoga is where I was born and grew up. In my childhood, we were surrounded by huge trees that took a few kids to circle, hand in hand. All my childhood memories are full of the smells of the forest — trees, grass, and mud.
At that time, we lived at the foot of the mountains. When we said, "let's go play," we'd go to a mountain or river. In springtime, pink azalea would be blooming all over the mountain. We kids were like bees, sucking the icy, sweet pistil. In the autumn, we could find a feast. The strawberries, blueberries, red beans, and various nameless wild fruits were juicy and tasty. This harmonious life with nature gave me wonderful memories as a child.
Sixth Tone: How did the area change as you grew up?
Cao: At the time I graduated from college, it was all green there, but there were no ancient trees anymore. Many animals became extinct. Then, we suffered from a massive mountain flood, followed by other natural disasters, dense smog, and sandstorms.
Sixth Tone: When did you decide to make a film exploring the situation there?
Cao: After the unbridled logging in the '80s and '90s, the forest was covered in scars. The floods that occurred in 1998 really triggered everyone to contemplate our relationship with nature. That year, the Chinese authorities implemented the Natural Forest Protection Project, which banned logging in virgin forests. That was a turning point in our history.
I went back to Moerdaoga in 2015. That winter, due to a national policy, logging would no longer take place in this small town. I remember seeing the last felled tree laying on the ground. It was like a monument of some kind, provoking both joy and tears. Several lumberjacks were weeping in front of that scene. This was where I had the original idea for the film.
Sixth Tone: What message do you hope the audience in China and elsewhere takes from the film?
Cao: The oldest religion in China is shamanism or animism. It's the origin of the film's English title ("Anima"). In ancient times, people lived in harmony in nature, with nature, and by nature. However, our modern civilization has forgotten animism and what it means. We have become greedy and materialistic. We've been plundering everything in nature to fill an abyss of desire.
Sixth Tone: Do you think people's awareness of these environmental issues is changing?
Cao: The danger of economic development to the environment is a global issue. Economic growth brings great wealth to people and improves living standards. It defines our modern civilization. But, driven by economic interests, people exploit natural resources rapidly and lavishly, causing environmental degradation.
More and more people are now paying attention to this issue, and advocating for a low-carbon economy. It's better late than never. Hopefully, there's still time to save the Earth.
Sixth Tone: How tough was the shoot, and did you ever feel like giving up?
Cao: The filming conditions were harsh. Most of the shooting was done in winter, with temperatures under minus 40 degrees Celsius. Transportation was very inconvenient due to the snow. The whole crew lived in tents in the forest, with no electricity, mobile signal, or internet — just like the aboriginal life of the Evenki people. 
We shot for about 40 days in the winter and another 40 days in the summer and autumn. It took two years to finish shooting, and the temperature difference from summer to wintertime was about 80 degrees. I'm truly grateful to the crew, actors, and everyone onsite for their contributions.
Sixth Tone: How did the cast and crew cope with these conditions?
Cao: We shot a lot of scenes outdoors. All the crew, especially the actors in front of the camera, had to overcome physical challenges. They couldn't shiver, or it would have affected their performance.
In addition, we had to catch the natural light. The shooting times in winter were either 8-9 a.m. or 3-4 p.m. each day. So, we were really under time pressure. Bears, mountain floods, and snowstorms were also real dangers during the shoot. They were all sources of stress. Luckily, our crew were experienced, and thanks to their common effort the result is extremely authentic and powerful.
Sixth Tone: How did you approach the depiction of the Evenki ethnic group?
Cao: In China, the Evenki have three branches. In the film, there are the shilu, meaning they're lifelong reindeer breeders. Then, there's the Evenki tribe — they're rare, with only around 20 left nationwide. They live in the virgin forest in "immortal poles," a kind of round tent that is shown in the film.
The Evenki tribe had a matriarchal clan society, and that's continued into the modern day. They follow the matriarch — the so-called "Queen in the Forest" — who takes responsibility for business and private affairs. They live right there in the Moerdaoga forest. My family and I also lived there; I knew them when I was a kid. 
Before we started filming, we interviewed the one and only remaining matriarch, Maria Sop — 99 years old. Her daughter, De Kesha, was our consultant for Evenki culture and customs.
Sixth Tone: How did Mark Lee become involved in the production? And why was it important to you that he did?
Cao: I worked with him on "77 Days," for which I was the scriptwriter. At that time, I told him I wanted to shoot a film about humans, trees, and forests. He agreed without hesitation.
But when I presented the script to him, he realized it was the life story of a lumberjack, with scenes shot across four seasons. On top of that, the coniferous forest in Moerdaoga is the only one of its kind. No other place could be an alternative shooting location. It would also take a long time to film, at least one or two years. Despite all this, he still went ahead with it, as he'd promised.
His participation was crucial for me. I wanted the film to demonstrate the relationship between the universe, Earth, forest, and human beings. His poetic cinematography made that happen and impressed the audience. I really appreciate his effort.
Sixth Tone: Why did you decide to live your life in film?
Cao: This way, I can deal with my life by sublimating my emotions. As storytellers, we can separate our feelings from life, no matter how intense the joy or grief is. We look at things with distance, instead of just indulging ourselves in those feelings. But, more than that, we also need to reconnect to those feelings, and send a message through the film.
I'm obsessed with this process, and it gives me an enormous sense of mission, like a preacher.
Sixth Tone: What's next? Will you continue directing, or is it back to screenwriting?
Cao: I will do both. In fact, I directed "Days and Nights in Wuhan," a documentary film about the city's battle against COVID-19, right after "Anima." This documentary was released in China in January.
Also, I've done a script, currently titled "Chinese Criminal Investigators," which will be directed by the brilliant Xin Yukun ("The Coffin in the Mountain"). Now, I'm preparing for my next project, in which I'll be both writer and director. Hopefully, it'll be in the cinemas soon.
Editor: Dominic Morgan.
(Header image: A promotional poster for the 2020 film "Anima." Courtesy of Cao Jinling)