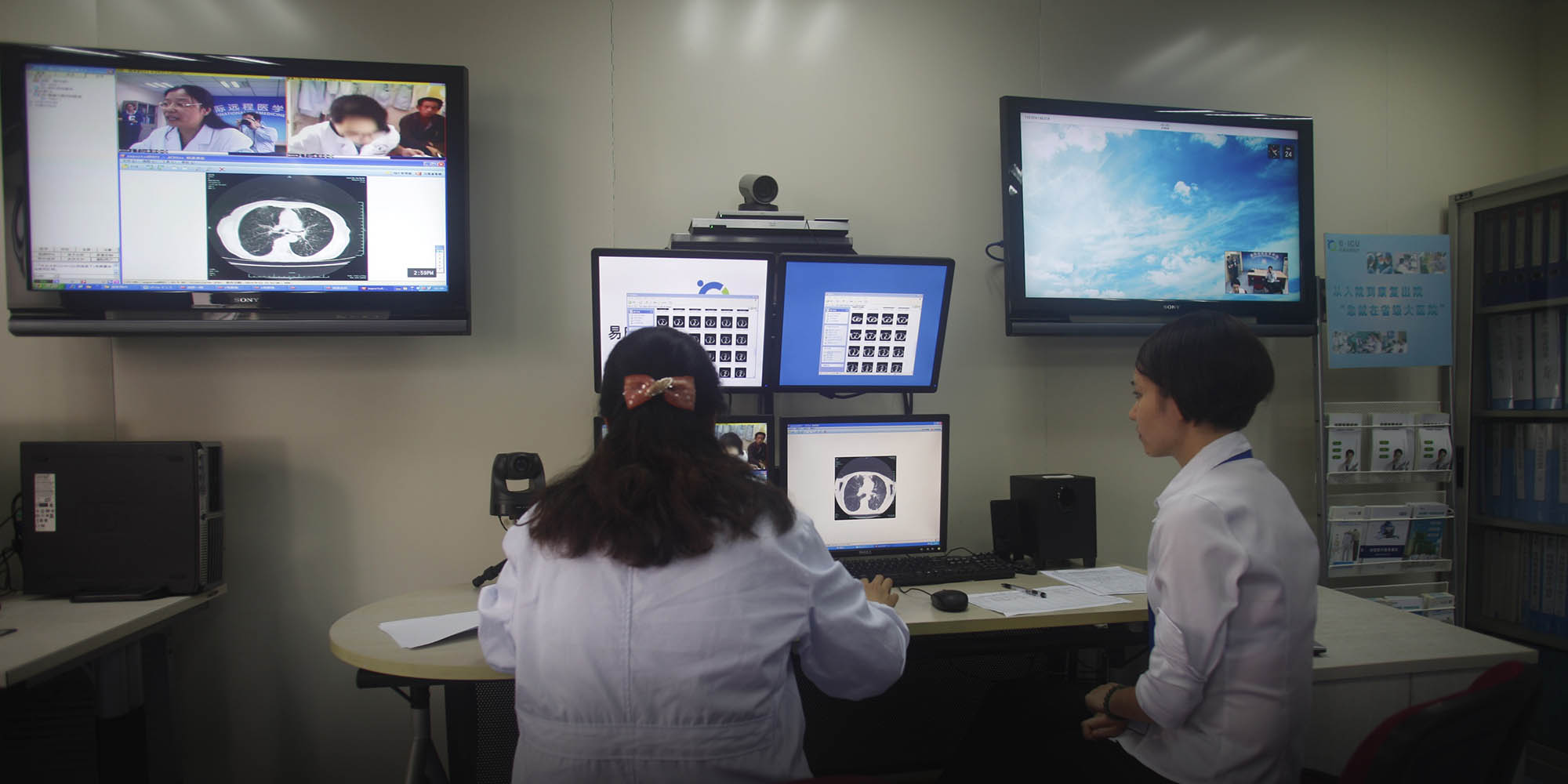 NEWS
Can Big Data Cure China's Health Woes?
Convincing hospitals to share patient information is key to overcoming health care challenges.
China is pushing ahead with plans to increase data sharing between hospitals to improve the country's health care system.
In what experts have described as a significant breakthrough, the State Council, or China's cabinet, is calling for the development of a national platform that would allow the country's medical and health care institutions to connect with one another and share patient data and other medical information.
The State Council-issued guidelines also encourage a greater development role for "socially innovative forces" — typically interpreted to mean startups and other internet-based health care companies.
China hopes to extend affordable and high-quality health care to all citizens by the end of this decade, a goal the World Health Organization has described as "one of the most ambitious" such health-related undertakings in the world.
Yet considerable barriers remain in achieving this target, including low standards for health care available to patients in the towns and smaller cities of China's heartland.
This means that when people in these rural areas become ill, they often avoid local hospitals and rush instead in large numbers to big hospitals in provincial capitals. Some even venture to the more developed coastal cities such as Beijing and Shanghai in pursuit of what they see as higher quality medical care.
This puts a huge strain on the country's hospital system. In addition to being costly and inefficient, traveling large distances to big hospitals for health care can also be ineffective.
Experts say technology and greater data sharing have the potential to significantly enhance the quality of care available to Chinese. For example, they offer patients in rural areas the chance to access some of the best doctors and specialists through telemedicine, a process whereby consultations can be made via satellite or internet connections between hospitals in the countryside and major hospitals in larger cities and major metropolitan areas.
In recent years, more internet companies have begun to participate in the medical and health care market in China. A number of health care websites and apps, such as Chunyu Doctor, We Doctor, and Dingxiang Doctor, have been created to help patients book appointments with doctors or find doctors online.
According to data from iiMedia Research Group, China's mobile health care market has grown 44.7 percent, from 2.95 billion yuan (around $444 million) in 2014 to 4.27 billion yuan in 2015.
Last year, China's first "internet hospital" was established in Wuzhen, in eastern China's prosperous Zhejiang province. The hospital is as an online platform that assists patients in finding doctors online and in booking appointments with them; it also acts as a communications link between large public hospitals and hospitals in rural or smaller cities.
Up until now, limited access to patient data has been a big obstacle for the proliferation of internet health care in China. That's because many public hospitals are not willing to share their information with third parties, including internet health care companies, which consequently find it difficult to expand.
Despite rapid development last year, many internet health care companies still cannot make a profit and are struggling to survive, according to Zhao Heng, an expert in health care policy and founder of the medical and health consultancy Latitude Health.
But the new State Council guidelines offer hope. "This is not just good news; it is a critical breakthrough," said Liao Jieyuan, CEO of internet health care company We Doctor. Liao said that while hospitals have a wide variety of documents — items such as medical histories and checkup results — stored in their computer systems, such records are "just isolated islands of information" without a link between the systems.
Regardless of its good intentions, China still has a long way to go. Gong Yihua, president of Jointown Pharmaceutical Group, said during a workshop at an internet health care conference in Wuzhen last weekend that the use of big data in the medical field is still immature in China, and that the lack of a robust database of medical information must be addressed.
"You can't tell anything from the data [in its current state], and it's very hard to imagine it being used as an effective tool," he told participants from the medical and information technology sectors. "It's going to take a long time to come up with a good system."
Zhao of Latitude Health also described China's medical data as "fragmented" and "unsystematic." He said one step toward successfully tapping information technology to promote a better health care system was to establish a systematic way of gathering data.
Persuasion, too, will be an important tool: "The point is to push public hospitals to share their data," he said.
(Header image: Doctors diagnose a patient remotely at the Zhejiang Provincial First Hospital in Hangzhou, Sept. 24, 2014. Adam Jourdan/VCG)