A man who was abducted in 1997 at age two, and his father, who spent years crisscrossing China on his motorbike in search of him, were finally reunited on Sunday at a police-organized ceremony in their hometown Liaocheng, in eastern Shandong province.
Two suspects have been arrested on suspicion of abducting the long-lost son 24 years ago while he was playing unattended in front of the family home. They then sold him in neighboring Henan province, police said at a press conference Tuesday.
The son, now 26 years old, works as a teacher in Henan, police said.
Guo Gangtang embraces his son during the ceremony in their hometown Liaocheng, Shandong province, July 2021. From Liaocheng Police
China has a grim history of children — especially boys — being abducted to be sold to couples who want a "son" to carry their family lineage; something girls cannot do according to traditional notions. Kidnappers have also targeted women, who are then forced into forced marriages.
Currently, such crimes rarely occur and are quickly solved, police said in June. Now, approximately 20 children are kidnapped annually, compared to thousands in years past. Many of those cases remain unresolved.
In recent years, a national DNA database and other technological advances have helped families find their lost relatives. Also on Tuesday, the Ministry of Public Security said it had found 2,609 missing or abducted children since it launched a nationwide campaign in January. They detained 372 people on child trafficking charges.
Several times in recent years, China's top lawmakers have proposed raising the penalty for trafficking women and children to at least 10 years in prison. Chen Ying, a lawyer from Beijing Yingke Law Firm, said that there should also be more severe punishments for buyers. "As long as there are people in society who bid high enough, there will always be others who commit crimes at great risk," Chen told Sixth Tone on Wednesday.
In 2015, China amended its Criminal Law to make buying abducted women and children a crime punishable by up to three years in prison, which is a "huge step forward" but not enough of a deterrent, Chen said.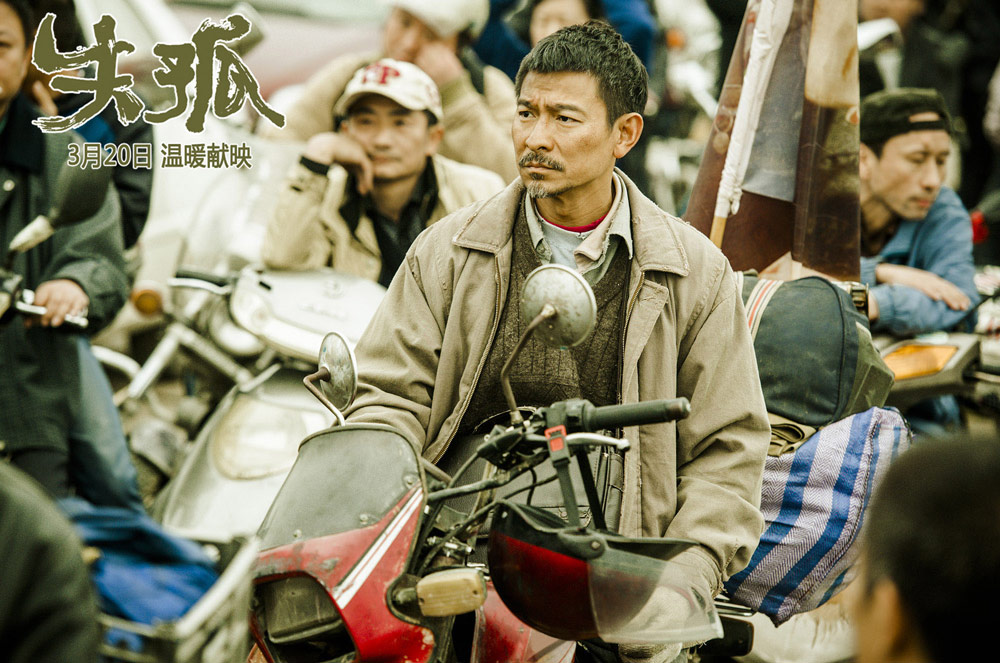 A promotional image shows Andy Lau in the 2015 film "Lost and Love." From Douban
The case of 51-year-old Guo Gangtang, the motorcycle-riding father, and his son is perhaps one of the best-known abduction cases in China. Guo's desperate attempts to find his son inspired the 2015 movie "Lost and Love," featuring Hong Kong star Andy Lau as a father looking for his son.
"This is the best ending for 'Lost and Love,'" the movie's director, Peng Sanyuan, posted on her Weibo microblog on Tuesday.
Additional reporting: Chen Congcong; editor: Kevin Schoenmakers.
(Header image: Guo Gangtang rides his motorcycle while trying to find his missing son in Guiyang, Guizhou province, 2010. Xu Fengshan/People Visual)