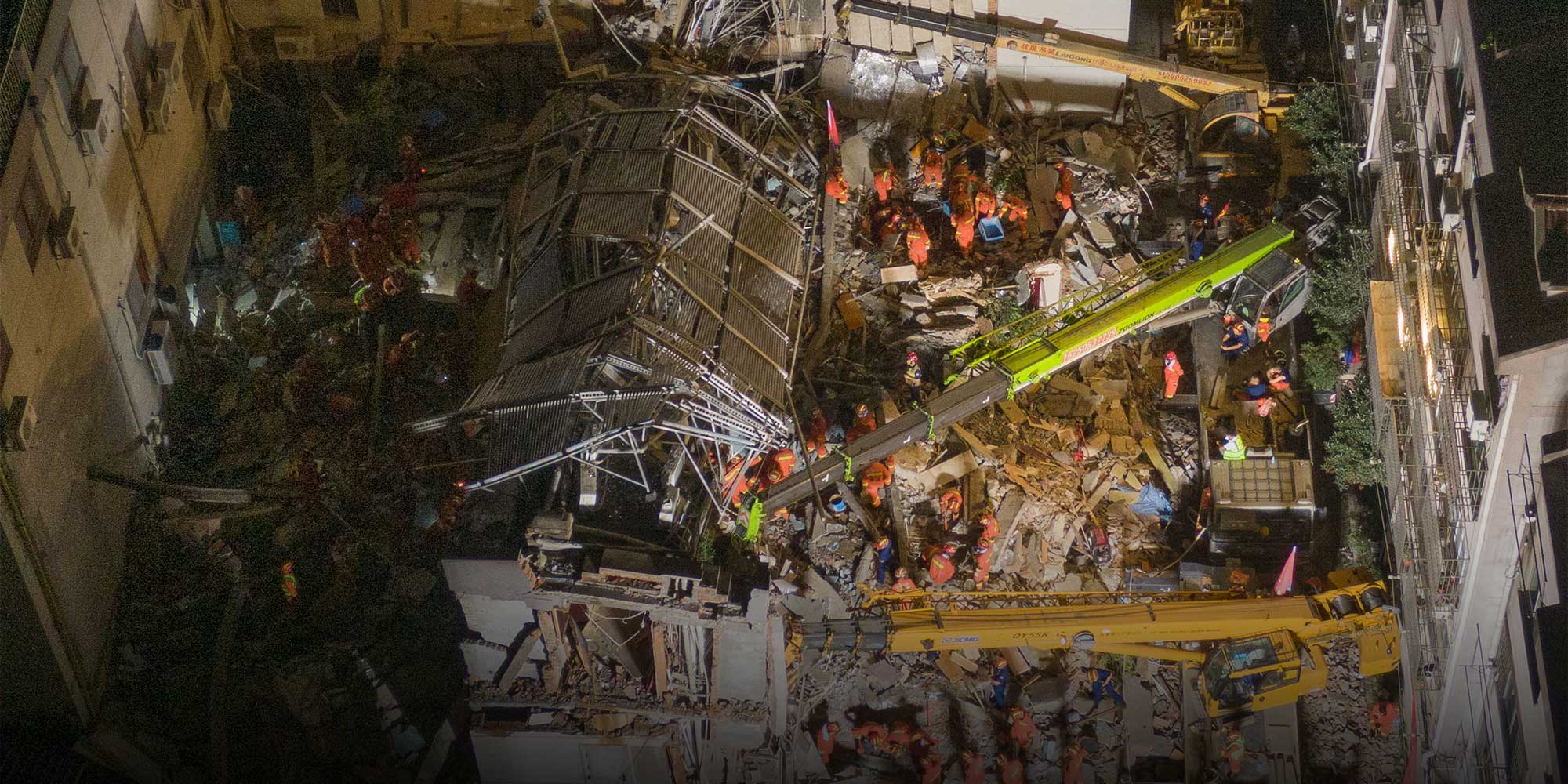 NEWS
17 Dead in Suzhou Hotel Collapse
A local resident said that construction work had been ongoing at the hotel.
Seventeen people have died after a hotel collapsed on Monday afternoon in the eastern Chinese city of Suzhou.
Rescue work concluded on Wednesday morning. After more than 36 hours, all 23 individuals buried in the rubble had been found, the local government said. Six people had been found alive, five of whom needed medical treatment but are reported to be in stable condition.
The collapse of the three-story Siji Kaiyuan Hotel, in Suzhou's Wujiang District, occurred at 3:33 p.m. A preliminary analysis of the cause points to an unauthorized change in the building's structure, state news agency Xinhua reported Tuesday evening.
A local resident told Sixth Tone's sister publication The Paper that the hotel was undergoing construction work before it collapsed, and that the building was about 30 years old. Over the years, the property had changed hands several times, they added. The building had last been refurbished in 2018 and re-opened in 2020, the hotel's listing on review app Dianping shows.
Building collapses in China have often been attributed to poor construction work. In March of 2020, a hotel being used as a centralized quarantine site collapsed in Fujian province, eastern China, killing 29 people. An investigation later showed its owners had illegally added three floors to the structure.
In August, a restaurant banquet hall in northern China's Shanxi province collapsed during a birthday party, killing 29. The incident was linked to the use of substandard materials.
The article has been updated to include the Xinhua report and the most recent casualty figure.
Editor: Kevin Schoenmakers.

(Header image: An aerial view of the collapsed hotel in Suzhou, Jiangsu province, July 13, 2021. Yang Bo/CNS/People Visual)