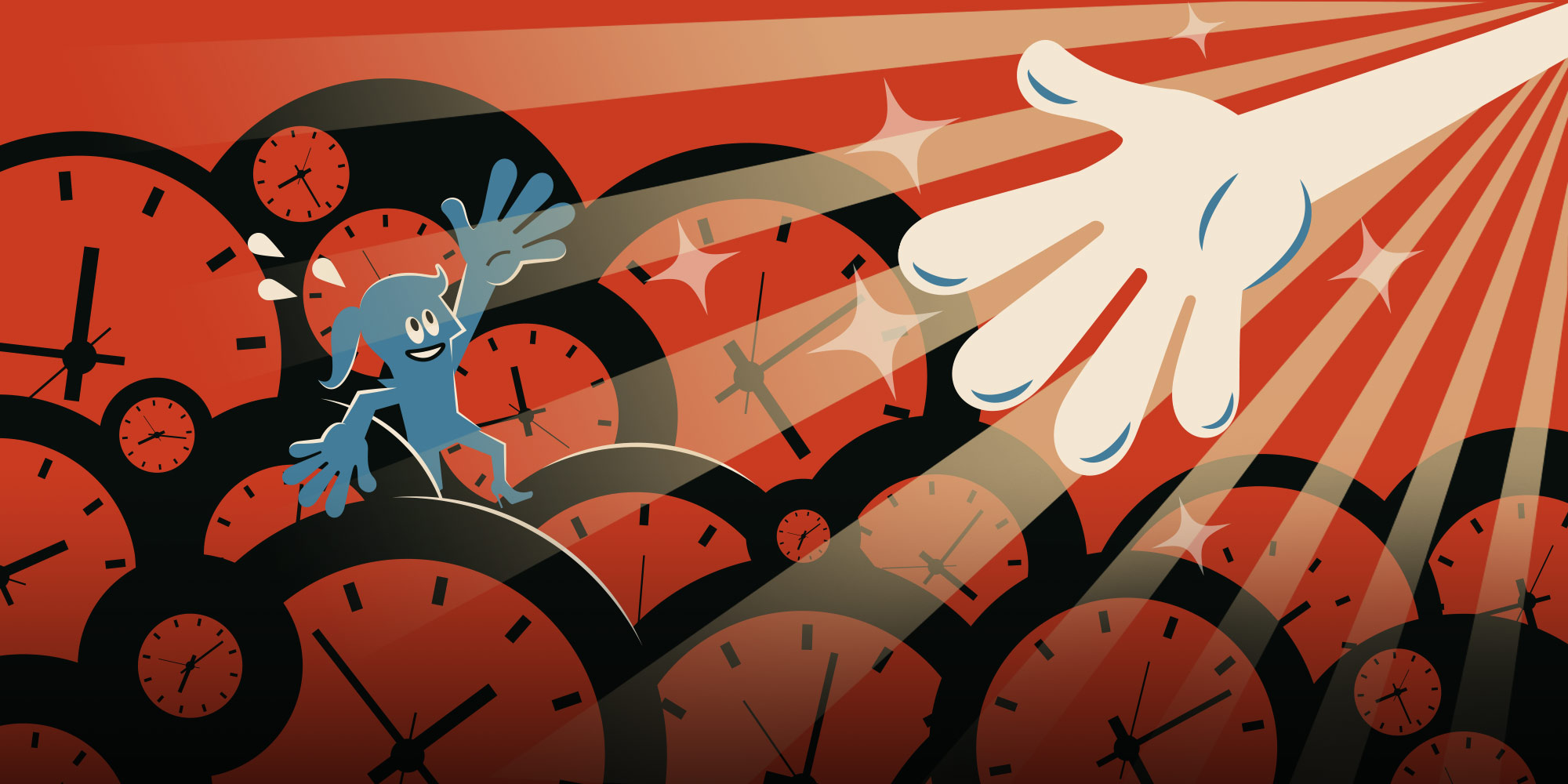 SIXTH TONE ×
The GenZ Grads Helping You Help Yourself
There are always errands to be done. For a small fee, these supervisors will push and prod you to succeed.
In his freshman year in 2018, Yu Benqin was in a downward spiral. He played video games every day until 3 or 4 a.m., and was almost always late for class.
Annoyed with himself, Yu, then a network engineering major at Wenzhou University in eastern Zhejiang province, toyed with daily schedules and inspirational quotes to motivate himself. When that didn't work, Yu came up with a solution: he and his roommates would look out for one another.
They agreed to get up at the same time every morning, and if one didn't, the others would drag the errant roommate out of bed. The arrangement did help Yu wake up on time, but he still dithered in other aspects. For example, his study plan always took much longer than expected to complete and he often forgot about smaller chores.
Then, while looking for self-discipline books on the Chinese e-commerce platform Taobao, Yu came across a listing advertising the role of a "supervisor," someone you paid to ensure that you completed the tasks on your to-do list. At the time, there weren't many online stores providing such services, but Yu knew demand was high and sensed an opportunity.
In March 2018, Yu opened his own online store on Taobao, recruited a dozen schoolmates, and formed his first team of supervisors. They had one purpose: push people to get things done.
And there are always errands; whether it's waking up on time or losing weight, walking the dog or picking up the children from school, or even preparing for competitive exams, there's no shortage of tasks that need to be completed, or potentially neglected. Moreover, as lockdowns amid the pandemic force more people to work from home, the demand for supervisors has only surged over the last few years in China's already booming gig economy.
While clients can vary from as young as 5 to 6 years old, up to even 50 and above, most owners of such online stores are around the age of 20, while the part-time supervisors are university students or recent graduates, just looking to make some extra money.
Demand and demand
It took Yu, 21, only two years to earn a monthly turnover of more than 100,000 yuan ($15,460). In that time, he went from starting his first supervisor service store on Taobao, to opening two more, each with their own staff. "Because my store didn't have a competitive edge, the only way to get more clients was to open more stores," says Yu.
His third store launched just around the time the pandemic began last year, which only helped boost sales. During the subsequent containment measures, all of Yu's stores ranked among the top five supervisor services on Taobao, with one store alone bringing in over 4,000 yuan a day.
At its peak, Yu employed over 1,000 supervisors, with about 400 people applying for jobs every day, which paid about 100-150 yuan per month for each client they assisted.
Yu offers two levels of service to clients: ordinary and intensive. For each, the client writes out their plans for the next day and sends it to their supervisor. Those using the ordinary service generally report their progress themselves, and their supervisor only checks on them three times a day — at noon, in the evening, and before going to bed.
But those paying for the intensive service receive reminders from their supervisors before and after each task, their results are checked in real-time via photos or videos, and they speak with their supervisor every night.
After comparing prices with other stores, Yu decided to charge 133 yuan per month for ordinary supervision and 400 yuan a month for intensive services.
Yu even subscribed to the intensive supervision service from his store to manage his own daily schedule. After about a month, he said his self-discipline improved significantly and he eventually stopped the service. Since then, Yu has started another business project and is much busier than before. Driven by strict deadlines and a desire to make money, he says he can now rely on his own wherewithal to remain focused.
Zhu Hecun, 21, opened his store three years before Yu. Originally from Xinyang, in central Henan province, Zhu set up an online shop selling cellphone screen protectors when he was 12. He then studied e-commerce at a vocational school for five years after graduating from junior high school.
At age 15, Zhu wanted to open a new store but was unsure about what to sell and so took to microblogging platform Weibo to source ideas. One woman described how her sister had paid for a supervisor and suggested that he try it out too.
That was in 2015, when there were only around a dozen stores offering supervisor services. Nevertheless, Zhu decided to give it a go. In the first two or three years, there weren't many takers – around 100 sales a month at most. Zhu insisted on supervising all the clients himself, working throughout the day with barely any time to even eat.
However, Zhu's store saw a rapid uptick in sales after it was featured in the media in 2018, and soon, his weekly orders increased five or six-fold. Unable to take on all the work alone, he began recruiting some part-time workers. Today, his WeChat group for hiring part-time supervisors has around 100 members.
The supers
Zhu says the majority of supervisors are women. "If 100 people apply, 98 will be women, and the remaining two guys won't stay long," he says. The way he sees it, most men aren't as good at giving encouragement, or at least they're not as natural at it as women.
He describes how most supervisors who work for him were either curious about the profession or just liked helping other people. In fact, many of the part-time supervisors Zhu hires are quite well-off. For example, one has five properties in Shanghai, and a few others even study abroad. As such, the part-time income is barely enough to cover their daily expenses.
Songsong, a college freshman in Chengdu, works part-time for Zhu. Extremely adaptable, she has supervised around 100 people in less than three months on the job, and can supervise up to 45 people a day.
She's developed a number of tricks such as writing her clients' tasks as the wallpaper for their chat window, setting alarms to remind herself to check up on clients, and keying the client's next reminder into WeChat in advance.
But sometimes, even supervisors can struggle. The more clients a supervisor has, the more inevitable multiple clients need reminding at the same time. Most clients can accept a delay of a minute or two but rarely more.
On one occasion, Songsong says, a very demanding client overslept and missed picking up his child from school because Songsong's reminder came a little too late. Shortly after, the client canceled all his orders with her.
Additionally, paying for a supervisor does not automatically make a person efficient and self-disciplined, in the same way that buying a gym membership doesn't guarantee you will exercise. Supervisors generally agree that they just play a supporting role, motivating those who already have the drive for self-improvement.
The hardest part, some supervisors say, is when clients go incommunicado. Songsong believes most problems can be solved with proper communication, but there's little she can do if someone refuses to communicate from the outset.
"Many clients who refuse to communicate are just trying the service out of curiosity — deep down, they don't really want to change themselves," says Nianhui, an office worker in Harbin, in northeastern Heilongjiang province, who has also taken part-time supervisor gigs over the past two years.
To stop people from quitting midway, Nianhui says she's upfront with her clients before the service begins. She demands absolute honesty and asks them never to hide anything from her. If they make a mistake, they only need to admit it, rather than attempt to cover it up.
After a few days of supervision, Nianhui says she generally has a good idea of a client's personality and tendencies. She also describes how she initially wanted to become a teacher and that there are some similarities between teaching and supervising.
"When someone who's trying to lose weight starts messaging you out of the blue, it means they're probably feeling hungry. And when someone who's trying to study wants to chat, it means they've likely come to you after already talking with others," says Nianhui. "You have to cut them off then and there and suggest that they drink some water or get back to studying."
Beyond the call
Nianhui recalls a young woman she once supervised who was studying to become a teacher. The woman worked hard every day, but Nianhui spotted something odd in the mandatory end-of-day photos — her disorderly desk seemed incongruous with her neat handwriting.
Nianhui told her that the desks in the exam room wouldn't be so messy, and that if she got too used to working in such an environment, she might feel out of place during the exam. Soon, Nianhui saw that she began to tidy her desk.
The woman eventually passed the teaching exam with stellar grades. Her boyfriend was also deeply impressed; when he had tried to convince her to clean her desk, she wouldn't listen, but Nianhui got through to her.
According to Bingyan, a college sophomore in Beijing who has supervised around 300-400 people in nearly the past year, even top students may need supervision. She says she has seen many high achievers struggling to cope.
One example, a student at Oxford University who lived on her own and stayed in China because of the pandemic, had to battle the time difference and the temptation to slack off.
Another, a Peking University student, felt dejected when she didn't want to study and needed someone to keep her company. While a third client, a graduate at the Chinese Academy of Sciences, had difficulty getting out of bed in the morning and needed someone to call him to finish his tasks for the day.
According to Bingyan, it's not that such people can't succeed in doing things by themselves — they just don't want to take the first step. Good supervisors can often recognize the thing that helps trigger this "first step" and put someone in the right mindset.
The longest Nianhui has supervised someone was for over a year. The client was a woman retaking her gaokao — China's college entrance exam — after being unhappy with her result.
The student spent a year preparing at home instead of going to a cram school, and every day, she would turn on her webcam and study by herself while Nianhui occasionally checked in on her. On the rare occasion that she wasn't sitting in front of the camera, the student had either gone to eat or exercise and had forgotten to tell Nianhui.
Nianhui says this student was the most self-driven client she ever supervised but understood that the student simply needed company, which Nianhui was happy to provide.
Another client of Nianhui's, who was also preparing for the gaokao, came from a divorced family, wasn't very communicative, and had few friends. Once, after a distressing incident at her home, the student sought out Nianhui to talk. Soon after, Nianhui assured her client that she would also be her "confidante" and that the student could message Nianhui whenever she felt low.
According to Nianhui, the student has since been accepted into a university in Harbin, the same city where Nianhui lives.
"I tell them that they need to vent their unhappiness," says Nianhui. "If they don't have anyone they can speak to easily, I reassure them that they are free to talk to me via text or voice message." For Nianhui, some people aren't really looking for counseling but rather just a sympathetic ear.
Having worked part-time for three months, Songsong has received a lot of help from her clients too. Once when she was too busy to eat, a client air-mailed her some homemade delicacies. Another client knew that Songsong occasionally dozed off in class due to exhaustion and so had her mother send four packets of tea from her hometown. A client and Ph.D. student from Shanghai Jiao Tong University often offers her encouragement and even some guidance for her college thesis.
Since supervisors are required to be even more disciplined than others, Songsong says she has also become more organized. She no longer sleeps until noon on weekends, is better organized in her daily life, and her temper has improved. She puts that down to the fact that even when dealing with unreasonable clients, she must remain patient, even when she believes the other person is wrong.
Presently, Songsong earns a relatively stable income of 2,000 to 3,000 yuan per month from the job. She says the unexpected and heartwarming episodes that she has encountered, as well as the positive changes she has experienced in her own life, have so far made it rewarding. As such, she plans to keep doing it for at least another year.
Asked what supervising others means to her, Songsong says: "It means that when other people put their time and plans in my hands, I take on some of the responsibility. It means that I have enough patience and courage to face a variety of different clients. And it means that I can make money through my own efforts."
Songsong, Nianhui, and Bingyan are names used by the interviewees in their jobs as supervisors.
A version of this article originally appeared in Oh! Youth (36Kr) under the author's pen name Bing Youer. It has been translated and edited for brevity and clarity, and published with permission.
Translator: David Ball; editors: Xue Yongle and Apurva.
(Header image: Visual elements from alashi/DigitalVision/People Visual, reedited by Sixth Tone)