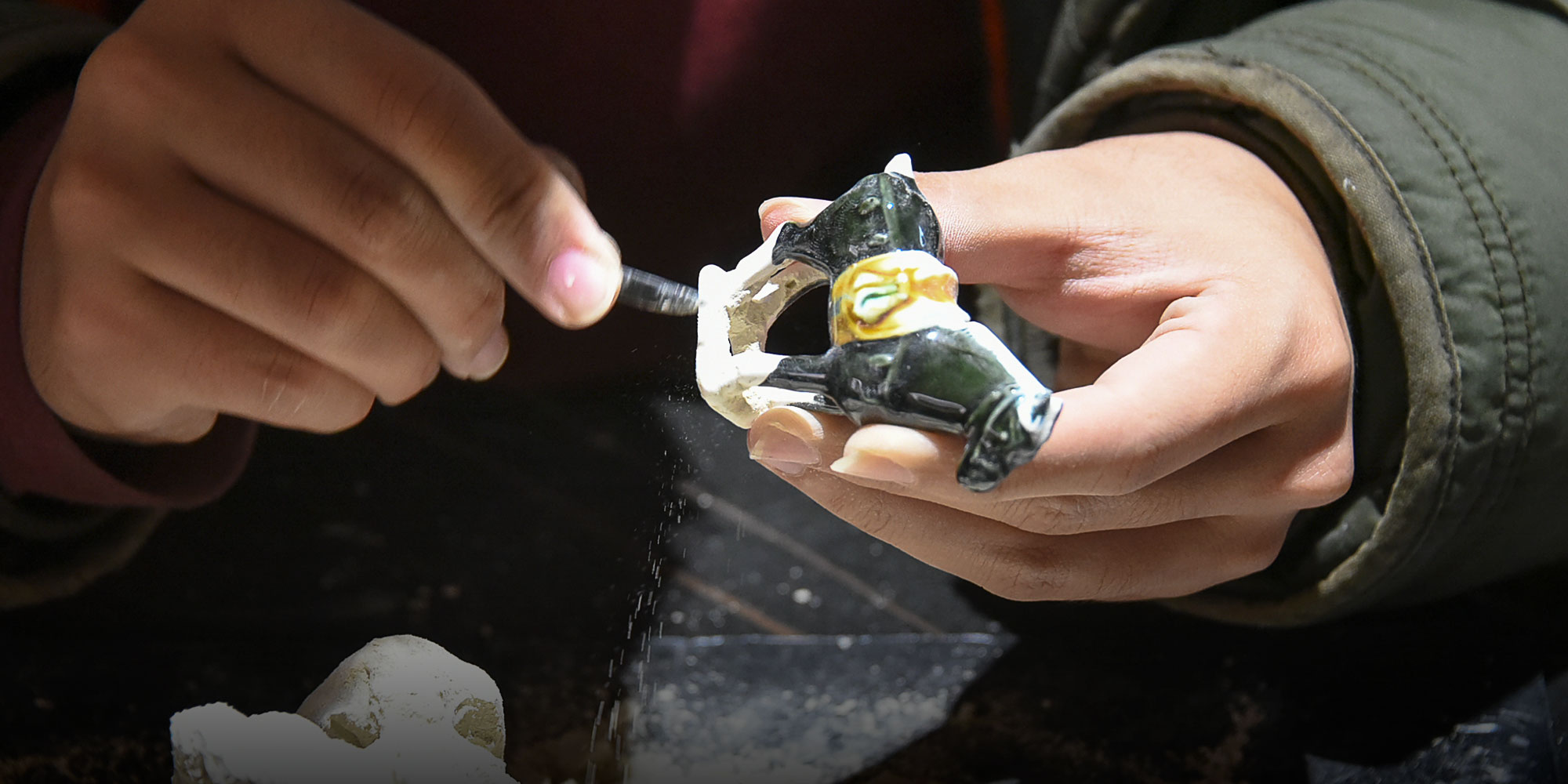 SIXTH TONE ×
Digging for the Roots of China's Archaeology Craze
Once a haughty undertaking of academics, archaeology has come down to earth.
Chinese e-commerce users have recently flocked to an unlikely hot product: little boxes of dirt. They come with a miniature "Luoyang shovel," a tool to extract columns of soil, and allow buyers to commence their own archaeological digs. As they venture deeper, they will then carefully sweep away the sand to reveal faux buried treasures: bronze ware, golden ingots, Buddha figurines, copper mirrors, or silver medals.
Henan Museum, in the central Chinese province, was the first institution in the country to offer such "archaeological blind box" souvenirs, which cater to both the popularity of mystery collectibles and surging interest in archaeology.
Recently, the museum developed another product, one that allows customers to try restoring cultural relics. Wannabe archaeologists can experience the entire process of ceramic restoration: digging out toy pottery fragments, cleaning them, piecing them together, and reapplying gold embellishments. The few hundred items posted online on May 20 sold out in a flash.
"By experiencing the fun of excavations, participants can learn about cultural relics while deepening their understanding of history and archaeology," said Ma Xiaolin, director of the Henan Museum, explaining the thinking behind the blind box series. The initiative exemplifies his view that archaeologists should actively seek to develop closer ties with the general public, Ma says.
In recent years, as the concept of "public archaeology" has made its way from the West, China's archaeologists have increasingly attached importance to sharing their findings with the public. Once thought of as a cold, elitist field, archaeology has grown more "personable." Museums around China have long since veered away from a "showroom" aesthetic, choosing instead to incorporate multimedia technology, immersive performances, and creative products to better engage the public.
In turn, something of a "cultural relics craze" has taken hold in the country, exemplified earlier this year by the mass enthusiasm for the hundreds of items unearthed at the Sanxingdui site in Sichuan province, southwestern China. Archaeological sites around the country have become travel destinations; articles about the latest big finds dominate the news.
Down from the ivory tower
Older generations of Chinese archaeologists long ago recognized the importance of popularizing academic knowledge. In 1949, archaeologist Xia Nai began to write about his expeditions in the northwest in the form of travel memoirs. He not only recounted the rigorous exploration of ancient sites, but also provided vivid descriptions of local folk customs.
But it was not until the excavation of the tomb belonging to Cao Cao, a renowned warlord from the Three Kingdoms era — a period in the third century when large parts of what is now China were ruled by three competing states — that experts truly understood the urgent need to communicate with the public.
In late 2009, Henan Province announced that an Eastern Han tomb, uncovered during a salvage excavation in Anfeng County, had been identified as Cao Cao's "Gaoling mausoleum." The provincial Bureau of Cultural Relics also released the six pieces of evidence that convinced experts of the mausoleum's owner. But many others immediately voiced their skepticism.
Professor Yuan Jixi of the School of Chinese Classics at Renmin University in Beijing first claimed that it was "too early" to draw conclusions, and that the six pieces of "evidence" were merely inferences. Collector Ma Weidu published a series of articles to express concern about the authenticity of the provided "evidence."
These doubts spurred public debates on the tomb: from the authenticity of the stone plaque that was presented as "ironclad proof" to whether or not — as certain theories would have it — Cao Cao had built 72 "possible tombs" to protect his real tomb from being plundered. Some wondered why no memorial tablet had been discovered at the site; others speculated about the local government's vested interests.
Rumors even spread that the entire tomb was a forgery. Eventually, Henan Province had to organize a team of experts to respond to these questions.
The controversy, known as the "Gaoling phenomenon," sent shockwaves through academia. Archaeologists found that, once discoveries were picked up by the media, experts were no longer able to shape public opinion. "At that time, archaeologists agreed that our field needed to orient itself toward the public — and that, if we didn't, we would find ourselves in a very passive position," said Xi Muliang, a doctoral student at Peking University's School of Archaeology and Museology.
Before the "Gaoling phenomenon," the archaeological community had been "passive" for a long time. Beginning in the 1990s, some regions in China launched massive construction projects without considering the need for cultural conservation. Officials believed that the protection of ancient relics hindered urban economic development.
The Third National Survey of Cultural Relics, which took place from 2007 to 2011, revealed that among the nation's registered immovable cultural relics, over a quarter were in "relatively poor" or "very poor" condition. An estimated 44,000 immovable relics had already disappeared.
In the face of this crisis, many archaeologists were desperate to raise public awareness. However, they discovered they not only lacked the necessary channels of communication, but also faced widespread distrust in their profession.
Spurred by China's economic boom, practices such as tomb theft and antiquities smuggling were rampant at the time — gangs would sometimes even threaten the personal safety of archaeologists. The rise of popular literature about tomb raiders also made many people confuse tomb raiding with archaeology, going so far as to nickname archaeologists "government-approved tomb raiders." These events deeply wounded the pride of archaeologists, Xi said, "and we were all eager to clarify matters to the public so that they could understand our work."
In this context, the "Gaoling phenomenon" was the tipping point that made China's archaeological community realize just how important it was to make "public archaeology" part of their work. According to Xi, the goal of public archaeology in China is very clear: "to solve very real problems such as the marginalization of our profession, the destruction of cultural heritage, and the stigmatization of the archaeological community."
In 2014, the Chinese Archaeological Society founded the Advisory Committee for Public Archeology, whose purpose is educating the public and enabling them to actively participate in public archaeological activities. Some local archaeological institutions had already formed similar institutions of their own. The Shanxi Archaeological Research Institute, in the northern province, was a pioneer in this regard by setting up the "Public Archaeology and Cultural Heritage Protection Room" in February 2009 (renamed the "Public Archaeology Research Department" in 2014).
As regions across China set up similar departments, archaeological work made its way down from the "ivory tower" and into the lives of ordinary people. As media also spread the word, the once aloof field of archaeology gradually attracted public attention.
Driving forces from above
More than a decade after the "Gaoling phenomenon," the concept of public archaeology has become deeply rooted within the academic community. Zheng Yuan, Vice President of the Shanxi Archaeological Research Institute, recalled that around 2000, some experts didn't understand why the public should be involved in a scholarly undertaking. Now, most agree that public activities are essential.
"Originally, when we carried out excavations, we'd inspect any discoveries, take them indoors, write a research report, and we were done," Zheng said. "But now it's the norm to hold public open days at suitable excavation sites so that more people can see the discoveries up close. It feels like our work isn't complete until we get the public involved."
Following years of conscious effort by archaeologists — coupled with the support of online media platforms — the public's enthusiasm for archaeology has only continued to grow. In March, state broadcaster CCTV aired a livestream of the new discoveries at the Sanxingdui site that attracted approximately 4 million viewers. On the social networking site Weibo, related posts amassed over 1 billion views and comments at the time, and several topics related to the excavation were among the most popular searches.
According to Peking University's Xi, the livestream's success is in part thanks to years of effort on the part of the archaeological community, but the main driving force of the current craze comes from above.
"Let cultural relics speak and share historical wisdom with the people," President and Party Secretary Xi Jinping said during a visit to the Capital Museum in February 2014. Since then, he has repeatedly stressed this point. The importance his government accords to cultural relics has greatly bolstered the archaeological community's confidence.
In December 2017, "National Treasure," a "cultural exploration" program produced by CCTV, first aired on TV. In collaboration with nine national museums (including Shanghai Museum, Henan Museum, and the Palace Museum, the complex in central Beijing also known as the Forbidden City), it invited experts and celebrities to talk about the histories behind certain cultural relics, putting a human face to archaeology. With an average ranking of over 9 out of 10 on leading review website Douban, it further fanned the flames of China's archaeological craze.
Museums and research institutions have also grown more ambitious with their public outreach initiatives. Among the earliest such efforts that successfully attracted fans was a series of Forbidden City-themed products, including notebooks and rolls of tape, developed by the Palace Museum. Then-museum director Shan Jixiang revealed that the total revenue generated by the sale of these products in 2017 surpassed 1.5 billion yuan ($232 million).
Director of Henan Museum Ma believes that museums should have an eye for which parts of history can be easily understood by the public and can be connected to contemporary life. The more people are motivated to visit exhibitions, the more the relics' historical, artistic, and scientific value can be realized, he said.
To that end, Henan Museum collaborated with Zhengzhou Opera House and Henan Television to produce a segment for the provincial Spring Festival Gala TV show in February. The segment, titled "Evening Banquet at the Tang Palace," became an online sensation. In this performance, cultural relics from Henan Museum seemingly sprung to life on stage. Attracting more than 2 billion views, it familiarized the public with prized national treasures such as the "Square Bronze Kettle with a Lotus and Crane Motif" and the "Jia Lake Bone Flute."
Some institutes have also recruited volunteers, giving amateurs a chance to work at the sites of new discoveries and inspiring the next generation of archaeologists.
Since 2010, the Shanxi Archaeological Research Institute has recruited three cohorts of usually several dozen volunteers from the general public, once receiving as many as 800 applications. According to Zheng, the institute's vice president, volunteers come from different walks of life. They first participate in discussions, press conferences, and public open days, before gradually taking part in fieldwork, excavations, and document collection. On the front line of excavations, volunteers eat, live, and work alongside professional archaeologists. Zheng recalled that, after completing the program, one college student chose to major in archaeology.
Public participation has also triggered greater reflection among archaeological experts. Last July, a large quantity of pottery, porcelain, and stone tools were unearthed at the "Union ruins," an important site in the vicinity of Sanxingdui. One discovery, a rare plate featuring auspicious swirling motifs of a dragon and a phoenix, was heavily featured in official publicity of the dig. But the public's attention was monopolized by another item: a porcelain pig that was the spitting image of the green pigs from the mobile game series "Angry Birds." The animal's crooked, joyful smile went viral online.
Xi Muliang believes that the public's interpretations are of tremendous value to archaeologists. They remind scholars to consider problems from different angles. The fact that dragons and phoenixes — traditionally symbols of power and royalty — were defeated by a single silly-looking pig exemplifies this idea.
"When we interpret history, should we pay more attention to matters outside emperors and generals?" Xi said. "The public's perspective gives us a good opportunity to reflect on questions like this."
A version of this article was originally published by China Newsweek. It has been translated and edited for length and clarity, and is republished here with permission.

Translator: Lewis Wright; editors: Xue Yongle and Kevin Schoenmakers.
(Header image: A man opens an "archaeological blind box" from the Henan Museum in Zhengzhou, Henan province, Dec. 8, 2020. Li Sixin/People Visual)