Seven-year-old Lele likes to wear skirts, and his parents approve their son's choice of clothing. So when he asked to wear the outfit to his Beijing school Friday, they supported him, albeit with a warning: "You'll receive a lot of attention."
His parents were correct. Lele's friends mocked him, and when they went as far as to lift his skirt, his teachers blamed the boy for wearing "inappropriate clothes."
The boy's father, surnamed Tang, told Sixth Tone on Wednesday that both the parents sat down with Lele — his nickname at home — after he recounted what had happened at school. The father said he cried while describing the experience.
You can listen to an audio version of this article via "China Stories," a SupChina-produced podcast sharing the best writing on China.
"The teacher has a different opinion. We should also respect him," Tang told Lele, who had wanted to wear a skirt because it was hot that day.
Tang first shared Lele's experience on the Quora-like platform Zhihu over the weekend, along with several photos. Those included pictures of Lele trying on the blue-colored skirt at the mall, him waiting to collect it at the cashier, and finally, him wearing it to school with a semi-matching backpack and face mask.
"As a father, I have really mixed feelings about watching my son pick out a skirt! But there seems to be no reason to object," Tang wrote in the now viral post, which has attracted views from thousands of social media users.
Tang said he didn't expect his post to find a large audience, but added the mostly positive reactions have been encouraging. He also said that he will continue to allow Lele to wear skirts, though not to school following the teacher's comments.
"Why did he wear a dress to school? Other students were talking about him," the teacher told Tang over messaging app WeChat, a screenshot of which he shared in his post.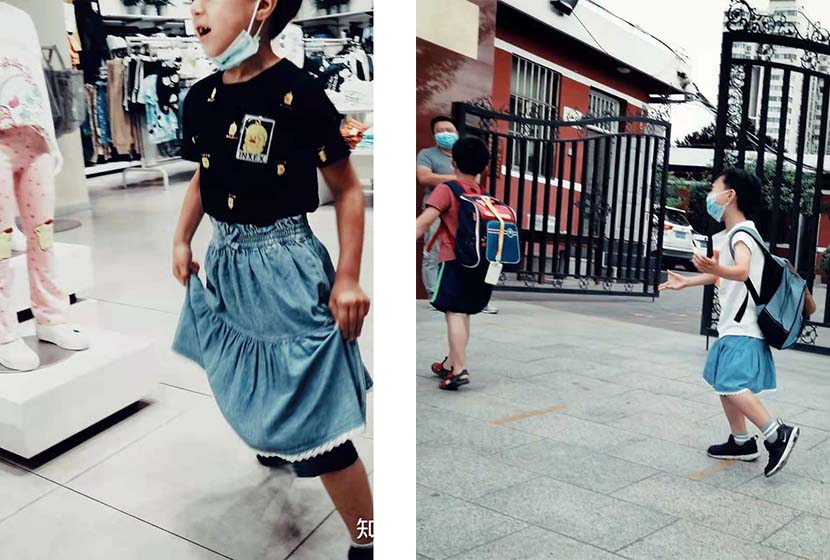 Left: Lele purchases a skirt; right: Lele wearing the skirt to school. From @仰泳的海星 on Zhihua
Tang's post has started a wave of discussion online about gender identity and parenting. While many support Lele's choice of clothes, some argue that the parents unnecessarily exposed their son to bullying, a pervasive problem in Chinese schools.
"The kid has no idea what kind of danger he may have brought upon himself. Is he able to cope with that external pressure?" said one commenter, who identified themselves as a maternal and child researcher, on Tang's Zhihu post.
"Putting the child in an extremely vulnerable position without understanding the potential risk is so irresponsible!" another user added.
However, experts on gender and sexuality such as Se-A, founder of sex education advocacy group MayLove, believe adults should not force gender stereotypes on children, including everything from what they choose to wear to what household chores parents ask them to perform. She said that she found Tang's post "uplifting."
"We should not use gender as a label to stipulate what children can and cannot do, and give children more freedom to explore their own possibilities," Se-A told Sixth Tone.
In recent years, many attitudes on gender and sexuality among young Chinese has been gradually shifting. Many male celebrities are increasingly blurring the lines when it comes to rejecting traditionally held beliefs of what it is to be manly, so much so that they've gained the moniker "little fresh meat" — men with delicate and almost feminine features.
Meanwhile, research shows that non-celebrities are increasingly embracing gender-neutral fashion trends. More women are opting to wear suits — commonly seen as male apparel — while men are buying into beauty and cosmetic products.
However, this evolving paradigm as to what is considered macho has raised concerns amid more conservative portions of society. China's top education authority was so concerned with the trend that it proposed adding more gym classes to the curriculum to cultivate masculinity, which experts warn will only reinforce stereotypes and encourage bullying.
"Being bullied because of one's differences is not an individual's fault; it's on the bullies," Se-A said. "What we should do is to intervene when bullying occurs and provide caring, rather than prohibiting differences."
Meanwhile, Tang is committed to raising his son to understand the diversity of the world around him. He plans to teach Lele to become more empathetic toward others and back him in his decision to wear whatever he desires.
"I just hope we can be more open-minded with our children, no matter whether it's regarding a gender issue or not," Tang said.
To him, Lele is already "a warrior."
Editor: Bibek Bhandari.
(Header image: Lele is photographed going to school. From @仰泳的海星 on Zhihua)