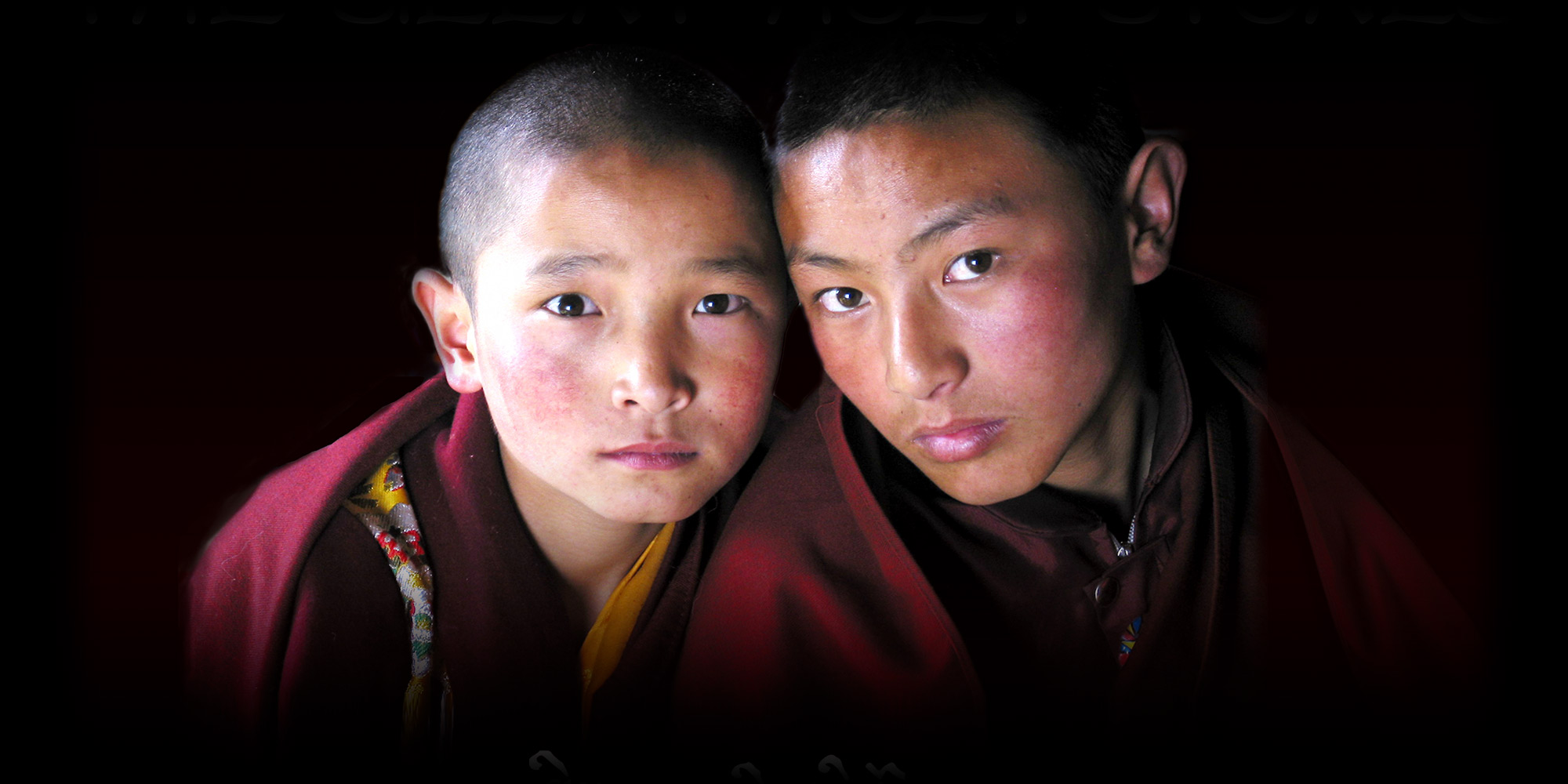 Q & A
Where Next for the Filmmakers of the Tibetan New Wave?
Directors Lhapal Gya and Pema Tseden discuss the challenges of telling Tibetan stories.
When Lhapal Gya was growing up in Qinghai, a province on the Tibetan Plateau in northwestern China, the only way to watch movies was in bare-bones cinemas that were little more than four walls and a TV. The lineup was heavy on Hong Kong action titles, he remembers. But when Lhapal Gya was in high school, he saw "The Silent Holy Stones." Made by director Pema Tseden, the movie is considered the first true Tibetan film made by Tibetans.
It was an inspiring experience. On Pema Tseden's advice, Lhapal Gya first studied Tibetan literature before testing into the prestigious Beijing Film Academy. Now 32, he is considered a rising star of the Tibetan New Wave cinema movement, which seeks to tell authentic stories about life on the plateau.
Lhapal Gya debuted in 2018 with "Wangdrak's Rain Boots," a full-length feature for which Pema Tseden was the executive producer. Set in a remote Qinghai village, the story revolves around a boy worried about the changing weather because he is the only one who doesn't have rubber boots. The film premiered during that year's Berlin International Film Festival, winning widespread praise.
His second feature project, "The Great Distance Delivers Crane," which just completed final edits and was presented at the Shanghai International Film Festival's funding round on June 13, is about Tibetan children who set out on a journey to guard a black-necked crane.
Despite critical acclaim, Tibetan New Wave movies have found it hard to garner mass appeal. They are mostly arthouse productions, stuck between a lack of financing and a lack of popularity that reinforce one another. It's proven hard to break through in a market dominated by films shot in Mandarin or other Han Chinese languages.
There are some exceptions. In 2017, "Paths of the Soul," a film by Beijing director Zhang Yang about Tibetan people on a pilgrimage to Lhasa, the region's capital and religious center, became an unexpected box office success in China, raking in over 100 million yuan (now about $15.5 million).
But it's debatable whether Zhang's movie counts as Tibetan New Wave. In a way, it played into conceptions of Tibet's exoticism. "('Paths of Soul') is about religion. Many viewers may be curious about this part, for example, why so many people prostrate on their way to Lhasa. So, it is easy to create hype," Lhapal Gya tells Sixth Tone.
In contrast, "Ala Changso," another film about pilgrimage by acclaimed Tibetan director Sonthar Gyal, only garnered 2 million yuan in ticket sales in 2018. Even Zhang's followup film "Soul on a String," which also told a Tibetan story, made just over 3 million yuan.
Pema Tseden, considered a leading figure in the Tibetan New Wave, in 2020 publicly called for more support for his film "Balloon," which accounted for just 1% of daily screenings in movie theaters. He told Sixth Tone at the time that he made this call not just for his own films, but for arthouse and ethnic minority productions in general.
Sixth Tone talked with both directors during the Shanghai International Film Festival, which closed Saturday — Lhapal Gya was in Tibet working on his next movie and spoke by phone. They discussed the importance of increasing Tibetan filmmakers' visibility, what it takes to tell Tibetan stories, and Tibetan representation. The interviews have been edited for brevity and clarity.
Sixth Tone: Tibetan New Wave has grown in popularity since the term emerged in 2010. What do you think makes a Tibetan New Wave film? Has the wave become large enough?
Pema Tseden: The new films represent another possibility in artistic expression compared with the old Tibet-themed films. Our works have something in common, which is to tell human stories instead of an imagined Tibet. I hope our films could be authentic enough for Tibetan people to recognize their own everyday lives when they see it.
Previous films shot in Tibet may tell stories in a Han Chinese way of thinking. When we watched them, we would find some inaccurate details in their portrayal of Tibetan life, which left me unsatisfied and inspired me to make our own films. For example, in 1983's film "The Man Who Goes To Make Money" starring Chen Peisi, the daughter sang a love song near her parents' tent, which was actually unthinkable in Tibet. It's still a bit of a taboo. We don't sing love songs in front of our parents.
In 2005, when "The Silent Holy Stones" came out, it was considered the first true Tibetan film, casting Tibetan actors, using the spoken Tibetan language, and being produced by a Tibetan team. There are more films from Tibetan directors now. Slowly our work began to get noticed, and there has indeed been some progress, either in quality and in number. But we are still limited in many ways.
We didn't have a voice of our own before. Now that we do, the cinematography and dialogue are all distinct from the old ways. I guess that's what made us a new wave. But the term is also a definition given by the outside world, just like the title of magical realism given to Tibetan writers in the '80s and '90s. When you ask (novelists) Alai and Tashi Dawa about this, they may even dismiss the term. Personally, I hope the wave could become something more diverse, which is what is happening right now. Younger Tibetan filmmakers are exploring different genres, which I think is pretty good. More people are coming in to break our own tropes.
Lhapal Gya: Many people say this, Tibetan New Wave. I think it refers to a new expression and perspective. There used to be no Tibetan directors, only an outsiders' perspective. Sometimes I am also curious about the term, but we haven't discussed it between ourselves, because there are many new wave claims. For example, Qiu Sheng (director of "Suburban Birds") is from (the eastern province) Zhejiang, and his works are called Zhejiang New Wave. It seems there are new waves everywhere.
Sixth Tone: The film "Paths of the Soul" achieved rare success for its portrayal of pilgrimage. Late last year, there was also this sudden hype about a handsome young herder Tenzing Tsondu. What do you think of this phenomenon? Would you consider it a fetishization of Tibetan culture among non-Tibetan people?
Pema Tseden: I think it might be based on imagination. Everyone has their own imagination about Tibet based on films and images they may have seen. When you talk of Tibet, you will think of those things, so they may think that my films are inauthentic. There are indeed speechless moments.
The audience's fetishization or imagination may translate into market interest, but it also leads to prejudices. Then when a real thing is placed in front of them, they will feel that it is not real because of what they've seen previously.
Sixth Tone: Do you purposely try to break down such misunderstandings?
Pema Tseden: Personally, I am not set on intentionally breaking people's imagined reality. Some creators might play to what their audience wants and present all kinds of spectacles. I don't do this. I would rather show the human element. There's no need to use such methods to strengthen a story. It should come naturally. If the story takes place in the highlands, then that will speak for itself.
Sixth Tone: What are some of the limitations and challenges that affect your filmmaking?
Pema Tseden: First, there is the question of whether or not you can film it. It's not that I only want to film confrontations between traditions and modernity in the Tibetan region, but that you are only able to shoot a certain range of topics. A synopsis doesn't have to include specific plots and dialogues, but for Tibet-themed works, you have to be specific.
Certainly, there are ideas that couldn't be realized because of this. You unconsciously make a judgement on whether a subject matter may be possible and suitable for a movie based on your understanding of the general environment. Many of my novels have not been made into a movie, and this has something to do with that. A lot of content is impossible to shoot at this stage, so we can only postpone it.
Then, there is the question of the market. You can't have too big of an investment because you want the investors to recover their costs in the end. You have to make a low-budget film and the scenes shouldn't be too grand, otherwise the funding process will be hard. It's a cycle. Though we make Tibetan-themed movies, we always have to go back to the (Han Chinese) innerland to find investment. If you want to find local investment and rely on our local market to recover costs, it is basically impossible.
There is also the problem of securing the screening. When (my film) "Tharlo" finally entered commercial cinemas, it was in a modest scale, but as long as it became available in cinemas, more people could see it. Most of our audience is based in Beijing, Shanghai, Guangzhou, and Chengdu, including Tibetans working in the cities.
Regrettably, since cinemas are not yet popularized in Tibetan regions, Tibetans are not the first ones to see the works. When "Balloon" was released, many could only watch our works when they were streaming online, or they just sought out pirated versions. It is a pity that the folks in my hometown have fewer opportunities to see the film.
Lhapal Gya: Both of my films cost about 5 million yuan to make. Both are small productions. Praise from within the community is most important to us. When you start making films, you have to choose your direction, whether you're pursuing critical acclaim or the box office. Arthouse films are all about the former. It is difficult to win both. But certainly, there is commercial pressure for me, too. Filmmaking is itself a hard thing. There are also many failed big-budget films, it's just that we don't see them. Language is indeed another issue. When we released our film, many people were worried whether Tibetan dialogue would affect the viewing experience, especially since young people nowadays dislike reading subtitles. Some people will not like it, certainly.
We haven't had many issues with censorship since our stories are about children, but you will still be mindful of this aspect, so there is self-censorship. It doesn't bother me that much. Whether it's ethnicity-themed films or war films, the scripts all must be reviewed first.
Sixth Tone: Is there more enthusiasm among younger Tibetan people to make films now that they're seeing your work? For them, what resources could they rely on?
Lhapal Gya: The creative environment has improved a lot. Now, many people know about Tibetan films, so finding money is not as difficult as it was before. The market is also growing. With all the funding projects during various film festivals, as long as you present a solid work, you could find an investor. The FIRST Film Festival is held in (Qinghai capital) Xining every year. Many investors will come to its events to check out new projects. There are also smaller-scale film festivals, and they all come with funding projects.
Pema Tseden: When "The Silent Holy Stones" was released, many Tibetan people were excited. They love literature, but they may not know much about the film industry. Some of them came to me after they graduated from high school, and I have tried to convince them to calm down first. Some came to Beijing and were disappointed after two or three years. When you truly understand the industry, you may find that it is hard to just survive. For them, I may be an inspiration, but I may also be misleading, making them think that filmmaking is easy.
Compared with Han filmmakers, there are fewer resources for Tibetan young people to rely on. The Chinese market is still dominated by Han-language films. People tend to think that Tibetan films are all about landscapes and traditions, so they won't choose to watch.
I was over 30 when I made my first movie. I know this is hard, so when younger people come to me, and they have their enthusiasm and their own ideas, I try to make it easier for them to take root. It's good that more and more people are coming in. From the very beginning, I was also consciously bringing in more Tibetan people with me. As early as when I was in the film academy, I wanted to have a Tibetan team to produce an authentic Tibetan film.
Sixth Tone: When your films were screened in your hometown, how was their feedback?
Lhapal Gya: When my film was screened in my hometown, some of the people pointed out a familiar place if they spotted one. They felt like it was a story close to them. The village where I shot "Wangdrak's Rain Boots" is a remote place. Now it seems to have gained internet hype. Many people travel there to take pictures of where we filmed the story.
Pema Tseden: The feedback varies for different films. When "The Silent Holy Stones" came out, it was still a new thing. Many Tibetan people at the time only had access to Hong Kong films or even Hollywood movies, so their knowledge about films was limited. Suddenly when there was a film close to their lives. Some people thought it was slow-paced and not much different to their everyday lives, so they tended to think nothing much about it. For "Tharlo" and "Balloon," since there were taboos like love and sex involved in the films, some people felt awkward watching it. In big cities, they might be regular topics. But in the Tibetan region, talking about such things is still taboo. Therefore, when my films were released in Tibet, some people would alert each other in advance, like cautioning on WeChat that 'Pema Tseden made another film, but please don't go to the cinemas with your parents.'
Sixth Tone: What are your favorite films and filmmakers?
Pema Tseden: I don't think there is a specific one. Indeed I said before that "Pickpocket" (a movie directed by Jia Zhangke) is my favorite debut work of a director, and it remains so. I think it is related to your roots, your hometown, and your memory. It is emotional. When such a work comes out, you can feel whether it carries true emotions when you watch it.
Lhapal Gya: I watch all kinds of films by different directors now. When I was a student, I watched a lot of Iranian movies like those from Abbas Kiarostami. I was greatly touched, probably because many of their works are arthouse movies and they also contained many religious elements.
Sixth Tone: Can you tell us a bit about your latest projects?
Pema Tseden: I'm working on a new story on snow leopards and people.
Lhapal Gya: I hope to tell a series of children's stories. "Wangdrak's Rain Boots" is about the inner state of a child, how he thinks of the world. "The Great Distance Delivers Crane" is mainly about a family coming together, how the father and the child clear up misunderstandings. I didn't come up with the story. It was pitched to me. Since the scriptwriter is Han Chinese, I also got involved in the script-writing, because otherwise there would be many details about our religion that they wouldn't understand. For example, we included some elements of the Epic of King Gesar (a venerated ancient hero in Tibetan folklore) because the crane is a vital presence in the stories of King Gesar, which explains why our protagonists want to protect the crane.
Additional reporting: Wu Huiyuan and Du Xinyu; editor: Kevin Schoenmakers.
(Header image: A still from Pema Tseden's 2005 film "The Silent Holy Stones." From Douban)