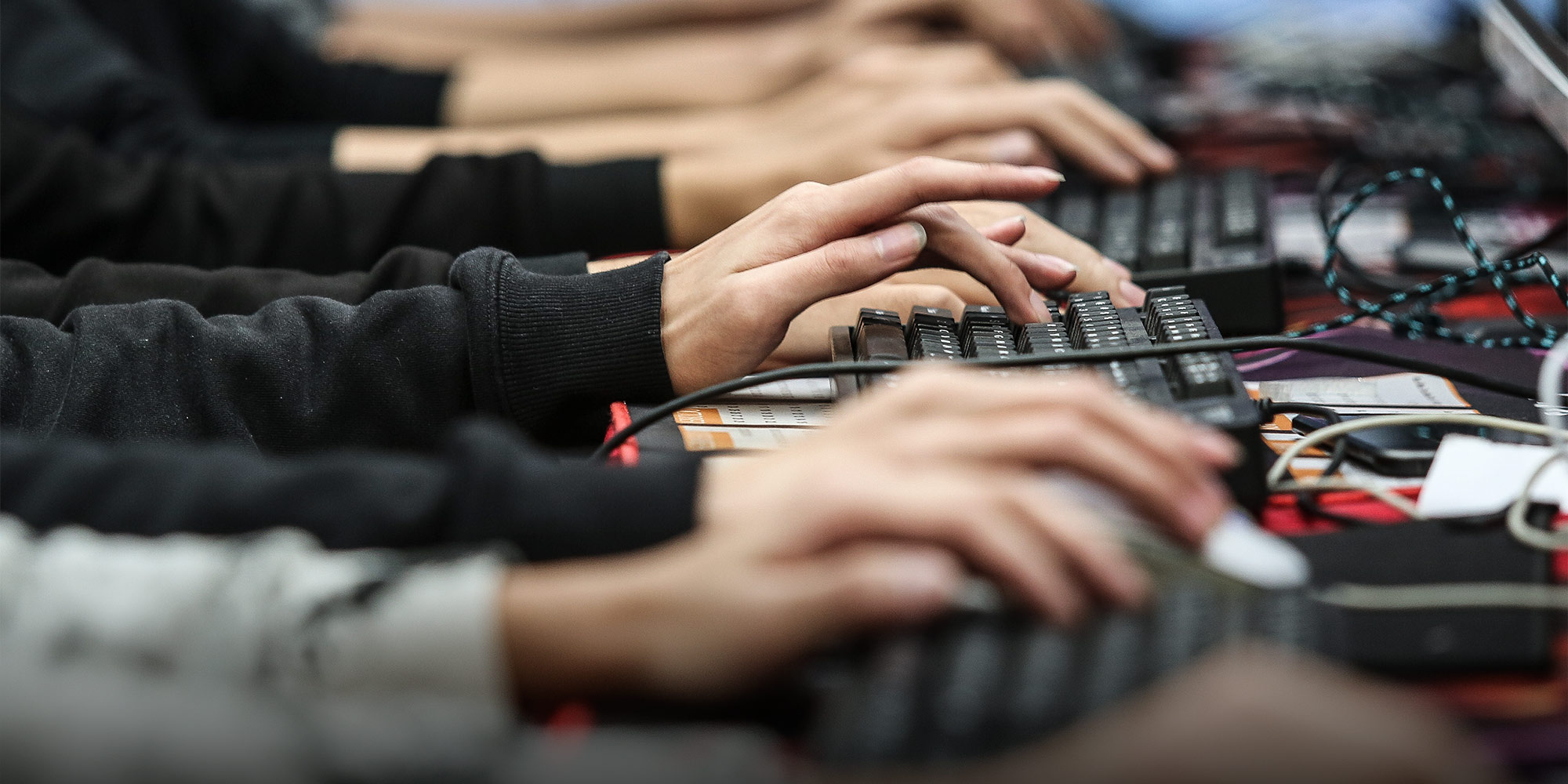 SIXTH TONE ×
At this Shanghai Gaming Hub, Even Losing Means Winning
It took Li Gang's son years to overcome his video game addiction. Now, his father runs an institute that helps others who are pursuing the elusive esports dream.
At an industrial park on the outskirts of Shanghai, a small road separates two buildings. To the right is an esports training hub, brimming with China's up-and-coming video game stars; to the left stands a counseling center that specializes in treating internet addiction.
Both are run by Li Gang, who until three years ago was just a father looking to wean his son Li Zhennan off video games. Li Gang says his son became obsessed with gaming while in high school in 2017 and even wanted to drop out to pursue professional esports.
Li Gang spent years fruitlessly searching for institutes that could help his son overcome his crippling addiction. Eventually, with his father's support, Li Zhennan gave up playing video games and is now back in school.
Keen on putting his experiences with gaming addiction to good use, Li Gang then decided to start the kind of institute he had searched for far and wide.
The idea occurred to him after he took Li Zhennan to the Black Ananas Gaming Club that specialized in Honor of Kings — the mobile multiplayer game his son was obsessed with — in 2018.
He thought visiting a professional club would help his son realize that it wasn't easy to go professional and that he'd be better off giving up early. To soften the landing, Li Gang also told his son, "If you really have what it takes, I will support you."
That conversation was the genesis of Li Gang's idea. He decided to establish an institute with a dual purpose: to select promising gamers and help them achieve their true potential and dissuade teenagers who are unable to make the cut by showing them just how difficult it is to succeed in the esports arena.
Marooned
Li Gang considers his son to be a perfect example of someone who has benefited from the organization's second aim — dissuasion. "It took me nearly three years to persuade him to leave it all behind," Li Gang told a seminar for parents of internet-addicted teenagers in March 2021.
Recalling his ordeal, he added: "He (Li Zhennan) would go to bed at 2 or 3 a.m., and wouldn't get up in the morning. It was the dead of winter, just as his final exams were approaching. My wife and I had little choice but to pour cold water over him." Parents in the audience nodded with empathy.
Li Zhennan has come a long way since then. He completely abandoned online gaming, is about to finish high school studies abroad, and is preparing to apply for college.
But like many other teenagers who have dealt with internet gaming addictions, Li Zhennan's story differs from his parents' account.
"People may not believe me when I say this, but I don't really like video games as much as they think," says Li Zhennan.
He says soccer was once his true passion and he even served as captain of the school team for years. But in his final year of middle school, a failed campus romance and its chaotic aftermath left him devastated and isolated. His grades suffered.
During the winter break, he downloaded Honor of Kings — a game he once looked down on — hoping to make new friends. At the same time, his grades gradually improved and he got into a top high school in Shanghai as a student-athlete.
But after he spent a summer not focused on academics, he realized he lagged far behind his new classmates. To make matters worse, only a month after school began, a conflict led him to quit the soccer team. He felt isolated, again.
"My sister went to one of the best universities in the world. I kept asking myself, 'how can I prove my worth?'" says Li Zhennan. "When I discovered esports, I felt like a drowning person who suddenly spotted land."
In late 2017, Li Zhennan told his father that he wanted to drop out of school to pursue a career in professional esports. His father reluctantly agreed but wasn't convinced it was the right path for his son. When Li Zhennan told him about his gaming achievements, he replied that it was simply a ploy by the game's creators to reel people in.
After Li Zhennan and his father visited the Black Ananas Gaming Club, Li Gang found an esports program at a vocational school in the eastern Shandong province which promised graduates a diploma.
The program was divided into a "club" for the top players and a "management class" for the rest. Out of 200 students, Li Zhennan was among about 10 chosen to join the club. But at the first formal tournament of his life, he says he "was defeated after making it to the top eight."
Li Zhennan remembers the frustration that followed. He says he often went back to his dormitory after training ended at midnight and lay in his bed, unable to sleep, watching replays of the training match from that morning.
He'd then put on his coat, go back to the club, and play all night. When exhausted, he took a nap in his chair until his teammates arrived the next morning and woke him up for another full day of training.
Every time he lost a match, he noted his weaknesses — as well as the skillsets of the most common hero characters in the game — and set them as his phone's wallpaper. After he lost eight consecutive training matches, he started practicing against the computer for an hour every day before training began.
For nearly a year, he says, he rarely left the campus except for major tournaments and his bimonthly haircut.
Li Zhennan's hard work paid off early in 2019 when his team won the national championship at a commercial competition. The first thing he did was send a message to his father, who did not respond directly.
Instead, Li Gang wrote in the family group chat a while later that he would "rather have a regular college student for a son than a son like this."
On reading that message, the color drained from Li Zhennan's face. "At that moment, most of the joy the trophy brought me disappeared. I don't think he (Li Gang) has ever complimented me. I thought to myself that maybe my win wasn't impressive enough," he says.
Logging off
When Li Zhennan won the competition in 2019, he was at his peak. He couldn't have known then that his short-lived esports career would come to an abrupt halt in April of that year.
It began when he was offered an invitation to train with RNG, a top-ranked team in Honor of Kings and other popular games. Li Zhennan instead chose to stay in a familiar environment at the Shandong school.
That decision all but sealed his fate in the gaming world. Li Zhennan says the school coach then began frequently insulting him. When he pulled out of a competition to express his discontent, the coach kicked him out of the club and downgraded him to the management class.
When he was told of his demotion, Li Zhennan found a place to sit in the hallway, full of haze from his classmates' cigarette smoke, and burst into tears.
He thought the coach would eventually apologize but later learned that, on the night of their confrontation, the coach had called his parents and said no club would want him.
During his two weeks at the management class, his sleeping patterns had gone awry and his weight dropped to 48 kilograms. He tried to explain his situation to his parents but they wanted to hear none of it.
That's when Li Zhennan, then an 18-year-old, decided to cut his losses. He gave up esports and returned to Shanghai from Shandong. He hasn't played Honor of Kings since.
"Forcing kids to give up esports is, in my opinion, like putting an adhesive bandage on a wound — it doesn't resolve the underlying problem of why they don't want to study in the first place," says Li Zhennan. "If you don't have enough talent for gaming and quit after one semester, will you really choose to settle down and study?"
He says parents should help their children understand why they don't want to study, rather than just tearing down what acts as a safe haven for them. "Actually, I'd just like my father to tell me he's proud of me for once," he says.
View from the school
At around the same time that his son decided to quit esports, Li Gang rented a small building in Shanghai and co-founded the esports training school. Almost two years later, he rented a building on the opposite side of the road to open the counseling center to dissuade students who don't make the cut.
Presently, the school offers a three-month training program, as well as shorter courses during the winter and summer holidays. Students are not encouraged to re-enroll unless their circumstances justify further training.
Popular games like Honor of Kings, League of Legends, and PlayerUnknown's Battlegrounds (PUBG) all have dedicated classrooms. These classrooms have special gaming chairs, and their walls are adorned with the names and logos of well-known clubs.
On one occasion, Li Gang says he visited the Shandong school where Li Zhennan had studied. He found his son's dormitory a veritable pigsty: He could hardly see the floor because of all the clothes and empty food containers scattered across the room.
He paid a cleaner to tidy up the space and later treated Li Zhennan and his roommates to dinner — a way of showing his son affection.
The incident inspired Li Gang to set up the position of a "life skills teacher" staffed by a martial arts or boxing instructor to teach students about self-discipline. Every day, this part-time teacher takes students outside for morning exercises.
Just before 9 a.m. on a Friday earlier this year, after breakfast and morning exercises, students filed into the Honor of Kings classroom. Five boys gathered. One of them gave a newbie a quick run-down of the school: "You just play games all the time — you can play for 24 hours straight if you like."
In the morning, coaches — usually former professional esports players — teach students everything there is to know about a game: from tactics and strategies to dissecting the abilities of playable characters, and even how complementary heroes in a game form an effective team. They also screen recordings of matches with commentary and analysis.
The afternoons are for hands-on training; students form groups and compete against each other in two rounds — at 2 p.m. and 4 p.m. Sometimes, coaches may arrange training matches with teams from outside the school.
After a match, teachers screen replays so students can analyze their performance. In the evenings students have free practice time, which they spend trying to increase their own personal rankings.
One former professional player of Overwatch — a first-person shooter (FPS) game — who goes by the gaming avatar "Sixi" used to work in the esports training business. She says she hoped to cultivate the next generation of esports champions but was disappointed by gamers' prospects. She believes most teenagers don't have nearly enough talent or determination to play professionally.
According to Sixi, aspiring professional gamers should have fast reflexes and eye movement speed, as well as an ability to anticipate the next move. Teamwork and communication skills are equally crucial, she says, as is the ability to handle setbacks and quickly adjust one's mindset. In the end, what separates the top players from the rest is often their attitude.
Coach Zhu Jinting was a professional player of FPS games and started offering esports training in 2017. He has worked with more than 200 gamers and says most parents tell him: "If you don't think our child is talented enough, you should advise them to stop dreaming."
For this reason, Zhu, who now works at Li Gang's center, first gives new students some basic training such as target practice but sets a long-term goal far beyond their ability. He tells them, "This goal represents the basic level of professional players. If you can't reach this level through practice, don't even think about playing professionally."
Another common tactic to dissuade students is to arrange training sessions with a superior team, such as the second-tier or reserve teams of professional clubs. The idea is that students who are easily beaten in these matches will begin to doubt their career choice.
But these experiences only further stoke the ambitions of resilient players. A League of Legends player in Shanghai, who requested anonymity, attended an esports training school in the southwestern Chongqing municipality and later joined Li Gang's center.
Though this Shanghai teenager failed to meet the minimum standard for professional gaming, he chose not to return to school; instead, he practiced at home every day, trying to improve his ranking.
This behavior made his mother anxious. "I know that esports are now included on the country's list of official sports, but there are age requirements — players peak no later than age 20. Yet late adolescence is precisely the best time for children to study. If they put their schoolwork off, there's no going back," she says.
And yet her son has a plan of his own. "The coach thinks I have hope, but I still have a long way to go. If I can get there by practicing at home, I can ask him for a recommendation. If I don't get there before the next school term, I might stop playing," he says.
When asked what she thought of this idea, his mother was excited, saying: "Did he tell you that? He doesn't even talk to us at home. If that's really the case, it's so great."
Dream team
At Li Gang's dual-purpose esports center, the teenager from Shanghai isn't alone: Most students are here to chase a dream and most parents only grudgingly support them.
After 15-year-old Luoluo's parents divorced, he dropped out of school to hang out at cyber cafés and play video games. His father sent him to be disciplined at a reform school, but Luoluo insisted he wanted to take up professional esports.
His father agreed but asked him to switch to League of Legends to avoid contact with his former friends from the cyber cafés, who usually played Honor of Kings.
Now, Luoluo ranks high in League of Legends but falls short of reaching a professional level. For a while, he defeated opponents who ranked higher in training matches. His confidence soared, and he spent every waking hour perfecting his skills.
But recently, unfamiliar with the new version of the game, he has lost several matches in a row. His losses have left him depressed and skeptical about his future.
Luoluo's parents haven't seen him for more than six months, and they only give him a small monthly allowance. When Luoluo said he was feeling morose, his father gave him more money to see a therapist. The diagnosis: Luoluo has severe anxiety disorder, probably due to a strong sense of insecurity.
In contrast, 17-year-old Liu Chang from the northeastern Heilongjiang province has a stellar academic record but has his heart set on esports. He admires a successful Honor of Kings team called QGhappy. "A huge audience cheered them on as they competed on stage. It was so glorious and inspiring," Liu says.
For more than a month during his freshman year in high school, Liu coaxed his parents into letting him study at a training school like Li Gang's. His parents refused at first, but they couldn't bear to watch their son skipping school and "lying dead" at home.
Finally, after a family meeting, his father let him take at least a six-month break from his education on the condition that he remain enrolled in school. Should esports not work out, he is free to return to school any time.
Xu Zihan, a 15-year-old who by no means addicted to video games, is a curious outlier. She was sent to Li Gang's center by her mother.
"My daughter is not cut out for academic study," Xu's mother told the director of admissions. "Why force her down a path leading to nowhere? Sending her to study esports is no different from sending kids to learn to dance — it's a career path like any other. Even if she can't go pro, she'll always be able to find work in such a big industry," she says.
Xu has improved greatly over the last year, but she says her talent is limited. Her mother immediately interrupts, "I think you have talent; you just don't realize it. Take dancing, for instance. People who are capable of lifting their legs and leaping high got where they are through practice. Without practice, how can you speak of talent?"
A little before 10 p.m. at Li Gang's institute, Luoluo is the last student to leave. Coach Zhu says he's the only student left in the League of Legends class. "The game has been around for so long. It's not as hot as Honor of Kings," he says. "There are too many veteran professionals and too few opportunities for new recruits. It's hard to make a name for yourself."
Li Gang, Li Zhennan, and Luoluo are pseudonyms.
A version of this article originally appeared in Southern People's Weekly. It has been translated and edited for brevity and clarity, and published with permission. No further reproduction is allowed.
Original editor: Huang Jian (Southern People's Weekly); translator: Lewis Wright; editors: Xue Yongle and Apurva.
(Header image: Trainees at an esports training facility during a competition in Nanjing, Jiangsu province, 2016. Legal Evening News/People Visual)