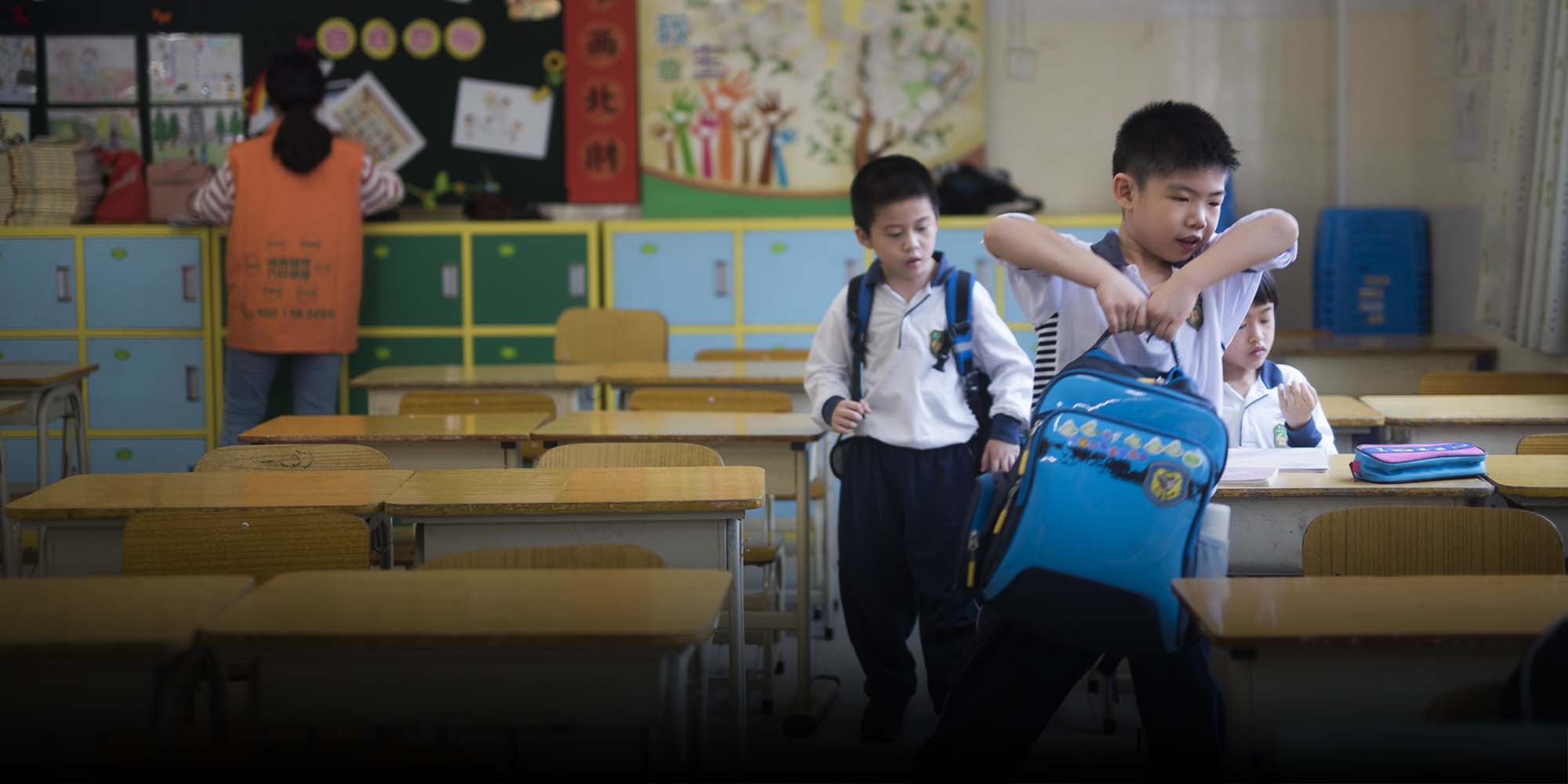 NEWS
To Help Working Parents, China Wants Schools to Stay Open Later
The move comes amid a flurry of proposals to make having children easier on Chinese couples.
The Chinese government wants primary and junior middle schools to provide after-class services that end no earlier than half an hour after most local parents get off work.
The plan by the Ministry of Education, reported by state news agency Xinhua on Tuesday, is one of many proposals and policies aimed at easing the burden of parenting to follow the announcement of China's birth limit increasing from two to three children per couple late last month.
Currently, many public schools finish classes several hours before the end of the workday, meaning parents are either unable to work full days or must make arrangements for someone else to pick up their children.
To help out working parents, the Ministry of Education said after-school services should last longer and be accessible to all. During these periods, all students should be given guidance on their homework, children with learning difficulties should receive extra tutoring, and students who wish to expand their studies should be provided the opportunity to do so, the ministry said.
Schools should also arrange sports and cultural activities, reading, and other hobby groups to improve after-class services, the ministry said. While the services should be overseen by teachers, schools can also look to volunteers and outside professionals.
The ministry said it would improve the mechanism to provide funding for such services but that provincial authorities should work out specific regulations. However, it did specify that parents should not have to pay "unreasonable" fees to allow their children to stay late.
Beginning this spring semester, Shanghai public schools already extended their typical campus hours from ending at 3 p.m. to 4:30 p.m. in response to the ministry in February calling on schools to emphasize after-class services.
"We've been offered 60 yuan (less than $10) per hour in compensation for these extended working hours," a local public primary school teacher told Sixth Tone under the condition of anonymity due to the sensitivity of the topic. "The teachers rotate to look after the students — usually, I'm on duty twice each week," said the fifth-grade teacher.
She added that she finds it hard to imagine that schools will look after students until 6:30 p.m., as would be in line with the proposal. "I start work at 7:40 a.m. If I can only get back home after 7 p.m., that will mean an extremely long day at work," she said. "It won't be a matter of how much I will be compensated. I simply don't believe it will be sustainable."
At another public primary school in the city, Pan Xinyu, a mother of a second-grader, said she had participated in leading one of the after-class sessions.
"The teacher asked parents to get involved in those periods as volunteers. I mainly made sure that the kids finished their homework and then did some reading," she told Sixth Tone.
Pan said she didn't mind volunteering for an hour but that more extended periods might be more challenging. "If it's not a matter of an hour, but three hours, the work will get much more complicated," she said.
Editor: Kevin Schoenmakers.
(Header image: Students grab their backpacks as after-school supervision ends at a primary school in Guangzhou, Guangdong province, May 2, 2018. IC)