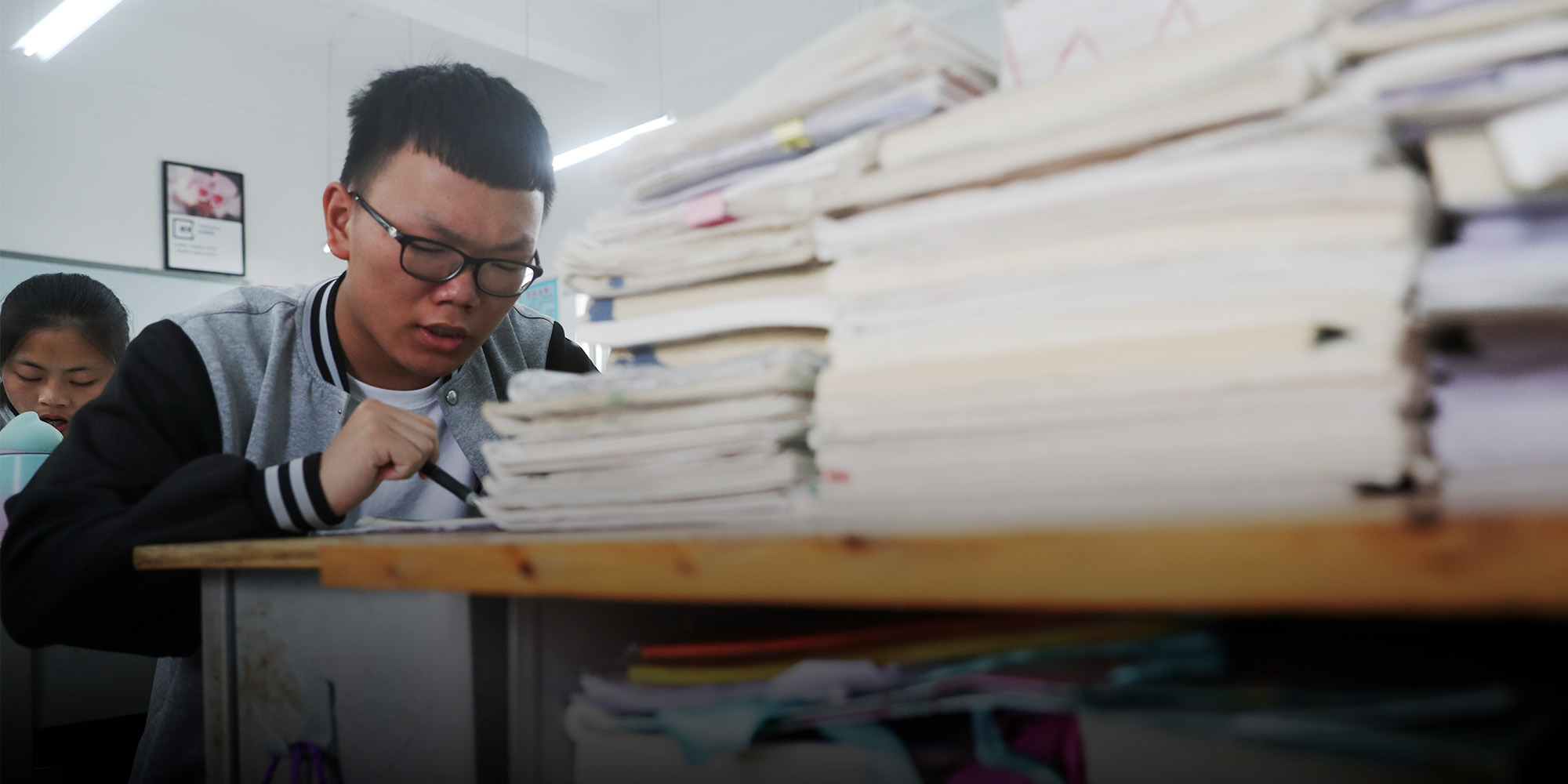 NEWS
Chongqing Bans Second-Time 'Gaokao' Takers at Public Schools
Many students retake the college-entrance exams after failing or underperforming in their first attempt.
The southwestern city of Chongqing has instructed all public high schools not to enroll students planning to retake the college-entrance exams, or gaokao, in a bid to create a more equitable education system, local authorities said Wednesday.
The city's education bureau said the move aims to standardize admission practices at public high schools and give all test-takers an equal chance at excelling in the grueling gaokao. The exams are a major path toward securing spots at the country's most prestigious higher education institutions, and many who underperform in the gaokao retake the exams — they're referred to as fudu students — for better results.
According to domestic media reports, 15% of the over 240,000 students who took the gaokao in Chongqing last year were second-time or even third-time examinees.
Chongqing is the latest city to introduce measures prohibiting second-time gaokao takers from enrolling in public high schools, following provinces that include Hunan, Guizhou, Yunnan, and Sichuan. But with the city implementing a reformed exam module this year, many students — as well as their parents — are concerned whether the prohibition will negatively affect their chances.
"We were the city's first students to take the newly reformed gaokao and are therefore facing more uncertainties in terms of results," a student surnamed Zang told Sixth Tone. "What if I fail? I now don't even deserve a chance to retake the exams?"
Meanwhile, some parents argue the new rule was only fair, considering the high number of students reappearing for the exams for various reasons.
"There are so many fudu students — it's unfair for those trying for the first time," a parent wrote on microblogging platform Weibo. "The top three students in our region have all been fudu students."
While Chongqing's latest move aims to create a more equitable educational environment, many say it is the result of the city's public schools routinely luring students to repeat the exams to build up the institutes' reputations, which is also suggested in Wednesday's announcement.
Experts say education authorities countrywide have introduced similar moves, which will help reduce the strain on public resources.
"Public schools are public resources," Chu Zhaohui, researcher at the state-run National Institute for Education Sciences, told Sixth Tone. "Since fudu students are outside public services, it's reasonable for them to utilize non-public resources."
Meanwhile, Chongqing's new policy has opened up new avenues for the city's private institutions willing to shoulder the responsibility of preparing repeat test-takers.
Ran Qibing, deputy principal of Chongqing Weiming School, believes his institution may see more fudu students in the upcoming fall semester. He said it has now become their "responsibility to build a platform" for students who failed the gaokao, especially those from rural areas.
However, for many students seeking affordable education at public schools, high tuition costs at private institutions remain a concern. A student who spoke to Sixth Tone on the condition of anonymity plans to take the gaokao again after underperforming this year, and said she plans to prepare for the tests at home due to private schools' high price tag.
Editor: Bibek Bhandari.
(Header image: A senior student prepares for his college-entrance exams at a high school in Chongqing, May 2019. Yang Min/People Visual)