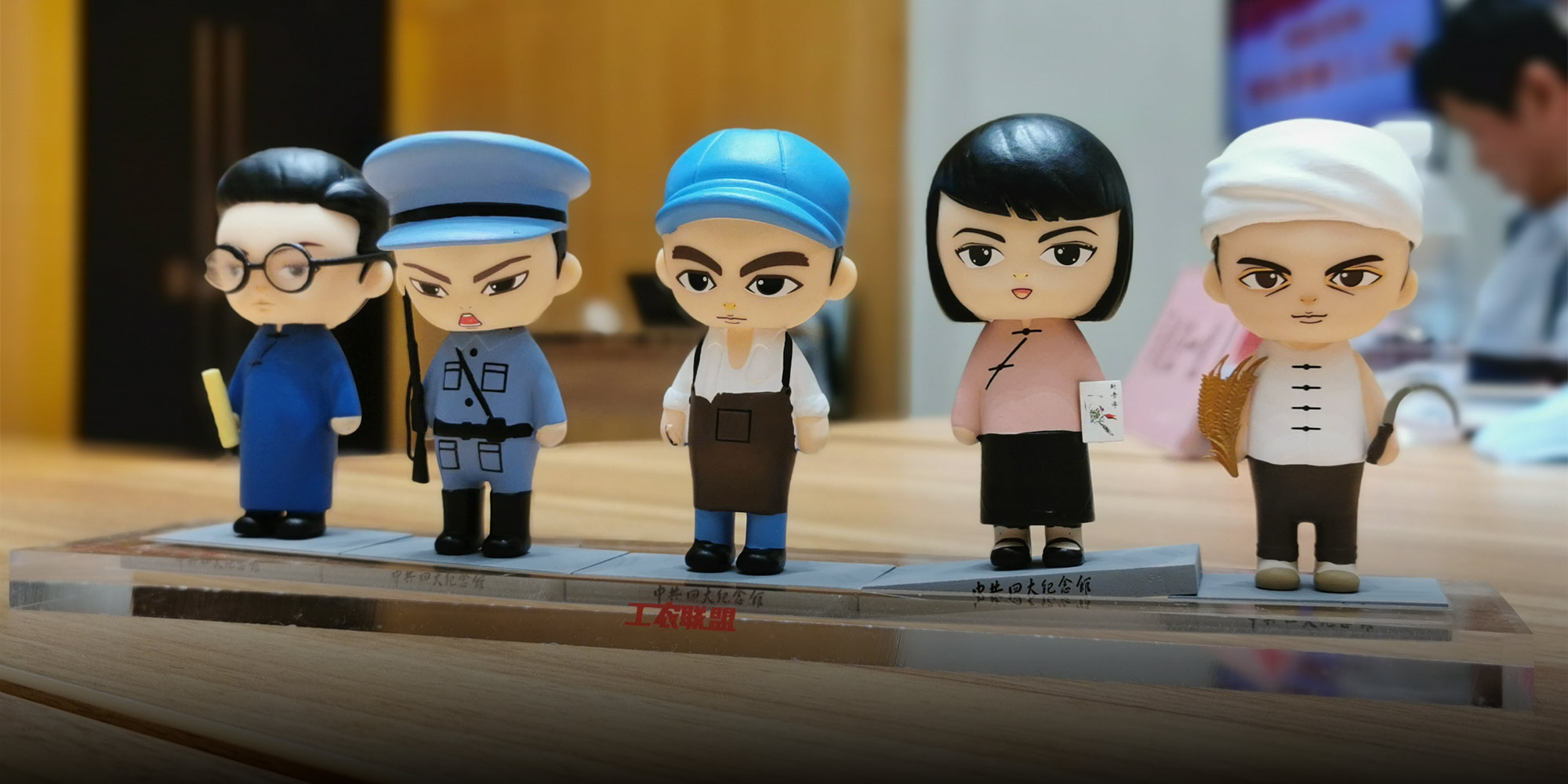 VOICES & OPINION
March of the Red Souvenirs
Ahead of the Communist Party of China's centenary next month, officials have unveiled a host of youth-oriented commemorative gear.
Bright red and embossed with the image of the People's Liberation Army soldiers who freed Shanghai in 1949, the "Shanghai Pioneers" candle cuts a striking figure. That only rings truer as it burns down and the wax melts to reveal a gold-sculpted panorama of the city's Lujiazui financial district. The message here isn't exactly subtle: The city's wealthy, prosperous present was forged in the fires of revolutionary sacrifice.
The candle, the work of independent designer Yin Xiaoming, took one of the top prizes at this year's Shanghai Red Culture Creative Competition. First held last summer, the 2021 contest drew nearly 4,000 submissions across three categories: Red Culture Creative Product Design, Red Culture Tourism Line Design, and Red Digital Creative Product Design. Of these, 67 winners were selected to represent Shanghai's next generation of hong wenchuang, or "red innovative cultural products."
Red souvenirs have a long history in China, but today's variants bear little resemblance to the Mao badges of the 1950s and 1960s. Influenced by youth-oriented marketing trends pioneered by museums and other cultural institutions, and boosted by China's embrace of red tourism, contemporary red souvenirs sit at the intersection of youth culture, ideology, and commerce. They can be candles, but also blind boxes, Funko-style dolls, or basketball shoes — Shanghai's Longhua Revolutionary Martyr Cemetery even developed an AR-assisted video game.
High-tech offerings are particularly popular among otherwise hidebound institutions trying to reach a new generation. Diao Qingyun, a librarian at the Shanghai Library, took part in the development of that institution's "Red Walking Route." Modeled after city walks popular in European cities, it started as a 1.5-hour guided tour of several revolutionary sites in downtown Shanghai. In 2019, the library published a digital map, so people could walk the route on their own instead of signing up for a group tour, and it has since added a smartphone app that lets users aim their cameras at sites to see historical photos of various locations.
"The Shanghai Library has one of the richest collections of historical documents about the Chinese Revolution, but we can't expect people to come to our door and access them on their own," Diao told me. "People today are not the same as they used to be. As a public service, we need to organize our literature, package it into an attractive meal, and feed it to them one bite at a time."
Other institutions are using hong wenchuang as a way to build their brands. Tong Ke is the curator of the Memorial Hall of the Fourth National Congress of the CPC. A relatively young cadre, he has sought to transform the site — not traditionally regarded as among the most important or memorable of party congresses — in the public imagination. Deciding that its signature legacy was the introduction of party "branches" — with any group of three or more party members required to form a party branch — he in 2019 hit on the idea of organizing a 3-on-3 basketball tournament with the slogan "Three people can form a branch, and three people can form a team!"
Last September, Tong took advantage of the swelling popularity of blind box and gacha companies like Pop Mart to release a set of blind boxes featuring collectible toy workers, peasants, soldiers, intellectuals, and students. The full set was a nod to another key legacy of the congress: the alliance between workers and peasants.
The success of the blind boxes has given Tong more ideas. For example, he plans to dress guides in costumes related to the five revolutionary archetypes. "It's like in Disneyland, when the staff dresses up like Snow White or Mickey Mouse," he explained. It might once have seemed over-the-top, but if anything, it now comes off as quaint in a city that already has a communism-themed role-playing murder mystery-slash-escape room.
Yet, for all their dizzying varieties, the hong wenchuang fad can feel almost conservative. At a time when young Chinese are actively seeking out and embracing the country's leftist heritage and engaging in historical and ideological debates, the industry treats them as consumers more interested in the latest fad than their country's past.
That's unfortunate. If the history of the CPC tells us anything, it's that young people care deeply about these issues. If institutions really want to connect with today's Chinese, they should pursue not just innovative forms, but innovative content: the kinds of creative and interesting interpretations of Marxism and Communist Party ideas that young people really want.
Editor: Kilian O'Donnell.
(Header image: A set of toy workers, peasants, soldiers, intellectuals, and students on display in Shanghai, April 2021. From @阿王宝宝 on Weibo)