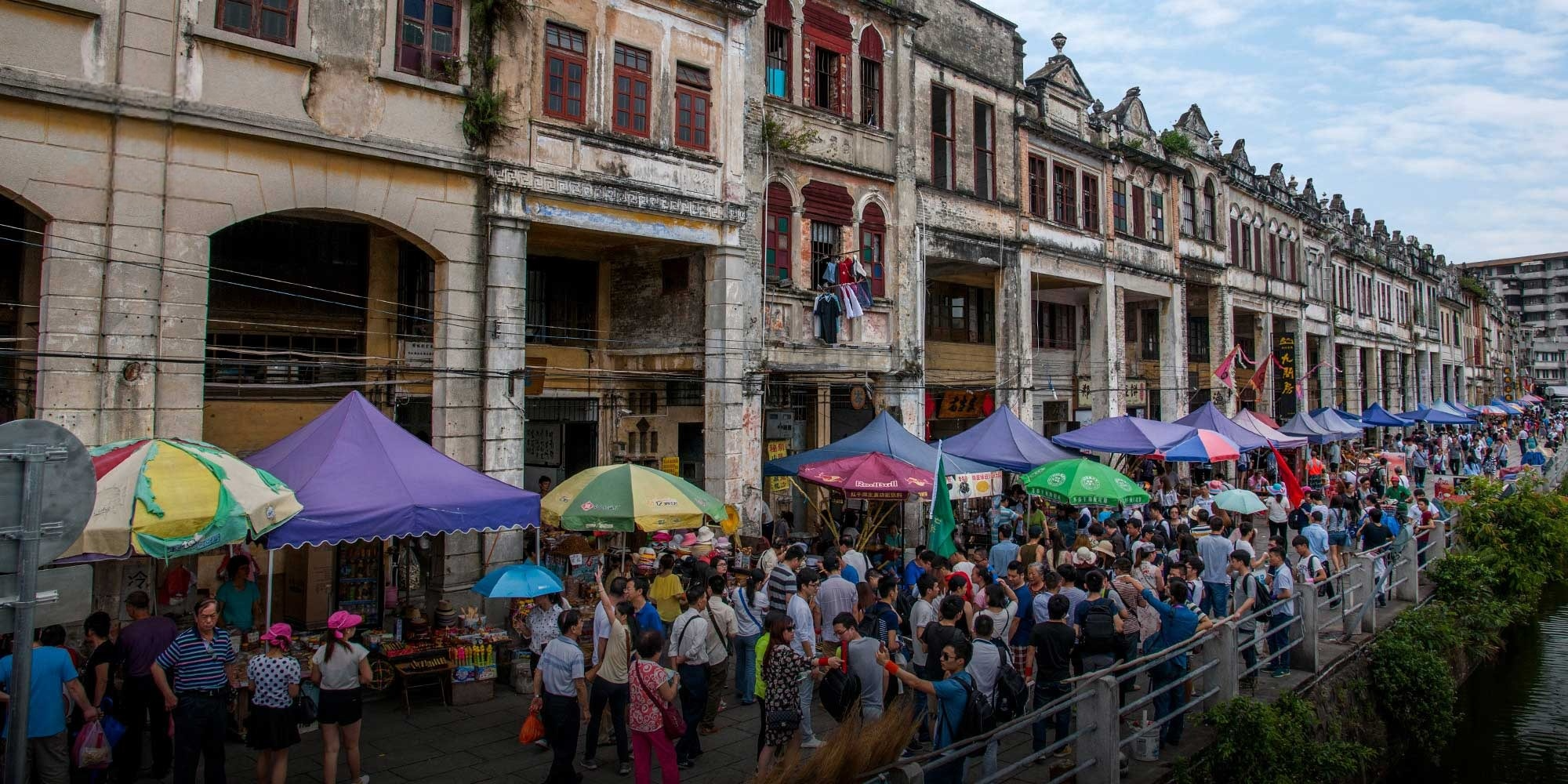 VOICES & OPINION
Remembering Those Who Returned
Chinese emigration is often framed as a unidirectional search for freedom and prosperity elsewhere. For most migrants, the dream was always to return home.
The early Chinese American history I was taught in school went something like this: Chinese from the southern Pearl River Delta region flocked to America — especially California — in the mid-19th century in search of gold. They were discriminated against. Some were forced out of the country; the more tenacious among them persevered and successfully put down roots in their new home.
My own family history runs counter to that narrative. My family is from Kaiping, one of the four southern Chinese counties known collectively as "Siyi" that produced the majority of the pre-1950s Chinese emigrants to the United States. As a teenager in the early 1900s, my great-grandfather sailed to San Francisco with his elder brother. He would work in the U.S. for roughly three decades before returning to China.
Family members always spoke glowingly of his fortune. The money he earned helped build homes for his brothers and enabled him to eventually move to the regional hub of Guangzhou. His return changed the course of my family's history. "He was lucky," my mother used to tell me. "He made money, so he could come back."
When I visited our ancestral village in 2019, other villagers echoed the sentiment. Speaking of another distant relative, my aunt remarked, "He wasn't so lucky. He never made enough (to come back)."
We were standing in front of the village's dove-gray ancestral hall. On a sheet of dark red marble embedded into the outer wall, I could read the names of those who had contributed money to its construction and how much they had donated. Many of them were listed in dollars. "Everyone who could return wanted to," my great-uncle told me. "Some didn't earn enough, so they stayed to hustle. Then they never came back."
There was an incongruity between their anecdotes and the standard Chinese American narrative, where good fortune was embodied in the hard work involved in staying and becoming. Take the history of Chinese exclusion published in the New Yorker this April, for example. Michael Luo describes early immigrants as "seeking the vast, open spaces of the American frontier — where, they believed, freedom and opportunity awaited."
If mentioned at all, returnees to China are often hived off into stories of violence and expulsion, framed as having been "driven out" of the American promised land. But when boys and men from impoverished Siyi families crossed the Pacific for the shores of California, most never aimed to stay. The dream, as the academic Gordon H. Chang notes in his history of Chinese railroad workers in the U.S., was to strike gold, save up, and eventually make their ways home.
Many never did. Economic exploitation and discrimination were constant presences in the lives of early Chinese migrants. Success was especially improbable for Siyi migrants, who were more likely to be poor farmers than the wealthier migrants and merchants from urban centers like Guangzhou.
The Chinese Exclusion Act of 1882, which barred the entry of all Chinese laborers to the United States, ironically deterred many of these emigrants from returning to China. Once back, there was no guarantee they could retake the journey if needed, Siyi historian Peter Armen Kassabian Hick told me in an interview. The risk was too large, especially while their families remained economically dependent on the money they made in America.
Rather than a chance to pursue the American dream, staying in America was more often seen as a dream denied. Although not all decisions to stay were made out of resignation, for many Siyi migrants, the choice could feel like the product of negotiations between forces beyond their control.
"In this country, there is an instinctive interest in the story of people coming from faraway lands and becoming Americans," Hick told me, "But that's just a feel-good tale."
The emotional appeal of this narrative lies in the implied logical connective: that people came from faraway lands to become Americans. Such stories are not just tempting for those seeking to affirm the American dream ethos; for Asian Americans, they're a powerful weapon against the narrative of perpetual foreignness. As Chang notes, "the labor of the Railroad Chinese" represents "the purchase of, and the irrefutable claim to, American place and identity."
In a country that consistently pressures you to justify your existence, it is crucial to integrate yourself using a language legible to power: whether fortune, sacrifice, or contribution. But such language, however useful, runs the risk of overlooking the real story and letting false narratives go unchecked.
On March 16, 2021, 21-year-old Robert Aaron Long opened fire on three spas in Atlanta, killing eight people, six of whom were Asian women. But as the New York-based video producer Isabelle Niu pointed out on Twitter, the USA Today profile of Xiaojie Tan — a woman who owned one of the spas — was framed from the perspective of Tan's white ex-husband, the white ex-husband's friend, and a white customer of hers. An entire subsection was titled, "She was very invested in becoming an American" and filled with facts like she "celebrated holidays like the Fourth of July and Thanksgiving." Details of her life before immigrating were sparse.
The lackluster coverage of the victims of the Atlanta shooting not only exposed some of the systemic limitations of major English-language news outlets reporting on Asian stories, but also betrayed their lack of interest in even learning the full story. It was yet another example of how migration is generalized as unidirectional, where only the endpoint is worth considering, even when this idea obscures the true goals and ambitions of the immigrants in question.

Feng Daoyou, the only Chinese national killed in the shooting, had dreamed of returning home and starting a beauty salon in her South China hometown. She had been financially supporting her family back home, paying the mortgage on a house for her mother, her brother, and his family to live in. Her own plans to move back to China in 2020 were delayed by the pandemic.
Like the Siyi immigrants who preceded her by 150 years, Feng emigrated to provide her family a better life and help pull them out of poverty. Taking into account all the facets of the earliest Chinese immigrants' lives — their devotion to home; the communal effort inherent in migration; and the injustices, whether racial, political, or economic, that prevented their return — imposing an American dream arc over their stories seems especially pernicious.
Doing so also erases the other half of their tale: how the flight, labor, and return of Siyi migrants reshaped their homelands. The money they sent home increased the region's economic opportunities while also exacerbating intra-clan conflict, leading to sustained internecine warfare. In Kaiping, the imposing castle towers known as diaolou stand physical testament to the complex effects of transpacific migration on local communities: the inflow of cash, Western ideas, and turmoil.
It is unfair to diminish the work of those trying to bring the lives of early Chinese immigrants into public focus, especially during the recent pandemic-fueled uptick in anti-Asian hate. But we should remain conscious of how the same forces that threaten to erase Chinese history in America also warp the way we tell our stories.
This begins with being faithful to the material contours of that history. It requires us to be honest in how we approach origin stories, and to understand migration beyond the confines of Chinese-as-ethnicity and American-as-identity. It asks us to be invested in the societies where immigrants come from: to see our world as interconnected despite the forces seemingly intent on pulling it apart.
Editors: Cai Yiwen and Kilian O'Donnell.
(Header image: Tourists visit historical buildings in Kaiping, Guangdong province, 2016. People Visual)