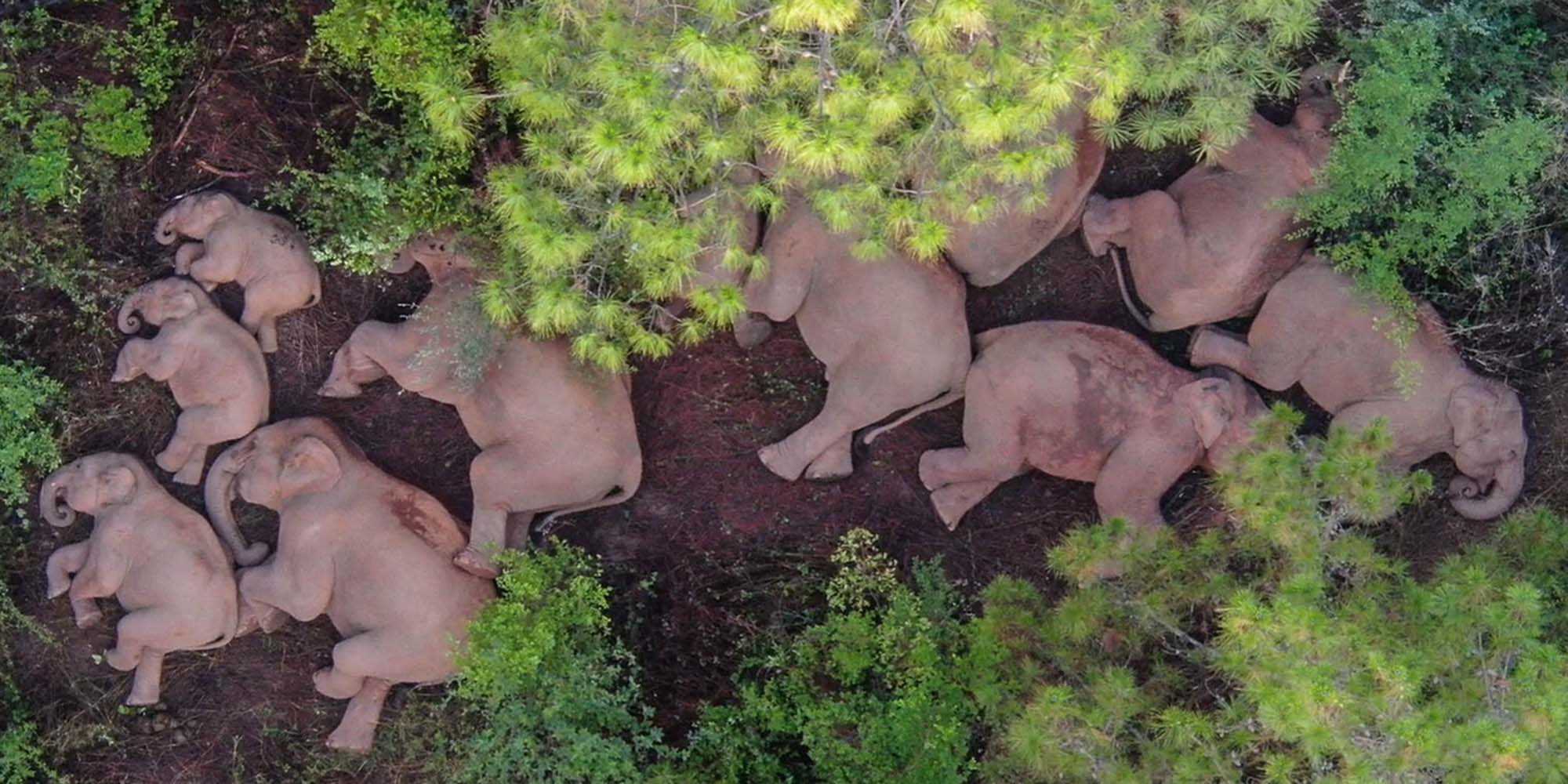 NEWS
Conservationists Try Guiding China's Wandering Elephants Home
Experts say the climate and environment may not be suitable for the animals as they head further north.
For months, a herd of endangered Asian elephants has been on a long journey without a final destination in the southwestern province of Yunnan. Now, conservationists and local authorities are trying to guide them home.
Xiang Ruwu, head of wildlife conservation at the Yunnan Provincial Forestry and Grassland Administration, said Sunday that they have tried to "take advantage of the rain and temperature drop" that hampered the elephants' march while using food — such as corn and bananas — to lure them back home. Officials said they would guide them back to a "suitable home" though it was not immediately clear if that would be the point of origin the animals started their journey.
Areas that meet the needs of the Asian elephants — including food, water, forest, and temperature — will be deemed suitable habitats for the animals, according to Xie Yi, professor of forest management at the Beijing Forestry University. He told Sixth Tone that it was necessary to monitor their journey, while minimizing potential conflicts with humans.
As of Wednesday, 14 of the 15 elephants have trekked more than 500 kilometers after they began their journey last year from a forest reserve in the Xishuangbanna Dai Autonomous Prefecture near the country's borders with Laos and Myanmar. While one of the elephants parted ways with the herd in the provincial capital Kunming in early June, the others continued to march on and have reached a village administered by the city of Yuxi.
The elephants have captivated hundreds of millions of people in China and elsewhere, with many tracking their daily routine as the animals eat, sleep, and wander. Chinese officials are monitoring the elephants using drones to deter them from damaging human settlements along their way.
In Yuxi, 90 kilometers from Kunming, local officials have unloaded a ton of fruits and crops to distract the elephants from entering human settlements. More than 3,500 residents in and around Yuxi have been evacuated due to safety concerns, while hundreds of emergency response staff and vehicles are on alert, according to authorities.
The damages caused by the elephants while searching for food and water in farms and houses have so far exceeded 6.8 million yuan ($1 million) as of late May, according to authorities. In Yuxi, some 400 households have been affected and officials said people will be compensated for the damage.
Experts believe that the 15 elephants may have traveled north in search of food and a new home, noting the impacts of human activities — including encroachment and dam building — on animal habitats, as well as conflict. As the herd moves further north, there are concerns that the climate and environment might not be suitable for the elephants.
Since 1958, China has established 11 nature reserves for Asian elephants in Yunnan province, protecting these areas from logging. However, experts say this has also led to an increasing forest canopy density, which has resulted in food shortages for wild elephants.
Ecological corridors connecting the nature reserves overlap with human settlements for agricultural production and living, which have disrupted vegetation patterns, according to Xie. This in turn has affected the movement of animals in the area, mostly in search of food, but he said it was too early to draw any conclusions in regard to the elephants.
"The impact of habitat changes on the migration of Asian elephants is still a complex scientific issue that requires further exploration and research," he said.
Asian elephants are listed as endangered by the International Union for Conservation of Nature and have been granted the highest level of protection in China, home to an estimated 293 of the animals. Most of those elephants are found in southern Yunnan province.
Editor: Bibek Bhandari.
(Header image: Several of the 15 Asian elephants sleep in Yimen County, Yunnan province, June 13, 2021. Xinhua)